Footballers of the Future: Aurélien Tchouaméni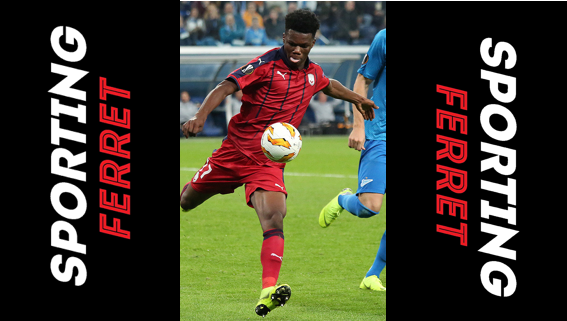 Footballers of the Future: Aurélien Tchouaméni
The Under 21 European Championships have always provided a first look at footballers of the future. Some of the best young talents in European football have played in the competition. Securing big moves to even bigger clubs soon after. This years competition will be no exception. French Midfielder, Aurélien Tchouaméni, is one such player who many will continue to keep an eye on during this years competition.
Yes, continue is correct. This years competition has already begun. In fact, we are already down to the last eight teams in the competition. Don't worry though, it's not at all surprising that many aren't able to keep up with the tournament this time around. Due to the postponement of Euro 2020 (or 2021 if you're that way inclined), the Under 21's version has been scheduled a little differently. During the last international break, the competition was running alongside World Cup Qualifiers. The quarter finals will begin at the end of May, and concludes on the 6th of June. Just one week before Euro 2020 begins.
The hectic scheduling of international football aside, Tchouaméni could very soon become one of the hottest properties in European football. An in depth analysis of his short career so far goes a long way to explain why the 21 year old is high on the list of footballers of the future.
Who is Aurélien Tchouaméni?
The 6ft tall, 21 year old Frenchman currently plays for AS Monaco in Ligue 1, after signing for the club last year from fellow French club Bordeaux. After breaking through at Bordeaux, Tchouaméni made 37 appearances in two seasons and impressed many top European clubs. His debut season for Monaco has gone some way in explain why there was so much interest in the youngster.
On the international front, Aurélien Tchouaméni has long been a regular for the French Under 20's national side and finally made his full debut for the Under 21's last month. Playing the full 90 minutes in the 2-0 victory over Russia. The midfielder was one of a number of changes to the starting line-up following the 1-0 defeat to Denmark in the opening group game. Tchouaméni's performance was impressive enough to warrant a second successive start in the following 2-0 victory over Iceland. However an injury forced him off after just 14 minutes.
Thankfully, the injury wasn't serious and he's likely to start in the Quarter Final against the Netherlands in May. Meanwhile, he will hope to continue his already outstanding season in Ligue 1.
🇫🇷 Aurélien Tchouaméni (21) clearing the path for a @AS_Monaco win v. Bordeaux:

☑️ 90 min
🅰️ 1 assist
🔑 2 chances created
⚔️ 10 duels won
🤕 4 fouls suffered
💪 11 ball recoveries
🦶 94 touches
🙌 3-0 win

With him on the pitch, Monaco have a good chance at the Ligue 1 title. pic.twitter.com/loCBSpwlZx

— Football Wonderkids (@fbwonderkids) April 18, 2021
Impressive debut season
A strong showing in the latter stages of the Under 21 European Championships would cap off a fantastic season. His impressive performances in defensive midfield have helped the club to third in Ligue 1 after finishing ninth last season. Tchouaméni's performances have impressed both in terms of quality and consistency. Having made 2nd most appearances for the French club this season and regularly gained praise for his performances.
Just last month, during a draw with top of the table Lille, the youngster turned out a "mature and disciplined" performance. He finished the game as the Monaco player with the most tackles won, aerial duels won and dribbles completed. Tchouaméni continued this "scintillating form" with an "complete showing in both phases of play" during a 4-0 thrashing of Saint -Etienne. This time, he also managed to bag a goal and assist, taking his tally to two and three respectively.
Defending
Aurélien Tchouaméni's ability to perform at such a high level both on and off the ball have been at the core of his deserved praise. At Bordeaux, he already began demonstrating his ability to win possession, carry the ball and pass between the lines. After completing his move to Monaco, Edward Stratmann wrote up an analysis of Tchouaméni in the Monaco Tribune, in which he makes a number of detailed points about his ability. Noting that he is:
"Able to cover the ground efficiently, the 20-year-old's running power ensures he can get back quickly so his team can regain structural stability, jet across to make vital interceptions or keep up with runners from midfield"
These observations have been proved correct this season. While statistics can't always reliable, the shear amount of minutes completed by Tchouaméni this season mean they are fairly accurate. Currently, he has the 7th most interceptions per 90 in Ligue 1 with an average of 2.1, averaging 7 recoveries per 90 and having a 57% tackle success rate. As well as his clever defensive positioning, his commanding strength and height have come in handy. Winning an impressive 65% of his ariel duels and 60% of duels overall, placing him 7th and 2nd respectively compared to other Ligue 1 midfielders. While also boasting a total of zero errors leading to either goals or chances in any of his 29 appearances.
Attacking
It's not just without the ball that Aurélien Tchouaméni has impressed during his debut season at Monaco. His ability on the ball, range of passing and composure have all been complimented by Stratmann again, teasing the Monaco supporters on his arrival last year, saying of his attacking play:
"Meanwhile, when it comes to his offensive output, the Frenchman stacks up incredibly well here too. A fine place to start is his brilliant passing range, which allows him to dictate his team's offensive passages and act as a deep lying playmaker. Accomplished at hitting short, medium and long distance passes, the youngster connects, constructs, sets the tempo and animates passages from his midfield station."
As an ever present figure in the Monaco midfield, Tchouaméni is heavily involved in build up play. His strength and balance help him keep possession when under pressure from the opposition. Once in possession, he has a pass completion rate of 83% and completes around 52.4 passes per 90 minutes. His range of passing shows both skill and maturity with 5.1 completed long balls and 0.8 crosses per 90 minutes.
Once getting into the final third of the pitch, he has also shown the ability to find the right pass. Along with his 3 direct assists this season in Ligue 1, he sits joint third on the list of Ligue 1 midfielders for big chances created (5). He averages 13.1 completed final third passes per 90 minutes to further show his effectiveness up the pitch.
In short, his defensive positioning and ability to win the ball make him a terrific defensive midfielder. However, what makes him stand out is that he is capable of showing strength to move forward with the ball and composure to make the right pass, breaking the opposition line when attacking.
Aurélien Tchouaméni with another superb performance for Monaco.

Tchouaméni in Ligue 1 this season:

✅31 games
✅2 goals
✅3 assists
✅54 passes per 90
✅83% pass accuracy
✅3.7 tackles won per 90
✅1.7 interceptions per 90
✅2.4 aerials won per 90

Player worth a lot of money. pic.twitter.com/pHqd1sX8lt

— Football Talent Scout – Jacek Kulig (@FTalentScout) April 18, 2021
A big move next up?
It's almost predictable that, regardless of his Under 21 Euro's performance in the summer, some of the biggest clubs will have been keeping a close eye on him. Chelsea are already considered to be interested in the young Frenchman, sources like Metro stating that they see him as a cheaper option to Declan Rice. Similarities to the West Ham midfielder may mean a number of clubs currently monitoring Rice could be interested in Tchouaméni. Similarly, West Ham could also look to him as a possible replacement if they allow Rice to leave this summer.
Either way, there's no doubt that a move will materialise sooner rather than later. Undoubtedly one of the most impressive footballers of the future; Aurélien Tchouaméni appears to have a promising future ahead of him.
⭐ Aurélien Tchouameni claimed his sixth WhoScored MotM award of campaign in yesterday's win over Boredaux; No player aged 21 or under has won more in Europe's top 5 leagues @atchouameni pic.twitter.com/9V1npBIQyp

— WhoScored.com (@WhoScored) April 19, 2021
We hope you enjoyed the article 'Footballers of the Future: Aurélien Tchouaméni.' Which club do you think Tchouaméni will be snapped up by? Let us know!
Read more on football here: