The Best Penalty Takers of All Time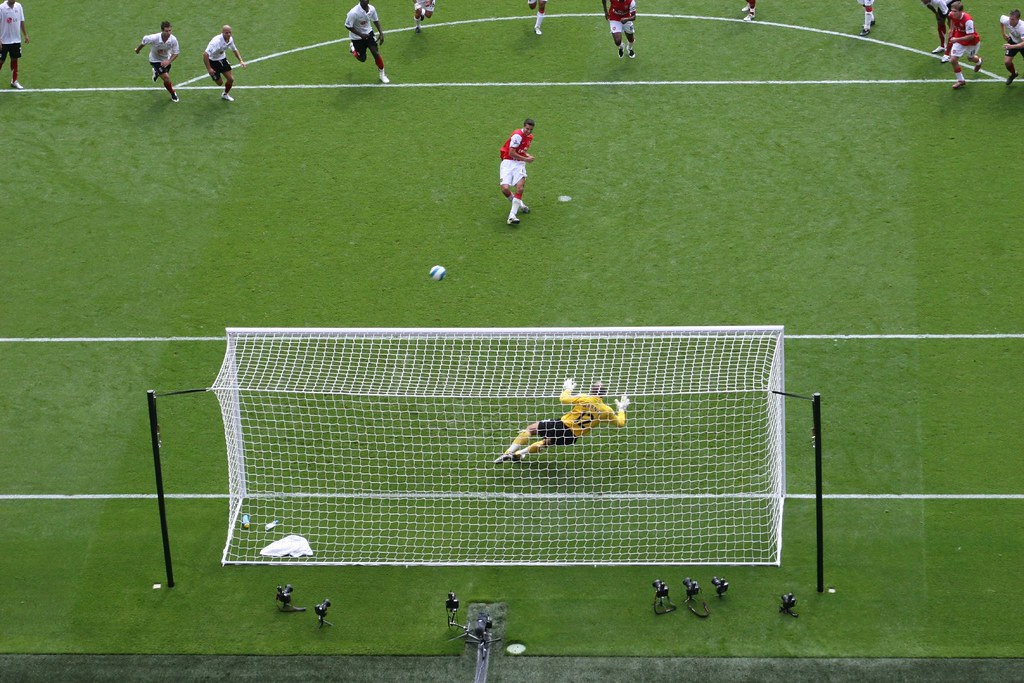 Who are the best penalty takers of all time?
The Best Penalty Takers of All Time
Every football team, from sunday league to the heights of the Premier League, has a designated penalty taker. Perfecting the penalty is a catalyst of skill, technique, composure and nerve. As a result, world class penalty takers come few and far between.
During the 2018/19 Premier League season a total of 103 penalties were awarded amongst all teams, with 84 of these goals being converted. Penalties often win games, a requisite remains however, of possessing a penalty specialist within your teams arsenal. On surface level one might assume converting a penalty would be deemed simple, although this is in-fact couldn't be farther from the truth.
For a player, taking a penalty can often be the most nerve-racking moment of their career, a penalty remains as the ultimate test of mental strength. Penalties test the mental capacity and resolve of players, pushing them to the limits whilst questioning their ability to perform under pressure. The bigger the stage, the more pressure that ultimately amasses.
When all has been considered, it can be understood as to why only a handful of players truly managed to master the art of the penalty. In this article we run through these unique players, who ultimately perfected their craft in converting from the spot.
We take a look at the 10 best penalty takers of all time in world football (statistics have been taken from transfermarkt.co.uk.)
10. Steven Gerrard – 47/57 in all competitions (85.1%)
This Liverpool legends needs no introduction. Steven Gerrard established himself as one of the greatest ever midfielders to grace the Premier League, during his seventeen year reign upon Merseyside. Liverpool born and bred, Gerrard helped the Reds to an abundance of trophies including the Champions League, two FA Cups and three League Cups.
The English midfielder was known for his versatility and leadership skills throughout his career. In his prime, Gerrard showed great endurance operating in central midfield as a box-to-box player, the scouser also possessed a unique skill set that saw him seamlessly slot into the holding or attacking midfielder position when required. The midfielder was renowned for an abundance of attributes which included pinpoint passing accuracy, great defensive acumen and his right footed rocket, which fans had the gift of witnessing time and time again.
Gerrard also became highly rated from the spot, becoming the Liverpools dead ball specialist throughout his tenure at the club. The England international converted 32 from 41, of Premier League penalties taken, a great feat within England's top flight. Gerrard's confidence and accuracy from the spot ultimately complemented his leadership and captaincy for both club and country.
9. Frank Lampard – 60/70 in all competitions (85.7%)
Super Frank Lampard remains one of the Premier League's all time greats, whereby he perfected his craft with Chelsea over a thirteen year period, after leaving his boyhood club West Ham in 2001 in a £11 million transfer to West London.
Lampard established himself as one the Premier League's most technically gifted box-to-box midfielders. The central midfielder, whilst also dominant in the middle of the park with his display of passing and dribbling, had a unique knack for scoring an abundance of goals at the highest level. The number 8 became one of the most prolific goal scoring midfielders of his generation, he remains Chelsea's all time leading goal scorer (211 goals in all competitions) as well as being the only midfielder to date to surpass 150 Premier League goals. Lampard won various titles with the Blues including three Premier League titles, four FA Cups, two League Cups and the Champions League.
The England international was known as a prolific dead ball specialist, both from the penalty spot and varied free-kick ranges. Over the course of Lampard's 609 Premier League appearances, the midfielder converted 43/50 from the penalty spot, no doubt solidifying himself as Chelsea's best penalty taker of all time.
Most penalties scored by midfielders in the Premier League era:

Frank Lampard (43)
Steven Gerrard (32)
Mark Noble (26)

The real midfield debate. 😏 pic.twitter.com/USoWZoLhOz

— Squawka Football (@Squawka) January 1, 2020
8. Marco Van Basten – 51/54 in all competitions (94.4%)
Marco Van Basten is widely regarded as one of the best players of all time, despite playing his last football match at the age of 28, due to an injury. The Dutchman was a true goal scoring machine, managing to produce a staggering total of 300 goals in 431 appearances for club and country. On top of this Van Basten possessed an abundance of attributes, becoming known for his ball control, football IQ, impeccable headers and general attacking intelligence.
The Dutch striker was named FIFA World Player of the Year in 1992, in a season which saw AC Milan go undefeated whilst retaining the Scudetto. Van Basten was also awarded the Ballon d'Or three times (88,89,92.) The number 9 also notably won Euro 1988 with the Netherlands, scoring five goals during the tournament, including the infamous volley in the final against the Soviet Union. At club level, the striker won three Ereverdisie titles with Ajax as well as three Serie A titles and two European Cups with AC Milan.
During his tenures with both Ajax and AC Milan, the Dutchman was a notorious penalty taker who rarely missed. Van Basten became a true master from the spot for the Rossoneri, ending his career with a 94.4% conversion rate.
7. Mario Balotelli – 37/42 in all competitions (88%)
Love him or hate him, Mario Balotelli is certainly a footballer that gets fans talking. The Italian striker has seen countless highs and lows, almost too many to count, since his arrival into the world of football. Both on and off the pitch, Balotelli became known to the sporting world for various reasons, whether right and wrong. On the whole, the strikers disciplinary record largely hindered his career, many argue that Balotelli never met the expectations of the clubs at which he played.
Despite this, the Italian international has still crafted a successful career, notably winning the Champions League, three Serie A titles as well as the FA Cup and Premier League. Balotelli has amassed a respectable 161 goals during his playing career, for both club and country.
Over the course of his career, Balotelli became a prolific penalty specialist, with an impressive 88% conversion rate from the penalty spot. When considering the Italian is one of the most coolest yet confident players in the game, it is no surprise as to why Balotelli has flourished as one of the best penalty takers in today's game. Despite Balotelli's controversial career, there is no debate against the striker being one of the best penalty takers of all time.
#OGCNice's Mario Balotelli was up to his usual tricks after scoring a penalty… 😳 pic.twitter.com/6pNGJpty4x

— Sport360° (@Sport360) April 29, 2018
6. Francesco Totti – 86/105 in all competitions (81.9%)
Roma's 'Bimbo de Oro' (Golden Boy) is considered a somewhat God within the streets of Italy's capital. Francesco Totti spent his entire career at I Giallorossi (the Yellow and Reds) spanning over a total of fourteen years. During his time at the Stadio Olimpico Totti lifted two Coppa Italia titles, two Supercoppa Italiana titles and one Serie A title. Totti was also an instrumental part of the World Cup winning Italian side in 2006.
Totti was a prolific goalscorer throughout this career, accumulating a total of 307 goals in 785 appearances for Roma. The forward also was renowned for his playmaking ability on the pitch, possessing world class vision, technique and ball control. The number 10 is the second highest goalscorer of all time in Italian league history with 250 goals, as well as being the sixth highest scoring Italian of all time with 316 goals (in all competitions.)
The Italian boasts one of the most impressive penalty taking records at the highest level. Totti managed to convert a staggering 86 penalties over the course of his career, also holding the record for the most penalties scored in the Serie A, with 71 goals.
5. Zlatan Ibrahimovic – 79/90 in all competitions (87.7%)
The 6 ft 5 giant needs no introduction, Zlatan Ibrahimovic is one of football's most famous faces. The Lion, as he likes to call himself, is regarded as on of the best strikers of his generation. Ibra remains one of the most decorated stars in world football, amassing over 30 trophies over the course of four decades. Some of his notable trophies include four Serie A titles, four League One titles, one La Liga title and the Europa League. The Swedish striker is considered one of the greatest players ever to never win the Champions League.
One and off the pitch, Zlatan is known for his coolness and arrogance. From absurd acrobatic goals to his brash and outspoken comments, which include the striker referring to himself in third person, Zlatan remains a divisive figure in the world of football, nobody however can doubt the Swedes goal scoring abilities. Ibra boasts a record of 460 goals in 751 appearances in club football, as well as being crowned Sweden's all time leading goal scorer with 62 goals. The Swede was also regarded as a highly versatile and well-rounded player, often dubbed as "Zlatan-style" by the man himself, the 6 ft 5 forward possessed natural strength and heading ability mixed with world class finishing, vision, passing and ball control.
Ibrahimovic also boasted a highly impressive penalty taking record, scoring 79 goals form the spot over the duration of his career. His aura of remaining calm and collected in high pressure situations, meant the striker flourished when taking penalties, remaining a rarity for the Swede not to rise to the occasion at hand.
4. Alessandro Del Piero – 77/92 in all competitions (83.6%)
A true Italian legend, Alessandro Del Piero is considered Juventus' greatest ever player. Pinturicchio (A famous Italian painter during the Renaissance), was Del Piero's gifted nickname from former Juventus owner Gianni Agnelli, due to his elegant and technical displays on the pitch. Del Piero remains as Juventus' all time leading goal scorer with 290 goals, surpassing second spot Giampiero Boniperti by over 100 goals.
The number 10 boasted many trophies which notably included six Serie A titles, four Italia Super Cups and the Champions League once. Del Piero was also part of the 2006 Italian side which won the World Cup in Germany. The Italian international remains as the joint fourth highest goal scorer of all time for his country, with 27 goals alongside Roberto Baggio.
The forward was also regarded as a dead ball specialist, both from the penalty spot as well as various freekick ranges. The Italian maestro accumulated a highly impressive 77 goals from the penalty spot in all competitions, finishing his career with a 83.6% scoring ratio from the 12 yard spot.
3. Cristiano Ronaldo – 121/144 in all competitions (84%)
Cristiano Ronaldo is no stranger to setting records and defying footballing logic, between him and Messi, all the records seem to be held safely at bay. The Portuguese international seems to have accomplished just about all their this to achieve in world football, bar the World Cup. Ronaldo boasts an exceptional trophy cabinet which notably includes three Premier League titles, two La Liga titles, one Serie title and five Champions League titles. CR7 also captained Portugal to victory at Euro 2016, becoming the highest European international goalscorer of all time two years later in 2018.
Ronaldo makes claim as one of the most prolific goal scorers of all time, the forward boasts a staggering club record of 627 goals in 839 appearances. Ronaldo is also known to thrive at the highest level of European football, holding records for the most goals scored in the Champions League (128) as well as becoming the first player to win the trophy five times. The Portuguese international has won five Ballon d'Or awards, trailing only to Lionel Messi who holds the all time record of six.
Ronaldo has proved time after time that he thrives under pressure, the same principle directly translates on the penalty spot. He remains the only player on the list to surpass 100 penalties scored, converting a unprecedented 121 goals from the spot, many of them coming at crucial moments for club and country. Any player who surpasses the 100 goal mark from the spot must be regarded as one of the best penalty takers of all time.
2. Alan Shearer – 63/67 in all competitions (94%)
One of the Premier League's all time greats, Alan Shearer remains to be seen as the most prolific striker to grace England's top flight. Shearer remains as the Premier League's all time record goalscorer with 260 goals, second placed Wayne Rooney trails the record by 52 goals (208.) The Tyneside hero spent his entire career within England's top flight league, most notably with Blackburn Rovers as well as his hometown club Newcastle United, moving to St James' Park in 1996, for a then world record fee of £15 million.
The number 9 won the Premier League with Blackburn Rovers during the 1994-95 campaign, as well as winning the Premier League Golden Boot on three occasions. The Geordie striker also experienced a seasoned career at international level, scoring 30 goals in 63 appearances. Shearer was regarded as a class English centre-forward, playing to his strength, physical stature, heading ability and shooting prowess.
Shearer also holds the record for the most penalties scored in the Premier League, scoring 56 from 62 attempts. A dead ball specialist, Shearer's simple yet effective short run up and rocket right foot, usually got the job done with ease from the penalty spot. His 94% conversion rate definitely solidifies Alan Shearer as one of the best penalty takers of all time.
1. Matt Le Tissier – 47/48 in all competitions (97.9%)
 Matt Le Tissier boasts the best penalty record within any of the top flight leagues, the English midfielder only ever missed one spot kick over the course of his career, which spanned over sixteen years. "The God," as he was referred to in Southampton, scored 109 goals in 304 appearances for the Saints. The number 7 became the first midfielder to score 100 goals within England's top flight league, as well as being Southampton's second all time leading goalscorer, trailing only to Mike Channon (185.)
Le Tissier's only ever missed penalty came against Nottingham Forest in 1993, the Forest goalkeeper Mark Crossley describe the feat as his 'greatest ever save.' In regards to the Premier League, Le Tissier boasts the best penalty conversion rate of all time, netting 24 from 25 (96.2%.) Many regard Le Tissier as the greatest penalty taker in the Premier League's history, if not the World.
96% – Matt Le Tissier has the best conversion rate of any player to have taken 10 penalties or more in the Premier League (25 of 26). Saint. pic.twitter.com/gvQSdsFGZV

— OptaJoe (@OptaJoe) October 14, 2016
We hope you enjoyed the article 'The Best Penalty Takers of All Time.' Who do you think are the best penalty takers of all time? Let us know!
Read more on football here: