Thiago Alcantara On Liverpool FC Radar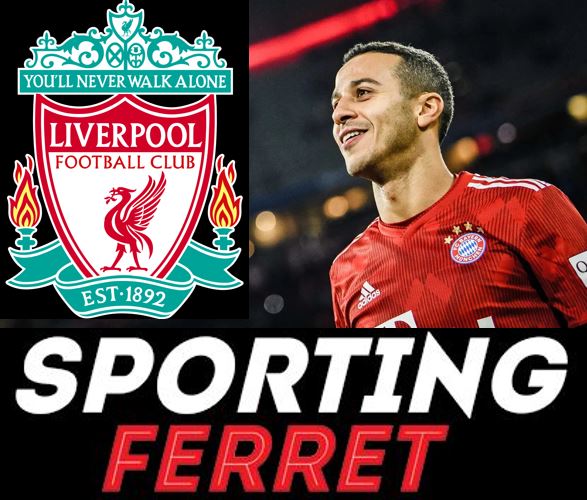 Liverpool FC: Thiago Alcantara
Reports in Germany from reputable sports magazine Sport Bild, have this morning suggested Liverpool could be interested in Bayern Munich midfielder Thiago Alcantara.
After two months of contract negotiations between the Spaniard and the Bavarian club broke down, it is believed he could be looking for a move elsewhere.
Thiago Alcantara leaving Bayern Munich?
At 29 Thiago may realise this could be his final chance at a big European move. Despite representing Spain on 37 occasions the former Barcelona man was born in Italy before moving to the Spanish giants at a young age.
Should a deal not be agreed the report suggests Liverpool could be a front runner for his signature. Jurgen Klopp has spoken of his admiration for Thiago in the past, in 2019 he described him as 'world class' and among the best players in the Bundesliga.
Chief Reporter at Sport Bild; Tobi Altshaffl reported on Twitter this morning that a contract had been in place between the two parties, however the midfielder refused at the last moment. Casting major doubts over his future.
His current deal expires a year from now and it is unlikely the German champions will want to lose him on a free when the time comes. As Bayern Munich look to fund a big money move for Leroy Sane they may sell to part fund such a deal.
Head of Football Christian Falk at the magazine has also taken to Twitter to suggest there are rumours amongst Thiago's teammates that he himself is seeking a move to Liverpool.
Currently nothing more than a teaser but the signs certainly point to a departure from the Allianz Arena, Liverpool could be watching on with interest.
We hope you enjoyed the article 'Thiago Alcantara On Liverpool FC Radar.' Do you think Alcantara will join Liverpool? Let us know!
Read more on football here: