The Augusta National: Georgia On My Mind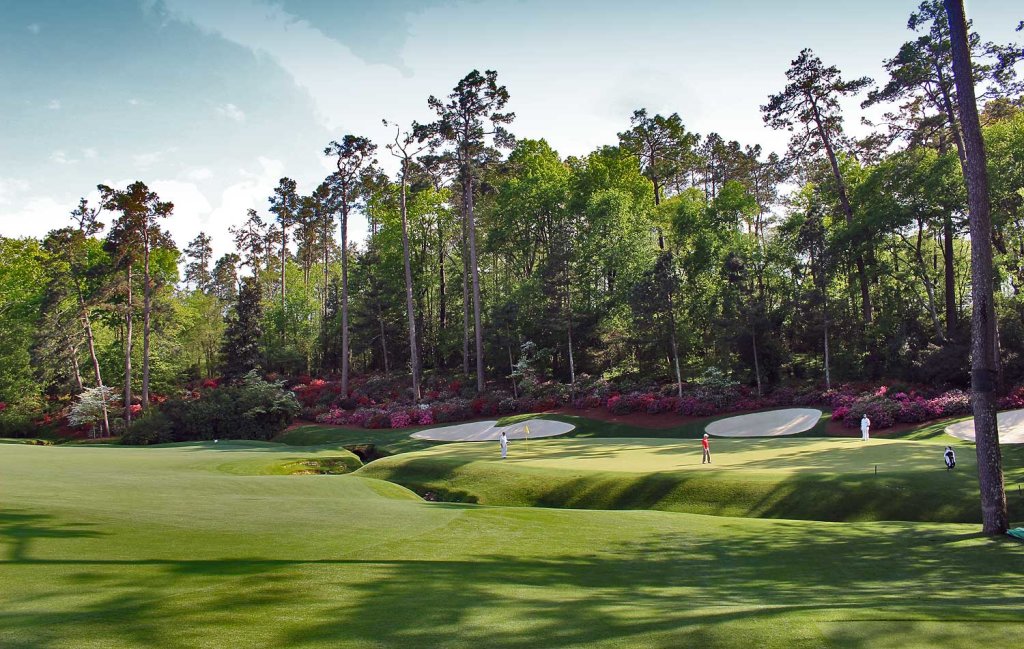 For some its a favoured pastime.
For others, the ruination of a long walk.
For America; it can prove a timely distraction from the unsportsmanlike tweet-fest, circulating within their Persil-White-Clubhouse, on Capitol Hill.
The 84th US Masters Golf Championship gets underway on Thursday 12 November, amid the relative tranquility of Augusta National.
Competitors will meander down Magnolia Lane and chart a course around Amen Corner; in pursuit of the Log-Cabin Tailor with Green Jacket in-hand.
Augusta National arose from a meeting of minds between Clifford Roberts (a New York Financier), and Atlanta-born Golfer Bobby Jones. 
Now who was it that said Sport and Politics don't mix.
While little is known of the Former; Jones is revered as a visionary within the annals of Golf.
Born on St Patrick's Day 1902, he gained legendary status in 1930, when he became the first Golfer in History to achieve a 'Grand-Slam'. In securing the British Amateur, The British Open, The US Open and US Amateur Championships; Jones created a 'blueprint of excellence' that transcends Sporting disciplines to this very day.
Its astonishing to note; that in all but one of his last twelve Open Championship appearances, Jones occupied First or Second place. Bobby Jones retired from Competitive Golf in 1930, at the tender age of 28.
Unforgettable memories are made here. #themasters pic.twitter.com/NjZRJmTpTI

— The Masters (@TheMasters) November 12, 2020
The Modern Era
Regrettably; Augusta National, whilst producing a plethora of fitting Champions, bears the scars of a period where Black Representation was confined (solely) to club-carrying duties. Its therefore ironic, that the 2020 renewal provides Tiger Woods with an opportunity to equal the exploits of six-time Master, Jack Nicklaus.
Nicklaus; the winner of eighteen Major Titles, secured his final Green Jacket in 1986, at the age of 46.
Back in 1997, Tiger Woods produced a record-breaking performance at Augusta National, to win his first Major Title. And given his re-emergence at last years event; it seems foolhardy to dismiss the Defending Champions chances. despite his unflattering recent form.
The November re-scheduling presents the certainty of tougher conditions; but as all Major contenders will attest; familiarity is often key. Having witnessed the relaxed approach and composure shown by  Patrick Reed during his recent appearances at the Scottish Open and Wentworth PGA, he strikes me as a lively outsider – in good form.
If and when this prediction falls flat; no recount shall be sought.
The Log-Cabin Tailor will merely adapt accordingly.
We hope you enjoyed this article 'The Augusta National: Georgia On My Mind'. Do you have any favourite memories of the Masters? Let us know!
Read more on golf here: