Oleksandr Uysk V Derek Chisora: Fight Review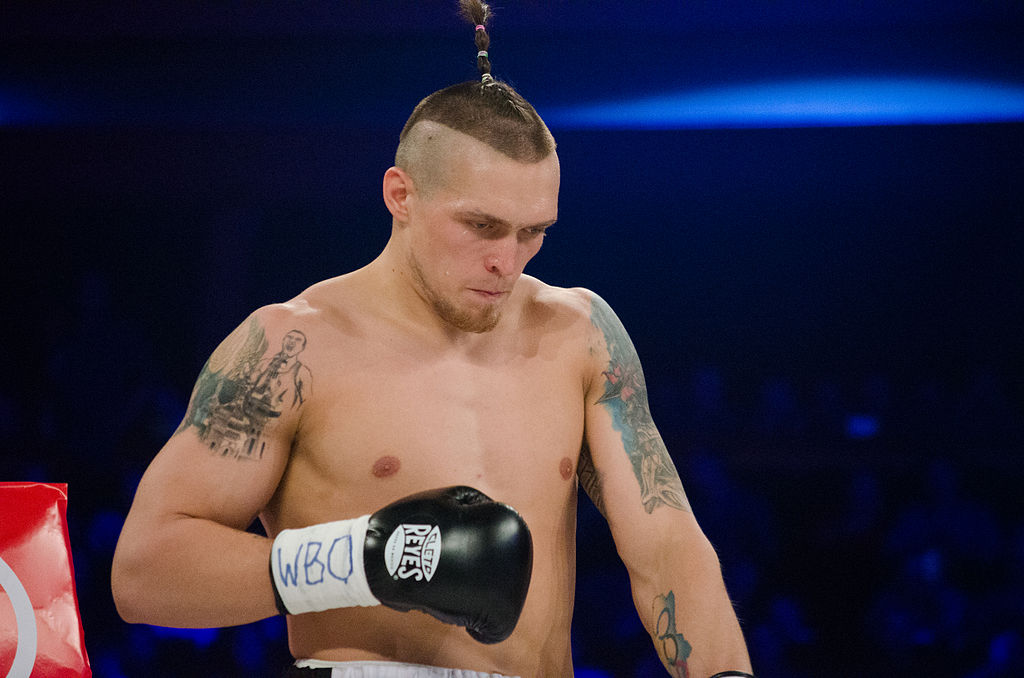 Oleksandr Uysk beats Derek Chisora by unanimous decision on Saturday night at the Wembley Arena
Uysk v Chisora: Fight review 
Uysk won the fight on points 117-112, 115-113, 115-113 as the two boxers clashed in the heavyweight decision. The Ukrainian provided a measured and controlled display to overcome his opponent and remain undefeated.
Uysk is now 2-0 in the heavyweight division after making the jump last year. He is also 18-0 in his professional career and outwitted Chisora in this fight. After many doubted whether he would be strong enough to fight at this weight, Uysk took a big step in proving his ability.
Chisora put up a good fight but couldn't handle his opponents carefully selected punches throughout. The Brit stumbled in the seventh round as Uysk continued to find efficient ways to land hits.
A clash in styles made for an entertaining bout, and it is possible a rematch may be on the cards. However, Uysk will want to look forward to another competitor to prove his worth in this division and continue his road to dominance in boxing.
Uysk said after the fight that he rated his performance a "three out of 10" but that "it is a real test in the heavyweight division."
"I was expecting the fight to be like that [to be tough], perhaps an even tougher fight" he said.
🇺🇦 Usyk takes it! Scores of 117-112 and 115-113 twice go his way!

— Sky Sports Boxing (@SkySportsBoxing) November 1, 2020
What happened in the fight?
The fight started off slow in the first couple rounds with Chisora getting the best out of the fight. As the Briton led in the first two rounds, he had Uysk stumbling around the ring to find his composure. After Chisora had landed a few good hits, Uysk began to hold his own moving into the third and fourth rounds.
Stylishly and succinctly, he managed to gain his foothold in the matchup and regain his dominance as the rounds went on. A vicious attack from the Ukrainian in the seventh round rocked Chisora towards the rope before luckily being saved by the bell.
From then on he found it hard to get back in the fight. While Chisora began to look lost in the ring, the smaller and quicker Uysk used his movement to tire out his opponent. It seemed as though most of the punches Uysk threw were catching his competitor and his efficiency was becoming hard to stop.
A classy performance in the later rounds saw Uysk use his stamina and quick feet to take control of the heavyweight fight. His notable southpaw stance and a few clean shots with his powerful left hook, scored the Ukrainian more points and gave him the edge in the end.
All three judges scored Uysk the winner in an unanimous decision that saw him win on points. His unbeaten record continues as he looks onto the next fight to further prove his place in the heavyweight division.
Chisora has now lost 10 professional fights but battled hard to not go down without a fight on Saturday. It is unknown who the 36-year-old will fight next, but he will be looking to negotiate a rematch with Uysk next year.
Chisora spoke to Sky after the fight: "I feel great, just disappointed. 100 per cent [I thought I won]. I was pushing the pace. Yeah, I gave a couple of rounds away, but I was pushing the pace. But the judges saw it a different way.
"It's boxing. There has to be one loser, one winner. I'm just gutted. I did work hard for this fight."
A massive thankyou from me to you. @usykaa I have a lot of respect for you and it was great to share the ring with you. Everyone please be kind to one another with this new lockdown coming in. We're all struggling right now. Be safe and see you soon 🙏🏾 https://t.co/IBW8P7L5u1 pic.twitter.com/oflfcd4u2W

— Derek Chisora 🥊 (@DerekWarChisora) November 1, 2020
What's next?
Although Uysk didn't make an emphatic statement with his win in the Chisora fight, people will now look forward to his next heavyweight bout. He is still the mandatory challenger for Anthony Joshua's WBO title belt. After Joshua fights Kubrat Pulev at the end of this year, we may see the two go head to head in 2021.
However Joshua is looking to become the undisputed world heavyweight champion by defeating fellow Brit Tyson Fury. Fury beat Deontay Wilder in February to win the WBC belt. Apparently a deal between these two has already been agreed, which would delay a Uysk Joshua fight further.
Derek Chisora will likely push for a rematch but Uysk will definitely be thinking about other competitors. When asked if his goal is to become heavyweight world champion, he said: "Absolutely. The undisputed world heavyweight champion. Not just world champion."
2021 is definitely a blockbuster year to look forward to, with lots of potentially huge clashes to be expected. Anthony Joshua's status in the boxing world will definitely be tested and Oleksandr Uysk is hungry for what he believes is rightfully his.
We hope you enjoyed the article 'Uysk V Chisora: Fight review'. Do you think Uysk has what it takes to be the undisputed world heavyweight champion? Let us know!
Check out other boxing news here: