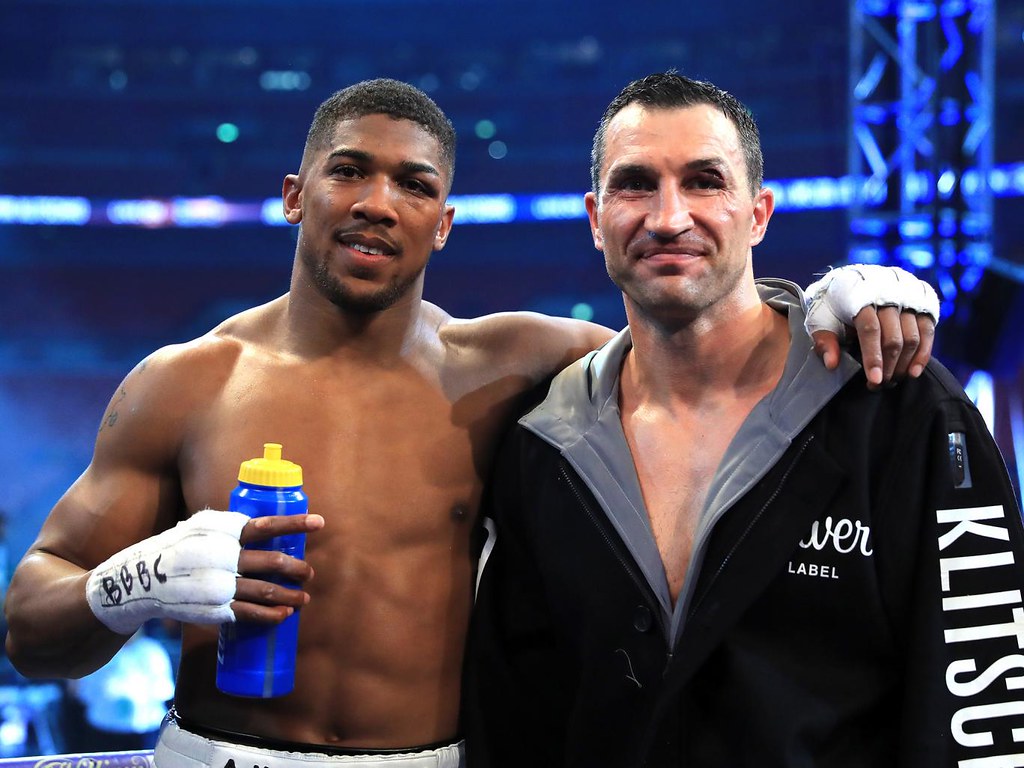 The Best Fights Involving British Boxers
The Best of British
Pugilism at it's finest is art and over the last twenty years British boxers have been involved in helping to create some masterpieces. Since the turn of the millenium British fighters have been involved in hundreds of world title fights in every corner of the globe. Many were drab affairs but some were contests that will last the test of time and be enjoyed by generations to come. 
Some were unexpected one sided beatdowns whilst others were wars that went back and forth for 12 rounds. 
Here are the top 10 world title fights with British interest over the last 20 years. 
10.
Fighters: Joe Calzaghe (WBO) vs Jeff Lacy (IBF)
Date: 04/03/2006
Venue: Manchester Arena, Manchester, England 
Weight: Super-middleweight
Welshman Joe Calzaghe had been a champion for almost a decade by the time he was due to meet American, Jeff Lacy. Despite this he was generally considered to be a protected champion, rarely venturing outside of the UK to defend his titles and prior to meeting 'Left Hook' Lacy, the Italian Dragon had defended his title against former middleweight Evans Ashira (24-1) at the Cardiff International Arena, labouring to a 12 round unanimous decision. Going into the ring,Floridian native Lacy was a heavy favourite, with a 21-0 record. 17 of his opponents stopped inside the distance, many in the first round. According to much of the media, the rebirth of Mike Tyson was upon us. 
When the first bell went Calzaghe went straight onto the front foot and if pugilism really was art, Calzaghe was about to paint his very own Mona Lisa. With astonishing accuracy and speed, every punch he landed was full of venom and spite. According to Compubox, Calzaghe threw 948 punches and landed 351 of them.  When being interviewed after the fight, Hall of Fame superstar Sugar Ray Leonard admitted to standing up after the 2nd round in amazement, saying aloud 'wow, look at this guy'.  
Result: Joe Calzaghe UD
9.
Fighters: Deontay Wilder (WBC) vs Tyson Fury 
Date: 01/12/2018 
Venue: Staples Center, Los Angeles, United States
Weight: Heavyweight
Tyson Fury is unquestionably responsible for the finest win by any Brit at any weight in the last 20 years and arguably the finest of any man from British shores in history. In November 2015 the Gypsy King travelled to Germany and was head and shoulders above all-time great Wladimir Klitschko to win the WBO, WBA AND IBF versions of the heavyweight title. Despite the magnitude of the win, the fight was derided by many for being so boring. What followed for the Lancashire big man was almost 3 years out of the ring, with Fury citing mental health challenges. Meanwhile, Deontay Wilder had won his world title 10 months before Fury and had defended it 7 times, knocking out every opponent along the way. His best win was a 10th round knockout of hard-hitting Cuban, Luis Ortiz. Fury had made his return to the ring less than 6 months before this fight, leading many observers to believe Fury had bitten off more than he could chew. The smart money was on The Bronze Bomber to continue a vicious KO streak that had seen 39 of his 40 previous opponents demolished before the final bell.  
When the first bell went both men began to feel each other out, finding their range and hoping to test the punch resistance of the other man. The first 8 rounds unfolded more like a game of chess than a world heavyweight title fight but in the 9th round it came alive when Fury was knocked onto the seat of his pants. He climbed quickly to his feet to continue and somehow won the next round convincingly. The 12th round will go down in history as one of the most astonishing rounds in British boxing history. Fury was seemingly knocked unconscious but somehow found himself on his feet much to the disbelief of everyone watching at home and in the arena. When the action resumed Fury jumped straight on the front foot and ended the fight with Wilder reeling. After the fight, referee Jack Reiss was met with universal acclaim for giving Fury the benefit of the doubt when many would have just waved it off. 
Result: Split Decision Draw
8.
Fighters: Leo Santa Cruz (WBA) vs Carl Frampton 
Date: 30/06/16
Venue: Barclays Center, Brooklyn, New York
Weight: Featherweight 
In February 2016, Carl Frampton outpointed Englishman Scott Quigg to add the WBA super-bantamweight title to the IBF one owned by himself and in the process become a unified world champion. Although in the immediate aftermath it was expected by many that Frampton would move up in weight and begin to campaign at Featherweight. However, it was also assumed that Frampton would take an easier fight when he did so he could acclimatise to the weight without too much risk attached.
When it was announced that Frampton was moving up and would immediately face WBA champion Leo Santa Cruz there was genuine shock. The fight was scheduled for barely 4 months after his win against Quigg and would be overseas at the Barclays Center in New York. 
A fantastic fight that was full of action and was a fight of the year contender saw both men come through tough moments. Both men landed an almost identical number of punches but it was Frampton who was more accurate with his work and spent much of the fight making Santa Cruz miss. A frantic fight saw over 1500 punches thrown between the two men and nobody take a backwards step. A fight of the year contender that both men would repeat the following year had Frampton walking away the winner by a razor thin margin. 
Result:  Carl Frampton MD
7.
Fighters: Ricky Hatton vs Kostya Tszyu (IBF)
Date: 04/06/2005
Venue: Manchester Arena, Manchester, England
Weight: Light-Welterweight
Ricky Hatton had spent the early part of the millennium building a relentless come forward fighter with a host of exciting fights and credible names on his resume. An all British war with Jon Thaxton resulted in plastic surgery for the hitman but he bounced back with excellent wins against Tony Pep, former world champion Vince Phillips and Ghanaian hardman, Ben Tackie. Australian foe Kostya Tszyu was coming into the fight as a considerable favourite. He was a decorated amatuar and had previously held WBC, IBF and WBA versions of the light-welterweight crown and was widely regarded as a top 3 P4P fighter, although multiple injuries had meant he now only held the IBF title. 
What ensued that night in Manchester was an enthralling battle of grit, determination and skill. Whilst both men had their moments in the fight, Hatton was the aggressor throughout and his sheer determination had Tszyu breathing heavily from early on. A non-stop, come forward war was being fought and when Tszyu failed to come out for the 12th and final round, Britain and Manchester had a new hero. The post-fight image of a tearful Hatton, sunken to his knees and  embraced by trainer and friend Billy Graham has become an iconic image in British boxing. 
Result:Ricky Hatton RTD 11
6.
Fighters: Josh Taylor (IBF) vs Regis Prograis (WBA)
Date: 26/09/2019
Venue: O2 Arena, London, England 
Weight: Light-Welterweight
One of the more recent battles to be bestowed upon British fight fans was Scottish light-welterweight Josh Taylor looking to unify his titles by taking on the American WBA champion, Regis Prograis. Universally accepted as the two leading men in the division, this fight was to decide the order of their ranking. Despite being a decorated amatuar, winning silver and then gold at successive Commonwealth Games, Taylor had somewhat of a steep learning curve in the professional ranks. He won a professional commonwealth title in his 7th fight, stopped fellow Brit Ohara Davies in his 10th fight and beat former world champions Miguel Vasquez and Viktor Postel in his 11th and 13th fights respectively before winning the IBF belt in his 15th contest. Prograis on the other hand, was 24-0 going into the contest, having  beaten 3 former world champions on his way up, including former unified champion Julius Indongo. With that in mind, Prograis entered the ring as a slight favourite. 
The fight played out at a frantic pace, both men meeting in the centre of the ring and being equally ferocious in front of a partisan crowd. The fight at times was brutal but the technical quality never wavered and as a result fans watching were served with a real classic inside a British ring. 
Result: Josh Taylor MD
5.
Fighters: Deontay Wilder (WBC) vs Tyson Fury II
Date: 22/02/2020
Venue: MGM Grand Garden Arena, Las Vegas, United States 
Weight: Heavyweight
Given the frantic ending to their final fight there was much anticipation of the rematch between The Bronze Bomber & the Gypsy King. Wilder had brutal knockouts against Luis Ortiz and Dominic Breazeale after their first fight whilst the Lancashire big man had fights against little known Tom Schwartz and Otto Wallin, with the encounter against Wallin being particularly gruelling and requiring plastic surgery in the aftermath on a cut over the eye. 
In the build-up to the fight Fury shocked everyone by making a change to his corner team, with Ben Davison departing and Sugar-Hill Steward and former WBO middleweight champ Andy Lee joining the team. Fury was adamant that he was going to KO Wilder and although this change seemed to indicate change towards that outcome, few could have predicted the demolition job that we were about to witness. Wilder was dropped twice and was bleeding from the mouth and ear when he was finally stopped after a barrage of heavy shots in the 7th round. Outstanding. 
Result: Tyson Fury TKO R7
4.
Fighters: Anthony Joshua (WBA, IBF, WBO & IBO) vs Andy Ruiz Jr. 
Date: 01/06/2019
Venue: Madison Square Garden, New York City, United States
Weight: Heavyweight
Anthony Joshua was due to make his American debut at Madison Square Garden against Jarrell 'Big Baby' Miller before the American failed not one, not two, but three drug tests only 5 weeks before the first bell was due. Dillian Whyte & Luis Ortiz were considered for his replacement opponent but ultimately it was Mexican Andy Ruiz Jr. that was chosen for the task after messaging promoter Eddie Hearn on Instagram begging for the fight. 
Overweight, flabby and not looking anything like a heavyweight is supposed too, many thought the task ahead of Joshua was a formality. 
When Joshua dropped Ruiz in round 3 it seemed like it was the beginning of the end. Joshua's killer, considered one of the best in boxing, meant that he leapt on Ruiz immediately only to be caught high on the temple and dropped heavily himself. He made it to his feet but the barrage continued and it was only the bell that saved the Englishman as he was dropped again at the end of the round. If the fight had been stopped there, nobody could have complained. The fight resumed with Joshua on unsteady legs and Ruiz finally got to him in round 7, dropping the Olympic gold medalist twice before the referee deemed him unable to continue. 
Result: Andy Ruiz Jr TKO R7 
3.
Fighters: Carl Froch (IBF) vs George Groves I
Date: 23/11/2013
Venue: Manchester Arena, Manchester, England
Weight: Super-Middleweight
When this fight was announced there was generally a lack of enthusiasm, however by the time the fight was upon us, many amongst the paying crowd were salivating. 
The build-up had been filled with enough action for a PPV in itself, with Groves almost reducing Froch to tears on Sky Sports, a result of a constant verbal barrage from the Londoner. In a pre-fight press conference George Groves predicted that he would land two right hands on the chin of Froch in the opening round and it is this that would let him know he was there. 
When the opening bell sounded, the fans in the arena and the hundreds of thousands watching on Sky PPV, the first show on the platform after a hiatus of over 18 months following the David Haye and Audley Harrison farce, were not to be left disappointed. The right hand Groves spoke of appeared and when it landed it knocked Froch heavily onto his backside and from that moment once the affair was non-stop. Groves was clearly leading the way and having the better of some monumental exchanges through the fight, with the middle rounds particularly something to behold. In the 9th round, following some heavy shots landing on The Saint, referee Howard Foster made himself villain of the hour by stopping the fight seemingly far too early.  Froch celebrated but the fans in Manchester and the fans at home were not impressed, boos reigned down on the Cobra and following some successful lobbying by Groves and his team, a rematch was ordered. That rematch would be the biggest fight in British boxing history, but would fail to live up to the action and thrills of the first encounter.
Result: Carl Froch TKO R9
2.
Fighters: Anthony Joshua (IBF) vs Wladimir Klitschko 
Date: 29/04/2017
Venue: Wembley Stadium, London, England 
Weight: Heavyweight
When promoter Eddie Hearn stood in the ring following Joshua's knockout of Eric Molina and announced a deal had been done for a return to Wembley stadium in April 2017 for the Great Britain Olympian to meet former king of the division, Wladimir Klitschko, excitement reigned down.
AJ's detractors had been quick to point out that he'd not fought a stellar name and earned the right to call himself a world champion but were accepting that should he come through his test against Dr Steelhammer, then heir to the throne he might just be. Wlad hadn't fought for almost 18 months after a rematch with Joshua's fellow Brit, Tyson Fury, had fallen through. With such a lengthy period out of the ring and on the back of a loss, many of the country's bookmakers made Joshua a slight favourite. 
The fight opened with both men finding their range and feeling each other out but exploded into life when Joshua dropped the Ukrainian heavily in the 5th. Somehow the experienced Wladimir rose and then dominated the remainder of the round as it looked seemingly like Joshua had blown his tank trying to finish the fight early. Klitschko returned the favour in the 6th round when he folded Joshua, but instead of going for the kill, listened to the advice of his brother and former WBC belt holder Vitali, who advised him to return to range and slow the pace down so he himself didn't implode.
At the end of the 6th it seemed only a matter of time before the inexperience of Joshua showed and he would be stopped. However, Joshua demonstrated his ring IQ and boxed from range rounds 7 through 10, regaining his composure and breath before taking out Wladimir in breathtaking fashion in the 11th. The fight was named fight of the year by multiple outlets and set Joshua on the path to global superstardom, as well as winning the vacant WBA title to add to his IBF version.
Result: Anthony Joshua TKO R11
1.
Fighters: Amir Khan (WBA) vs Marcos Maidana
Date: 11/12/2010
Venue: Mandalay Bay, Las Vegas, United States
Weight: Light-Welterweight
Amir Khan had become a household name in the UK following a silver medal as a 17 year old at the Athens Olympics in 2004. Following on from that he quickly turned professional and racked up 18 straight wins before being brutally knocked out against big hitting Colombian Breidis Prescott in September 2008.  Little over 2 years later, Khan was making the 3rd defence of a world title he'd won less than a year after his stoppage at the hands of Prescott. Marcos Maidana had only a single loss on his record against Andreas Kotelnik, the man Khan had beaten for the title, and was known for his formidable punching power and as a result, was a slight favourite. 
In the first round it looked as if Maidana was struggling to adjust with the lightning speed of the Bolton man and it was his speed that helped Khan land a savage body shot. Maidana sank to the floor and writhed around in agony, to this day it is astonishing that he climbed to his feet. 
The following 9 rounds were action packed, with Khan and Maidana both having moments as the aggressor but with Khan ultimately comfortable in the cards by the 10th round. In the 10th round a thunderous shot from Maidana had Khan reeling and a stoppage looked very possible. Somehow Khan made it through the round and although he would lose the last 2 rounds, he walked away with his belts. 
The American boxing press named this fight of the year and the fight was listed as one of the best of the year by many publications. 
Result: Amir Khan UD
We hope you enjoyed this article 'The Best of British'. Which is your favourite fight involving British boxers? Let us know!
Read more on boxing here: