2020 NBA Draft Results: Anthony Edwards picked first by Timberwolves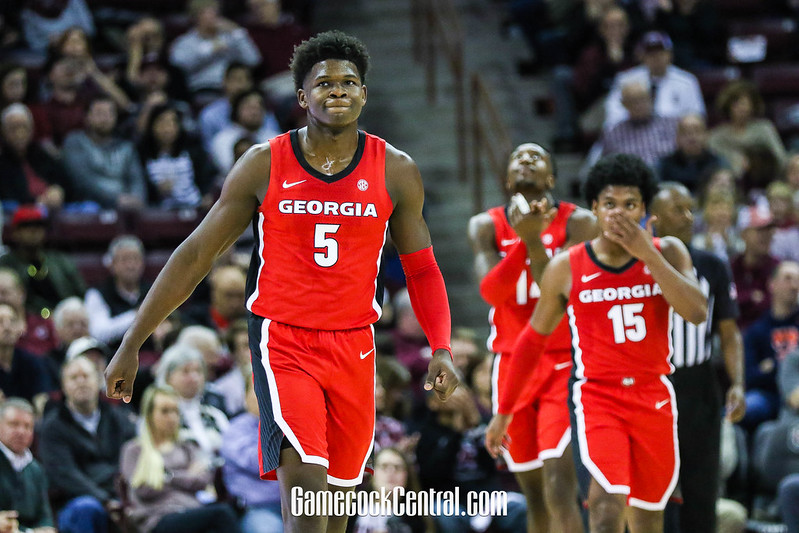 Anthony Edwards was selected by the Minnesota Timberwolves as the number one draft pick in the 2020 NBA Draft on Wednesday night
2020 NBA Draft Results: Anthony Edwards picked first by Timberwolves
The 2020 NBA draft was held virtually following the coronavirus pandemic, after being delayed several times already. It saw the 19-year-old shooting guard from Georgia be selected as the overall top pick. He will look to pair up with the likes of Karl Anthony-Towns and D'Angelo Russell in Minnesota.
Coming off a 'one and done' season in the NCAA, the Timberwolves are getting a versatile and explosive basketball player who can also shoot well. With the number one pick they had the chance to select the likes of James Wiseman and LaMelo Ball, who eventually were drafted 2nd and 3rd.
Edwards paid tribute to his late mother and grandmother at the draft, after both family members had died from cancer. He was seated next to portraits of the pair while waiting for the announcement that he had been drafted into the NBA.
Edwards will receive a four-year contract with the Timberwolves worth $44.2m (£33.39m) and joins elite company as the number one draft pick. Notable previous top picks include; Lebron James, Shaquille O'Neal, Allen Iverson and Tim Duncan to just name a few.
"As far as just being excited and just being happy and ready to go and ready to work, those emotions were overwhelming with just my mother and grandmother being there," Edwards said.
"I mean, it was just a dream come true and just a blessing."
We now look at the rest of the top 10 draft selections from the 2020 NBA Draft and look at how they might fit it into the new teams…
This is why Anthony Edwards is the No. 1 pick! pic.twitter.com/6jpY0QWhik

— Ballislife.com (@Ballislife) November 19, 2020
2. James Wiseman (C) – Golden State Warriors
The big man from Memphis was selected second in this year's draft by the Warriors. The 7ft 1in centre averaged 19.7 points and 10.7 rebounds in three games at college, before leaving to prepare for the draft.
His huge physical presence and athleticism at his size makes him a force on both ends of the court. Wiseman also has a rim-protecting style of play, which will no doubt benefit Golden State- who have been dying for a big man for a few seasons now.
The Warriors struggled last year without the likes of Stephen Curry and Klay Thompson but will be revitalised with the arrival of Wiseman. Although Thompson has reportedly injured himself again, they will be relying on their new big man to push for a championship once more.
Steph welcomes James Wiseman to the @warriors with a throwback #TBT pic.twitter.com/HZORQojyeO

— NBA TV (@NBATV) November 19, 2020
3. LaMelo Ball (PG) – Charlotte Hornets
LaMelo Ball joins his brother Lonzo Ball in the NBA, being the first siblings to have both been a top five draft pick in NBA history. Lonzo was drafted second in the 2017 NBA draft. LaMelo arrives to the league from Australia, after playing with the Illawarra Hawks in the NBL last season.
With overseas experience in Lithuania as well as Australia, Ball brings a lot of maturity with him to the NBA. The 6ft 7in point guard has incredible height for his position and averaged 17 points and seven assists per game last year. 
The Charlotte Hornets, who are owned by basketball legend Michael Jordan, have been in desperate need for a franchise player. Many believe Ball's playmaking, vision and ability to score will help him be their star man. His only issue is his shooting accuracy and discipline with decision-making, which I am sure MJ will try and hone down on.
Last night, LaMelo Ball was the 3rd overall pick to the Charlotte Hornets, making him and Lonzo the first pair of brothers ever to each be Top-5 picks in the NBA Draft. h/t @EliasSports pic.twitter.com/P092uEEC6u

— ESPN Stats & Info (@ESPNStatsInfo) November 19, 2020
4. Patrick Williams (SF) – Chicago Bulls
Florida State small forward, Patrick Williams might have surprised a few going 4th in the 2020 NBA draft. However his talent is not to be ignored. He was the ACC sixth man of the year as a freshman and continued to impress throughout the season. He is also the second youngest player in this draft and is a terrific defender at 6ft 8in.
His tireless effort on the court makes him a strong perimeter defender. He can also guard positions from one to five, showing his versatility on the floor. His scoring can be improved but he still averaged 9.2 points, four rebounds and one steal per game in 22 minutes.
It will be interesting to see how he plays in Chicago but he is definitely suited to their style of play. While it may not seem like he has as big of a high ceiling as the top three picks, his hard working nature will definitely help him improve that situation.
young Bull ♟ pic.twitter.com/sIL5I5SqO4

— Patrick Williams (@patricklw4) November 19, 2020
5. Isaac Okoro (SF) – Cleveland Cavaliers
Small forward Isaac Okoro, from Auburn, was selected 5th overall by the Cavs. Similar to Williams he will give his new team strong defensive performances as well as scoring. Coming off a promising freshman season, he averaged 12 points and four rebounds per game.
He has extraordinary athleticism and can finish strong under the basket. In his college season, it was common for him to attack defenders and draw fouls under the rim. Okoro's 67% free throw accuracy also adds value to his game.
The Cavs are in need of a franchise player to take them to new heights. If 19-year-old Okoro can improve his shooting from beyond the arc, they may have selected a great future star for the team.
With the No. 5 pick, the Cavs select Isaac Okoro pic.twitter.com/nZ2vqlzZDq

— Bleacher Report (@BleacherReport) November 19, 2020
6. Onyeka Okongwu (C) – Atlanta Hawks
University of South Carolina's Okongwu is a good selection for the Hawks. The 6ft9in centre averaged 16.2 points and 8.6 rebounds per game last year and will offer the Hawks more height on the floor. It was the position they needed to fill the most and Okongwu could be that missing figure.
His raw athleticism and strong frame makes him very effective under the rim. Although he is slightly smaller than most centres in the league, he makes up for it with his rim protecting and scoring abilities.
The Hawks have Trae Young and John Collins within their ranks and they will definitely help improve their new draft pick. Okongwu has heaps of potential and will grow as a player in Atlanta.
Onyeka Okongwu teared up after being selected by the Hawks at No. 6 🙏#NBADraft pic.twitter.com/sJDnHQxs1T

— ESPN (@espn) November 19, 2020
7. Killian Hayes (PG) – Detroit Pistons
6ft 5in point guard, Killian Hayes was selected by the Pistons at number seven. Similar to LaMelo Ball, Hayes has good experience playing overseas. He spent last season in Germany scoring over 12 points a game and proved he can play in a more physical environment.
Hayes has advanced decision-making and is a great player on the ball. He will be playing with the likes of Derrick Rose and Blake Griffin, two players that are very good offensively. As a back-up point guard to Rose, he will certainly learn a lot from his experiences in the NBA.
The French 19-year-old is one of the most highly-rated international players. He will definitely be a project that will improve over a few seasons but is a strong option coming off the bench.
.@iam_killian already with that Detroit mentality. #DetroitUp pic.twitter.com/ywFfjyGnEO

— Detroit Pistons (@DetroitPistons) November 19, 2020
8. Obi Toppin (PF) – New York Knicks
The NCAA player of the year last season, Obi Toppin will return back to his hometown in New York. Born in Brooklyn, the 6ft 9in power forward has the potential to be a stand out player in this Knicks team.
Playing for Dayton last year, the 22-year-old averaged 20 points and 7.5 rebounds per game. Being one of the older members of the draft he is certainly ready to play at an NBA standard. His abilities since being at Dayton has risen drastically and many believed he was one of the best college players last season.
He has a 7ft 2in wingspan and is brilliant off the pick and roll. Toppin his very explosive and can also score the ball really well, something that the Knicks have been missing recently. While he continues to hit new heights, fans are worried his potential is limited but he can definitely be an effective player in New York.
Obi Toppin is ready to be great

Full interview ➡️ https://t.co/s5FTaS4UGA pic.twitter.com/YmS8x3Zyrg

— MSG Networks (@MSGNetworks) November 19, 2020
9. Deni Avdija (SF) – Washington Wizards
The second international player to be drafted is Deni Avdija. The 6ft 8in small forward arrives in the NBA from Maccabi Tel-Aviv as the Israeli league MVP, the youngest ever in the league. As a small forward he has all the ball handling and creativity that a point guard would usually have. Good on both ends of the floor, Avdija is quick in transition and his shooting is only improving.
The Wizards have struggled to find a team that can really mount a playoff push. John Wall and Bradley Beal have been the focal point of their roster for some time now. However Avdija can certainly help them improve as a team. It may take some time adjusting to the NBA but there is potential for him.
His confidence on the court will be key in helping out the Wizards as much as he can. Avdija can complement the talents of Beal and Wall as well as improving his own game.
With the 9th pick of the @NBADraft, the @WashWizards select Deni Avdija!

2020 #NBADraft presented by State Farm on ESPN pic.twitter.com/NRVqQK5z1M

— NBA (@NBA) November 19, 2020
10. Jalen Smith (C) – Phoenix Suns
Arriving from Maryland, Jalen Smith was one of the biggest shocks of the 2020 NBA draft. The Phoenix Suns drafted Cameron Johnson last year at the 11th pick, surprising most and have done so again this year. Nevertheless their choice can pay off.
Being 6ft 10in, the Suns are adding more height into their roster. Their squad already includes the likes of Deandre Ayton, Devin Booker and Kelly Oubre Jr as they make a push for playoff berth. Smith scored 15.5 points and grabbed 10.5 rebounds per game last year.
Smith can not only score the ball from a variety of spots on the court, but he is also a good shot blocker on defence. Many worry about his range in movement but the Suns will definitely work on building him up to be at an NBA level where he can compete effectively.
The Phoenix Suns tonight selected Maryland's @thejalen_smith with the 10th overall pick of the 2020 #NBADraft

— PhoenSTIX Suns (@Suns) November 19, 2020
11. Devin Vassell (SG) – San Antonio Spurs
12. Tyrese Haliburton (PG) – Sacramento Kings
13. Kira Lewis Jr (PG) -New Orleans Pelicans
14. Aaron Nesmith (SF) – Boston Celtics
15. Cole Anthony (PG) – Orlando Magic
16. Isaiah Stewart (C) – Portland Trailblazers  (reportedly traded to Pistons via Rockets)
17. Aleksej Pokusevski (PF) Minnesota Timberwolves (reportedly traded to OKC)
18. Josh Green (SG) – Dallas Mavericks
19. Saddiq Bey (PF) – Brooklyn Nets (reportedly traded to Pistons via Clippers)
20. Precious Achiuwa (PF) – Miami Heat
21. Tyrese Maxey (SG) – Philadelphia 76ers
22. Zeke Nnaji (PF) – Denver Nuggets
23. Leandro Bolmaro (SG) – New York Knicks (reportedly traded to Timberwolves)
24. RJ Hampton (PG) – Milwaukee Bucks  (reportedly traded to Nuggets via Pelicans)
25. Immanuel Quickley (PG) – Oklahoma City Thunder (reportedly traded to Knicks)
26. Payton Pritchard (PG) – Boston Celtics
27. Udoka Azubuike (C) – Utah Jazz
28. Jaden McDaniels (PF) – Los Angeles Lakers (reportedly traded to Timberwolves via OKC)
29. Malachi Flynn (PG) – Toronto Raptors
30. Desmond Bane (SG) – Boston Celtics (reportedly traded to Grizzlies)
We hope you enjoyed the article '2020 NBA Draft Results: Anthony Edwards picked first by Timberwolves.' Who do you think will be Rookie of the Year for the 2020-21 NBA season? Let us know! 
Read more on Basketball here: