Joseph Parker: Career Breakdown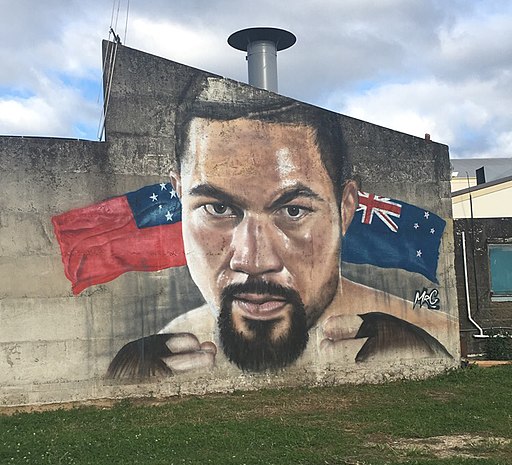 Joseph Parker: Career Breakdown 
Joseph Parker is one of the nicest people in boxing. It's a great attribute for a person to have – it's also been his downfall on occasion.
Parker is known for his easy-going, taciturn approach where words are concerned. He has no interest in playing mind games like so many others in the heavyweight division. It's refreshing.
He has been bestowed the Samoan high chief name "Lupesoliai La'auli Malietoa" and comes from a family with a rich background of pugilism. His father's first name is Dempsey, after Jack Dempsey.
New Zealand's brightest boxing talent since David Tua has had an eventful career. Titles, controversy and Stepbrothers impersonations all began at age twelve for a young Joseph Parker.
John Parker has moved in for fight camp 👍🏼 Even though he is my brother, it is still my house and my rules #stepbrothers 🎥🎞: #kerryrusselltv pic.twitter.com/LVlrY5Q1vs

— Joseph Parker (@joeboxerparker) November 12, 2020
The Amateurs
In this Joseph Parker career breakdown, it starts with 66 amateur bouts, where he won gold medals at various tournaments. Here, he fought a selection of contemporary high-profile heavyweights, such as Filip Hrgovic, Zhilei Zhang and Tony Yoka.
Parker's cautiousness held him back in the amateur ranks. His measured approach was much more suited to professional boxing, where fighters can take their time and assess the situation.
This would also be the stage where he began his feud with fellow Kiwi, Junior Fa. Parker was defeated twice by Fa, but also picked up two victories against him. Their fifth match is scheduled for December 11th – this time in the pro ranks.
The high chief did not make the mistake of toiling in the amateurs for too long. At the age of 20, he made his professional debut in his hometown of Auckland.
Joseph Parker and Junior Fa fought four times as amateurs, with two wins each. Now 16-0, Fa is targeting an all-Kiwi Heavyweight clash next year to settle the score 🇳🇿

[📹 Gladrap Channel] pic.twitter.com/fiqO2HWb4v

— BoxNation (@boxnationtv) February 28, 2019
Joining the Pro Ranks
This Joseph Parker career breakdown begins with his first 18 fights at professional level, and they were no problem for him as he picked up straightforward victories over several journeymen. Among them was former Tyson opponent Frans Botha, who Parker stopped within two rounds.
His first real challenge came in the form of Carlos Takam. Parker showed his weaknesses in this fight. He took too many punches, many due to him retreating in a straight line when Takam loaded up for his counter punches.
However, the Kiwi was able to pick up a narrow victory based on his superior punch output. Parker looked best coming forwards, throwing aggressive combinations. He also displayed his granite chin – something he would come to rely upon.
When Tyson Fury temporarily left the sport after picking up all the belts, Parker was given an opportunity to win the WBO iteration. The only thing that stood in his way was a chubby Mexican brawler known as Andy Ruiz Jr.
Both men exhibited their resiliency in the contest. Parker was having better success at jabbing range, but Ruiz was frequently able to back him into ropes and land heavy shots.
The high chief did not let this faze him. He would often return fire at close range and was happy to exchange vicious combinations. After a gruelling 12 rounds, the Judges awarded Parker a razor-thin majority decision. New Zealand had a new boxing icon. As for Ruiz, his time was yet to come.
Joseph Parker is the only man to beat Andy Ruiz Jnr and the only opponent Anthony Joshua failed to hurt yet he's been deemed 'too nice' to be a champion again: https://t.co/DSkRoWHxKh pic.twitter.com/Ml25keqGmF

— Boxing News (@BoxingNewsED) September 7, 2019
WBO Champion
After a comfortable victory over Razvan Cojanu, Parker was challenged for his belt by Hughie Fury. Hughie was like no opponent Parker had faced before – an awkward, rangy fighter with a knack for frustrating his opponents (and everyone watching).
The fight itself was, in a word, soporific. Hughie seemed content to flick out his jab and smother the champion at close range. The fans did not appreciate this. Nor did the judges, as they handed Parker a unanimous decision.
The real highlight of this bout was the look on the Fury camp's faces as Parker was announced the winner. Had he been more aggressive and less wary of Hughie's power, this contest may have been much less controversial. That being said, we also wouldn't have been treated to a classic John Fury outburst. Swings and roundabouts.
The following spring, Parker fought a world title unification bout with WBA, IBF and IBO world heavyweight champion, Anthony Joshua. The fight was made after talks of an Australia vs New Zealand clash with Lucas Browne broke down.
Parker had little answer to AJ's straight shots, though through no fault of his own. Every time Parker closed the distance and tried to take the fight to Joshua on the inside, the action was halted by the referee and the two were inexplicably separated. This effectively nullified Parker's offence against the taller man and made for an uneventful contest.
Despite this, Parker showed little signs of doing anything notable during the 12 rounds. The final bell rang not just on the bout, but also on Parker's inaugural world title reign.
⏪ #OnThisDay in 2018…@anthonyfjoshua outpointed Joseph Parker in front of over 78,000 fans at The Principality Stadium, adding the WBO belt to his IBF, IBO & WBA collection!

👑👑👑👑 pic.twitter.com/hLN4UfEQGU

— Matchroom Boxing (@MatchroomBoxing) March 31, 2020
The Comeback Trail
Boxing fans across the world were bristling with anticipation as a deal was signed to make Joseph Parker vs Dillian Whyte official. A true 50/50 contest between two men who wanted nothing more than to fight. It's something we don't see enough of in modern boxing.
Whyte knew where the chinks in Parker's armour were and exploited them. He did not turn up to box him, he turned up to bully him. Parker was wrestled around by his opponent, frequently disrupting his flow.
In the 2nd, Whyte was awarded a particularly conspicuous knockdown. Parker looked nonplussed and disturbed by Whyte's roughhousing, failing to mount any credible offence.
As the fight reached the 10th round, Whyte unleashed his patented left hook that cracked Parker's iron chin and dropped him. The Kiwi rose to his feet, now with a changed look in his eyes. He knew now he needed a knockout to win this bout.
It did not materialise. Despite a vicious onslaught at the very end of the final round, it was too little too late. Parker had been pushed back to square one by a career-best performance from the Body Snatcher.
In interviews, Parker promised he would not hold anything back in any subsequent fights. He had the ability, just not the mean streak. No more Mr Nice Guy.
Since his fight with Whyte, Parker picked up three straight KO victories. So far, so good. But his upcoming fight with Junior Fa, his old rival, presents an entirely different challenge. It could be the ideal launching pad for his new, blood-and-guts attitude in the ring. It could also be another stumbling block where his fear gets the better of him. Only the man himself can decide which of the two occurs.
Parker wanted to put him to sleep with this shot. 😴 pic.twitter.com/p5VI75dPqU

— DAZN Boxing (@DAZNBoxing) March 1, 2020
The Future
It's easy to forget that Joseph Parker is only 28. If he chooses so, he could still have a long career ahead of him.
People have spoken of potential matches he could partake in. Rematches with Joshua and Whyte stand out as strong candidates. If Parker fights against either of these two on the front foot, we could see a very different outcome.
A fight with Lucas Browne could generate media interest, though it is unlikely to be an inspiring contest. A rematch with Andy Ruiz Jr would probably produce similar results.
Assuming he defeats Junior Fa, a battle with Dereck Chisora would be good for his career and would also be an interesting bout. Chisora put in a valiant, if futile effort against Oleksandr Usyk and is a consistent draw – the British fans seemingly can't get enough of him.
Sadly, this is all just perception, as with the COVID-19 pandemic he is limited to mainly domestic clashes. Anything else presents barriers, although steps are being made to create international showdowns.
Parker's boxing skills are very good, some of the best in the division. If he can achieve a mental balance and begin to fight less cautiously, we could see an exciting career resurgence from him. He belongs up there with top heavyweights, but much of this depends on whether he believes it.
We hope you enjoyed the article 'Joseph Parker Career Breakdown.' Do you think that the Joseph Parker career can be reignited? Let us know!
Read more on boxing here: