Deontay Wilder: The Fall of a King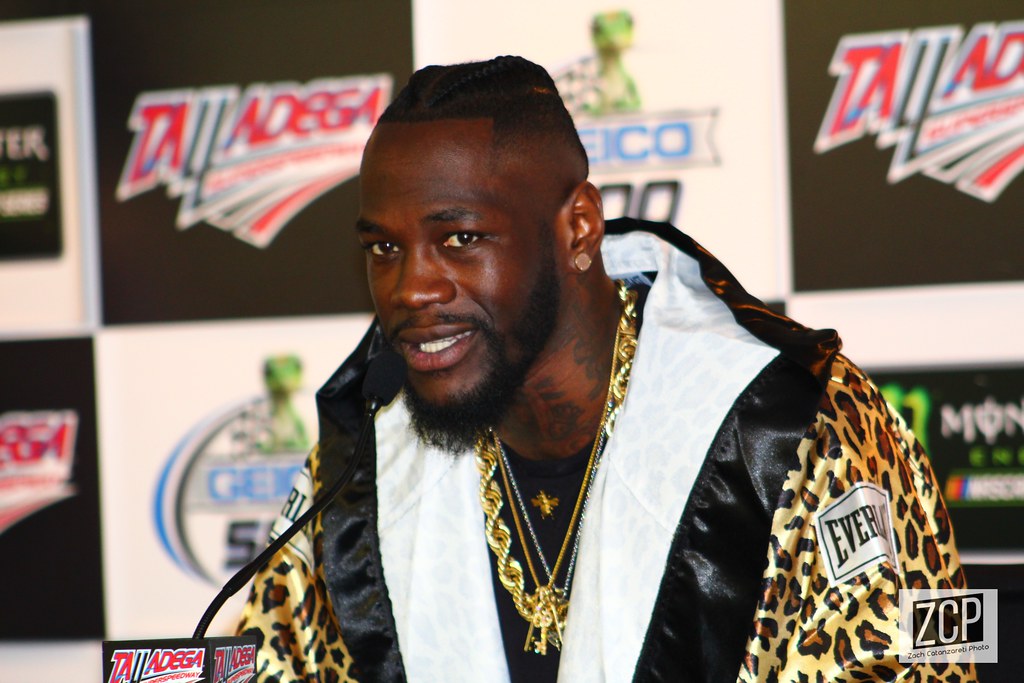 Deontay Wilder: The Fall of a King
A year ago, Deontay Wilder was considered one of most feared fighters in the history of the heavyweight division – but one calamitous encounter changed everything.
Not many boxers have carried an aura similar to what surrounded The Bronze Bomber.
His devastating one punch power forced his opponents to box a certain way. They'd never even dream of trying to take the middle of the ring; it seemed out of the question. To be in range of his howitzer right cross wasn't seen as just foolish, it was seen as suicidal. Fighters didn't turn up to beat Wilder, they turned up to survive.
Artur Szpilka left the ring on a stretcher. The former bogeyman of the division, Luis Ortiz, was knocked out on two separate occasions. Dominic Breazeale, Bermane Stiverne and Audley Harrison were all annihilated in a single round. Wilder's reputation wasn't undeserved. While not a perfect fighter by any means, his strengths greatly outweighed his weaknesses.
The fear he instilled in his peers was in many ways his greatest asset. It allowed him to dominate the centre, giving him plenty of time and options to set up his backhand. He'd spend much of the fight with his feet planted, ready to strike. When he did, it was game over.
Until someone took all this away from him. That someone being the Gypsy King, Tyson Fury.
The Beginning of the End
In their first fight, Fury was by no means 100%. He was still on the comeback trail and noticeably not in shape. When Wilder clobbered him with a thundering left hook in the 12th round, for Fury to not only get back to his feet but also start taking the fight to Wilder, it was shocking. Not only to the audience, but to Wilder. No one had charged at him like this before, no one had taken his best shot and wanted more.
Wilder had hit Fury with everything he had and there he was, stood right in front of him with his hands behind his back. In that moment, he was no longer the Bronze Bomber. He was merely Deontay Wilder.
As the judges ruled the fight a draw, boos rang out. Wilder's face told the story – he knew he'd been beaten.
He was quoted saying: "My opponent has to be good for 12 rounds. I have to be good for two seconds." But what if that two seconds never came?"
No one knew what to expect from the rematch, but in retrospect, it all seems very obvious. Fury took Wilder's confidence and with it, his game plan. He gave the champ no time or space to look for his signature power shots, chasing him around the ring in a ruthlessly measured onslaught. Truth be told, the fight had ended over a year prior. When Fury extinguished the fear and saw past Wilder's one-dimensional tactics, the Alabama man could nothing in response.
A Fallen Warrior
It was almost painful to watch. Fury battered a disorientated and disheartened Wilder from pillar to post, dropping him twice and bludgeoning his equilibrium. Credit must go Wilder for wanting to continue, but the fight should've been stopped sooner. It was nothing short of a massacre.
With this defeat, public perception of Wilder took a complete 180. Truth be told, he was never viewed as the American Hero akin to Joe Louis or Muhammed Ali, but he was regardless seen as a worthy champion. After losing to Fury, he was cast aside. It's almost similar to how fans turned on George Foreman when he was defeated by Ali in Zaire. The effect this loss has had on Wilder's mental state appears to be catastrophic.
Wilder did himself no favours post-match. The fans wanted to see him put his head down and work his way back up to the top, like AJ did after losing to Ruiz. Wilder did not do this. He flung excuses around like confetti. He would tell anyone who was listening that his costume was too heavy, that Fury had loaded gloves, that he was drugged on the day of the fight. But no one was listening. They'd watched Wilder get completely obliterated and that's all that mattered.
Shock revelation claims Deontay Wilder fought Tyson Fury with bad injury https://t.co/GNv4laToDm #boxing pic.twitter.com/eZhJbu5x4b

— 𝙒𝙊𝙍𝙇𝘿 𝘽𝙊𝙓𝙄𝙉𝙂 𝙉𝙀𝙒𝙎 (@WorldBoxingNews) September 7, 2020
In Defence of the Former Champion
Is this a fair assessment of the Bronze Bomber? Probably not. Unfortunately for him, he'd spent far too much time practising one aspect of his game – power shots and how to trigger them. Fury took this option away from him, which boxers have tried to do in the past. Breazeale charged Wilder down aggressively, but didn't have Fury's adept defensive instincts and found himself unconscious very quickly. Wilder's weaknesses have been in circulation for some time now, it has just been a matter of finding someone good enough to exploit them.
Deontay Wilder is still a formidable fighter, make no mistake. However, if he fails to record another significant win before his career is over, history will not look favourably upon him. He won't be the man who took up boxing to support his daughter and ended up with a world title, he'll be the man who was conquered by a far better boxer and couldn't handle the defeat. Avenging the loss against Fury in their third match would solve all his problems, but it's difficult to see this happening.
Tyson Fury aims another shot at Deontay Wilder 👀 pic.twitter.com/AiXzsAXwfO

— Boxing Exposure (@Boxing_Exposure) September 6, 2020
What Does the Future Hold For Wilder?
Where Wilder goes from this is anyone's guess. Many speculate that he will retire after his third fight with Fury, which would make sense. He's not getting any younger; time is not on his side. The superfight with Joshua no longer looks to be on the cards. All he can currently do is to work  on expanding his game plan and surprise the Gypsy King in their rematch.
He should begin targeting the body more often – his tendency to headhunt makes him far too predictable. He is also too conservative with his jab. He's 6ft 7 with an enormous reach, it should be one of the most important parts of his style, but it's woefully underutilised. He makes many basic errors that you would not expect to see in a ten plus year veteran of the sport.
While it's likely he will lose to Fury again, a good performance will do wonders for him and his legacy. Otherwise, a sad truth is that he will be forever known as a lucky puncher who was totally out of his depth against top class opposition. It'll take a monumental effort on his end, but you don't get to hold a world title for five years for nothing. If he can remain grounded and regain his confidence, he may surprise a few people in the third fight. For his own sake, he needs to.
We hope enjoy this article 'Deontay Wilder: The Fall of a King'. Where do you think Deontay Wilder ranks among boxing's best? Let us know!
Read more on boxing here: