Daniil Medvedev wins Paris Masters after beating Alexander Zverev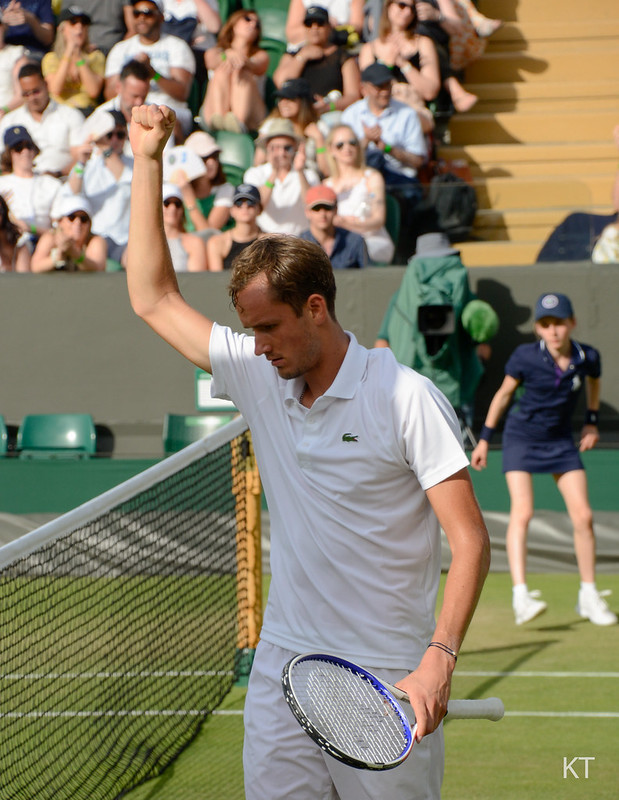 Daniil Medvedev beat Alexander Zverev to win the Rolex Paris Masters Final on Sunday and claim his 8th career title
Daniil Medvedev wins Paris Masters after beating Zverev:
World number four, Medvedev won his first Paris Masters and his third Masters 1000 title after winning 5-7, 6-4, 6-1. He beat German Zverev, ranked 7th in the world, to end his 12-match winning streak.
Zverev won back-to-back titles in Cologne last month and also knocked out French Open winner Rafael Nadal in this tournament's semi-finals. After winning the first set, he dropped the next two to give his Russian opponent his first title of 2020.
This win was only his second against Zverev in seven meetings. In two hours and seven minutes, the Russian had sealed off the match to win his 8th title in his career. Both players will now compete in the ATP finals next week.
24-year-old Medvedev also replaced Roger Federer at 4th position in the world tennis rankings. The Swiss has not played since February with a knee injury and has since seen Nadal equal his all-time grand slam record with 20 titles.
Medvedev said after the match: "I managed to stay really strong, be there all the time. I got four break points at one-all in the second, and [then I was] putting pressure on him all the time, raising my level step by step, and finally he broke".
"I'm really happy with the final, with the win here, especially my level of game was really top level this week. I think it's not easy for guys to play against me when I play like this" he added.
THE MEDVEDEV MACHINE 💪 @DaniilMedwed wins his first title in 2020 at the #RolexParisMasters, defeating Zverev 5-7, 6-4, 6-1! pic.twitter.com/7XHc89NliP

— ATP Tour (@atptour) November 8, 2020
What happened in the match?
Playing their fifth game in as many days, both athletes had to overcome tough opposition to get to the final stage. Zverev had especially worked hard this last month. After playing his third final in a row and winning two tournaments in Germany, he beat the likes of Stan Wawrinka and grand slam record holder Rafael Nadal, to qualify into the final.
Medvedev also had a difficult run, overcoming players like Alex De Minaur, Argentine Diego Schwartzman and 10th ranked Milos Raonic in the semis.
The match began as expected. They exchanged points and rivalled each other to keep the game tight. 23-year-old Zverev held the lead for the majority of the first set, with both dominating their service game before Zverev found the opening break. After several high-intensity rallies, Zverev all but finished the set with a powerful forehand to win 7-5 in Paris.
The momentum however quickly shifted. Medvedev slowly picked away his opposition in the second set, using his acceleration to get better shot opportunities down the baseline. Still tight, Medvedev won a 38-shot rally on his way to his first break point.
Zverev was responding with some impressive backhands in the first few games, but the Russian's constant pressure chipped away at his tiredness. With the match neck and neck, Medvedev clinched the second set 6-4 with his 13th ace of the match.
As both players' fitness levels were pushed to their limits, it was Medvedev who came out victorious. Zverev was unable to compete as his opponent got a double break to go 3-0 up. The relentless Medvedev clinched his first Paris Masters title after a double fault from Zverev closed the set at 6-1.
"Once you get a little bit tired against him, he wears you down. He wears you down even more. He makes you run, he makes you move" Zverev said. "So that was a bit difficult, but, you know, credits to him. He's a great player. It's his first tournament win of the season. I know his season wasn't the easiest one, whereas I have to say my season is actually going quite well."
Perfect pitch from @DaniilMedwed ⚾️

🎥: @TennisTV | #RolexParisMasterspic.twitter.com/uttVl7AsJF

— ROLEX PARIS MASTERS (@RolexPMasters) November 8, 2020
What's next?
After a whirlwind 2020, the next and last tournament of the year will be no different. The ATP finals begin on Sunday 15th November in London, where both Medvedev and Zverev will compete.
The biggest tennis event of the year is no doubt going to be a blockbuster finale to 2020. Playing against the likes of Novak Djokovic, Rafael Nadal and Dominic Thiem, both players will be put to the test both physically and mentally.
The week-long event will see the best eight of the season go head to head to claim $9m in prize money. Alexander Zverev made the semi-finals of last years competition, and will certainly be looking for vengeance to claim his third title of the year this time round.
Following the Paris Masters win, Daniil Medvedev will be confident that he can improve on last years ATP finals performance. "I'm coming in better shape than last year" he said.
"Last year I was real exhausted, I had lost in the first round in Paris. That's when you lose your confidence."
We hope you enjoyed this article 'Daniil Medvedev wins the Paris Masters after beating Alexander Zverev'. After Medvedev wins the Paris Masters, who do you think will win the ATP finals starting next week? Let us know!
Read more on Tennis here: