Nitto ATP Finals: Nadal and Djokovic start with wins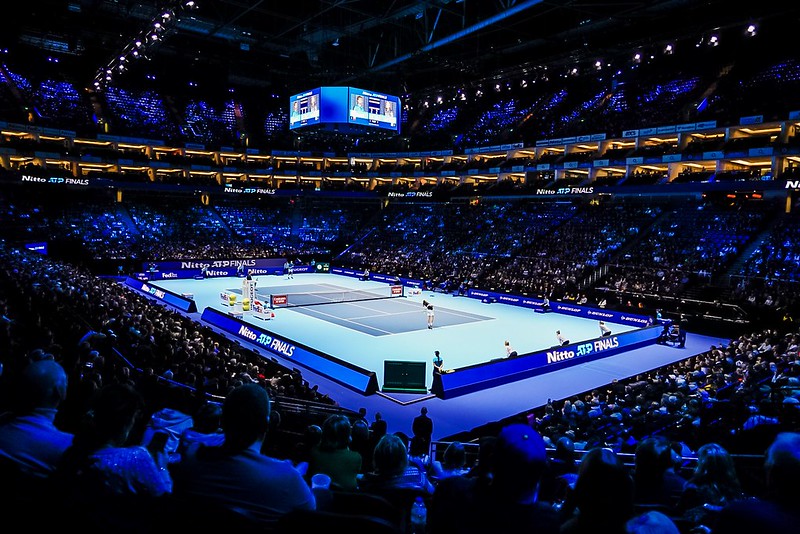 Nitto ATP Finals
The ATP Finals kicked off with a bang on Sunday, after Rafael Nadal and Dominic Thiem win their matches on day one. Day two followed suit, after Novak Djokovic and Daniil Medvedev top their group with wins as well.
Group Tokyo 1970 started off as Austrian Thiem beat last year's champion Stefanos Tsitsipas in straight sets. Later that day, world number two Nadal claimed his first victory after beating Andrey Rublev. The Spaniard is in search for his first ever ATP Finals title after reaching the finals in 2010 and 2013.
Group London 2020 saw world number one Novak Djokovic beat Diego Schwartzman in their first group match. Following Novak's win, Paris Masters winner, Daniil Medvedev claimed his victory against Alexander Zverev that evening.
With the Nitto ATP Finals well and truly underway, we are beginning to see the tournament light up as the best eight from this season battle it out for the all-important title. It is being held at the 02 arena in London for the last year, before moving to Turin, Italy in 2021.
Each day brings action-packed matches, before the top two in each group progress to the semi-finals on Saturday. The winner of those two matches will fight for the ATP final title the next day. We take a look at how the players have fared after the first two days of the event.
Group London 2020: Day 1
Rafael Nadal v Andrey Rublev (6-3, 6-4)
In search for his first ATP final title, Nadal claimed his first win in a tough group drawn for him. His first match was against Russian tennis player Andrey Rublev, a man on form over the past few months. He has won five titles in 2020, and is recently coming off back-to-back victories in St Petersburg and Vienna.
Competing in his first ATP Finals, Rublev had a tough start in his debut match. 20 grand slam winner, Nadal made a statement in the opening game and was a constant threat on the court throughout. Rublev struggled to get his feet into the contest but nevertheless continued to put up a fight.
The first set started off fairly close with the players exchanging points to go 2-2 in the first four games. It wasn't until Nadal managed to break Rublev's serve that he began to dominate. Expert serving from the Spaniard gave him a 6-3 win in the first.
The second set mirrored the last. With Rublev far from his best, Nadal capitalised on his opponents mistakes. Good footwork and deadly returning gave him the advantage, even though Rublev was just starting to get into the match. It was too late however and in one hour and 18 minutes, Nadal won 6-4 to go 1-0 in Group London 2020.
"That is Nadal at his absolute finest!" 🤩

Sublime stuff! 👏#NittoATPFinals pic.twitter.com/LV0e9OvB0A

— Amazon Prime Video Sport (@primevideosport) November 15, 2020
Dominic Thiem v Stefanos Tsitsipas (7-6, 4-6, 6-3)
In a repeat of the 2019 Nitto ATP Finals championship match, Dominic Thiem got his revenge over Greek tennis player Stefanos Tsitsipas on Sunday. In a much tighter affair than the other match up in Group London 2020, these two went head to head to start their tournament with a win. World number three, Thiem showed a passionate display to overcome his opponent.
The first set had nothing to separate the two as neither players managed to break each other's serve. Thiem was hitting good forehand shots and took control of the final game, which was eventually decided on a tie breaker. Tsitsipas hit a backhand shot too far to give the Austrian the first set 7-6.
The response from Tsitsipas showed grit and determination as he tried to get back into the match. He managed to break Thiem's serve in the third game to take the lead through most of the second set. He capitalised on his opponents forehand errors and attacked Thiem's backhand, closing off the set 6-4 to tie the match.
The final set looked to be a close affair but it was Thiem who ended up dominating. As he found his form once more, his strong forehand shots were too much for Tsitsipas. Taking a 5-3 lead, a powerful serve from Thiem put his opponent on the back foot before his opponent hit a forehand shot into the tramline.
Winning the final set 6-3, Dominic Thiem looks tough to beat going into the rest of the week. His match up against Nadal will definitely be one to look out for.
hello LONDON #NittoATPFinals #ATP pic.twitter.com/nBXFaqhZK2

— Dominic Thiem (@ThiemDomi) November 15, 2020
Group Tokyo 1970: Day 2
Daniil Medvedev v Alexander Zverev (6-3, 6-4)
This match was a repeat of the Paris' Masters final just eight days ago, where we saw Daniil Medvedev overcome Zverev to win his 12th career title. There was a similar result on Monday, after the Russian once again beat Zverev to take his first win of the group.
Zverev admitted to feeling fatigued in their final set in Paris, after winning back to back tournaments in Cologne last month. It seemed evident again in this match, that he has not yet recovered to reach his full potential.
The two went head to head in the first set, with an exhilarating rally in the 6th game that resulted in Medvedev breaking his opponents serve. Zverev fought well but continued to hit double faults which allowed Medvedev to apply on the pressure. The German eventually lost the set 6-3.
Similar circumstances occurred in the second with the break point coming in the 7th game, with the score 4-3. German tennis player Zverev looked out of rhythm, but showed fight to claw his way back into the match. It wasn't enough however, as Medvedev's usual controlled and measured approach put him in the lead.
A surprising underarm serve from the Russian caught out Zverev and allowed him to avoid facing a break point. A riveting backhand to put the final nail in the coffin concluded the set 6-4. A win for Medvedev in straight sets, shows why he can be a contender for the title this year.
The first Russian singles player to get a win at the #NittoATPFinals since…

2009 winner Nikolay Davydenko 😏@DaniilMedwed 🇷🇺 pic.twitter.com/2R96qcQTxf

— Tennis TV (@TennisTV) November 16, 2020
Novak Djokovic v Diego Schwartzman (6-3, 6-2)
World number one Novak Djokovic came into this tournament top of the world rankings this year for a record-tying sixth time. With all eyes on the Serb to win his first ATP Final title since 2015, a win against 9th ranked Diego Schwartzman was the perfect start.
Having only lost one opening match (in 2007), Djokovic was eager to continue that record on Monday. The first set started off shaky from Djokovic, with Schwartzman breaking his serve early on. However he quickly found his feet and re-gained control of the match, hitting powerful forehands to stay in the lead. Novak went on to win the set 6-3.
The second saw a series of extended rallies which ultimately ended with the majority of points going to Djokovic. A dominant display resulted in consistently good shots and showed his incredible returning ability. Breaking Schwartzman twice in the set led to a 6-2 win to round off the match.
His consistent and clinical performance gave him the win in straight sets to go top of the group. Djokovic is certainly on a mission to equal Roger Federer's record for the most ATP Finals titles (6). Arguably Schwartzman is the easiest opponent in this group, but he will have to put in similar performances throughout the rest of the week to go through to the knockout stages.
We hope you enjoyed this article 'Nitto ATP Finals: Nadal and Djokovic start with wins'. Who do you think will go on to win the Nitto ATP Finals? Let us know!
Read more on Tennis here: