Best tennis players outside of the 'Big Four' over the last decade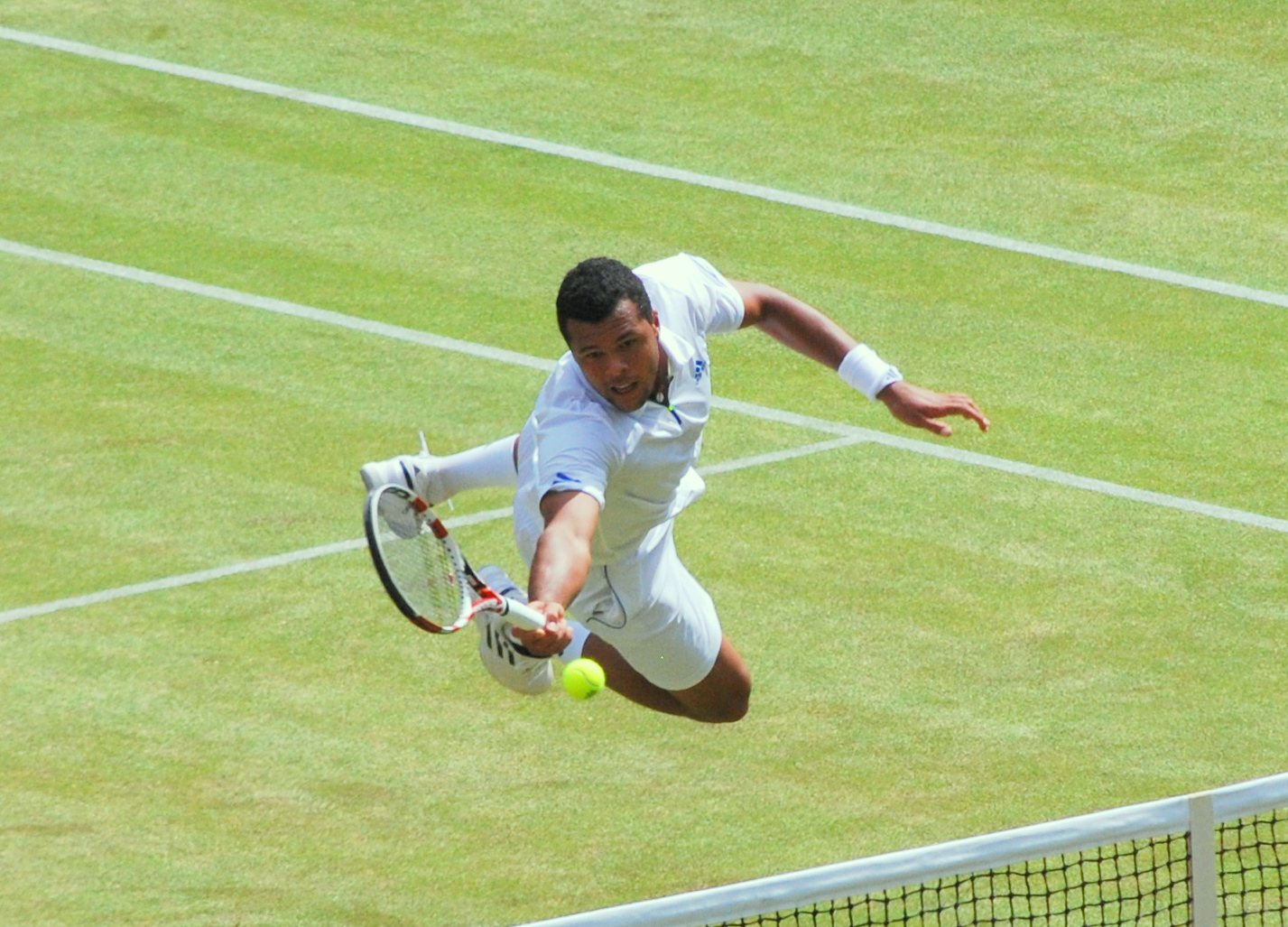 Who have been the best tennis players outside of the 'Big Four' over the last decade? – We countdown the five contenders
The 'Big Four' have dominated the sport over the last decade. Between them Roger Federer, Rafa Nadal, Novak Djokovic and Andy Murray have won 37 of the 42 Grand Slams since the 2010 Australian Open. This article focuses on five players who have come closest to challenging the 10-year status quo in male tennis.
Only three other men have won Grand Slams during this time so not all players in this countdown have won a Grand Slam. Therefore, the criteria for this list will be based on a variety of factors. These include: consistency in major tournaments over the decade, wins against the 'Big Four', ATP Tour victories and world rankings. Without further ado here are the five men competing for the 'best of the rest' title.
5. Jo-Wilfried Tsonga
It's a travesty that Jo-Wilfried Tsonga never won a Grand Slam with the level of ability he possessed. Ever the entertainer, he's been part of some legendary matches against the 'Big Four'.
He burst onto the scene as a 22 year-old, when he reached the final of the 2008 Australian Open. However, Tsonga never quite delivered on the immense potential he showed as a young player. He would never reach another Grand Slam final but consistently appeared in the latter stages of major tournaments throughout 2010's.
Tsonga reached consecutive Wimbledon semi-finals in 2011 and 2012, shocking Wimbledon master Roger Federer in his legendary 2011 run. He beat Federer again in front of an ecstatic home crowd in the quarter-finals of the 2013 French Open. He has twice reached the semi-finals of his home Grand Slam, doing so again in 2015.
Tsonga's highest career ranking was world number five in 2012. Persistent injuries throughout his career forced him to miss several tournaments. This meant his ranking was not always representative of his talent.
However, Tsonga was one of the toughest opponents for the 'Big Four' when fully fit. The Frenchman has an impressive record against Federer and Djokovic beating both six times. Only one other player outside the 'Big Four' has that many wins against Djokovic, we'll come onto him later.
4. Dominic Thiem
The most recent Grand Slam winner comes in at four on the list. The Austrian became only the third man outside the 'Big Four' to win a major tournament in the last 10 years when he claimed the 2020 US Open.
The man he beat in that final, Alexander Zverev, is unlucky to miss out on this spot. In fact, had he beaten Thiem in that final it would probably be him in this spot instead. Both players are ones for the future and a legendary rivalry between the two is tipped to succeed the current 'Big Four' stranglehold. Thiem currently has the better head-to-head record.
Thiem, a clay-court specialist, reached his first Grand Slam semi-final at the French Open in 2016. In doing so he broke into the top 10 where he has remained since. His current ranking of world number three is in fact his highest career ranking which he has held since March.
His first Grand Slam final also came at Roland Garros where he lost to Nadal in 2018. He repeated the feat the following year, upsetting world number one Djokovic in an incredible five-set semi-final. However, he would again fall victim to the Spanish king of clay in the final. 2019 was a nearly year for the Austrian as he also lost in the final of the ATP World Tour Finals to Stefano Tsitsipas. However, he did pick up his first ATP Tour title at Indian Wells early in the year.
This year, on the other hand, has been his year so far. He reached the Australian Open Final, beating old foes Nadal and Zverev along the way, but lost to Djokovic. Then in September he claimed his first Grand Slam coming from two sets down in the final to win on a tiebreaker. Many in the game, including the likes of Federer, Nadal and Djokovic, believe Thiem is a future world number one.
3. Tomas Berdych
The giant Czech comes in at number three. Berdych was in his prime at the turn of the decade and will be remembered by most tennis fans for his incredible run to the 2010 Wimbledon Final.
Berdych announced himself to the world in 2010. Having reached his first Grand Slam semi-final at the French Open, beating Murray on the way, he went one better at Wimbledon. His legendary run to the final saw him upset world number one and reigning champion Federer in the quarter-final. That result was no fluke as he beat world number three Djokovic in straight sets in the semi's. It was the world number two Rafa Nadal who finally burst his bubble in the final.
Berdych has his fare share of victories against the 'Big Four' in major tournaments. This is because he consistently reached the latter stages and performed well on any surface. Another impressive victory over Federer came as he reached the US Open semi-final in 2012. He also reached consecutive Australian Open semi-finals in 2014 and 2015, gaining revenge on Nadal by beating him in straight sets in the 2015 quarter-final. In fact, Berdych has been to at least the semi-finals of all four Grand Slams.
Now retired, Berdych's highest career ranking was world number four following the 2015 Australian Open. He had a long and distinguished career which will be remembered for multiple high-profile upsets and memorable tournament runs. Not many men can say they have straight-set victories against both Nadal and Djokovic in major tournaments. Despite not winning any Grand Slams or ATP Tour tournaments, there is no doubt that Berdych was a big game player who rose to the occasion on the grandest stages.
2. Marin Cilic
It was a close call between Cilic and Berdych for this number two spot. Cilic's head-to-head record against the 'Big Four' is not as good as Berdych's. However, he has won that all important Grand Slam, which makes him one of the elite three outside the 'Big Four' to have achieved this feat in the last 10 years.
The Croatian had only ever been to one Grand Slam semi-final (2010 Australian Open), before he reached the 2014 US Open Final. As he's beaten Berdych in this list he also beat him in the quarter-final that year in straight sets. This set up a semi-final with Federer. Cilic had never beaten Federer before but chose the perfect moment to grab his first and only ever win over Roger, in another convincing straight-sets victory. Meanwhile Kei Nishikori upset Djokovic in the other semi-final which gave both men their best ever opportunity to win a Grand Slam. It was Cilic who seized the moment, dominating the final with a third straight-sets victory in a row.
This 2014 US Open victory really boosted Cilic's career and his confidence. He reached the semi-finals at Flushing Meadows the following year, before reaching another Grand Slam final at Wimbledon in 2017. Unfortunately he came up against his old nemesis Federer, who got revenge for 2014 by delivering his own straight-sets victory. It was Federer again who stopped Cilic in the 2018 Australian Open Final, this time in a pulsating five-set slug-fest.
It was after the 2018 Australian Open that Cilic gained his highest career ranking of world number three. This means he is one of the few to break into that top four in the ATP rankings.
1. Stan Wawrinka
There could only be one man at number one. Stan the man is the only player outside the 'Big Four' to have won multiple Grand Slams in the last 10 years.
In fact, Wawrinka has actually won the same amount of Grand Slams as Andy Murray, with both men on three. This draws the question whether Murray should be withdrawn from the 'Big Four' or Wawrinka added to a new 'Big Five'. However, it must be remembered that Murray has had awful injury problems which have kept him out of many tournaments. Additionally, Murray has won more ATP Tour titles, has reached more Grand Slam finals and is a former world number one.
Now that that debate has been cleared up we can focus on the excellence of Wawrinka. After reaching his first Grand Slam semi-final at the 2013 US Open (beating Murray in straight sets in the quarter-finals), Stan played in and won his first Grand Slam final a few months later at the 2014 Australian Open. During that tournament he knocked out Djokovic in a stunning match which went the distance and defeated Nadal in the final. He also won an ATP Tour title in Monte-Carlo that year.
2015 was Wawrinka's best year in professional tennis. He reached at least the quarter-finals in all four Grand Slams, including semi-finals in Australia and USA. Most impressively, he became the first man in five years to stop clay court king Nadal from winning the French Open. Compatriot Federer was dispatched in straight-sets in the quarter-finals, followed by Tsonga in the semi's. The 2015 French Open Final was Wawrinka's best performance of his career as he comfortably beat a determined Djokovic after losing the first set.
It was Deja vu in the 2016 US Open Final as Wawrinka again came from one set down to beat the Serbian. As mentioned earlier only Tsonga outside the 'Big Four' has as many wins (six) over Djokovic as Wawrinka. The talented Swiss also has eight victories over Murray.
Wawrinka has been in a league of his own in many ways, clearly the 'best of the rest' but not quite consistent enough over many years to consolidate his place amongst the 'Big Four'. He has definitely been the fifth best player in the world since his first Grand Slam triumph in 2014. It was after that triumph that he achieved his career-high ranking of world number three.
We hope you enjoyed the article 'Best players outside the 'Big Four' over the last decade'. Can you think of anyone else who should be on this list? Let us know! 
Read more on Tennis here: