Internazionali d'Italia: Superb Schwartzman beats Rafa Nadal in outstanding match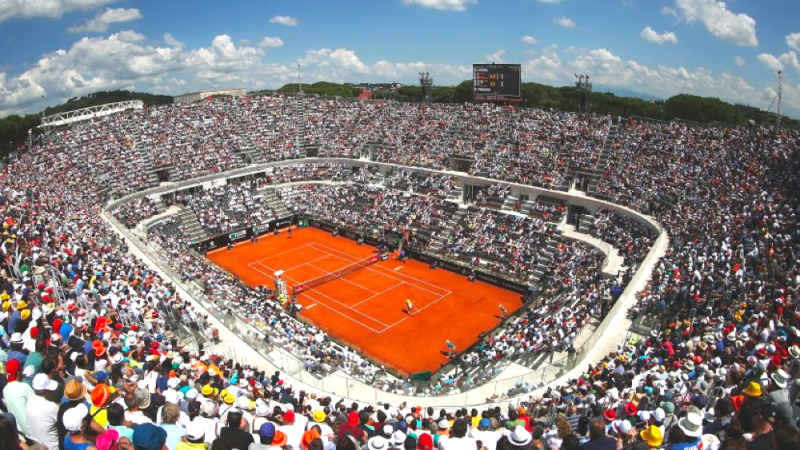 Internazionali d'Italia
As the Internazionali BNL d'Italia, is moving towards a conclusion, a superb Diego Schwartzman from Argentine beats Rafael Nadal in two sets.
In what was arguably the most impressive performance of the tennis season so far, a superb Diego Schwartzman just got everything right. Playing against the superman of tennis, Rafael Nadal, Diego Schwartzman stunned both Nadal and everyone else with a perfectly composed game. In a sport that tends to favour height, the 1,7 m tall Schwartzman entered the court like a bullet. His tactics were perfect and he seemed to anticipate Nadal's every move, and hit back every single little bit hard as Nadal was able to. It probably wasn't Nadal's best day but it doesn't matter – Schwarzman's performance was probably the most impressive not only of the tournament, but of the entire year.
The Argentine-Spanish match also concluded the quarterfinals of this year's Internazionali d'Italia 2020; eight matches that altogether were a display of great tennis:
Fiery Dominik Koepfer almost made it against Djoko

Perhaps the most impressive contender of all the eight men that competed for a place in the semifinals, was one guys who lost – Dominik Koepfer. Up against top seed Novak Djokovic, few granted the young German, who has played tennis through college in the US, many chances. We were all up for a little surprise. Not only did he win the second set, Koepfer stayed combative, positive and aggressive throughout the match, until the very last point, forcing the world's no. 1 to really, really work hard for his victory. Wonderful job, Koepfer!
Casper Ruud stayed calm and won against Roman favourite Berrettini in a tie break

In Sunday's semifinal, Djokovic will face the young Norwegian player, Casper Ruud, who has never been in a semifinal in a Master's 1000-tournament before. In fact, it is the first time that any Norwegian player reaches a semifinals in a tournament of this dimension. Berrettini, ranked no. 8 in the world (against Ruud's no. 34) did perhaps not play his best tennis, and didn't make much of his two principal arms, the serve and the forehand. Nevertheless, Ruud played relentlessly good tennis, forced Berrettini to play h is remarkably for this level of tennis, weak backhand, changed pace and height of the ball, and really made the most of the red clay, Ruud's favourite surface. Staying calm throughout, he finally won the game in three sets, with a tiebreak at the end.
Solid Shapovalov dominated Dimitrov

Moving into the evening, Canadian Denis Shapovalov took on the Bulgarian Grigor Dimitrov. Although he lost the second set, Shapovalov really had the upper hand throughout the game; he played incredibly solidly and without the almost boyish streaks that, although full of energy and talent, have sometimes had a negative effect on his overall tennis. This year's edition of Shapovalov on clay has managed to  channel hat youthful energy into adult, impressive tennis.
WTA: Impressive sportsmanship from Marketa Vondrousova
Moving on to the women, Czech player Marketa Vondrousova exhibited great sportsmanship and athleticism in her win against Ukrainian Elina Svitolina. Vondrousova looked fresh as a flower has she hit the court, in spite of having played an odyssey of a game late in the evening the night before, securing a 2-1 win over Polona Hercog from Slovenia, at the end of which both players were so tired they could barely walk. That didn't stop Vondrousova from exhibiting her beautiful, varied and incredibly talented tennis, however, outplaying Svitolina with a mixture of dropshots, volleys and long balls.
Karolina Pliskova's long reach

Defending champion Karolina Pliskova on her side took on Elise Mertens, who has been playing very well since the return of tennis after lockdown. It was for a long time a tight game and Mertens managed to make a major comeback in the second set, which she won after being down one break, Pliskova's long reach in the end proved too much for the Belgian player. In the last and final set, Pliskova won impressively 6-0.
Gabriñe Muguruza's strong will

Another very solid looking player who and a series contender for Pliskova, is Gabriñe Muguruza. After a great win 6-4, 6-1 over Johanna Konta, moved on to win 3-6, 6-3, 6-4 over Victoria Azarenka, a former no. 1  in the world, who came to Rome full of confidence after a brilliant US Open, where she lost to Naomi Osaka in the final. Muguruza planted her foot on the baseline and pushed her Belorussian counterpart backward, forcing her to miss points. Spanish Muguruza looks incredibly eager to win this year's Italian Open.
To do that, however, she needs to beat Simona Halep, who undoubtedly spent less energy to get to the semifinals; unfortunately, Yulia Putintseva had to withdraw in the second set because of and injury that she has carried with her from the US Open, where she played very well, and into the tournament in the Italian capital.
The four semifinals will all be played on Sunday; this year's final in Rome is, somehow oddly on Monday, but then everything is a bit odd in tennis tournaments these days, on a Monday.
Read more on tennis here: