Tennis' Next Big Thing: Johannus Monday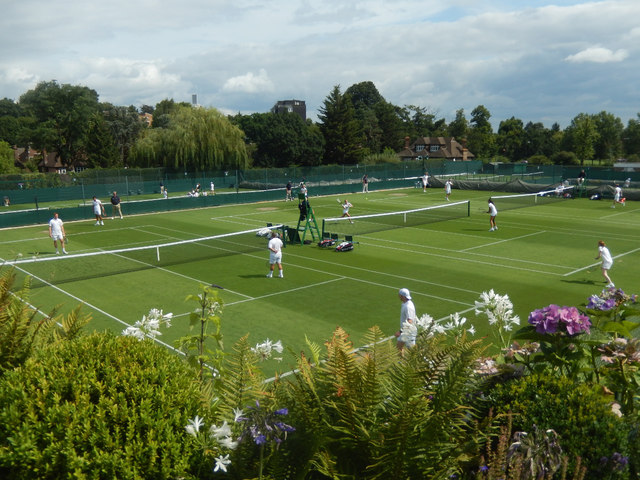 Johannus Monday is preparing for his biggest step in tennis yet, a move to the University of Tennessee.
It's a cold and wet Thursday afternoon when I sit down to chat to Johannus Monday at Cottingham Lawn Tennis Club. As soon as we have finished talking he goes over to Mike Wells, who has been acting as his de facto hitting partner since the UK Government allowed tennis to resume, to work out a clear structure for his weekly training.
"JoMo (his nickname at Cottingham) shall we go over this plan".
The COVID-19 crisis forced Monday to return home to Cottingham from Merchiston, the Edinburgh boarding school. Fortunately the 18-year-old had already secured his full scholarship at the University of Tennessee, and when he's there he will face his biggest challenge yet: forcing his way into the men's game.
Monday has been playing tennis since the age of five, and this summer is the first time since he was very young that he's been playing the majority of his tennis from his very first club.
He's now 18 and 6'4″, Monday is a left-handed monster.
He has a huge serve, an absurd kick serve, his groundstrokes are massive, he has incredible touch and control of the ball – but the most impressive aspect of his game is his fitness and movement. He has been set fitness drills by his coaches in the US, smashing a 5km run in 19:47.
We began by talking about when he began playing tennis: "I started off at Cott with Ben Holtby when I was about 5 years old, he really made discover my passion for tennis with his great enthusiasm and he always made it very fun which I think is so important if you want to make it".
"You have to enjoy it", he added.
Commitment and training is essential
Monday has now officially graduated from Merchiston after spending five years there, and he knows how much it has improved his game: "I moved up to Scotland when I was 13 after I was advised to move up there by the LTA".
He continued: "I have really enjoyed my time there and both my tennis and academics have really come a long way; it has a great professional environment that has allowed my tennis to really develop onto the next step".
You can do all the work you want on your movement and fitness when you're in lockdown, but tennis players need consistent hitting. One thing that tennis players who are looking to go pro need is strong hitting partners.
Despite Hull and the East Riding not being short of talented players, some would say that there is a noticeable contrast between his usual opponents and those he has been hitting with in Cottingham – but JoMo hasn't seen it that way.
"Cott has done a lot for me over the years but they have really helped me out over this tricky period. Ben and Buble (Mike Wells) have helped me an incredible amount, and I am so grateful to them both for allowing me to continue to improve my tennis and prepare me for Tennessee".
Before Hull-born Paul Jubb went down to the National Tennis Centre for the Schroders Battle of the Brits, Monday got two hits out of the former NCAA champion. He's had hits against strong standard local players Joe Mazingham, Ollie Kaye and (another ex-South Carolina player) Ben Atkinson; as well getting local coaches to do two-on-ones against him.
"It has been great to get a wide range of hitters, they have all been great to get on court and it's been a really great training environment". The Monday training camp has also done wonders for Cottingham tennis club's environment, with many embracing the atmosphere it has brought and partaking in watered-down versions of the training.
For those around JoMO, the hope has always been to see him at the slams – so when did he think he could make it? He says it was when he went to Merchiston: "I thought I could make it when I was around 13, but I really started to truly see it and know it was a true possibility when I was 15 and that was due to my results and performances started to really improve".
He also had huge ambitions before COVID-19, "I was hoping to increase my ATP ranking to around 700 (he's currently got an ITF singles ranking at 2199) and was looking at playing junior Wimbledon – hopefully they might allow my age group to play it next year which would be a great experience."
How does Monday see his career progressing?
So what is his end goal in tennis? He says, "to make it into the top 50 ATP by 25".
His last fortnight has given that ambition a huge boost, winning the Yorkshire Sixes in Leeds. Monday said about the tournament, "It was a great week, getting back to competing at a high level and it was a great test to see where I am at after the break from competitions".
During the exhibition tournament he beat Clay Crawford (World #1782), Luke Johnson (World #681) and Finn Murgett (World #1617.) On that victory over Johnson, "I was very happy to get the win over him as it shows where my level is there which is a great indicator for me and a great stepping stone".
Monday is eyeing up the "great opportunity" at his disposal when he finally gets to Tennessee, which is currently in limbo while the US and UK struggle to defeat the coronavirus. "I have now got a great opportunity to follow in the footsteps of Tennessee greats like Chris Woodruff and Tennys Sandgren."
He carried on: "I want to continue to develop my tennis, and my hope is to be at a level after 4 years to increase my ranking and reach my goal of making it into the top 50", before adding "I am looking to win both the singles and team event in the NCAA whilst at Tennessee, I think with the team we have and the culture that this is a real possibility".
The hype around Johannus Monday is building at home and in his future home state, he's in constant contact with his coach (Chris Woodruff) and there's already talk about his place in the starting six for the team. When he gets to the USA, and can start playing in tournaments, he should find himself rapidly rising through the ranks.
This isn't misguided optimism, Johannus Monday has all the weapons and the mentality to be successful at the highest level. As someone who's known JoMo for more than ten years, I'm desperate to see him succeed and watch him at the Grand Slams.
"To get the title and have a British flag around you is always a nice feeling."

Johannus Monday has his eyes on the prize as he looks ahead to his 18Us #NationalChampionships final versus top seed Finn Murgett. 💪🎾 The two have known each other a long time… #BackTheBrits pic.twitter.com/KiGxUAimF6

— LTA Competitions (@LTACompetitions) August 22, 2019
We hope you enjoyed this article about 'Tennis' Next Big Thing: Johannus Monday'. Do you think he has what it takes to beat the best? Let us know!
Read more on tennis here: