Dominic Thiem wins the US Open in comeback performance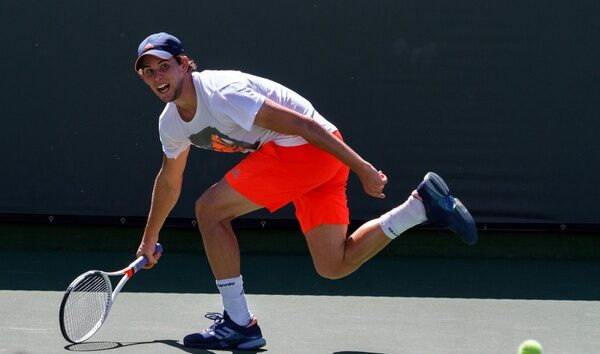 Dominic Thiem wins the US Open as he historically fights back from 2-0 down against Alexander Zverev in New York.
Dominic Thiem won the final on Sunday after he crawled his way back from two sets down to win his first ever Grand Slam title. He became the first man to comeback and win a match after dropping the first two sets in 71 years in the US Open.
The Austrian, who is ranked number three in the world, had previously lost his last three major finals before overcoming seventh ranked Zverev in an intense final. This was his first Grand Slam title final in his career and he capped it off with a commendable display.
In a nearly empty Arthur Ashe stadium, Thiem fought back slowly as Zverev let go of what seemed an impossible lead to lose. It would have also been Zverev's first grand slam title win, had he held on.
The US Open saw top players like Roger Federer and Rafael Nadal miss the tournament. World number one Novak Djokovic was also expelled from the competition in the round of 16. Through anger and frustration, Djokovic inadvertently slammed the ball behinds him towards a line umpire. The ball had hit her in the face and he was disqualified for unsporting conduct.
With these three favourites to win the tournament absent, it paved the way for the likes of Thiem and Zverev to leave a mark on the court.
Thiem said that "Somehow, the belief today was stronger than the body, and I am super happy about that".
"I wish we could have two winners today. I think we both deserved it." he added.
A new Grand Slam® champion. Congratulations @ThiemDomi on your victory at the 2020 @usopen. #RolexFamily #USOpen #Perpetual pic.twitter.com/XMh8KO4Lr2

— ROLEX (@ROLEX) September 14, 2020
What happened?
After losing the first set 2-6, as Zverev dominated, the second showed more passion and courage to claw his way back. After the set went to 4-5, Thiem couldn't hold on to take it into the last game and lost the set 4-6.
As the match went into the third, the Austrian began to land more first serves and had more conviction in his shots. In the end of the third set, Thiem came out on top to win 6-4 to prevent Zverev winning in straight sets.
As tension built up and the drama began to set in, Zverev began to lose the edge that we saw in the first two. A missed shot concluded the fourth as Thiem tied the match with two sets each- with both players looking exhausted.
In a match that lasted just over four hours overall, both players were fighting cramps to continue to play and overcome their opponent. With it tied, Zverev was trying to become the first German Grand Slam winner since Boris Becker in 1996.
In the final set, the two players went head to head in a close game that went down to the wire. The games went to 6 a piece before a tie-breaker had to split them apart. Zverev hit a shot wide to conclude an enticing final set 7-6, and to grant Thiem as the US Open 2020 title winner.
With his parents absent due to having tested positive for coronavirus, Zverev had to fight back tears after losing the final. "It was a tough battle." he said. "I wish you would have missed a little bit more so I could have held that trophy up.
"Here I am now giving the runners-up speech. I want to thank my team, the last two or three years haven't been easy in my tennis career. We are going to lift that trophy up together."
It had to be like this – my career was always like the match today – many ups and downs and I love the way it turned out. pic.twitter.com/ksFDgIfws8

— Dominic Thiem (@ThiemDomi) September 14, 2020
The Road to the Final
It wasn't an easy route to winning the tournament for 27 year old Thiem, even though he didn't drop a set until the third round. He then won his round of 16 game against the 20th ranked overall, Felix Auger Aliassime in straight sets.
Dominic Thiem fought against Australian Alex De Minaur in the quarter final, and won without too much struggle. Two days later, he progressed to the final in three straight sets again, against 5th ranked Daniil Medvedev. 
Tired and drained from his tough semi final win, he had to play the final the next day. Inspired to carry on, he showed the grit and determination needed to go on and win the match.
This first grand slam title will no doubt now motivate him to go on and compete for more titles. It will show other top competitors in Nadal, Djokovic and Federer, that they now have another player standing in their way if they come up against him in the future.
We hope you enjoyed the article 'Dominic Thiem climbs back to win the US Open 2020' . What did you make of the Austrians comeback performance? Let us know!
Read more on tennis here: