Djokovic's Attitude Towards Coronavirus Causes Concern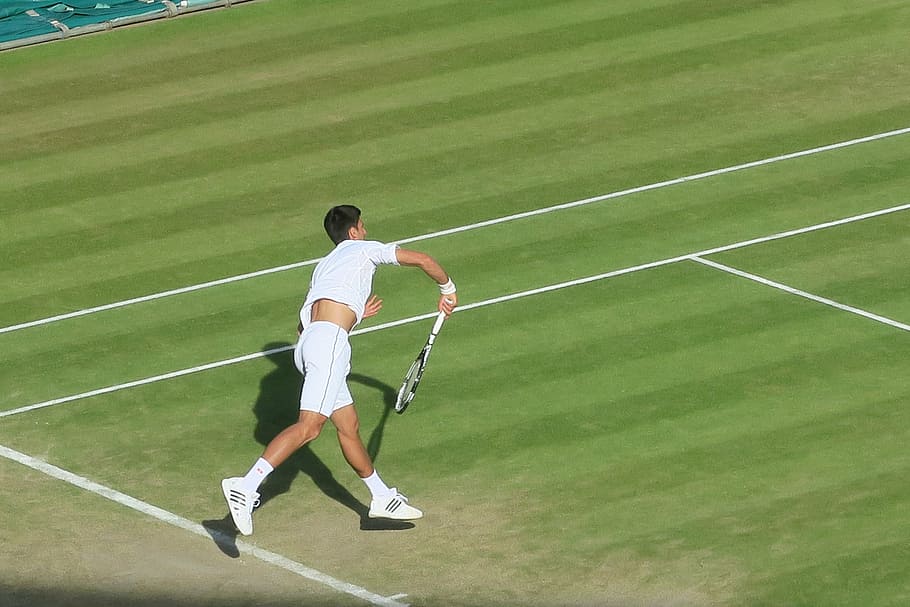 The tennis world is reacting negatively to Novak Djokovic's attitude towards coronavirus as four join infected list on Adria Tour event.
When Novak Djokovic put together the idea of holding a mini tennis event in his native Croatia, The Adria Tour, little did he realise the damaging effects that this would cause.
Croatian No 1 Borna Coric, Serbia's Viktor Troicki and Bulgaria's Grigor Dimitrov all tested positive for Covid-19. Two other people have also tested positive and they are believed to be Dimitrov's coach Kristijan Groh and Djokovic's fitness trainer Marko Paniki.
With Croatia easing lockdown measures before the event, players were not obliged to observe social distancing rules. They were seen embracing at the net at the end of matches.
Pictures on the tournament's social media site showed Dimitrov playing basketball with Djokovic, Alexander Zverev and Marin Cilic, while he also was seen putting his arm around Coric before their match.
Zverev, Cilic and Andrey Rublev, who also featured in the event, have all tested negative, but all three suggested they will now all self-isolate for up to 14 days.
Troicki, explained that his wife who is pregnant, tested positive on Friday, before he returned a positive test on Sunday.
Tennis world reacts with anger to Novak Djokovic
The world of tennis is clearly upset about this situation, and understandably so.
The likes of Nick Kyrgios, Dan Evans and Andy Murray have all expressed their alarm at the lack of social distancing in the Balkans. Djokovic's attitude has come under particular scrutiny.
What is even more alarming is that the World No1 Djokovic, refused to even take a Covid-19 test on Sunday night in Zadar- the city where the final of the Adria tour should have been held. Instead, he returned to Belgrade, where he and his family are understood to have been tested. It has now emerged that Djokovic has tested positive for Covi-19.
According to one Croatian report, he decided not to be tested on the spot because he does not feel any symptoms, nor does anyone from his environment.
What are other player's opinions Novak Djokovic?
The outspoken Kyrgios tweeted "Boneheaded decision to go ahead with the exhibition". "Speedy recovery fellas, but that's what happens when you disregard all protocols. This is not a joke."
British No.1 Evans was also unhappy. "I just think it is a poor example to set," he said. "Even if the guidelines were taken away in this country, I would still be trying to keep myself out of the way as much as I could from other people. I just think there has been a total disregard to that."
Murray said: "I have always had a good relationship with Novak, but what's happened is not a good look. When you are going through a time like this, it is important any of the top athletes around the world show that we are taking this extremely seriously and knowing that we are using social distancing measures. I hope that we learn from it because ultimately the tour won't get back again if we are having problems every single week and the players are doing what they want. We need to make sure we are doing the right thing."
Does this damage Djokovic's reputation?
Djokovic is the world's best tennis player. However, his credibility as the leader of the men's tour must surely now be questioned.
The players connected with this event behaved as if they were immune to the virus. They were regularly pictured high-fiving or embracing. Off court activities included nightclub antics. Face masks were only worn for the initial player unveil. Clearly they were not worrying about Covid-19 and the dreadful effect it is having on the world.
The organisers of the Adria Tour have now said that Sunday's final in Zadar is cancelled. This is a precaution to protect the health of all the participants and visitors.
Unfortunately, Novak, I fear that the damage has already been done. Your reputation has also been damaged, and that will take a long time to heal.
We hope you enjoyed this article about Novak Djokovic's attitude towards coronavirus. Do you think Djokovic is acting irresponsibly? Let us know!
Read more on tennis here: