David Luiz Accepts Blame for Loss vs Man City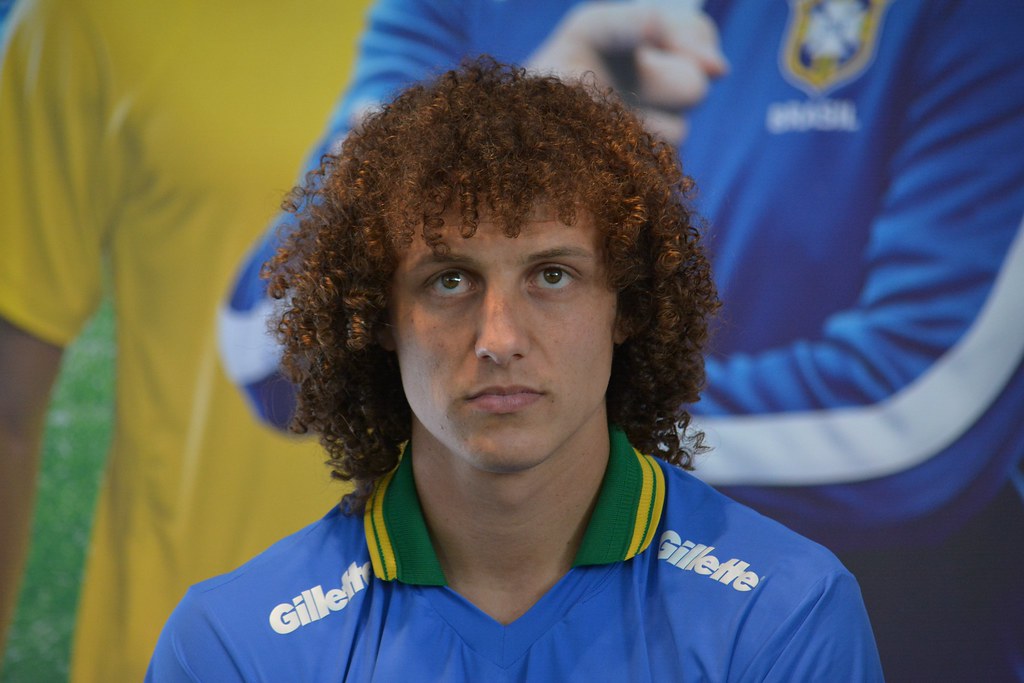 Luiz Accepts Blame: "It was my fault."
Following Arsenal's defeat to Manchester City, Luiz accepts blame for Arsenal's loss.
"It's my fault. The team did well, especially with ten men. The coach is amazing, the players are amazing, it was my fault."
Those were the words of David Luiz in the aftermath of Arsenal's 3-0 loss against Manchester City on Wednesday night. Some would have admired Luiz for fronting up to the media and taking responsibility following a disastrous evening. Directly at fault for two goals, giving away a penalty and getting sent off all in less than 30 minutes of game time takes some going. Luiz managed it.
Of course, Luiz was mocked all over social media. After three months without football, fans were hoping for entertainment and he certainly provided that. Comparisons were made between Luiz and Phil Jones, another Twitter favourite for his unfortunate facial expressions and costly mistakes at the back. The pair would have been well-advised to keep off their phones for a few hours.
This should be fun 😂
Who's a better defender
Like for David luiz
Retweet for Phil Jones pic.twitter.com/JLyBX38fC1

— Educated cobbler (@emini_truth) June 17, 2020
Luiz's Future in Doubt?
Luiz' contract is set to expire at the end of the month, meaning that he may well have played his final game for the Gunners. It seems that there probably won't be too many Arsenal fans unhappy to see the back of him. Yet there is a bigger problem for the North London club.
Luiz may have described his teammates as "amazing", but that does not appear to be a widespread view. The Brazilian defender did stand out above the rest as the worst player on the pitch against City, but no one else in an Arsenal shirt stepped up to bail the side out either. Not for the first time this season, Arsenal conceded twenty shots on goal, with Bernd Leno their standout performer as he made a string of fine saves to keep the score down. Meanwhile, up the other end Arsenal failed to register a shot on target. If Arsenal's supporters needed a reminder of how far they are behind the best sides in the league, they got it on Wednesday.
The scoreline was not a surprise. In previous years, Arsenal have been the underdogs when travelling to Manchester, but have at least had some hope of pulling off a result. When the team sheet came out on Wednesday, it seemed a lost cause before a ball was even kicked.
We back! 👊

🥁 Introducing your lineup for tonight's game…#MCIARS

— Arsenal (@Arsenal) June 17, 2020
What's Going Wrong?
Let's take a look at the defence first. Hector Bellerin and Kieran Tierney were the starting full-backs. Bellerin has been working his way back from a long-term knee injury, whilst Tierney has barely kicked a ball in anger since joining the club last summer. Up against Riyad Mahrez and Raheem Sterling they looked set for long nights, and so it proved. Then at centre back there was Pablo Mari and Shkodran Mustafi. Mari was making only his second league appearance and lasted just a quarter of the game before going off injured. In fairness, Mustafi has improved this season, but if he is the best defender that Arsenal have, the future is bleak.
The much-maligned Granit Xhaka was at the centre of the park and lasted less than ten minutes before going off, and Matteo Guendouzi, a 21-year-old who has potential but is understandably inconsistent given his lack of experience. In the final third, three of Arsenal's front four were aged 21 or less. Joe Willock, Bukayo Saka and Eddie Nketiah may all go on to have great careers, but right now it is too much to ask of the trio to make a major impact.
A Young Squad
That is Arsenal's issue. How many of that starting line-up are at their peak? Not many. Alan Hansen famously said, "you can't win anything with kids." That statement came back to bite him as Manchester United proved him wrong, but there is an element of truth behind Hansen's words. Arsenal do have some promising young talent in their squad. Perhaps the best of the bunch, Gabriel Martinelli, was not involved on Wednesday. Yet those players then need established professionals who they can look up to and learn from. Arsenal don't possess those types of players at the moment.
Arsenal's stars are dealing with their own troubles. Alexandre Lacazette's form has notably dropped off this season, Mesut Ozil failed to even make the squad on Wednesday amid rumours of yet another dispute with the club behind the scenes, whereas Pierre-Emerick Aubameyang is about to enter the final year of his contract. Given Arsenal's current league position, it seems that he could be on his way out this summer.
Arteta on Mesut: "A lot has happened to him in the last few weeks and I have to respect the timing of every player that needs sometimes a little bit of time… I'm the first one that wants Mesut at his best and I will put him in the pitch when I think he can give his best" pic.twitter.com/ZUoI3ceS1Y

— Arsènic™ (@MrArsenicTM) June 18, 2020
The team look set to miss out on the Champions League for the fourth consecutive season this year. Mikel Arteta has come in and done a respectable job since taking over as manager at the end of 2019, but with experienced players set to leave at the end of the current campaign, he has a tough job on his hands.
It is easy to blame Luiz for Arsenal's downfall. It is true that he has struggled in his debut season at the club. Arsenal's problems started long before he arrived though. If Arteta and co. aren't careful, they will continue long after he departs.
✅ #BHAARS press conference

Here's everything @m8arteta said tonight 👇

— Arsenal (@Arsenal) June 18, 2020
We hope you enjoyed the article 'David Luiz Accepts Blame for Loss vs Man City.' What did you think of Luiz's performance? Is he worth keeping, or should Arsenal let him go? If Luiz accepts blame this time, how many games does he have in an Arsenal shirt? Be sure to comment below!
Looking for more Premier League news? Check out our other articles: