Footballers of the Future: Youssoufa Moukoko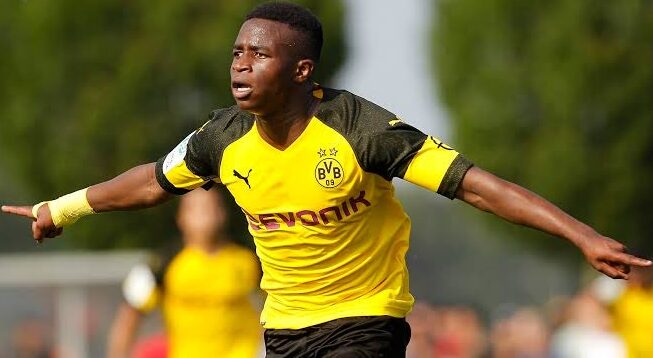 Footballers of the Future: Youssoufa Moukoko
Borussia Dortmund striker, Erling Haaland called 16-year-old Youssoufa Moukoko "the biggest talent in the world right now" after smashing plenty of records during his breakthrough season – he's well on his to becoming one of best footballers of the future.
The striker has already made 15 appearances along with three goals for Borussia Dortmund despite being only 16 years old.
With the quarter finals stage taking place in May, Moukoko earned a call up to the Under 21 European Championships with Germany. However, during the final training session before the first game, the striker suffered a foot ligament injury which has ruled him out for the rest of the season and the rest of the Under 21 Euro's.
The German is one of the biggest prospects in world football today and could go onto be one of the best footballers of the future. Some will have remembered the name from his incredible number of goals at youth team level with St. Pauli and Dortmund.
From then he's trained with Borussia Dortmund's first team since he was 15. At any level, it's extremely rare to see a 15-year-old train with a first team, but Moukoko achieved that and he hasn't looked back since.
"I want to become german champion and win the Champions League with Dortmund." – Youssoufa Moukoko

Young king with ambitious goals! 👑 pic.twitter.com/D3L0QNoEfp

— 𝑭𝑺 (@Fs_BVB) April 6, 2021
Since turning 16, the Borussia Dortmund striker has become the youngest ever player to make an appearance in the Bundesliga along with the youngest Champions League debutant.
Youssoufa Moukoko scored against Union Berlin in his seventh professional appearance to make him the youngest ever goal scorer in the Bundesliga. This goal made the headlines and showed people why he's regarded as one of the best footballers of the future and since then, the striker has added two more professional goals to his collection.
16-year-old Youssoufa Moukoko scored a brilliant goal to become the Bundesliga's youngest-ever goalscorer on Friday 🟡⚫️

But Borussia Dortmund still lost to Union Berlin 🤦‍♂️ pic.twitter.com/y2MbVLeVmV

— Goal (@goal) December 21, 2020
Moukoko's career so far
The German striker played in St. Pauli's under 13's team from 2014 to 2016. During this time, he emerged as one of the most promising young prospects in the world as he scored 23 goals in just 13 games.
Scouts from Germany's biggest clubs were all keeping tabs on the young striker, but Borussia Dortmund got there first as he joined their youth team in July 2016. Dortmund have a great recent history of developing footballers of the future due to the emphasis they have on the youth.
Borussia Dortmund's philosophy consists of buying young footballers of the future and selling them on for a lot more. The Black and Yellows have been outed as a selling club due to this system, but they are slowly stamping their authority on the elite clubs.
BVB have had a poor season in the league as they currently sit fifth in the table, but they've thrived in the Champions League, despite crashing out in the Quarter Finals to favourites Manchester City. Dortmund's prominence in the Champions League makes it a popular destination for young players.
The German club oversaw the breakthrough of Mats Hummels, Mario Gotze, Marco Reus and Robert Lewandowski as they were beaten by fellow Bundesliga powerhouse Bayern Munich in the 2013 Champions League final at Wembley.
Since then, Dortmund have needed to rebuild and now their team consists of Jadon Sancho, Erling Haaland and Jude Bellingham. These are some of the most promising footballers of the future and are bound to leave for ridiculous fees.
The money Dortmund gain from the sales of these assets gives them a chance to reinvest it into their youth team and expand it even further. This is to make sure that they're the first club to spot the best footballers of the future, such as Youssoufa Moukoko.
If Haaland is a wonderkid, Moukoko is a wonderbaby. Settling in Hamburg, Moukoko joined the academy of local club St. Pauli in 2014.

On turning up to his first training session he supposedly only had trainers, having to borrow boots from another player. https://t.co/k5O0zfLBzx pic.twitter.com/2XdDBMIopP

— Breaking The Lines (@BTLvid) December 16, 2020
Rising through the ranks
Before Moukoko started training with Borussia Dortmund's first team, he flourished in the youth team. The German netted twice at under 17s level when he was just 12 and two years later, Moukoko went onto score six hat tricks for the under 17s in the 2018/19 season.
The fact that he was just 14 that season proves to everyone how much of a talent he is and how good he can be in the future, but many questions were raised around whether Moukoko was lying about his age.
Many people chose not to accept that he was very talented at such a young age, so they just claimed that he was older than people thought. This is due to players of African descent lying about their age in the past, but the German Football Association held lengthy meetings with Borussia Dortmund as they confirmed that Moukoko's age is correct.
German newspaper, Bild stated that he became a millionaire at 15 when he put pen to paper to sign a lucrative €10 million Nike deal. €1 million of the deal was given to him just for signing the contract and the other €9 million can be earned if he fulfils his potential.
After this, Youssoufa Moukoko's career was already in full flow as Barcelona were said to be interested before he made his debut for Borussia Dortmund. Barcelona's academy, La Masia, has an outstanding history of developing footballers of the future, such as: Lionel Messi, Andres Iniesta and Xavi just to name a few.
Thankfully for Dortmund, Barça developed serious financial problems which meant the German club were able to keep hold of the player after they attempted to hide Moukoko's progress from the limelight.
BVB believed that Moukoko was ready to make his debut at 15 but the Bundesliga rules didn't allow that to happen. The rule stated that a player had to be at least 16 years old before they could feature in competitive games, as long as they turned 17 before January the 1st of the season in question.
However, after an amendment to the law, Moukoko was allowed to make his debut as soon as he turned 16 on the 20th of November. Just a day after turning 16, he came off the bench to replace Haaland against Hertha BSC in the league, which made him the youngest player ever to play in the Bundesliga.
Moukoko went onto smash more records in such a short space of time. He became the youngest player to ever feature in the Champions League when he came on as a substitute against Zenit St. Petersburg. Three days later, he opened his goal scoring account against Werder Bremen to become the youngest ever goal scorer in the Bundesliga.
Since then, Moukoko's gone on to make 15 appearances in all competitions for Borussia Dortmund whilst providing three goals along the way.
Dortmund confirm that 16-year-old Youssoufa Moukoko will miss the remainder of the season with a foot ligament injury. pic.twitter.com/4kt7Wbgb14

— B/R Football (@brfootball) April 5, 2021
Moukoko's style of play
Youssoufa Moukoko typically plays as a lone striker for Borussia Dortmund and often did so for various BVB youth teams.
Moukoko's runs tends to favour the central channel in the final third as this allows him to stay in the most threatening areas when it comes to finishing. The striker's clever movement off the ball is the reason why he gets into so many goal scoring positions.
As stated already, Moukoko is clinical in front of goal and most of his goals come from low shots rather than top corner finishes. The majority of his goals come from inside the oppositions box, but he has shown in the past, he can score from outside also.
The majority of his goals come from the central channel, just like his off the ball runs. This proves how effective his off the ball runs can be. Moukoko's goals are mainly 1v1 finishes with the goalkeeper and his deep runs are met by a through ball which releases him with only the keeper to beat.
His pace makes him so threatening in 1v1 positions as it allows him to beat any defender to the ball. This suits Borussia Dortmund's counter attacking style of play and we see Erling Haaland make similar runs and score similar goals to Moukoko.
Haaland favours the central channel in the attacking third and a lot of goals come from 1v1's with the keeper inside the box. Therefore, this paves the way for Moukoko to be the first-choice striker after Haaland inevitably leaves, whether it's this summer or next.
Moukoko also likes to press which suits the tactics of Dortmund. He guides the opposition into certain areas which forces them to play in only one side of the pitch or in compact areas. This also allows him to be in a good position when Dortmund win the ball back allowing the side to counterattack straight away – giving Moukoko more chance of scoring.
Moukoko favours his left foot, but there's certainly room for improvement on his right foot. He has got away with it at youth team level, but he'll struggle to be as prolific as he hopes to be if he doesn't improve his right foot in the professional game. The greatest strikers can score with both feet and this is something that Moukoko needs to achieve.
Additionally, the striker needs to develop his aerial ability. Despite being only 5 ft 10 in, he can still become a threat from crosses or set pieces if he learns to use his head more often.
0️⃣3️⃣ Reyna 🇺🇸
0️⃣5️⃣ Bellingham 🏴󠁧󠁢󠁥󠁮󠁧󠁿
1️⃣0️⃣ Reinier 🇧🇷
1️⃣5️⃣ Moukoko 🇩🇪

Dortmund are STACKED with young talent right now 🖤💛 #NXGN pic.twitter.com/Q6ks8YIyLz

— Goal Asia (@Goal_Asia_) March 25, 2021
What could the future hold for Moukoko?
Sadly, Moukoko is set to miss the rest of the season due to a knee ligament injury, but next season could be huge for him as he'll look to kick on from his breakthrough season. If Erling Haaland leaves in the summer, then Dortmund could look to Moukoko to be their leading striker for next season.
Current Borussia Monchengladbach manager, Marco Rose is set to become Dortmund's new manager in the summer. Moukoko's near future is in the hands of Rose, but BVB will do everything and anything to keep hold of Haaland for at least one more season.
Eventually there'll come a time for Moukoko to leave the German side. Most young players at Dortmund go onto better things at bigger clubs. Barcelona will be likely to renew their interest in Moukoko if he continues to fulfil his potential, and Real Madrid will probably be interested as they seem to be when any footballer of the future breaks through.
If Moukoko continues to perform then his price tag will grow. It must be very high already due to his age, but this means that only a set number of clubs will be able to afford him. These clubs are likely to be Bayern Munich, Barcelona, Real Madrid, Manchester City, Manchester United, Chelsea and PSG.
Whoever he plays for, we could be witnessing the breakthrough of a future Ballon d'Or winner as many have regarded him as the new Messi. His stats are ridiculous for a 16-year-old and if he stays injury free, then he'll only get better. A true footballer for the future and everyone needs to remember the name.
We hope you enjoyed this article 'Footballers of the Future: Youssoufa Moukoko'. Do you think Moukoko has the potential to become one of the best players in the future? Let us know!
Read more on football here: