Footballers of the Future: Noni Madueke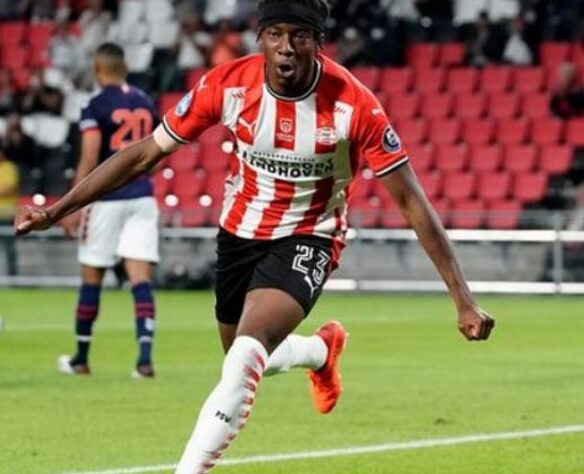 Footballers of the Future: Noni Madueke
As part of our footballers of the future collection, we turn our attention to another player who has impressed during the recent U21's European Championships group stages. English winger, Noni Madueke, has been making moves for PSV this season and showed this in the U21's Euros. England didn't make it through the group stages, but there is plenty to be looking forward to with Madueke.
Madueke has been lighting up the Eredivisie this season after making his debut in the 2019-20 season. In the current 2020-21 season, Madueke has made 20 appearances in the league. In those games, he has scored 7 goals and has 6 assists. The majority of these appearances have come from the bench, making these stats even more impressive.
His statistics this season are turning heads. A 19-year-old out in Holland tearing it up weekly rather than taking a chance on breaking into the Tottenham team. Madueke's breakthrough season is similar to that of Jadon Sancho. Both players made brave moves away from a big Premier League team to Europe and have both been rewarded by becoming footballers of the future.
History
Madueke left the Crystal Palace youth team to join the Tottenham youth setup in 2014. The hot prospect decided, like so many others recently, to venture into Europe. In 2018, Noni signed for PSV and never looked back.
It wasn't that Madueke was unwanted at Spurs, quite the opposite. It was expected by many at Tottenham that Noni would eventually step up to the first team. He was a highly rated player amongst the coaching team at Tottenham and they had high hopes for him. Lots of people around Spurs were disappointed to see a promising young player leave.
Before making the move to PSV, interest was high. It was reported that Manchester United wanted to bring the young man to Old Trafford. Inspired by so many others, Madueke chose a European tour.
Madueke previously stated that "In England, it is very difficult as a young talent to get into the first team, especially at the bigger clubs. The squads are very large and there is little room for youngsters. They often stay in reserve teams for a long time or are loaned out." This is something many football fans have been critical of with English clubs. Talents like Madueke aren't being given their chance and they will often go to waste unless they decide to venture abroad or lower down the leagues.
The move to Holland has proved to be more than fruitful for Noni. Madueke arrived as an attacking midfielder but after talks with coach Ruud Van Nistelrooy, Noni shifted out wide. The former Manchester United striker also worked closely with Madueke to improve his goalscoring, not a bad man for Madueke to be learning from and developing into one of the footballers of the future.
⚽️ PSV U19 Activation by Ruud Van Nistelrooy ⚽️

We were fortunate to observe a PSV U19 session on our CPD trip in May 2019.

You will notice the English accent of Noni Madueke who is now a regular in the @PSV first team.

Different variations on @TacticalPad with below.

⚽️⚽️⚽️ pic.twitter.com/Jzt7UQOkJc

— Through The Thirds Coach Development (@TTTCoachDev) April 3, 2021
National Allegiance
For England, he has been capped at U16, U17, U18 and most recently U21. It seems like it will be no time before Madueke's name is thrown around for a senior cap. The Euro's this year may be too soon, but the 2022 World Cup may be his time to shine.
England will have to make sure they act quickly to secure Madueke's service at the national level. Despite being born in London, Madueke is of Nigerian descent. Nigeria is a national football team on the rise and has plenty of young prospects who are footballers of the future. For this reason, Noni may decide to switch allegiances to gain national experience.
Style of Play
Noni possesses pace, skills and technical qualities that make him a constant threat out wide. He can also play just behind the striker, as we have seen him do a few times at PSV.
At 19-years-old, Madueke is at the age of discovery for himself in the world of football. Despite many pundits and fans now taking note of Madueke, he is still at the stage of his career of having no pressure or expectation on him. This is one benefit of his move to Europe. Madueke may have not had ease of pressure and expectation if he had stayed in the England's top flight. When young English talent breaks through in a big English team, the expectation of them is high. This can often taper their development, as we have seen so many times.
Madueke seems to have the ability to fit into the Leeds United style of play. Their fast attacking style on the break would suit the skilful and quick style of Noni. With Raphinha rumoured to be leaving this summer, Madueke would be a like for like replacement in their team.
We have all enjoyed Leeds' fast attacking style this season, with wide men adding never-ending threat. It would be easy to see Madueke slotting in well at Elland Road. It would be great to also see Madueke up against the best teams in the Premier League and test himself for potential big occasions with England in the future.
Full of Praise
PSV manager, Roger Schmidt, has been full of praises for the youngster. "He is able to read situations, get to the right positions and be in the right place," said Schmidt. "He has a good sense of that, with his timing, and, technically, he has the skills when one-on-one."
It isn't just the PSV manager who is singing his praises. England's U21 manager stated, "he's certainly a very talented young man, really excited to be called up by the Under 21s, and a little bit like Phil [Foden] last time, nobody had really heard of him until he came and played in the tournament."
Noni Madueke. Thats it, thats the tweet.🤷‍♂️ pic.twitter.com/ebLSRqtJ2a

— Jelle🇳🇱 (@PSV_Jelle) March 7, 2021
Transfer Rumours
Plenty of teams are eyeing up a move for Madueke this summer. The question is will he make a move just yet or stay put at PSV and gain some more experience. Madueke may feel like he needs another year at PSV to continue getting the first-team action and keep developing his game.
German giants, Bayern Munich, are reportedly keeping close tabs on the Englishman. This would be a great move for any player, but a starting role may be hard to come by. Madueke would be competing with the likes of Leroy Sane, Serge Gnabry and Kingsley Coman.
Premier League new boys, Leeds United, are also rumoured to be looking at the young star. This opportunity, as discussed before, would suit Madueke's style. It would also offer Madueke the chance to gain more game time. Madueke wouldn't be far off the starting team as soon as he joins the Marco Bielsa revolution.
Speaking of Bielsa, this may be another pull for Madueke. The chance to work with one of the most highly-rated managers in the world and learn under him may be a really big pull factor for Madueke.
PSV will be hoping that Madueke continues his development with them this season and maybe into the next. They face a big battle to win the Eredivisie title and Madueke will play a massive part in this.
The future of football looks to be a bright one and Noni Madueke will certainly be a part of that. He is definitely one of the key footballers of the future.
We hope you enjoyed this article 'Footballers of the Future: Noni Madueke'. How good do you think Noni Madueke can become? Let us know!
Read more on football here: