The Best El Clasico Matches of the 21st Century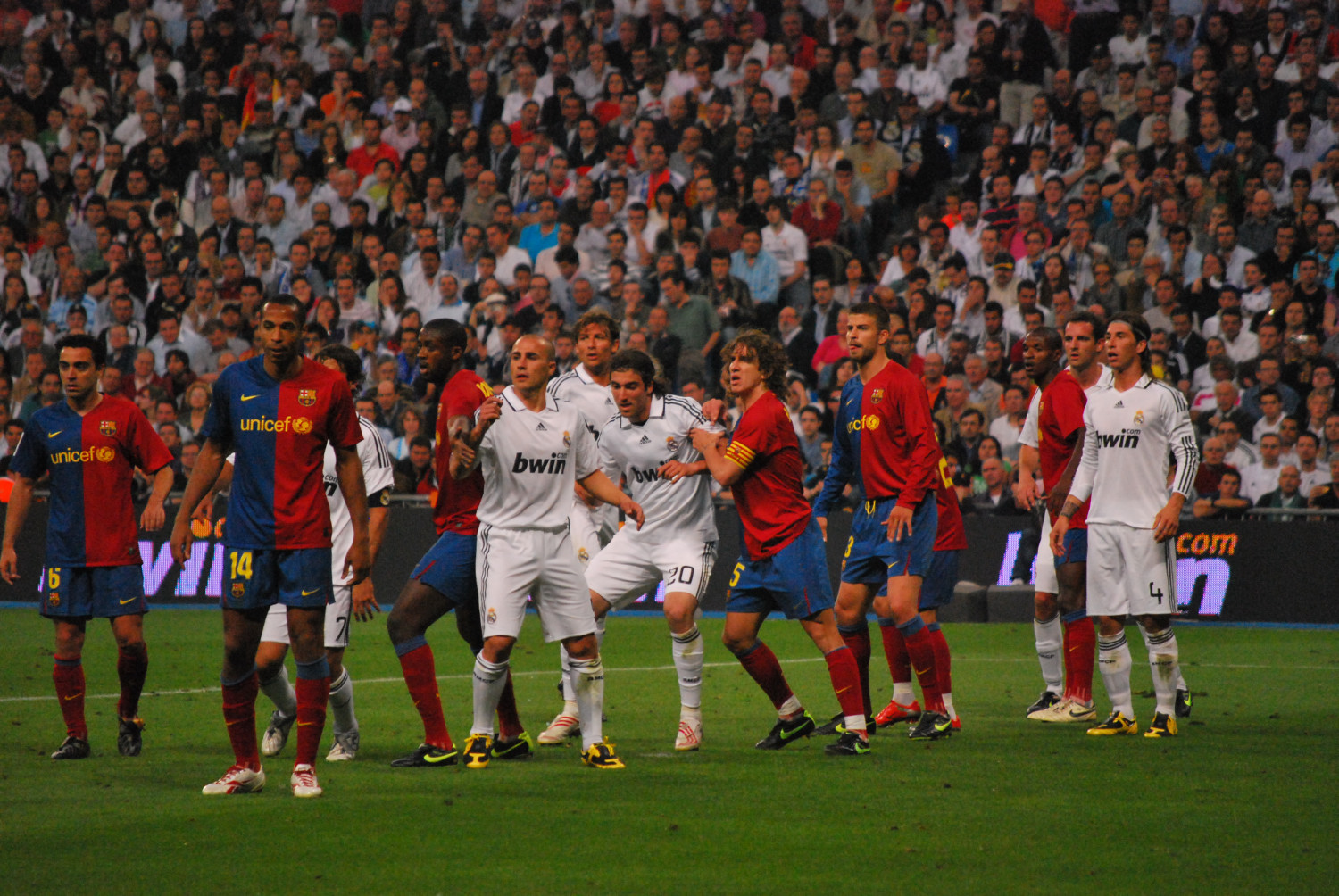 The Best El Clasico Matches of the 21st Century
The rivalry between Barcelona and Real Madrid is one of the biggest and best in world football. When the two Spanish giants line up against each other, the whole world tunes in to watch. The fixture, which is steeped in both political and footballing history, is one of the biggest events on the sporting calendar every year. What sets El Clasico apart from other rivalries is that it often has not just pride or bragging rights riding on it, but genuine success in the form of titles and trophies.
The two sides meet again on Saturday in what is sure to be another enthralling showdown, with both teams chasing down Atletico Madrid at the top of La Liga. Barcelona currently sit just one point behind Diego Simeone's side in second, with Real Madrid hot on their heels in third place. The title race looks like going down to the wire, so this weekend's El Clasico could be one for the ages.
But which of the recent meetings between the two sides have provided the most entertainment? We count down the best El Clasico matches of the 21st century.
7. Real Madrid 0-2 Barcelona, Champions League Semi Final (2011)
Although Barcelona and Real Madrid meet in the Spanish league twice a season, a European tie between the two is much less common. One such meeting took place in 2011, when the two sides faced off in a Champions League semi-final. It conjured up one of the fiercest El Clasico matches in recent history.
Much of the drama happened on the sidelines, with Real manager Jose Mourinho being dismissed along with defender Pepe in a bad-tempered affair. Two excellent goals from Lionel Messi settled the tie. Although the match itself wasn't much of a spectacle compared to others on this list, the European context of the clash and the off-the-field antics of Jose Mourinho make this stand out as one of the best El Clasico matches of the 21st century.
Leo Messi at the Bernabéu 6 years ago = ⚽️⚽️#OnThisDay in 2011, Barcelona beat Real Madrid 2-0 in their Clásico semi-final opener. #UCL pic.twitter.com/k8xWvTedWB

— UEFA Champions League (@ChampionsLeague) April 27, 2017
6. Real Madrid 2-6 Barcelona, La Liga (2009)
For such a high scoring game to only come in at number six on this list is evidence of the incredible levels of entertainment that El Clasico has brought us over the years. Barcelona blew away an in-form Real Madrid at the Santiago Bernabeu in this La Liga clash on their way to winning the treble in 2008/09.
Thierry Henry and Lionel Messi did the damage in this encounter, registering two goals each. This game will also be remembered for the majestic performance of Xavi, who produced an incredible 4 assists from midfield. This masterclass in attacking football is a reminder of just how good Barcelona were under Pep Guardiola. This makes it one of the best El Clasico clashes this century.
5. Real Madrid 2-1 Barcelona, Copa Del Rey Final (2014)
This was the game where Gareth Bale first wrote his name into Real Madrid history. The Welsh forward scored a superb solo goal in the 84th minute to win the Copa Del Rey for Real Madrid in his first season with Los Blancos. It definitely helped to justify the world record fee the club had paid to secure his services in the summer.
An injured Cristiano Ronaldo watched on from the sidelines as Bale channelled his inner Road Runner to burst past Marc Bartra and sprint half the length of the pitch before slotting the ball through the legs of Jose Pinto. It was a goal worthy of winning any cup final. Such a dramatic finish with a trophy on the line undoubtedly makes this one of the best El Clasico matches in recent history.
4. Barcelona 5-0 Real Madrid, La Liga (2010)
This was Barcelona at their scintillating best. Real Madrid were a point clear of their rivals in what was shaping up to be an exciting title race. Fans from around the world tuned in expecting a tight game between the two Spanish giants. Instead, they witnessed an absolute mauling.
Pep Guardiola's side produced a masterclass in tiki-taka to go top of the league, where they remained for the rest of the season. David Villa scored two, with Xavi, Pedro, and Jeffren also adding to the scoreline. Real Madrid's misery was compounded in injury time when Sergio Ramos was predictably sent off. Jose Mourinho will likely want to forget his first El Clasico, but for the rest of us this remains one of the best clashes between the pair in history.
3. Barcelona 3-3 Real Madrid, La Liga (2007)
When Barcelona and Real Madrid played out a thrilling 3-3 draw in 2007, one man dominated the headlines. A teenage Lionel Messi stole the show in front of a packed Camp Nou, scoring an impressive hattrick including an injury time equaliser to deny Real Madrid the victory. For a player who has arguably produced some of the all-time great El Clasico performances, this may just be his best.
Aside from Messi's brilliance, the match itself was an incredible spectacle. Ruud Van Nistelrooy had twice put Real Madrid ahead in the first half only for Barcelona to peg them back each time. However, things were looking bleak for Frank Rijkaard's side when Oleguer was dismissed and Ramos put Real ahead with 15 minutes left on the clock. A famous victory for Los Blancos would have been on the cards if not for a certain Argentinian. This tie had almost everything, making it one of the best El Clasico matches of the 21st century.
2. Real Madrid 2-3 Barcelona, La Liga (2017)
Barcelona came into this match at the Bernabeu knowing they had to win to stand any chance of retaining their La Liga title. What followed was an El Clasico for the ages. There were goals galore, drama aplenty, and yet another legendary Lionel Messi performance.
Casemiro put Real ahead in the 28th minute, but Messi's response meant the sides went in level at the break. Ivan Rakitic put Barcelona into the lead in the 73rd minute, and Sergio Ramos' customary red card came just a few minutes later. However, a shock leveller from substitute James Rodriguez looked to have secured a point for Real Madrid and ended the title race for good.
Enter Lionel Messi. Barcelona's talisman curled in a last-minute winner from the edge of the box and proceeded to celebrate in iconic fashion by holding his shirt up to the heavens. It was his 500th goal in club football. It couldn't have come at a more fitting moment. Although Real Madrid edged the title race, this incredible game is certainly one of the best El Clasico matches of this century.
LEGEND: Lionel Messi celebrates scoring his 500th Barcelona goal in front of the Real Madrid fans. 😎

Bow down to the king 👑 pic.twitter.com/Fvi2Ea3rDo

— SPORF (@Sporf) April 23, 2017
1. Real Madrid 3-4 Barcelona, La Liga (2014)
Real Madrid and Barcelona's goal-infested clash of 2014 just had to be number one. This game was the quintessential El Clasico. There was a goal from Cristiano Ronaldo, a hattrick for Lionel Messi, a late winner, three penalties, and a sending off for (you guessed it) Sergio Ramos. If you made a robot watch every Real Madrid vs. Barcelona game this century and then write an El Clasico script, this match is likely what it would have come up with.
The game was fiery from the offset, with a host of early chances. Iniesta's piledriver gave Barcelona the lead, although the scoreline was turned on its head with two quickfire Benzema goals. Messi's first of the afternoon ensured the sides went into half time on level terms. The drama continued after the break with Ronaldo and Messi scoring a penalty apiece, the latter of which was the result of a challenge from Sergio Ramos which earned him a red card.
Messi was the hero for Barcelona again, scoring a second penalty in the 84th minute to complete his hattrick. His performance also made him the all-time El Clasico top scorer. As a standalone game, this one will be hard to beat. It takes the crown of being the best El Clasico of the century, and probably one of the greatest of all time.
We hope you enjoyed the article 'The Best El Clasico Matches of the 21st Century'. Who do you think will win El Clasico on Saturday? Let us know!
Read more about football here: