Hamilton breaks Michael Schumacher's win record with victory at Portuguese Grand Prix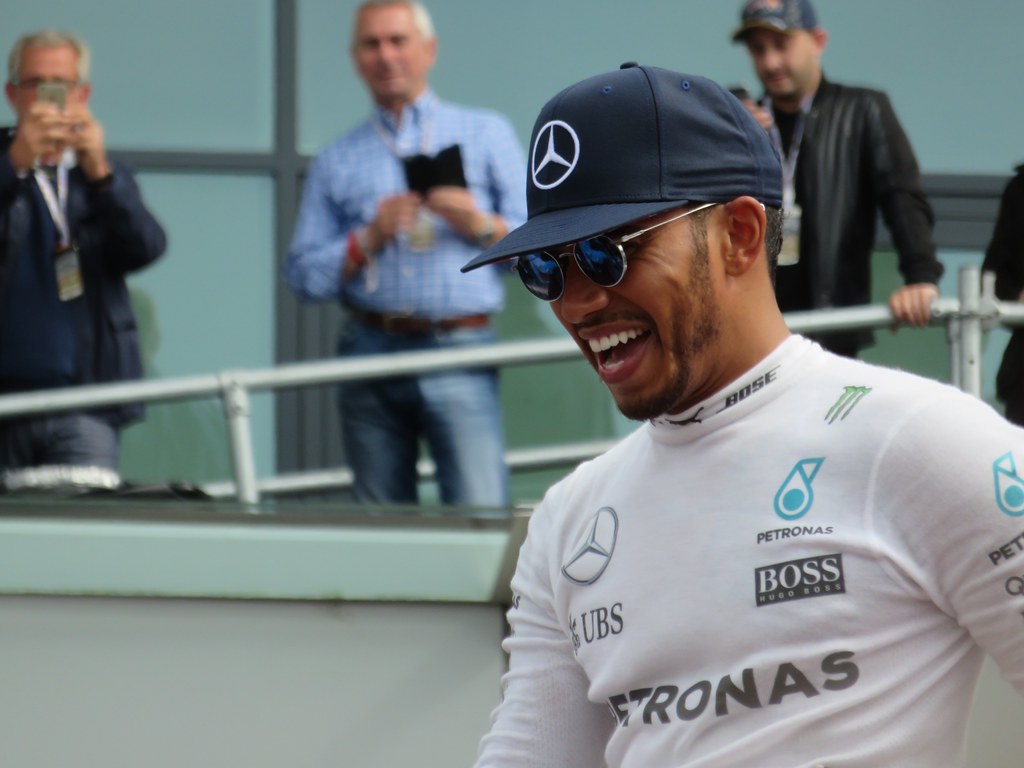 Lewis Hamilton: The Record Breaker 
After equalling Michael Schumacher's record at the Eifel GP, Lewis Hamilton smashed Schumacher's record of career wins in F1 with his victory at the Algarve circuit. The British driver was in complete control of the Portuguese Grand Prix despite Valtteri Bottas taking an early advantage in the opening laps.
Hamilton took one more step towards his seventh World Championship finishing ahead of Valtteri Bottas and Max Verstappen, now increasing his lead to 77 points over his teammate in the drivers' standings.
However, it was a hectic opening lap for the two Mercedes on the opening lap of the Portuguese GP as a cold track meant the medium tyres on the 'Silver Arrows' were struggling on lap one. This saw the McLaren of Carlos Sainz take a surprise lead on lap one, as Max Verstappen dropped down a few places and Kimi Raikkonen, who started in 16th, managed to climb into 7th place.
Yet, the Finn in the Mercedes warmed up his tyres and caught Sainz to retake the lead, with Hamilton just a few seconds behind. But just like the Eifel GP, Bottas buckled under the pressure of Hamilton, who overtook his teammate without any challenge, cruising back into 1st and remaining dominant to claim his 92nd victory.
Although it was a record-breaking day for Hamilton, it was a fantastic performance for Charles Leclerc in the Ferrari, who despite dropping down to 8th after lap one, managed to crawl his way back into 4th despite a miserable season.
Now THAT is a Team photo! 😍😍😍 pic.twitter.com/GIc5P3zykj

— Mercedes-AMG F1 (@MercedesAMGF1) October 26, 2020
Lewis Hamilton: The Record Breaker
It seemed like Lewis Hamilton's race to lose after his performance in qualifying, as a second flying lap managed to outdo his Mercedes teammate for pole position.
But a frantic first lap in the Grand Prix saw Hamilton drop down to 3rd and Bottas to 2nd, which saw Sainz take a steady lead, as the two Mercedes struggled for grip on the medium tyres.
Max Verstappen, who started 3rd on the grid, also struggled and collided with Sergio Perez, sending the Mexican off the track and into 20th.
However, normality was restored for Mercedes, as Bottas swept past Sainz after lap 6, soon followed by Hamilton as he rose into 2nd. The Finn was ahead of his teammate for a second consecutive Grand Prix, but eventually buckled under the pressure yet again in.  The British driver crept ahead on the main straight, unchallenged by his teammate, to restore his lead and was dominant from that point onwards as Bottas struggled behind him.
92 wins 🙇

But not the only all-time F1 record for @LewisHamilton 👀#F1 pic.twitter.com/EiiR3Xpiqk

— Formula 1 (@F1) October 26, 2020
A terrific race by Pierre Gasly
After struggling in the Red Bull last season and being demoted back to their sister team after six months, Gasly has looked a different man, with his performance at the Portuguese Grand Prix adding further evidence to this claim.
The Frenchman looked on a different level in the opening stages, easily passing Carlos Sainz, Daniel Ricciardo and Lando Norris. Even after his pit-stop, Gasly regained his speed and overtook Sergio Perez with just two laps to go for 5th, earning his second-highest finish this season – behind his race victory at Monza.
It was a terrific recovery drive by the Racing Point of Sergio Perez who collided with Verstappen on lap one and plummeted to rock-bottom after pitting for a new set of tyres. But the Mexican crawled his way back through the field to earn a respectable finish into 7th after losing places to Gasly and Sainz in the final few laps.
The two Renault's finished in 8th and 9th, with Sebastian Vettel's Ferrari climbing from 15th on the grid to 10th.
Lance Stroll was the only retiree from the race after suffering damage from a collision with Lando Norris, which saw the Canadian hit with a +5 second penalty.
TOP 5 TODAY!!
We will never stop pushing👀
Thanks to my amazing guys for giving me such a car. I had so much fun out there!! Next Imola!🇮🇹
Congrats to @LewisHamilton for making history again! pic.twitter.com/ljtM4LMJKo

— PIERRE GASLY 🇫🇷 (@PierreGASLY) October 25, 2020
Portuguese Grand Prix – top 10 result
1st – Lewis Hamilton
2nd – Valtteri Bottas
3rd – Max Verstappen
4th – Charles Leclerc
5th – Pierre Gasly
6th – Carlos Sainz
7th – Sergio Perez
8th – Esteban Ocon
9th – Daniel Ricciardo
10th – Sebastian Vettel
🇨🇦 2007 to 🇵🇹 2020

14 seasons topping F1 podiums, from age 22 to 35

Out on his own at the top of the pile 👑

9️⃣2️⃣ wins and counting #F1 @LewisHamilton pic.twitter.com/lyXeVr3JIK

— Formula 1 (@F1) October 26, 2020
We hope you enjoyed the article 'Lewis Hamilton: The Record Breaker.' What was your favourite moment from this weekends Grand Prix? Let us know!
Read more on Formula 1 here: