Cristiano Ronaldo vs Lionel Messi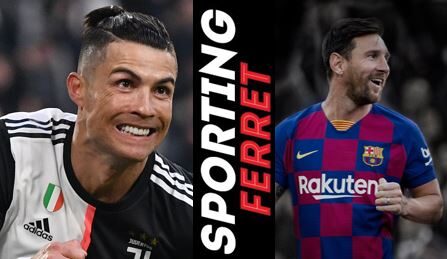 Battle Of The Generation: Cristiano Ronaldo vs Lionel Messi
In every generation, there are stand out players. Amongst these standout players, there is one that stands above them all as the greatest; Pele and Maradona are prime examples.
The last 15-18 years has been a clear battle between two players who will go down as the greatest of the generation, and possibly all-time. Cristiano Ronaldo and Lionel Messi.
The question is, who is the best of this generation?
To some, the debate is close. To others, the debate has one clear winner.
Cristiano Ronaldo
Ronaldo was born in Madeira, Portugal on the 5 February 1985. A product of Sporting Lisbon's academy he made his professional debut in 2002 against Moreirense. A year later, Ronaldo was putting on the colours of his national side and representing the Portuguese team for the first time.  
CR7's form in his first season, mixed with some Portugal youth team performances made him one of the hottest talents in Europe. The big teams soon started watching over his development. 
In a 2003 pre-season friendly between Sporting and Manchester United, his performance was good enough to confirm to Sir Alex Ferguson that the young Portuguese star was worth signing. Man Utd beat a hesitant Arsenal and Liverpool to his signing for around £12.24 million.
Still only young Ronaldo impressed at United in his first couple of seasons. His impressive footwork and technique amazed crowds and the media but his inconsistency and occasional poor decision came in for criticism.
In the following years Ronaldo changed, his hard work in training was noticeable to all. Ronaldo became more consistent, scoring goals regularly and producing top performances in the Premier League and in Europe. 
In 2009, Ronaldo became the world's most expensive player, moving to Real Madrid for £80 million. His performances continued to amaze many, he continued to smash personal, club and national records.
In 2018, Ronaldo moved again, this time looking to test himself in the Italian league for Juventus. Despite being over the age of 30, Ronaldo's transfer cost Juve around £88 million plus future add-ons.
Lionel Messi
Messi, born 24 June 1987 in Rosario, Argentina. Messi joined his boyhood club Newell's Old Boys at the age of 6-years-old. It has been reported that during the 6 years at their youth clubs, Messi scored almost 500 goals –  a sign of things to come.
Messi joined Spanish giants, Barcelona, at 13-years-old. Barca famously paid for Messi's growth hormone treatment, something that hampered a move to River Plate.
Unlike Ronaldo, Messi has spent his whole career at Barcelona. This hasn't stopped the odd transfer rumour for the Argentine Magician. Man City, PSG and Chelsea linked with moves for him in the past.
In October 2004 at 17-years-old, Messi made his competitive debut for Barcelona as a substitute. Rumours have suggested Messi was promoted to the first-team after several requests were made by other first-team players.
Just under a year later, Messi made his senior debut for Argentina against Hungary in a friendly. Messi was sent off within a few minutes after his introduction following a clash with a defender.
Messi has gone on to captain Barca and Argentina in a career that has seen a mass number of individual and team rewards.
High Expectations 
Coming through the youth ranks and having everyone know your name from a young age must be daunting. Messi and Ronaldo had just that experience. 
The expectation that is often put on young players who come through with a high reputation can ultimately be their downfall. Messi and Ronaldo have easily lived up their expectations on the club level, winning a mass of awards and breaking endless records.
Messi had the seemingly impossible task of trying to fill the void left by Diego Maradona's retirement, something no one had been able to do. Maradona has always been rated as one of the best footballers to ever grace the hallowed turf so when Diego started singing the praises of Messi, the people started to take note. Maradona was once quoted as saying, "I have seen the player who will inherit my place in Argentine football and his name is Messi. Messi is a genius," no pressure Lionel. 
For Barcelona, he has shined and become Mr Barcelona but the expectations of a nation has always seemed to be too much for Messi. Maradona guided Argentina to the World Cup in 1986. The expectation was always that Messi would win the World Cup in his time but as of yet, he has struggled. 
Ronaldo in a sense was blessed with not having overly high expectations of a nation on his shoulders, this is not to say that the people of Portugal wasn't expecting something. Ronaldo, unlike Messi, has delivered success for his national side.
Like Messi though, Ronaldo had a national hero to live up to in the name of Eusebio, a former Ballon d'Or winner and Benfica legend is adored by the Portuguese fans. Many say Eusebio was one of the greatest strikers of all time and one of Portugal's greatest ever players.
Ability: Cristiano Ronaldo vs Lionel Messi
Both players have a wide range of skills in abundance, Messi seems to have been blessed by the footballing gods. Ronaldo certainly has been gifted with talent but his work ethic, that continues to this day, has made him into the player he is today.
Messi spends most of his games causing nightmares for defenders with his close control and amazing runs. He has a left foot that can seemingly score from anywhere, as well as pick out a pass through even the strongest of defences. Messi is known for his cheeky dinks over onrushing keepers. He isn't the tallest of players but has scored a few headers in his time.
Ronaldo has pace, strength, skills and confidence; maybe enough confidence for the whole starting 11. He arrived at Man Utd a skinny teenager. By the time he left for Madrid, he was the ultimate athlete. He can outjump a defender, maybe even a defender with another defender on their shoulders. Free-kicks were another strong point but in recent years this has declined but he will still produce a quality free-kick in his teams time of need.
Club Level: Cristiano Ronaldo vs Lionel Messi
It is hard to argue against that fact that Messi has a slight edge over Ronaldo on the club side of their career. Messi's career with Barcelona has been one filled with trophies and glory.
In terms of goals, Messi has 627 goals in 718 club appearances in all competitions, excluding friendlies. This is compared to Ronaldo's 626 goals in 835 games. Both staggering amounts, showing their unbelievable goal-scoring abilities. Messi's stats means he just edges Ronaldo in the goals-per-game ratio overall.
As well as the high total of goals for their clubs is each player's goals per calendar year. In 2012 Messi scored 79 goals in 60 appearances in the year, a year that saw him score 91 altogether. Ronaldo scored 58 goals in 58 games, again, unbelievable. The goals in each calendar year since 2012 have been breathtaking.
One argument for Messi being the better player overall is his passing and assisting of teammates. In the same amount of games as above, Messi has 247 assists, compared to Ronaldo's 192. Some have argued Ronaldo is a greedy and selfish player, you can't argue with his belief in his own abilities and many times he has carried his teams to victory. Messi though has always been a great passer of the ball, something you' would expect from a Barca academy graduate.
International Level: Cristiano Ronaldo vs Lionel Messi
It is fair to say despite being part of two top-quality national teams, they haven't been blessed with the greatest team-mates throughout their national careers. There is quality in both teams but not enough to help the two in all international tournaments they've played in. This doesn't mean there are no international trophies between the two, maybe just not as much as they would both like.
In 138 games for Argentina (including friendlies), Messi has 70 goals and 42 assists. Ronaldo in 164 appearances has 99 goals and 28 assists. Both players are top scorers for their national teams, with a few more years left in them both.
Winning an international trophy is what some players would call the pinnacle of their career. In 2016 Ronaldo won the UEFA European Championship with Portugal and then the UEFA Nations League in 2019. This is really where Ronaldo shines above Messi. Success with Argentina has been hard to come by for Messi, winning the Summer Olympics in 2008.
Awards & Records: Cristiano Ronaldo vs Lionel Messi
If you haven't been sat down so far, you might want to find a seat for this part. The list of awards for both players is astonishing, the below is both individual and team awards.
Messi – The Best FIFA Men's Player x6, Ballon d'Or x6, UEFA Best Player in Europe x2,  Golden Boot Winner x5, UEFA Champions League Winner x4, FIFA Club World Cup Championship Winner x3, La Liga x10, UEFA SuperCup Winner x3, Copa del Rey x6, Spanish Super Cup x8, Spanish League Cup Winner x1, Olympic Gold Medal x1, Under-20 World Cup Champion x1, World Cup Runner-up x1, FIFA World Cup Player of the Tournament x1, Copa America Player of the Tournament x1, Top Scorer x19 (various comps), Barcelona Player of the Year x10, 
Ronaldo – The Best Fifa Men's player x5, Ballon d'Or x5, UEFA Best Player in Europe x3, Footballer of the year (England) x2, UEFA European Championship Winner x1, UEFA Champions League Winner x5, English Premier League x3, FA Cup x1, English League Cup x2, LA Liga x2, Copa del Rey x2, Spanish Super Cup x2, Serie A x1, Italian Super Cup x1, FIFA Club World Championship x4, UEFA Nations League x1, UEFA Super Cup x3, Portuguese Super Cup x1, English Community Shield x2, Top Scorer x19 (various comps), Manchester United Player of the Year x2, Real Madrid Player of the Year x1, Juventus Player of the Year x1
Unbelievable.
That is just the awards. Messi and Ronaldo both also hold a vast range of records that appear they'll never be beaten.
Messi holds the record for most: goals in LaLiga, hat-tricks in LaLiga, goals ever scored in a calendar year, Ballon d'Or wins, European Golden Boot wins, goals in a single LaLiga season, trophies won by a Barca player, LaLiga titles won by a foreign player, plus many more.
Ronaldo holds the record for: fastest La Liga Player to 200 goals, most goals by a Man Utd player in a single 38-game season, the fastest player to ever score 350 goals for one club in Europe's top five leagues, most goals in a single European Cup Campaign, plus many more.
Not bad going for either of them.
Marketability: Cristiano Ronaldo vs Lionel Messi
A big part of sport now is the marketability of players. The two are worth massive amounts but it is Ronaldo who is the most appealing to companies. Messi doesn't often appear in the media and is much more reserved than his Portuguese counterpart.
Ronaldo has around 31 sponsorship deals with various brands. Nike is his main sponsor and has earned around a total amount of $174.4 million. He was the third athlete to ever be given a lifetime sponsorship from Nike. Some have suggested Ronaldo could end up with around $1 billion from Nike in his lifetime. He has other big deals with Emporio Armani, DAZN, Clear and MTG. Ronaldo also has his underwear range and fitness apps amongst others.
Messi has a lifetime deal with Adidas, rather fitting the two greatest are representing the two biggest competing sports manufacturers. Messi has other noticeable sponsors with Huawei, Lays and Gatorade. Similar to Ronaldo, he has his own clothing line as well as a range of other items.
Net worth (Forbes, 2020):
Cristiano Ronaldo Net Worth
Ronaldo – $105M
Lionel Messi Net Worth
Messi – $104M
Players, Ex-Pros and Managers' Opinion
The debate of who is the best between the two is heavily debated between current and former; experts, players and managers. Just reading the comments by these people about Messi and Ronaldo really shows how valued in the game they are, and shows how special both players are.
Messi
"I think he reached and surpassed the level of Maradona. He does incredible things, at a speed that is insane" Paolo Maldini.
"Although he may not be human, it's good that Messi still thinks he is." Javier Mascherano.
"Once they said they can only stop me with a pistol. Today you need a machine gun to stop Messi." Hristo Stoichkov.
"I was a big fan of Maradona growing up and of the current crop Ronaldo is good, but Messi is the best I've ever seen. I don't dish out praise lightly, but Messi deserves it. I look for weaknesses in his game and I can't find them." Roy Keane.
"Messi will be the player to win the most Ballons d'Or in history. He will win five, six, seven. He is incomparable. He's in a different league." Johan Cruyff.
"Don't write about him, don't try to describe him, just watch him." Pep Guardiola.
Ronaldo
"After we played Sporting last week, the lads in the dressing room talked about him constantly, and on the plane back from the game they urged me to sign him. That's how highly they rated him." Sir Alex Ferguson.
"There have been a few players described as the new George Best over the years, but this is the first time it's been a compliment to me." George Best.
"He is the best. The best in the world, yes. Probably the best ever. I saw Maradona a couple of times. I never saw Pele. But Cristiano is amazing. This man is the best… Cristiano is a goals machine. He is an incredible player. He is like Zidane, there will never be another Ronaldo." Jose Mourinho.
"He has magic in his boots. The first thing you notice about him is that he is incredibly quick and very, very powerful for such a young man. He has great, close control and his technique is excellent. He believes he can do anything with the ball, and that confidence makes him very special indeed." Eusebio.
"When Cristiano Ronaldo gets the ball, you can just leave him to it while he beats player after player."  Ryan Giggs.
"He does things I have never seen from any other player and it really is marvellous to watch. It takes a great player to grab the bull by the horns and make things happen, but he has done it repeatedly." Sir Bobby Charlton.
"At the moment, there is no better player than Cristiano. He was one of those who looked out for me at first, he's a really nice guy." Toni Kroos.
It is not just what others say about the two players that is interesting but what the two have to say about each other. "Messi makes me a better player and vice versa. I have an excellent professional relationship with Messi because we have been sharing the same moments for 15 years", the words of Ronaldo on the pairs battle for the top spot.  In interviews, Messi has often stated how he thinks himself and Ronaldo are competing at the top of the footballing pyramid. 
You can tell from the comments that both players have great respect for each other. It is likely that they are both thankful to have each other around, continuously pushing each other to achieve bigger and better things. When one player achieves something, the other seems to go and do the same, if not better, the following week.
Who Is Better Cristiano Ronaldo or Lionel Messi
In my opinion, it has to be Messi. His ability is unreal, it is like he is out of this world. He will glide past players like they aren't there, scores endless amounts of goals and just makes it all seem too easy. It is a joy to just watch him play and make it look like what he is doing is nothing out of the ordinary.
This isn't me saying I don't rate Ronaldo, how can you not. I love his confidence on the field, he knows he is world-class, he knows he will be the best player on the pitch when he steps across that line. I think you've really got to respect the hard work he has put in to get to where he is. Even now, just after a worldwide pandemic and lockdown, he reported back to Juventus training fitter than before he left. 
But Messi just edges it for me, beautiful player of the game.
Is the End Near?
As sad as it is to think about, the two are entering the latter stages of their careers. Messi recently turned 33 and Ronaldo is 35. In recent years both have started picking injuries more frequently and the end of their careers could be in the near future. The two are still in good shape so that may extend their time in football for the time being.
When they do eventually retire, there will be a big gap in the footballing world for someone to step in to. Who will take this role?
Kylian Mbappe: the new Cristiano Ronaldo or Lionel Messi?
The obvious choice is Mbappe. The Frenchmen is already a World Cup winner and scored 100 goals in club football, not bad for a 21-year-old. He is the hottest prospect in football, any team that signs him will easily be paying £200m plus.
Mbappe's PSG teammate Neymar is another possibility. A world-class talent himself, he has had the tough task of playing in the shadows of Messi and Ronaldo. It would be fair to say that if it wasn't for the two, Neymar would have won the Ballon d'Or by now. His move to PSG, which was partially down to his desire to win the award, was rather hampered by Mbappe's arrival.
Other potential players to keep an eye on would be the likes of; Marcus Rashford, Jadon Sancho or Joao Felix.
For now, we need to appreciate what years we have left watching two players who will most certainly go down as two of the greatest of all time.
We hope you enjoyed the article 'Cristiano Ronaldo vs Lionel Messi.' Who do you think is the GOAT? Let us know!
Read more on football here: