The Ten Biggest Football Surprises Since 2009/10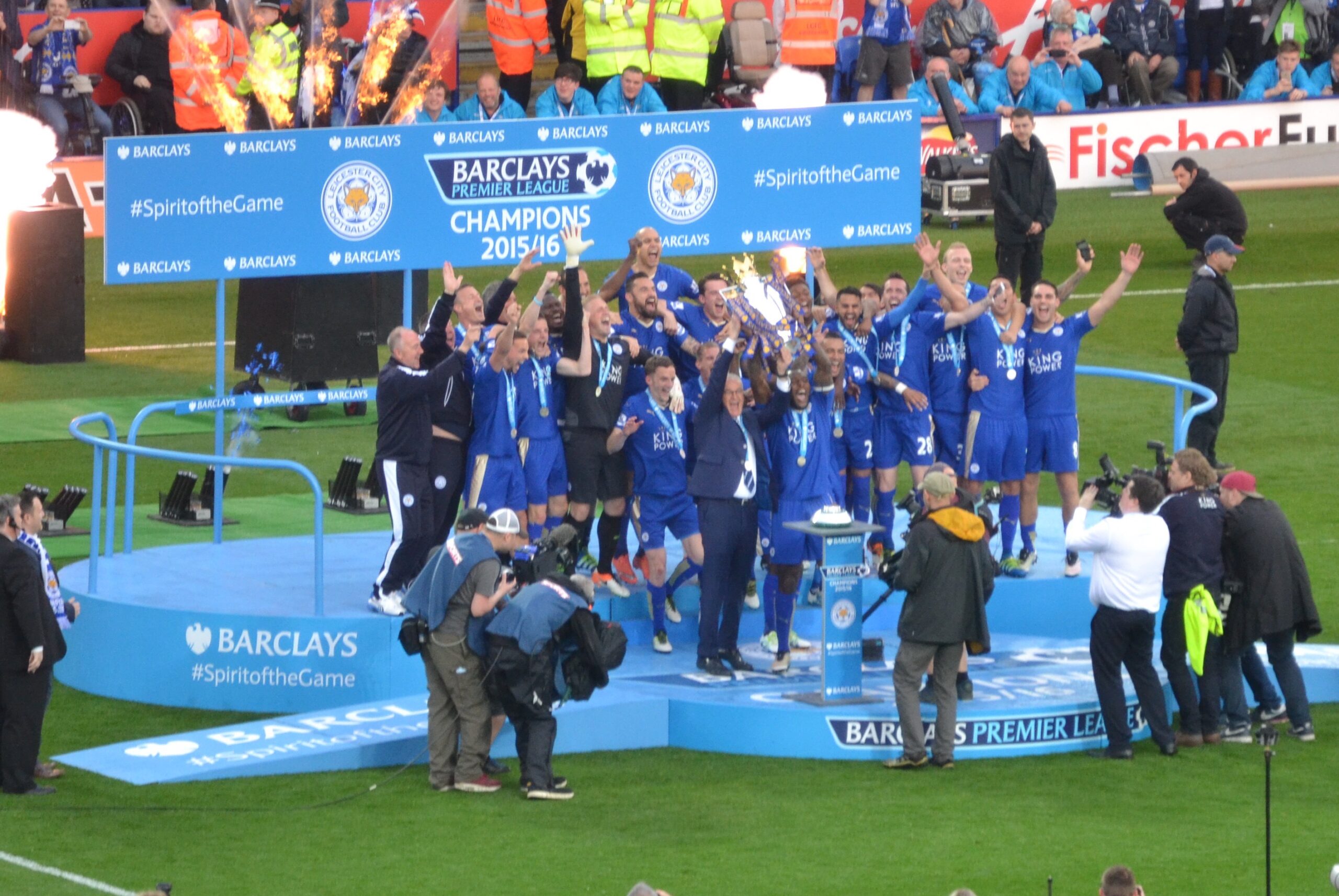 Football's Biggest Surprises Over The Last Decade
The footballing world has changed a great deal in the last ten seasons. Here, we look at some of the biggest football surprises of the last decade that you simply would not have believed ten seasons ago.
1. Leicester City would win the Premier League in 2016
By far the biggest shock in recent football history has to be Leicester City becoming Premier League champions. At the start of the season in August 2015 bookies put them at 5000/1 underdogs to win the league.
Leicester had only just returned to the Championship for the 2009/10 season after promotion from League 1. Jamie Vardy, Leicester's talisman striker, was 23 years old and playing non-league football for his local club, Stockbridge Park Steels.
Many expected Leicester City to be relegated at the start of the 2015-16 season. They had controversially sacked manager Nigel Pearson in June, despite surviving their first season back in the league. Leicester then appointed 'the tinker man', Claudio Ranieri, who had just been sacked by Greece following a humiliating defeat to the Faroe Islands.
The decision proved to be a masterstroke, despite the naysayers. Leicester somehow cruised to a maiden Premier League title ten points ahead of second placed Arsenal. That season, Jamie Vardy became an English household name, after his 2016 form saw him score in 12 consecutive league games. This prolific scoring record even eclipsed Ruud Van Nistelrooy's all time Premier League record.
2016: Chelsea win Leicester the Premier League title 😜

2020: Chelsea win Liverpool the Premier League title? 🤔

Manchester City must win, or the title goes to Liverpool 🏆

Friday morning from 5:05 am AEST, LIVE on #OptusSport. pic.twitter.com/SoMD8F6shG

— Optus Sport (@OptusSport) June 25, 2020
2. Bournemouth would reach the Premier League
Next on our list of biggest football surprises is Bournemouth's Premier League Status. It is unbelievable to see just how far Bournemouth have come under Eddie Howe. Bournemouth appointed him as manager in January 2009 and tasked him with keeping the cherries in League 2. That season, they had faced a 17 point deduction and Bournemouth finished in 21st place, narrowly avoiding relegation.
In 2009/10, Howe's first full season in charge, Bournemouth gained automatic promotion from League 2 and continued their meteoric rise. In 2015-16 they reached the top division for the first time in the club's history and have stayed there ever since.
3. The Notts County takeover
Who remembers the Notts County takeover back in 2009?
Like Bournemouth, Notts County ended the 2009-10 by securing promotion from League 2, topping the league table with 93 points.  If you were to guess which club would have reached the Premier League in the next decade, most would have said Notts County at the start of that season.
The takeover at the start of 2009-10 season promised great things. The club signed future Premier League winner, Kasper Schmeichel from Manchester City, former Arsenal invincible, Sol Campbell, on a free transfer and put former England manager, Sven-Goran Eriksson, in charge of recruitment. Things seemed too good to be true and that is, unfortunately, the way it turned out. Events soon began to unravel off the pitch and Campbell bizarrely left by mutual consent due to broken promises, having played just one game.
It soon became clear that the investment promised was never there. When the unpalatable truth about their shadowy billionaire owners was finally revealed, Notts went from believing they were one of the richest clubs in England, to teetering on the brink of bankruptcy.
The Notts County takeover proved to be a part of an elaborate fraud scheme. Despite promotion to League 1, the historic Nottingham club had amassed a great deal of debt. A decade later, Notts County would be playing their football in the National League.
4.  Iceland would knock England out of Euro 2016
England fans are used to disappointment in major tournaments, particularly when they were hammered 4-1 by Germany in 2010. However, few would have expected England to be beaten by Iceland. Going into the tournament, it seemed that England, with a youthful team, might make amends for their dreadful 2014 World Cup. They qualified for Euro 2016 with a perfect ten wins out of ten.
Prior to 2016, Iceland had never qualified for an international tournament and rarely got close to doing so. 2016 was the country's first major international tournament.
Simply getting to the tournament was a huge achievement baring in mind the total population of Iceland is just 330,00. Compare that to England's population of around 55 million and the result is even more impressive. Iceland became the smallest country to qualify for both the European Championships and the World Cup, definitely worthy of a place on a list of biggest football surprises.
5. Wales would reach the semi-final of Euro 2016
Like Iceland, Wales were also playing at the European Championships for the first time in their history. This was their first major tournament since they reached the World Cup quarter-finals in 1958. They were also a long way from reaching any sort of tournament back in 2010 finishing 10 pts below the play offs in their World Cup qualification.
Wales, spearheaded by the in-form Aaron Ramsey and Gareth Bale, went on to top a group consisting of England, Russia and Slovakia. They then defeated Northern Ireland 1-0 before surprising the world in the quarter-final. There, the Welsh beat a star-studded Belgium side, who were considered to be one of the favourites for the tournament.
6. Gareth Bale being a world record transfer
It's hard to believe now, but back in 2009 Gareth Bale was struggling to make his mark at Tottenham. In fact, some fans even viewed him as something of a curse, after he failed to win any of his first 25 games.
It is fair to say that Gareth Bale would go on to prove the doubters wrong. Harry Redknapp changed Bale from an attacking left back into one of the most lethal wingers in world football. Bale went on to be placed in the Premier League team of the year three times and was also awarded the Premier League player of the year in 2012-13.
Following his success at Spurs, Bale would eclipse his team-mate Ronaldo's world record transfer fee by joining Real Madrid for £85 million. He continued his success at Real, scoring three Champions League final goals and winning the competition on four occasions.
7.  Gareth Southgate would become manager of England
Gareth Southgate has become a beloved figure in England after a successful World Cup campaign in Russia. In 2018, his England team banished their penalty shootout curse by beating Colombia, and even reached the semi-final.
However, if you cast your mind back to 2009-10 few would have expected Southgate to succeed in management. He was relegated with Middlesbrough in 2008-09 in his only other managerial role. Southgate was then replaced by Gordan Strachan in the early months of the 2009-10 season after a slow start to life back in the Championship.
After four years out of coaching, working in punditry, Southgate returned to coaching with the England under 21 team. After a strong spell at u21 level, Southgate suddenly found himself interim manager of the England national team. This was as a result of Sam Allardyce's scandalous one-game reign,which was one of the year's biggest football surprises in itself. The former England centre-back was then announced as England's permanent manager following his positive impact on the team.
8. Bradford City would reach the League Cup Final
Back in 2013, Bradford defied all odds to reach a League Cup final against Swansea City. This made them the first fourth division side to reach a cup final since 1962. This run featured a host of incredible football surprises, beating three top flight sides on route to the final. Beating both Wigan Athletic and Arsenal on penalties. Before stunning Aston Villa in the Semi-Final with a 4-3 aggregate win over two legs.
Phil Parkinson's side were crushed 5-0 in the final by Swansea, however, it was a cup run that will live long in the memories of Bradford City supporters. Irrespective of the final result, it is still an incredible achievement for a fourth division side.
9. Wigan winning the FA Cup in 2013
In an incredible cup run, Wigan Athletic defied all odds to reach the FA Cup final for the first time.
It was also a moment of sheer joy for Wigan chairman Dave Whelan, who led his Wigan team out to Wembley. The Latics defeated the previous season's Premier League champions Manchester City 1-0 at Wembley. Ben Watson's last minute goal delivered their first ever major trophy. The result was seen as the biggest FA Cup final upset for a quarter of a century, when Wimbledon defeated Liverpool in 1988.
This period proved to be bitter sweet time for the club despite winning the cup. Roberto Martinez's side were relegated from the Premier League just two games later. This made them the first top-flight side to win the FA Cup and be relegated in the same season.
10. Rafa Benitez would manage in the Championship
The last of our big football surprises still seems crazy. In 2005, Rafa Benitez guided Liverpool to Champions League victory after a famous comeback against AC Milan at Istanbul. In 2009, Liverpool took Man United down to the wire in a narrow title race. Benitez managed Italian giants Inter Milan and Napoli after leaving Merseyside. Real Madrid then appointed him as manager in 2015.
Benitez was sacked in January 2016 by Real Madrid despite only losing 3 games. Newcastle United surprisingly named him manager a few months later and tasked him with keeping the club in the Premier League. The Magpies were relegated to the Championship, despite ending the season unbeaten in the last 6 games.
Many people felt at this point Benitez would leave Newcastle to join a club with Champions League status. Benitez, however, stunned the world by remaining with the magpies and helping them rebuild in the second division. His time in the Championship proved very successful, as Newcastle were promoted as champions at the first time of asking.
We hope you enjoyed the article 'The Ten Biggest Football Surprises Since 2009/10'. What other things surprised you this decade? Let us know!
Read more on football here: