Top 5 Upcoming UFC Middleweights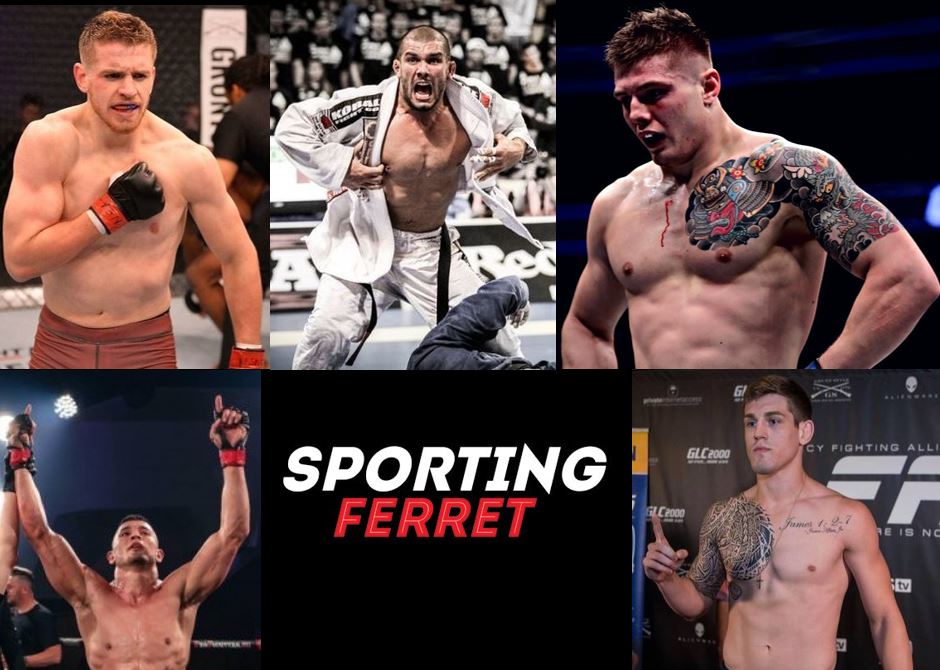 Future UFC Middleweight Contenders
In this article we look at the the best upcoming UFC Middleweights who have the potential to challenge for the title in the near future. Established contenders who are either already guaranteed a title shot or a 1 win away from one, such as Paulo Costa or Darren Till, will not be included.
1: Edmen "The Golden Boy" Shahbazyan
Ranking: 9th
Record: 11 – 0
Gym: Glendale Fighting Club
Fighting out of: Los Angeles, California, USA
Notable Wins: Brad Tavares/KO, Jack Marshman/Sub, Darren Stewart/Dec
One of the brightest stars in the whole UFC, Edmen Shahbazyan is tearing through the Middleweight division. Training out Glendale Fighting Club, the MMA gym famous for producing the first women's UFC Champion, Ronda Rousey, Shahbazyan appears to have all the tools required to become a number one contender.
His UFC debut against the English born Darren "The Dentist" Stewart was Shahbazyans first fight to go more than 1 round, and  still remains to the day of writing, to be his only fight that he has not finished. However it also offered the most in depth look in to his well rounded skill set. Shahbazyan displayed a willingness to wrestle against Stewart that had not been shown by the young prospect. He ground Stewart down against the fence, whilst using dirty boxing and knees to bully the Englishman. Shahbazyan also showed his ability to overcome adversity after being hit by a heavy elbow in the third.
After Stewart, Shahbazyan would go on to face Charles Byrd and then Jack Marshman. He finished both fights in the first round, knocking out Byrd with elbows and subbing Marshman with an RNC. Defeating Marshman finally pushed The Golden Boy into the rankings, and set him up to face Middleweight gatekeeper Brad Tavares. 3 minutes into the first round and Tavares was KO'd by a brutal head kick. The Golden Boy cemented his place in the rankings, and even began to draw the eye of champion Israel Adesanya.
2: Rodolfo "The Black Belt Hunter" Vieira
Ranking: NR
Record: 7 – 0
Gym: Fusion X-Cel
Fighting out of: Rio De Janeiro, Brazil
Notable Wins: Saparbek Safarov/Sub, Oskar Piechota/Sub, Vitaly Nemchinov/Sub
Rodolfo Vieira is one of the most celebrated Brazilian Jiu Jitsu practitioners the world has ever seen. His incredible list of accomplishments include 7 World Abu Dhabi Championship wins, 5  World Brazilian  Jiu Jitsu Championship wins, and 2 Pan American wins. However, in 2016 Viera retired from Jiu Jitsu to pursue a career in Mixed Martial Arts.
Viera began his MMA career as a Light Heavyweight, picking up wins at AFGC and Shooto Brazil, before realising that he was at a height disadvantage. This prompted a move down to Middleweight. At 185 lbs Viera fought twice at ACB, picking up two first round finishes, before facing undefeated Russian Vitaliy Nemchinov. The "Black Belt Hunter" picked up another first round finish by use of a Rear Naked Choke.
This was enough for the UFC to sign him, with a fight against Oskar Piechota booked for August 2019. Viera displayed surprisingly impressive stand up, using his straight jab to good effect. However, whenever he attempted to drive for single leg takedown, Piechota instantly sprawled and attempted to land knees off the breakaway. It wasn't until Viera started to drive Piechota into the cage, and employ single leg drags, did he he really bring the fight to the ground and begin to dominate. After securing full mount and raining down ground and pound, Viera locked in the head and arm choke, putting Piechota to sleep.
Viera's second fight would go the same way, only 1 round earlier, securing the takedown and finishing with the head and arm choke once again.
3: Marvin "The Italian Dream" Vettori
Ranking: NR
Record: 14 – 4 – 1
Gym: Kings MMA
Fighting out of: Mezzocorona, Trentino, Italy
Notable Wins: Cezar Ferreira/Dec, Andrew Sanchez/Dec, Vitor Miranda/Dec
Marvin Vettori is a polarising figure in the world of MMA. Outspoken and brash he has raised the ire of media, fans and fighters alike. And yet he is an incredibly talented martial artist, whose career has been hampered by razor close decision losses and USADA testing bans.
Vettori's UFC career began in 2016 when he defeated Alberto Emiliano Pereira via guillotine choke in round 1. He would go on to pick up a decision victory over Vitor Miranda and a loss to Antonio Carlos Jr. Next he faced now ranked Russian brawler Omari Akhmedov, in a fight that many scored for Vettori. However the judges deemed it a draw, which did little to progress the career of "The Italian Dream".
After Akhmedov, Vettori was matched up with fellow rising prospect, and now Champion, Israel Adesanya. The fight was a back and forth display, as Adesanya pressured Vettori with unorthodox striking, while Vettori returned with heavy shots and crisp boxing. The Last Stylebender would eventually pick up the win, but both fighters stock certainly rose. Since the Adesanya fight, Vettori has defeated Cezar Ferreira and Andrew Sanchez, and is scheduled to face Karl Roberson on June 13th 2020.
4: Makhmud "Mach" Muradov
Ranking: NR
Record: 24 – 6
Gym: Ankos MMA/Monster Gym
Fighting out of: Bukhara, Uzbekistan
Notable Wins: Alessio De Chirico/Dec, Trevor Smith/KO, Alberto Pereira/TKO
In 2018, Makhmud Muradov became the first MMA fighter to be signed to undefeated Featherweight boxing champion, Floyd "Money" Mayweather's, world famous "The Money Team". Muradov's career skyrocketed after this, picking up multiple wins in MMA organisations XFN and Oktagon, bringing his record to 22 – 6, with an 11 fight win streak.
"Mach" was subsequently signed to the UFC in 2019, facing off against Alessio Di Chirico. The fight would go three rounds in a stand up war, where Mach displayed excellent kickboxing to draw out a win against an experienced opponent. Muradov then faced Trevor Smith 3 months later, this time picking up a brutal third round KO.
5: Brendan "All In" Allen
Ranking: NR
Record: 14 – 3
Gym: Roufusport
Fighting out of: Milwaukee, Wisconsin, USA
Notable Wins: Tom Breese/TKO, Kevin Holland/Sub, Aaron Jeffrey/Sub
A product of the elite Roufusport team, Brendan Allen made his name fighting in the MMA promotion Legacy Fighting Alliance (LFA). During his LFA run he would face now UFC fighters such as Eryk Anders, as well as Bellator prospects such as Moses Murrietta. After fighting in 4 consecutive main events for LFA, with 3 back to back wins, Allen would be offered the opportunity to appear on Dana White's Contender Show. He faced off against Aaron Jeffrey, who was coming off a 4 fight win streak. Allen dispatched Jeffrey in one round via rear naked choke, and was subsequently signed by the UFC.
Since being in the UFC he has faced two very highly rated fighters in Kevin Holland and Tom Breese. Allen finished both fights, with an RNC and KO respectively. He has since been booked to face one of the most dangerous fighters in the division, Ian Heinisch on June 27th.
Honourable Mentions:
Karl "Baby K" Roberson
Record: 9-2
Gym: Killer B Combat Sports Academy
Notable Win: Ryan Spann/KO
Punahele "Story Time" Soriano
Record: 7-0
Gym: Xtreme Couture
Notable Win: Oskar Piechota
Andre "Sergipano" Muniz
Record: 19-4
Gym: Tata Fight Team Montes Carlos
Notable Win: Antonia Arroyo/Dec
If you liked this article why not check out: