Who will Conor McGregor Fight Next?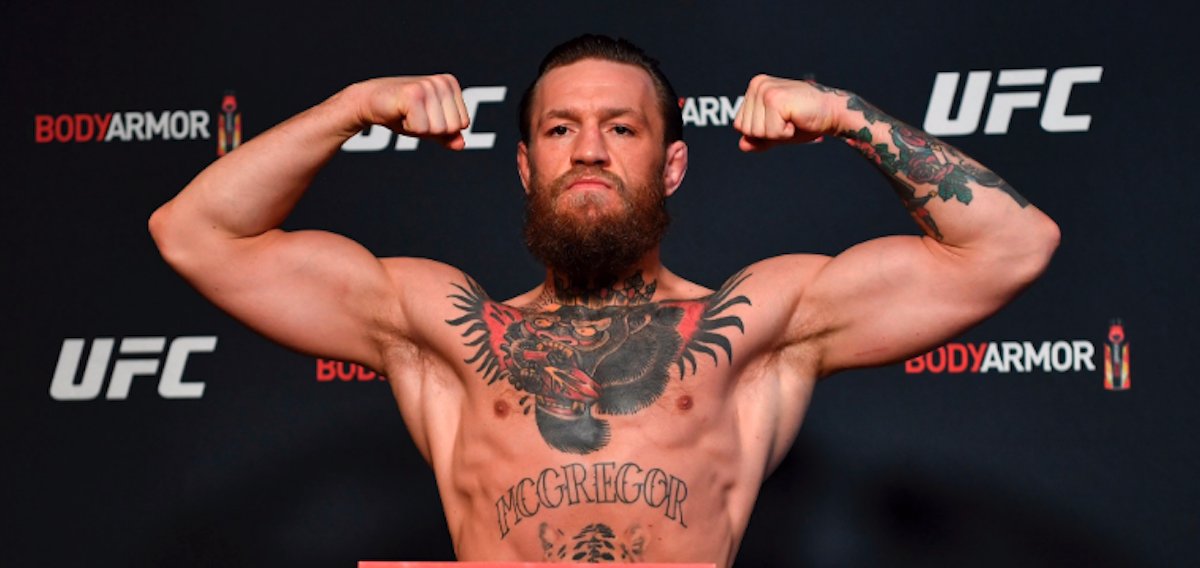 Conor McGregor – Top 5 Potential Opponents in 2020
Who will Conor McGregor fight next?
MMA's largest and most outspoken star Conor McGregor began a career resurgence in January 2020 with a first round TKO stoppage against the UFC's veteran gatekeeper Donald 'Cowboy' Cerrone. This places the 'Notorious' in a unique position, ranked in both the Lightweight and Welterweight divisions in the UFC. Not to mention offering a huge potential payday to his prospective opponents.
The question is, who will McGregor face? Will he attempt to reinstate his dominance over the lightweight division? Does he attempt to become the UFC's first 3 division champion? Will he seek out previous opponents for old scores unsettled?
These are the five most likely potential opponents for 'The Pride of Ireland', Conor McGregor in 2020.
1: Jorge 'Gamebred' Masvidal
Potentially one of the most exciting potential matchups for Conor McGregor is the man who has been christened "Street Jesus" by fans of Mixed Martial Arts. Jorge "Gamebred" Masvidal is one of MMA's biggest stars of 2019, beginning the year by facing off against Britain's rising prospect Darren Till. After suffering early adversity from Till in round 1, Masvidal showcased excellent counter striking in the second,  knocking out the Englishman in front of a home crowd, silencing the O2 arena.
Gamebred quickly followed this up by facing off against undefeated wrestler Ben Askren. Askren repeatedly goaded Masvidal in the build-up to their fight, leading to a legitimate feud between the two fighters. However no amount of behind the scenes footage or insider information could prepare audiences for what happened next.
The flying knee that shocked the world.
Masvidal ended Askren's undefeated career in just 5 seconds, breaking the record for the fastest knockout in UFC history.
The following week would see McGregor's long-time foe Nate Diaz callout Masvidal. With the iconic post-fight speech stating that they were the only two 'gangsters' left in the game.
And thus the BMF title was made. Madison Square Garden. Dwayne The Rock Johnson to present a unique black belt. 5 rounds of pure violence promised.
Masvidal would go out and do what no man had done before. Dominate Nate Diaz. From brutal dirty boxing in the clinch, to a vicious near fight ending head kick. The doctor would be forced to call a stoppage by the 4th round, crowning Masvidal as the BMF champion. A title that McGregor has stated he has his eyes on. Further adding fuel to the fire for this potential matchup, UFC president Dana White has stated that Masvidal may not face welterweight champion Kamaru Usman next, but does have an "interesting" alternative lined up.
2: Justin 'The Highlight' Gaethje
The human highlight known as Justin Gaethje is one of the most brutally efficient fighters in the UFC's lightweight roster. Gaethje currently rides a three fight win streak with knockouts against James Vick, Edson Barboza and Donald Cerrone, and is set to fight for the interim Lightweight title against Tony Ferguson on May 9th.
The result of this fight could very possibly determine McGregor's next opponent, as the winner will most likely take on Lightweight champion Khabib Nurmagomedov. McGregor's coach John Kavanagh stated that before the Covid-19 pandemic that they were in talks to book a McGregor vs Gaethje match up in July, further showing that the UFC do have a legitimate interest in booking this fight.
3: Nate Diaz
UFC 196. 11 days before the event, Rafael Dos Anjos dropped out of his fight with Conor McGregor for the Lightweight title. The UFC scrambled to find a replacement, eventually settling with Nate Diaz. Up until this point, McGregor had been undefeated in the UFC, annihilating any who stepped in his way. This included Featherweight champion Jose Aldo in a bout that took just 13 seconds. However, Nate Diaz offered up a particular set of skills. Skills he had acquired over a very long career, skills that made him a nightmare for a man like McGregor (apologies for the Taken reference).
It was true that McGregor had never faced anyone like Diaz. Diaz was a tall southpaw welterweight, with excellent boxing, legendary durability and a high level jiu-jitsu game. In the second round Conor found himself in deep waters, unable to cope with Diaz's relentless pressure. McGregor dived for a takedown, that would become the beginning of his end. Diaz quickly transitioned to full mount and rained down punches against a weary McGregor. This onslaught eventually forced him to give up his back, allowing Diaz to sink in the rear naked choke.
The UFC booked an immediate rematch, allowing both fighters full training camps this time. What resulted was a five round war that would eventually see McGregor crowned the victor by judges decision. There have continually been rumblings of a trilogy fight between the two fan favourites ever since their second encounter. The only issue is that Diaz is currently coming off a loss to Jorge Masvidal. Offering little to McGregor in terms of progressing up the rankings.
4: Tony 'El Cucuy' Ferguson
Coming off a 12 fight win streak, Tony Ferguson is the people's champion of the lightweight division. Having already won the Interim title against Kevin Lee in 2017 via triangle choke, El Cucuy is now entering his second bout for the title he technically already owns, against the aforementioned Justin Gaethje.
While Ferguson has called for a fight with McGregor many times in the past, he now has his eyes firmly set on the champion, Khabib Nurmagomedov. And yet should he lose to Gaethje he will need a high ranking opponent that could generate enough hype to reroute his title aspirations.
5: Khabib 'The Eagle' Nurmagomedov
Khabib Nurmagomedov remains the only Lightweight UFC fighter to dispatch Conor McGregor, which he did emphatically. Using his elite wrestling to grind McGregor's spirit down, eventually forcing him to tap out in the 4th round. McGregor has constantly been calling for a rematch ever since. However, Khabib will not fight until at very least 45 days after the end of Ramadan, which ends on the 23rd of May.
Unfortunately for McGregor, Khabib's first fight back will most likely be against the winner of the Interim title. Khabib has also been vocal in his disdain for McGregor. Despite this, Dana White has continually implied that Conor vs Khabib is a fight that he will make, sooner rather than later.
Who do you think Conor McGregor should fight next? Let us know!
Fancy writing for us: Apply to become a Sports Writer at the Sporting Ferret
If you liked this article then why not check out: