The Best Upcoming UFC Lightweights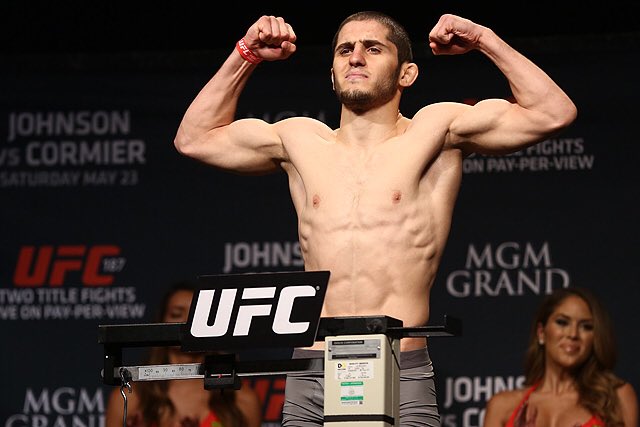 Top 5 Upcoming UFC Lightweights
In this article we look at the the best upcoming UFC Lightweights who have the potential to challenge for the title in the near future. Established contenders who are essentially already guaranteed a title shot such as Conor McGregor or Justin Gaethje will not be included.
1: Daniel "The Hangman"Hooker
Ranking: 5th
Record: 21-8
Gym: City Kickboxing
Fighting out of: Auckland, New Zealand.
Notable Wins: Paul Felder/Decision, James Vick/KO, Al Iaquinta/Decision.
With 21 wins and 8 losses Dan Hooker has already racked up a resume to match some of the UFC's most prestigious athletes. Beginning his UFC career in the Featherweight division, "The Hangman" had mixed success. With victories over Ian Entwistle, Hatsu Hioki and Mark Eddiva, Hooker ensured that he was to be considered a legitimate contender.
However, for each win in the 145 lb division, Hooker also picked up a loss. Maximo Blanco, Yair Rodriguez and Jason Knight all were left with their hand raised after facing the New Zealand Native. These may have been in some part down to a heavy weight cut that Hooker had to endure each time.
Transition to the Lightweight Division
This promoted a step up to the highly competitive Lightweight division. Hookers first fight at 155 lb was against English born heavy hitter, Ross Pearson. The Hangman quickly announced his presence to the rest of the division with a brutal KO via knee to the head. This saw him pick up fight of the night honours, as well as a match up against Marc Diakiese. Diakiese was able to experience first hand why they call this fighter "The Hangman", with Hooker winning via guillotine submission in the third.
Hooker went on to pick up wins against Jim Miller and Gilbert Burns before falling victim to elite striker Edson Barboza's ruthless kicking game. However The Hangman was able to learn from the loss, and subsequently went on to defeat James Vick and "Raging" Al Iaquinta. This set Hooker up for a 5 round fight against "The Irish Dragon" Paul Felder.
Felder and Hooker would put on a fight of the year contender, in a razor close bout that ended in a split decision victory for The Hangman. His victory over Felder elevated Hookers ranking into the top 5 UFC Lightweights.. With a potential fight against Dustin Poirier, ranked 3rd, supposedly in the works, Daniel Hooker could well find himself challenging for the title in the not too distant future.
2: Charles "Do Bronx" Oliveira
Ranking: 7th
Record: 29 – 8
Gym: Chute Boxing
Fighting out of: São Paulo, Brazil.
Notable Wins: Kevin Lee/Sub, Jeremy Stephens/Dec, Jim Miller/Sub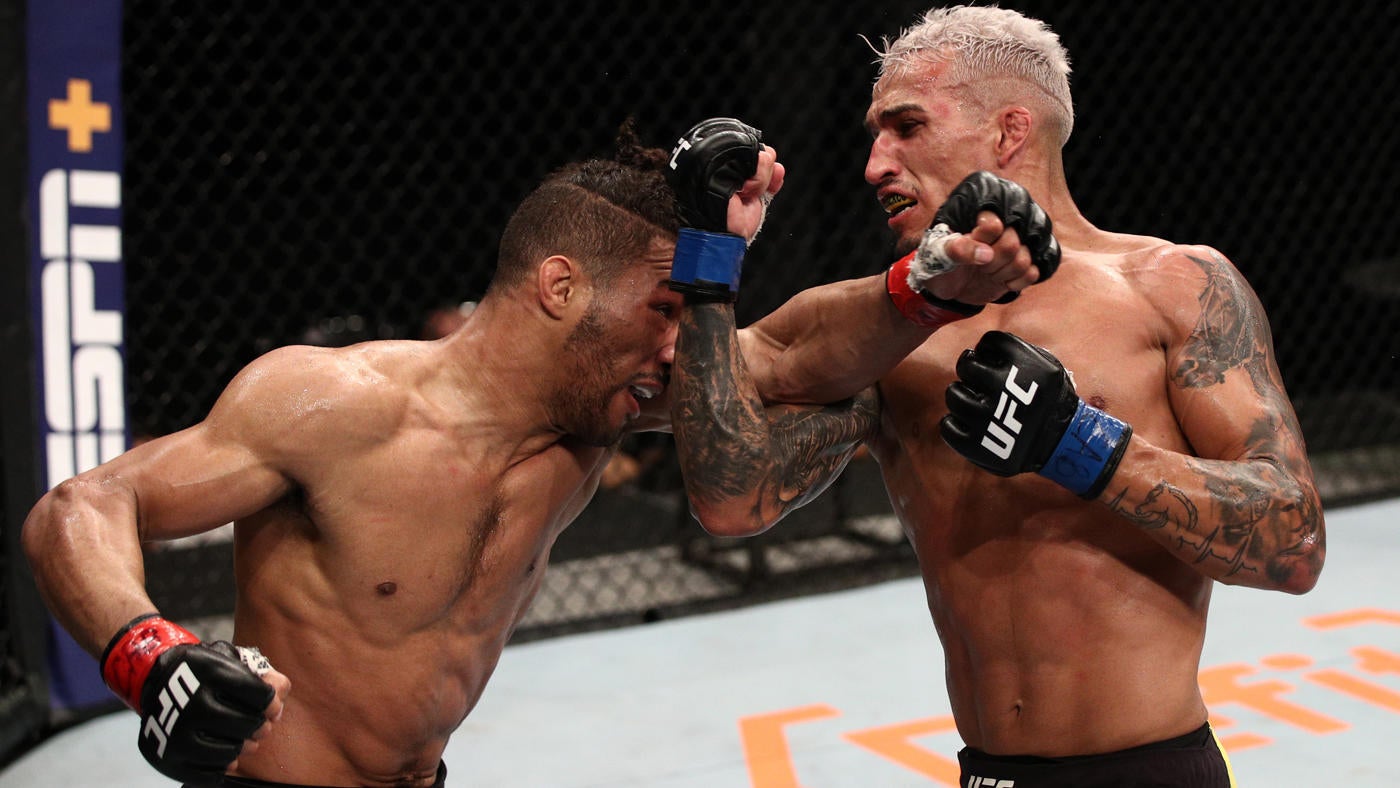 Charles Oliveira has competed in the UFC since 2010, and holds the record for the most submission victories across all divisions at 14. Despite this, "Do Bronx" has never managed to secure UFC gold.
Olivera's UFC career started in the Lightweight division, picking up victories over Darren Elkins and Efrain Escudero. However he would fail to be the victor in his next three bouts, prompting a drop to Featherweight. Do Bronxs' featherweight run would result in 7 wins and 5 losses, facing notable names such as Frankie Edgar and Max Holloway. However Olivera would miss weight four times as 145 lbs, leading to an eventual emergence into the Lightweight division.
Since Olivera's transition back into lightweight, he has won 8 out of 9 fights and is currently on a 7 fight win streak. His most recent victory was against "The Motown Phenom" Kevin Lee, who Olivera systematically dismantled over the course of 3 rounds. His victory would come by submission once again catching Lee's takedown attempt in a viscous guillotine. Olivera has since called out for a rematch against Paul Felder, as well as stating he would "fight McGregor at any weight".
Do Bronx is one of the UFC's most elite Jiu-Jitsu practitioners, a statement that is backed up by his record. However, his training at the Chute Boxing gym has led to him developing elite striking as well. Still only 30 years young, Olivera is quickly ascending the lightweight ladder towards UFC gold.
3: Carlos Diego Ferreira
Ranking: 10th
Record: 17 – 2
Gym: Fortis MMA
Fighting out of: Pharr, Texas.
Notable Wins: Anthony Pettis/Sub, Rustam Khabilov/Dec, Mairbek Taisumov/Dec.
Carlos Ferreira made his UFC debut in 2014 as an undefeated Brazilian prodigy with elite BJJ. He would instantly back this up with a Performance of the Night Victory against Colton Smith. Ferreira would fight twice more for the UFC in 2014.
First against Ramsey Nijem, winning by TKO and earning another post fight bonus. However, on October 25th Ferreira was defeated for the first time in his career by Beneil Dariush. Ferreira would also go on to lose his next fight against Dustin Poirier in the first round.
After taking the rest of 2015 off, Ferreira would bounce back with 6 wins in a row. His last fight was against former champion Anthony "Showtime" Pettis in which he showed off his excellent Jiu-jitsu to get the second round stoppage. He also picked up victories against other high level opponents such as Mairbek Taisumov and Rustam Khabilov. Ferreira is now in a ideal position to begin facing off against the top 10 of the lightweight division.
While there have been links with potential matchups against Drew Dober and Alexander Hernandez, Ferreira's next fight is still unconfirmed. However with such a high level ground game Ferreira would be a threat to any opponent he faced. It is very likely that we will soon see him ascend the rankings with his next fight quite possibly being one of the top 5 UFC lightweights.
4: Islam Makhachev
Ranking: 13th
Record: 18 – 1
Gym: Fightspirit Team, American Top Team.
Fighting out of: Dagestan, Russia.
Notable Wins: Davi Ramos/Dec, Gleison Tibau/KO, Nik Lentz/Dec.
Islam Makhachev is the training partner of lightweight champion Khabib Nurmagomedov, with the two considering each other brothers. However Makhachev is beginning to step out of his country man's shadow. Makhachev employs a similar wrestling heavy style to Khabib, using relentless pressure to grind out his opponents. With 8 fights in the UFC so far, Makhachev has won 7 of them and is on a 6 fight win streak.
Most recently he faced down against Davi Ramos, who had been on a 4 fight win streak. Makhachev displayed good striking as well as the effective Dagestani wrestling he is known for. This led to Makhachev finally entering the Lightweight rankings.
Makhachev was set to fight Alexander Hernandez at UFC 249 but was unable to due to flight restrictions. There are also links with Gregor "The Gift" Gillespie as well as Kevin Lee. A win against any of these opponents would certainly propel Makhachev into the top 10.
5: Renato "Moicano" Carneiro
Ranking: NR
Record: 14 – 3 – 1
Gym: Constrictor Team.
Fighting out of: Brasilia, Brazil.
Notable Wins: Cub Swanson/Sub, Jeremy Stephans/Dec, Damir Hadzovic/Sub.
Like many on this list, Renato "Moicano" began his career as a featherweight. Entering the UFC as an undefeated prospect, Moicano fought Tom Niinimäki on ten days notice. After securing the victory via submission he would go on to fight Zubaira Tukhugov and Jeremy Stephens, furthering his win streak to 11-0-1. However rising contender Brian Ortega would put an end to Moicano's undefeated run with the use of his signature guillotine.
Moicano's next 4 fights resulted in 2 wins and 2 losses. With Jose Aldo and Chan Sung Jung both emphatically defeating him, Moicano instead set his sights on the Lightweight Division. His lightweight debut came in 2020 against Damir Hadzovic. Moicano instantly put the rest of the lightweights on watch as he finished Hadzovic in the first round via submission. After his victory against Hadzovic he declared that he was by right a top 7 lightweight, wanting to face Paul Felder next.
Whether he gets the Felder fight or not Moicano certainly has the potential to go far in the Lightweight division. With a combination of high level muay thai mixed with a dangerous submission game, Renato Moicano Carneiro is a threat to anyone who faces him.
Honourable Mentions:
Alexander "The Great: Hernandez
Ranking: 15th
Record: 11-2
Gym: Ohana Academy
Mark "The Olympian" Madsen
Ranking: NR
Record: 10-0
Gym: Xtreme Couture
Brad "Quake" Riddell
Ranking: NR
Record: 8-1
Gym: City Kickboxing
Who do you think are the best upcoming UFC Lightweights who could potentially become title contenders?
Fancy writing for us: Apply to become a Sports Writer at the Sporting Ferret
If you liked this article why not check out: