Next Best Footballers of the Future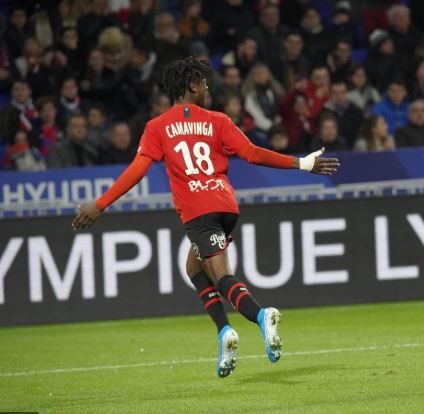 10 Footballers to Look out for in the Future
Who are the next best footballers of the future? 
Messi and Ronaldo have forever changed the game of football. They have been the two biggest stars of the last decade and will forever be remembered for their greatness.
Nevertheless, neither are getting any younger, Messi is 32 and Ronaldo is 35. Throughout Europe's top 5 leagues there are many young stars that have already established themselves. Among these are, Jadon Sancho, Timo Werner, as well as Rodrygo and Vinícius Júnior.
For all of these types of players in the limelight, there are many unheard-of young stars that don't get the respect that they deserve.
All statistics are courtesy of www.transfermarkt.us and whoscored.com
Next Best Football Players
10. Sebastiano Esposito
Sebastiano Esposito was born in 2002 in Castellammare di Stabia in the southern region of Italy. He was the first person born in 2002 to debut in one of Europe's top 5 leagues. On March 14th 2019, Esposito made his debut against Eintracht Frankfurt.  At the age of 16, he came on as a sub in the 73rd minute of play.
His best form has come when playing for his nation, where he has scored 2 goals in 3 appearances for the Azzurri. He is most known for celebrating with his mother after slotting home a penalty during Inter's 4-0 win over Genoa. Esposito is a tricky forward who's best attribute is his ability to finish in front of goal.
He may be only 17 but he can already claim he is the youngest player to ever score for Inter at San Siro. Many people in Italy believe the hype and think he will continue to break records on his ride to the top.
9. Adil Aouchiche
At the age of 16, Adil Aouchiche announced himself on the world stage at the under 17 Euros. The Frenchman scored nine goals in four games from his central midfield position.
This season he has played 4 games in the UEFA Youth League where he has scored once and assisted twice. He holds the record as the youngest person to ever start for Paris Saint-Germain . He played for just over an hour against a struggling Metz side before being replaced by Leandro Paredes.
Aouchiches' contract with PSG is set to expire at the end of the season and unless he signs a new contract for Les Parisiens there will be teams all over Europe looking to add him to their ranks.
8. Kang-in Lee
Kang-in Lee joined the Valencia first team in January 2019 at the age of 19.  He has 11 appearances for Valencia and has scored 1 goal for the club.
Lee is an exciting forward, with an eye for goal, he completes about 85% of his passes per game.  Lee scored 2 goals and added 4 assists  in the Under 20's World Championship for South Korea.  He was given the golden ball and was named tournament MVP.
He has huge potential, Lee and Song Heung-Min will be a deadly duo for South Korea in the future.
7. Thiago Almada
The young Argentinian dubbed " the new Messi" has certainly been setting the world on fire with his performances for Velez Sarsfield earning him interest from top clubs like Liverpool and Inter Milan and Manchester City .
In 25 appearances for Velez Sarsfield,  Thiago Almada has 5 goals and 2 assists.  His greatest strengths are his ability to hypnotize defenders with his great technical ability before using his pace and dribbling skills to leave the defender in the dust.  Almada is a great team player who is not afraid to launch the ball long to one of his teammates. In the last year he has become a starter for the Argentina U-20 team.
It is very possible in the near future Almada may make his  long awaited move to Europe and play alongside his fellow countryman and Barcelona legend Lionel Messi as a member of the Argentinian national team.
6. Rayan Cherki
Rayan Cherki made his presence known on a cold night in Nantes, while playing in the coupe de France  for Lyon. Cherki contributed two goals and two assists, that night. The Frenchman also won a penalty for Lyon that was missed by Moussa Dembele.
He has also made an impact in the Uefa Youth League where in four  games he scored five goals. His best position is in an attacking midfield role, where he can hurt the opposition with his passing ability.
Rayan Cherki has been  called the future of French football and many France supporters can't wait until the day he can boss the midfield alongside another wonderkid, Eduardo Camavinga.
5. Mohamed Ihattaren 
In the year of 2010, Mohamed Ihattaren signed his first youth contract for PSV Eindhoven. Now a decade later the young man from Utrecht is tearing up the Eredivisie, he is now worth 17 million pounds on the transfer market and although PSV had a slow start to their season he has been a big part of their turnaround.
He has made 22 appearances in the Eredivisie where he has racked up 4 goals and 6 assists. The 18 year old's best moments have come in the Europa League where he has played in nine games adding 3 goals and 2 assists to his name in the process.
The Dutch have found themselves another young talent, it is only a matter of time until Ihattaren plays alongside the likes of De Ligt De Jong and Van Dijk for the Netherlands national team.
4. Ryan Gravenberch
Seventy-six miles down the road from where Mohamed Ihattaren plies his trade, at only 17 years old Ryan Gravenberch has already broken into the first team for Ajax. His first appearance came in a 5-2 win over FC Dordrecht.
In 9 appearances for last years Champions League semi-finalists the Dutchman has scored 2  goals and added an assist to go along with it. Gravenberch has just recently broken into the first team; previously he spent most of his time playing in the second division of Dutch football where he has 6 goals and 4 assists in 16 appearances. His best attributes are his composure on the ball and his ability to execute a tackle.
He has 15 caps for the Netherlands U-19 team and if the Dutch are able to continue to produce young skillful players they may be poised for yet another golden generation.
3. Sandro Tonali
There's pressure to succeed when some have called you the heir to Andrea Pirlo, yet Sandro Tonali has handled it with ease. At the age of 19 it is clear to see why the comparison is made between one of Italy's greatest midfielders and Tonali.
Both Pirlo and Tonali both play a role as a deep lying midfielder, not to mention they both started their careers at Brescia. Maybe one day Italians will look back and say that Tonali had a career just as prestigious as Andrea Pirlo. This year Tonali has made 23 appearances for Brescia in Serie A where he has 1 goal and 5 assists. He is a great dribbler and set piece taker.
With the great performances Tonali has put in for Brescia it won't be long before he gets a move to one of Europe's top clubs. Whether he'll stay in Serie A or move to another league we'll have to wait and see.
2. Reinier Jesus Carvalho
Renier was widely unheard of before his 35 million Euro move to Real Madrid. He is the only player on this list to move to a European giant like Real Madrid. Renier began to star in the Copa Libertadores tournament which is South America's most coveted club competition.
He can play as an attacking midfielder or as a center forward.  The young Brazilian has played 3 games for Real Madrid's Castilla where he has already shown his ability to impact a game scoring 3 goals and adding an assist to his tally. Renier is a great passer with the ball and is lethal in front of goal. Although his best quality is his pace, which makes him a threat on the counter attack.
Some have compared him to Kaka because of his silky ability on the ball. Who knows if he'll reach those heights, one thing is for certain he has a great career ahead of him.
1. Eduardo Camavinga
Number one on the list of future talents to look for is Eduardo Camavinga.  The man born in Miconge, Angola is probably the most well-known player on this list.
Camavinga burst onto the scene in a 2-1 win over PSG.  Camavinga played a great pass lofted over the PSG defense which earned him the game winning assist. In 24 appearances for Stade Rennais he has 1 goal and 1 assist. Although they may not look like the most glowing stats ever, Camavinga's best asset is his defensive presence. He often wins the ball back in the midfield and starts a counter-attack.
He is one of the reasons why Rennais looks set to compete in The Champions League for the first time in history.