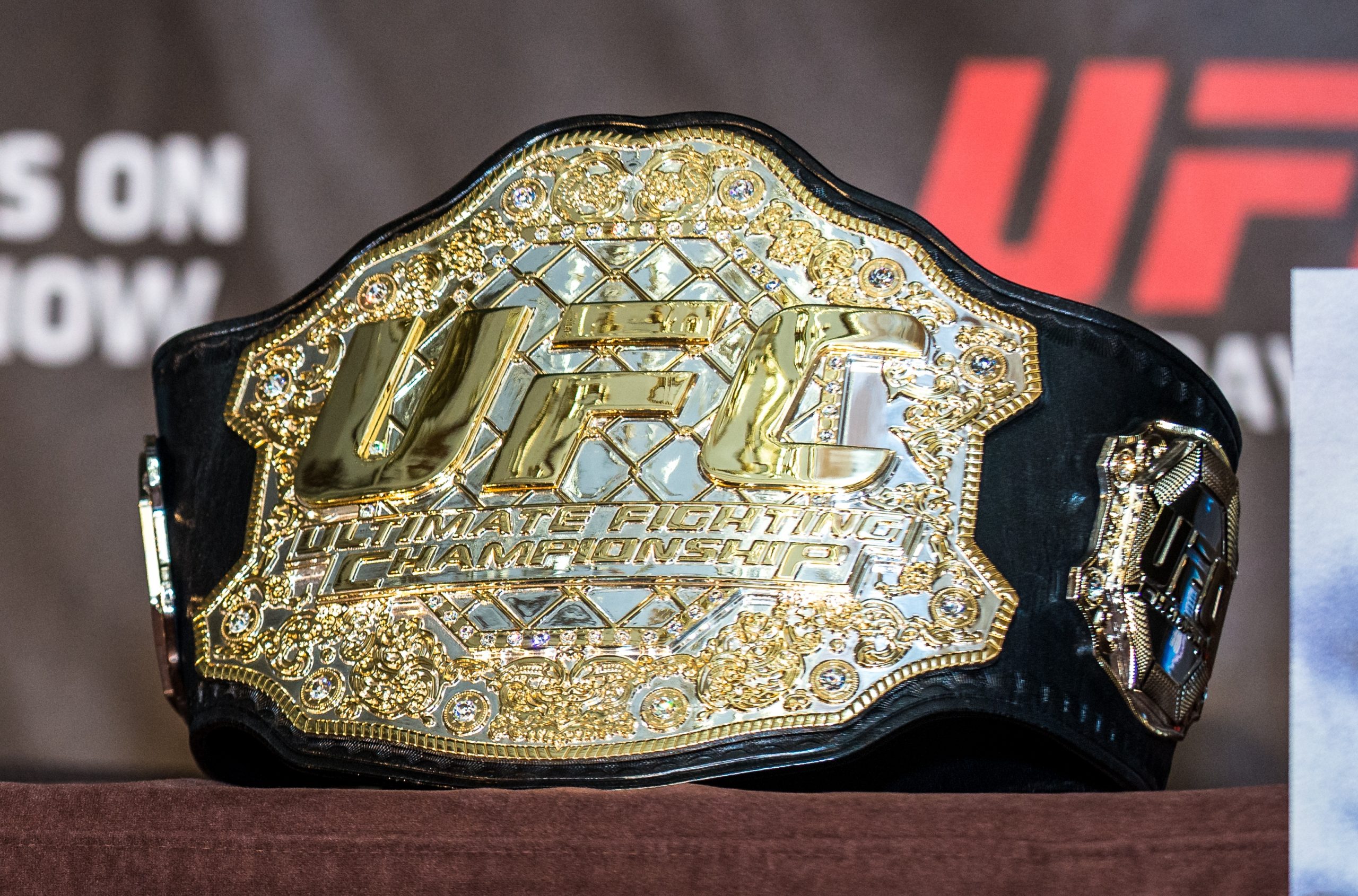 UFC 259 Preview
The 7th of March 2021 brings one of the most exciting fight cards in UFC history, UFC 259. The main card itself gives us three title fights, with four belts being put on the line.
Petr Yan defends his Bantamweight title against the Funk Master Aljamain Sterling, whilst Amanda Nunes looks to stop another contender from stealing the belt off her, in the way of Australian Megan Anderson. The main event see's light heavyweight champion Jan Blachowicz, looking to bring some of his insane Polish power to the octagon to take on the unbeaten Nigerian 'The Last Stylebender' Israel Adesanya. What an action packed night!
With 15 fights spreading across the early prelims, prelims and main card, from start to finish its banger after banger. Will we get to see the fifth double champ in UFC history? If anyone can follow in the footsteps of McGregor, Cormier, Nunes and Cejudo, it's Adesanya.
2016: McGregor 🏆🏆
2018: Cormier 🏆🏆
2018: Nunes 🏆🏆
2019: Cejudo 🏆🏆
2021: ?

The UFC has seen four simultaneous double-champs in its history. Will we get a fifth on Saturday?#UFC259 | Saturday | BT Sport 2 HD pic.twitter.com/cyvLAgqTn4

— UFC on BT Sport (@btsportufc) March 3, 2021
Early Prelims
Starting off the night we have the early prelims. There will be six fights on show, showcasing six different weight categories. Headlining the early prelims is a Flyweight bout between #12 ranked Tim Elliott and Jordan Espinosa, who in less than two years has had five fights in the UFC, resulting in two wins and three losses. Two of his losses coming against the #4 and #7 ranked Flyweights Alex Perez and Matt Schnell, so he hasn't had the easiest start to life in the octagon.
Tim Elliott himself doesn't have the greatest record since joining the UFC, with only three wins out of his seven fights, albeit two of those losses have come against the current Flyweight champ Figueiredo and #3 ranked Flyweight Askar Askarov. He will be looking to carry on rising up the rankings after his win last time out against Ryan Benoit.
Early Prelim Fights:
Mario Bautista vs Trevin Jones – Bantamweight
Uros Medic vs Aalon Cruz – Lightweight
Livinha Souza #15 vs Amanda Lemos – Strawweight
Sean Brady vs Jake Matthews – Welterweight
Kennedy Nzechukwu vs Carlos Ulberg – Light Heavyweight
Prelims
Dominick Cruz #11 vs Casey Kenney – Bantamweight
Headlining the prelims at UFC 259 we have two time Bantamweight champion Dominick Cruz taking on former Tachi Palace Fights Flyweight champion Casey Kenney.
Out of the two fighters, Kenney has been the most active over the last couple years, actually fighting four times in 2020, even amidst a pandemic. Kenney comes into this fight on a three fight winning streak, finishing Louis Smolka via a guillotine choke and then two unanimous decision victories over Heili Alateng and Nathaniel Wood. With only the one loss in his UFC career coming against Merab Dvalishvili, Kenney is the real deal, Cruz will have to be at his very best to stand a chance at beating Kenney.
After a four year break from the sport, Cruz finally returned from his fight hiatus to fight for the Bantamweight title he had lost four years prior to Cody Garbrandt. His return fight came against Henry Cejudo, who completely dominated Cruz, finishing the fight in the second round via TKO. This was the second time in his career that Cruz had taken a long time away from the sport, so it it nice to see him back fighting again.
Even with wins against some of the best in the business including two wins over Urijah Faber and single wins over Demetrious Johnson, TJ Dillashaw and Takeya Mizugaki, Cruz has really started to decline. Currently on a two fight losing streak. Cruz will really have to throw it back to the glory days to get a win against rising Bantamweight Casey Kenney.
A win for Casey Kenney here should propel him into the top 15, I am even putting a shout out there that he should jump above Cruz in the rankings!
Ahead of #UFC259, @ckmma135 says opponent Dominick Cruz's skilset was "very unique 5, 10 years ago."

Watch full video: https://t.co/HyeRAfzCf3 pic.twitter.com/4BWoOnCwIn

— MMAFighting.com (@MMAFighting) March 4, 2021
Joseph Benavidez #2 vs Askar Askarov #3 – Flyweight
This is definitely one fight that is unlucky not to have made it to the main card! It's very unusual to see the #2 and #3 ranked fighters of any division to pushed down to the prelim, but that is where Benavidez and Askarov preside. Even though Cruz and Kenney are headlining the prelims, this fight is going to be the most exciting by far.
After two consecutive losses to Flyweight champion Deiveson Figueiredo in 2020, Benavidez's confidence must be shot to bits. After only three losses prior to the first Figueiredo fight since he joined the UFC way back in 2011, losing two on the bounce was all new to Benavidez. Weirdly for Benavidez two of his prior losses came in two title fights against Demetrious Johnson and the only other loss came against Sergio Pettis.
With so many shots already at the Flyweight title, this looks very much like the last chance at a title run for Benavidez. A loss against Askarov at UFC 259 all but ends Benavidez's chance at ever claiming the Flyweight belt as his own.
With Benavidez on a bad run of form, this is the perfect time for Askarov to step up and face him. A professional career of 12 wins, zero losses and one draw, Askarov is really looking unbeatable at the moment. You know he is the real deal, when after only three fights in the UFC he is ranked #3 in the Flyweight division. Since joining the UFC he has earned himself a draw against the #1 ranked Flyweight contender and two wins over the #12 and #5 ranked Flyweights Tim Elliott and Alexandre Pantoja. So he has already entered the octagon with some of the best.
Whoever wins this bout, has earned themselves a right to fight the winner of the next title fight between Figueiredo and Moreno!
The remaining two Prelim fights:
Rogerio Bontorin #8 vs Kai Kara-France #8 – Flyweight
Song YaDong #14 vs Kyler Phillips – Bantamweight 
If victorious at #UFC259, Askar Askarov (@askar_mma) wants winner of Deiveson Figueiredo vs. Brandon Moreno 2 https://t.co/TdYdgCtiOA

— MMA Junkie (@MMAjunkie) March 4, 2021
Main Card
Thiago Santos #2 vs Aleksandar Rakic #4 – Light Heavyweight
Opening up the main card we have two of the best Light Heavyweight contenders in the world fighting it out for a chance at the title. This will only be Santos' 6th fight at Light heavyweight and in that time he has gone 3-2, this includes a loss to Jon Jones fighting him for the title. Holding a win over the current Light Heavy champ Jan Blachowicz, does stand Santos in good stead, even though he is on a two fight losing streak, the most recent coming in November 2020 against Glover Teixeira. A loss for Santos here could see a second title shot disappear out of sight and the man stood in his way is the Austrian Rocket Aleksandar Rakic.
Starting his UFC career with 4 consecutive wins against Francimar Barroso, Justin Ledet, Devin Clark and a performance of the night bout against Jimi Manuwa, sent Rakic flying up the rankings. A win over Santos could secure him a straight up fight against the Light Heavyweight champion, whether that's Blachowicz or Adesanya, we will find out later in the night. With only one loss under his belt in the UFC, Rakic is showing that he is a top contender for the Light Heavy belt. Following his loss to Volkan Oezdemir, he took a lengthy break and came back with a unanimous decision victory over ex title challenger Anthony Smith.
Rakic has made it clear this week he isn't only set on his fight, he's also been getting involved with Israel Adesanya. A title fight against Izzy is what Rakic fancies the most if he goes and beats Santos. With how the Light Heavyweight rankings are looking at the moment, the winner of Santos Rakic will either have a straight shot for the title or a massive match up against #1 contender Glover Teixeira.
At this moment in time, the Light Heavyweight division is as open as it could be!
Thiago Santos says his loss to Glover Teixeira was a "warmup" after being on the sideline due to injury.

He now plans to show his best self vs. Aleksandar Rakic at #UFC259 pic.twitter.com/PiD47bkXUB

— Overtime Heroics MMA (@OTHeroicsMMA) March 4, 2021
Islam Makhachev #14 vs Drew Dober – Lightweight
Without a fight since late 2019, Islam Makhachev is finally back in the octagon, currently he is on a six fight winning streak and has only one loss since joining the UFC and that was way back in 2015. A training partner and life long friend of UFC G.O.A.T Khabib Nurmagomedov, a lot is to be expected of the Dagestan native. However, even though he 7-1 in the UFC, his fights have never really hit the heights, but this is where Drew Dober steps up.
The former Bellator and Titan competitor, comes into this fight on the back of a three fight winning streak, he has been in and around the UFC now since 2014, fighting for the promotion now 14 times. Currently nine wins, four losses and one no contest, he has certainly had an up and down time in the octagon. If you were to go back to the start of Dobers career around the 2014 mark, you would never have thought he would still be battling in 2021.
Between these two guys they have only fought one of the current ranked fighters and that was when Drew Dober took on Beneil Dariush at UFC Fight Night: Lewis vs Dos Santos in March 2019. Since then Dober has only fought unranked guys. A win for either fighter here sets up a fight against one of the big dogs, with one name being chucked around by Makhachev if he wins, in the way of Rafael Dos Anjos.
With both fighters coming into this fight on the back of long unbeaten runs we should be expecting fireworks. I am expecting a win here for Dober, just mainly down to him being the more experienced and being the most active over the past two years. But for all we know, Islam could go full Khabib on him and dominate this fight.
I would love to see Islam take over the Lightweight division just like his lifelong friend before him! Only time will tell. 
"I can't wait to see if he lives up to the hype."@DrewDober discusses his mindset heading into his #UFC259 showdown with Islam Makhachev 🔊⬆️

Order #UFC259 here ➡️: https://t.co/00tQd8jJoX pic.twitter.com/GLr2zqZwdA

— UFC News (@UFCNews) March 3, 2021
Petr Yan (C) vs Aljamain Sterling #1 – Bantamweight Title
The first title fight of the night, puts the #10 pound for pound fighter in the UFC Petr Yan go up against the #1 ranked Bantamweight contender Aljamain "Funk Master" Sterling.
Aljamain Sterling is one of the most exciting fighters in all of UFC, currently on a six fight winning streak which includes wins over ranked contenders Cory Sandhagen, Pedro Munhoz, Jimmie Rivera and Cody Stamann. The biggest of those wins coming in his last outing against #2 ranked Bantamweight Cory Sandhagen, where he became the first fighter to finish Sandhagen and the only man to beat him in the UFC.
Having been fighting in the UFC now since early 2014, Sterling has ground his way all the way to the top. In my opinion no other fighter in the Bantamweight division deserves this shot more than the Funk Master. The man he has to fight has a big say in whether he becomes champion or not.
Up steps the king of the Bantamweight division, Petr "No Mercy' Yan, this man is one mighty competitor. During his whole professional career he has only felt defeat one time and that was against Magomed Magomedov fighting under the ACB promotion back in early 2016. Since then he has gone on a 10 fight winning streak, including seven straight wins in the UFC, winning the title in only his seventh fight against one of the greatest to ever enter the octagon Jose Aldo.
Even with wins against some legends in Jose Aldo and Urijah Faber and the #10 ranked Bantamweight Jimmie Rivera, Yan is still yet to be properly tested by any of his opponents.
Sterling is definitely going to test him this time round and I even see Sterling walking away with the title! The next opponent in line for the winner here should be Cory Sandhagen, so it will be interesting to see who the winner does call out, as Petr Yan has said that he would love to defend the title against TJ Dillashaw. 
That's how you get a title shot!

Last time out Aljamain Sterling became the first man to stop Cory Sandhagen!

Can he grab the belt at #UFC259?pic.twitter.com/VY9jlLQxwR

— UFC on BT Sport (@btsportufc) March 3, 2021
Amanda Nunes (C) vs Megan Anderson – Featherweight Title
The greatest women fighter in the history of MMA steps up again this weekend putting one of her two titles on the line against the Aussie giant Megan Anderson.
The accolades that Nunes holds is second to none, she is the only double weight women's champion in the UFC ever, first fighter in UFC history to defend two divisions simultaneously, the longest reigning current champion, most wins in UFC women's history and holds five performances of the night. The list just keeps on going, not much else can be said other than she is the G.O.A.T of women's Mixed Martial Art. 
At this moment in time, Nunes has only one loss in her UFC career, and that came against Cat Zingano at UFC 178 way back in September 2014. Since then she has gone on an 11 fight winning streak including wins against Ronda Rousey, two wins over current Flyweight champion Valentina Shevchenko, Cris Cyborg and Germaine de Randamie. Throughout all of her career she has shown all of the different aspects of her game ranging from her insane punching speed, crazy knockout power and has even dabbled in a couple submissions.
During her past two fights, she has been shown to actually be human, being taken to a decision by both Felicia Spencer and Germaine de Randamie, but again winning both of them.
If Megan Anderson stands any chance of winning this fight, she has to be inch perfect with every single punch, kick, takedown etc. If she isn't perfect it will be an easy win for Nunes as she knows how to grind her opponents down and beat them senseless.
Megan herself comes into this fight on a two fight winning streak, with her last fight over Norma Dumond Viana resulting in a performance of the night after a first round KO. When she made her debut less than three years ago against former Bantamweight champ Holly Holm, I don't think she would have thought she would be fighting for a title only five fights later. With only three wins under her belt in the UFC, she has very quickly risen up the rankings.
But we shouldn't count her out so quickly, as she is a really dangerous fighter! Standing at 6 feet tall she is one giant woman and will hope to use that to her advantage against Nunes at UFC 259!
With the future of the Women's Featherweight division in doubt anyways, whoever wins the fight could be giving up the belt in the very near future. 
🦁 @Amanda_Leoa is must-watch tv. #UFC259 pic.twitter.com/tR6TluukuQ

— UFC (@ufc) March 1, 2021
Jan Blachowicz (C) vs Israel Adesanya (C) – Light Heavyweight Title
The hype that this fight brings is beyond belief, a champ v champ bout is always amazing to watch and with both of these fighters so exciting, we couldn't ask for a better main event. The Polish power of Jan Blachowicz faces off against one of the best strikers in all of MMA, 'The Last Style Bender' Israel Adesanya.
The toughest ask for Adesanya in this fight is being able to handle the power that Blachowicz possesses. Izzy has already built himself a massive legacy in the sport of MMA, especially within the UFC. At the moment he is 9-0 in the UFC, with wins against some of the best fighters the UFC has ever seen. Including wins over #5 ranked Marvin Vettori, #14 Brad Tavares, #7 Derek Brunson, #8 Kelvin Gastelum, #1 Robert Whittaker and #2 ranked Paulo Costa. As well as these wins, he also holds wins against The Soldier of God Yoel Romero and possibly the greatest UFC fighter of all time Anderson Silva.
I always look back on that fight and see it as a changing of the guard, it was such a fun fight to watch, with both fighters toying with each other but with the utmost respect. With the legacy already built, it looks like Adesanya's end goal is to fight Jon Jones, obviously for that to happen he has to overcome Jan but that is definitely his end goal.
The Prince of Cieszyn, Jan Blachowicz has had a very different UFC career to Izzy, the fact that he has lost a fight sets him apart from the New Zealand native. Starting his UFC career with one win in his first five was not the start that he had envisioned, however it didn't help that he had to fight Jimi Manuwa, Corey Anderson, Alexander Gustafsson and Patrick Cummins. So, if you were to ask Jan after his loss to Cummins in 2017, whether he thought he would be champion in 4 years, he would have given you a big fat no.
Here we are just under four years later, Jan is on a four fight winning streak, including three performances of the night and winning the championship against Dominick Reyes. He is now ready to defend his title for the first time against the Middleweight champion. What a change four years makes!
It's crazy to think that Jan comes into this fight as the underdog, however I am backing him, I really don't think that Izzy can handle the Polish Power!
IT'S FIGHT WEEK! 🔥

The biggest, baddest, most stacked fight card in a long time goes down this weekend! 🙌

🏆 Champ 🆚 Champ
💥 @JanBlachowicz 🆚 @stylebender
🏆 Light Heavyweight Title#UFC259 | Saturday | BT Sport 2 HD pic.twitter.com/dr2UFIUf1F

— UFC on BT Sport (@btsportufc) March 1, 2021
We hope you enjoyed this article 'UFC 259 Preview'. Which fight are you looking forward to the most? Please let us know! Send us your predictions!
Read more on UFC here: