Most Anticipated UFC Fights of 2021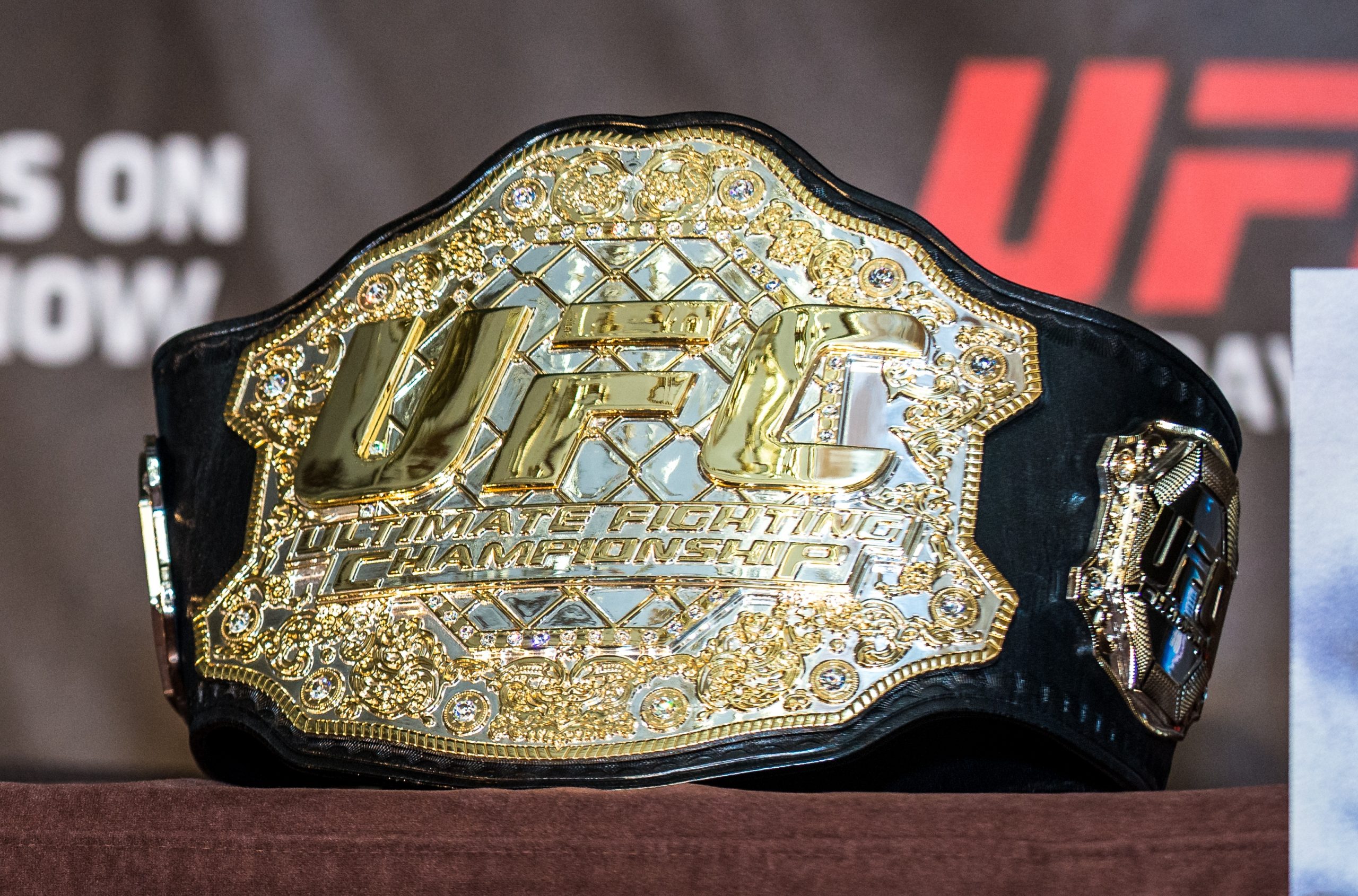 Most Anticipated UFC Fights of 2021
As of the 15th February 56 fights have been confirmed for all past and future main fight cards of 2021. With 21 main card fights having already taken place, 2021 has got off to a banger. Between now and March 27th we have 5 title fights to look forward to. With the Heavyweight, Light Heavyweight, Women's Featherweight, Bantamweight and Featherweight titles all up for grabs.
We have already had one title fight this year between ex teammates Kamaru Usman and Gilbert Burns. Resulting in Usman retaining his Welterweight title within 2 rounds. With so much more of the year to go, fights are going to be popping up all over the place. With Dana White putting the majority of the belts on the line inside the first 3 months of the year, you can see the UFC mean business.
The list below is what we believe to be the 5 most anticipated fights of 2021, consisting of 4 title fights, including 3 on the same fight card at UFC 259!
One legendary night – next on PPV 🏆🏆🏆 #UFC259 pic.twitter.com/9OjYCZ7IMR

— UFC (@ufc) February 14, 2021
5. Stipe Miocic (C) vs Francis Ngannou – UFC 260 – March 27th
You'd think going into this fight Stipe would have the upper hand, with being the champion and having already beaten Ngannou at UFC 220 in 2018. But most major betting companies have the Cameroonian national as the clear favourite,
Part time firefighter and full time hard man Stipe Miocic puts his Heavyweight title on the line at UFC 260 against the hardest hitting puncher on the planet, in the way of Francis "The Predator" Ngannou. Since Stipe put his title on the line against Ngannou at UFC 220 in January 2018, he has fought Daniel Cormier 3 times. Losing his title at the first time of asking, then winning it back the second time around and finally retaining it in the trilogy fight via unanimous decision.
Stipe has one of the best resumes in all of UFC Heavyweight history, having only been finished by Stefan Struve and ex Light Heavyweight and Heavyweight champion Daniel Cormier, he can clearly hold his own in the octagon. Holding wins against some of the best including; Daniel Cormier x2, Ngannou, Alistair Overeem, Fabricio Werdum and Andrei Arlovski to name but a few. Stipe has the right to say that he is the "Baddest man on the planet".
Since the first fight between the pair in 2018, Ngannou has gone back to his dominating ways. After a disappointing decision loss to Derrick Lewis, following the Stipe loss, he then went on an impressive 4 fight winning run. With wins coming against three of the current top 15 contenders: Junior Dos Santos, Curtis Blaydes and Jairzinho Rozenstruik, as well as an excellent 26 second demolition of two time UFC Heavyweight champion Cain Velasquez. Grabbing himself 3 performances of the night from those 4 fights.
Following the loss to Lewis, Francis has ended every fight inside the first round, so the question is will his stamina live up to the test? Or will it fail him again? Stipe is very well known for having excellent stamina and if he fights like last time it will be an easy win for the champ.
Stipe has rarely shown weakness in his UFC career having only been knocked out once, and only finished twice, but if Francis comes in throwing bombs it could be an early end to the the night for the champ. Will we see a new "Baddest man on the Planet" or will the greatest Heavyweight the UFC has ever seen retain his belt one last time?
It is very clear to see why this is one of the most anticipated fights of 2021!
✅ Miocic v Ngannou 2
✅ Jon Jones to face the winner

The boss Dana White maps out @JonnyBones' eagerly-anticipated heavyweight debut 💪

Watch the full interview on YouTube 👉 https://t.co/jsbvojxEJY pic.twitter.com/BO1Am0ZD8V

— UFC on BT Sport (@btsportufc) January 21, 2021
4. Jairzinho Rozenstruik vs Cyril Gane – UFC Fight Night 186 – February 27th
Rozenstruik vs Gane, will be the second of the back to back Heavyweight contender clashes, coming a week after Curtis Blaydes against Derrick Lewis. The big boys are lighting up the UFC at the moment, with the Heavyweight division the closest it has been in many years. This fight pits Suriname vs France and the #3 and #7 ranked heavyweights against each other, with the winner possibly fighting for the title later in the year.
With only 10 UFC fights between the pair of them it's crazy to think that we are talking about possible title contenders, but with the finishing power of Rozenstruik and submission expertise of Gane, they have shown why they are true Heavyweight contenders.
After making his debut at UFC Fight Night: Assuncao vs Moraes 2 in the February of 2019, Rozenstruik has a near 100% record. His only blip coming against Francis Ngannou at UFC 249 where he was knocked out clean inside 20 seconds. It wasn't necessarily a shock to see Ngannou win but in the fashion that he did, against a heavyweight on a 4 fight win streak of finishes, definitely provided shock factor in the UFC. Jairzinho picked himself up and got himself another TKO finish over Junior Dos Santos. This adding to his dismantling of Alistair Overeem, Andrei Arlovski, Allen Crowder and Junior Albini.
Bigi Boy loves himself a win against some ex champions!
Well, so does the French giant Cyril Gane, who himself has a win over ex Heavyweight champion Junior Dos Santos. From making his debut against Raphael Pessoa at UFC Fight Night: Shevchenko vs Carmouche 2, he has gone on to dominate every fight. Securing a submission win over Don'Tale Mayes, unanimous decision victory over Tanner Boser and most recently a stunning elbow TKO win over Junior Dos Santos.
If a title fight isn't on the card for the winner of this one, then maybe the winner could welcome Jon Jones to the Heavyweight division. As that is something I would love to see and would be an excellent challenge for Bones.
This is a really exciting time for the Heavyweight division at the moment and this fight is by far one of the most anticipated fights of 2021, especially in the Heavyweight ranks.
Potential to be a heavyweight classic 💪

Your #UFCVegas20 poster has arrived! pic.twitter.com/nHJi5hM6t5

— UFC (@ufc) February 14, 2021
3. Amanda Nunes (C) vs Megan Anderson – UFC 259 – March 6th
Originally meant to fight as the headline bout at UFC 256 in December, Amanda Nunes had to pull out of the fight against Anderson. With no official confirmation as to why she pulled out of the fight, we are led to believe that a serious medical issue was the reason behind it.
Nunes enters this fight against Anderson on an 11 fight winning streak which includes two wins over current Flyweight champion Valentina Shevchenko, Ronda Rousey, Raquel Pennington, Cris Cyborg and Holly Holm. Currently holding the Featherweight and Bantamweight titles, Nunes is by far the baddest woman on the planet. Currently ranking in as the #1 pound for pound women in the UFC, she is one dangerous women.
Since winning the Bantamweight title via a rear naked choke at UFC 200 against Miesha Tate, Nunes has gone on to defend the title 5 times. Nunes has also won the Featherweight title during that time and her fight against Anderson will be her second defence of the title after her unanimous decision victory over Felicia Spencer in June of last year. She is still the only women in the UFC to hold 2 belts at the same time, the only other fighters to reach that feat are Daniel Cormier and Conor McGregor.
Megan Anderson's UFC career has taken a very different trajectory to Amanda Nunes. Starting off her career with a loss to Holly Holm, she then gained her first win over Cat Zingano at UFC 232. Another loss followed to Felicia Spencer, however since that loss everything has changed, with Anderson now on a 2 fight winning streak. Anderson has racked up two very convincing wins over Zarah Fair Dos Santos and Norma Dumont, with the latter earning her a performance of the night, and in turn has led right to a title fight.
Anderson will have her hands full come March 6th, but with an opponent whose UFC career dates all the way back to 2013, there is a lot of tape for her to watch to gain herself any type of advantage. Both women have excellent grappling and some insane knockout power, who knows what way this fight will go. Combined with them both being experts in submission, we all know that this is going to be a cracker.
Could we possibly see someone beat the GOAT, well if anyone can then it would be the Aussie firecracker Megan Anderson!
The featherweight title fight between Amanda Nunes and Megan Anderson has been rebooked for March 6, UFC officials told @bokamotoESPN. pic.twitter.com/uhNHbZifHd

— ESPN MMA (@espnmma) December 21, 2020
2. Petr Yan (C) vs Aljamain Sterling – UFC 259 – March 6th
The Bantamweight division is starting to become one of the UFC's most exciting divisions at the moment, with every fighter in the top 15 a definite candidate for that belt.
Aljamain Sterling has been in and around the UFC for a hell of a lot longer than the champion, and has worked himself to the ground to get himself a title shot. Currently 11-3 in the UFC, Sterling has been a standout fighter since the beginning. Starting his UFC career with 4 wins on the bounce showing off his range with 1 decision win, a TKO finish and 2 successive submissions, he really started to make a statement.
Then two losses on the trot via decision to Bryan Caraway and Raphael Assuncao really curtailed his run for the belt. Two wins against Augusto Mendes and Renan Barao got the Sterling train rolling again, and then a massive loss to Marlon Moraes set him back again. But now Funk Master is in the form of his life, 5 wins on the bounce, 3 via decision and 2 via submission. With wins coming against fellow top 15 contenders Cody Stamann #13, Jimmie Rivera #9, Pedro Munhoz #8 and most recently #2 ranked contender Cory Sandhagen.
After some disappointing losses earlier in his career, 'Funk Master' is more than ready to take on the Russian champion. He has definitely worked on the mistakes that slowed his career down earlier in the UFC, he's now at his best and is ready to bring a UFC belt back to Jamaica. 
Currently the #14 pound for pound fighter in the UFC and the Bantamweight champion, the Russian Petr Yan is all business. With a professional record of 15 wins and 1 loss, it is very clear to see why he is the Bantamweight champion. Having not experienced defeat in the UFC so far with his last loss coming against Magomed Magomedov fighting under ACB in 2016, Yan is on a constant high.
Sitting at 7-0 in the UFC and the current champion, you would think that Yan would have had lots of big fights under his belt, but he doesn't. His biggest fight so far came against Jose Aldo in his last fight, where they fought it out for the vacant Bantamweight belt after it was vacated by Henry Cejudo. Other than that he's had very few tough fights, having only fought against one other top 15 Bantamweight, that being Jimmie Rivera where he was taken to a decision.
Yan is far from a undeserved champion, but when you look at his resume compared to a lot of other Bantamweights, you can see why a lot of people think that way. There is still a lot to come from the young Russian though, at only 28 he is in his prime, this fight against Sterling could really show that he means business!
Could Petr Yan go on to dominate the division like many before, or could the 'Funk Master' come in and ruin those plans? With this fight being so hard to judge its not hard to see why it's one of the most anticipated fights of 2021.
Petr Yan on Aljamain Sterling: 'I'm training to break him and destroy him' at UFC 259 https://t.co/d8KnG03LFw pic.twitter.com/UFhZkMs7AF

— MMAFighting.com (@MMAFighting) February 3, 2021
1. Jan Blachowicz (C) vs Israel Adesanya (C) – UFC 259 – March 6th
This fight is easily one of the most anticipated fights of 2021. Champion vs Champion. #14 pound for pound vs #3 pound for pound. The Prince of Cieszyn vs The Last Stylebender. This becomes only the sixth champ v champ fight in UFC history, and the first between the reigning Middleweight and Light Heavyweight champions.
At 205 lbs Blachowicz is a very dangerous fighter, he has come a very long way in the last couple of years. After making his UFC debut in late 2014 winning via TKO over Ilir Latifi, he only recorded one win in his next 5 fights and that was over Igor Pokrajac. The losses came against Jimi Manuwa, Corey Anderson, Alexander Gustafsson and Patrick Cummins. However, still to this point he hadn't been finished with all of his fights going to a decision.
The Prince of Cieszyn, then went on a 4 fight winning streak, earning himself 2 performances of the night and 1 fight of the night win over Jimi Manuwa. This then earned him a shot against the then #4 ranked Light Heavyweight Thiago Santos, who is the only person to finish Jan in the UFC. This loss spurred him on, again going on another 4 fight win streak.
This culminated in a fight against Dominick Reyes for the vacant Light Heavyweight belt after Jon Jones vacated to move up to Heavyweight. An absolute domination over Reyes, earned Blachowicz the Light Heavyweight title, in September of 2020, so he is currently in the form of his life.
You should not underestimate Israel Adesanya in any fight though, unbeaten in his full professional career and with 15 wins out of 20 fights, it's clear to see why he is the #3 pound for pound fighter in the world. It has not been an easy rise to the top for Izzy, having fought 6 of the current top 15 since making his debut at UFC 221 against Rob Wilkinson. Including wins against; Paulo Costa, Robert Whittaker, Kelvin Gastelum, Derek Brunson and Marvin Vettori.
His other notables wins have come against Yoel Romero, who now fights for Bellator, ex #1 ranked Middleweight and also the G.O.A.T of the UFC "The Spider" Anderson Silva, who is now an unattached fighter after his UFC contract came to an end.
Will this fight live up to the hype? I hope so, because if it does heads will be spun. The most anticipated part of this fight is if Adesanya can handle fighting at 205 lbs, with Jan having the experience fighting at Light Heavyweight, he should be the favourite. However, going into the fight he is the bookies underdog, but when you look at their corresponding resumes Adesanya has the better record.
With the fight being a champion v champion bout, its clear to see why this is the most anticipated fight of 2021!
VIDEO: Jan Blachowicz doesn't mind being underdog to Israel Adesanya at UFC 259: 'I believe that I'm going to be the first one to beat him' (@DamonMartin) https://t.co/aPbfS7SP5d pic.twitter.com/XsnKzoEDZA

— MMAFighting.com (@MMAFighting) February 16, 2021
We hope you enjoyed this article 'Most Anticipated UFC Fights of 2021'. Which fight are you looking forward to the most? Please let us know!
Read more on UFC here: