Top 10 UFC Fighters To Watch In 2021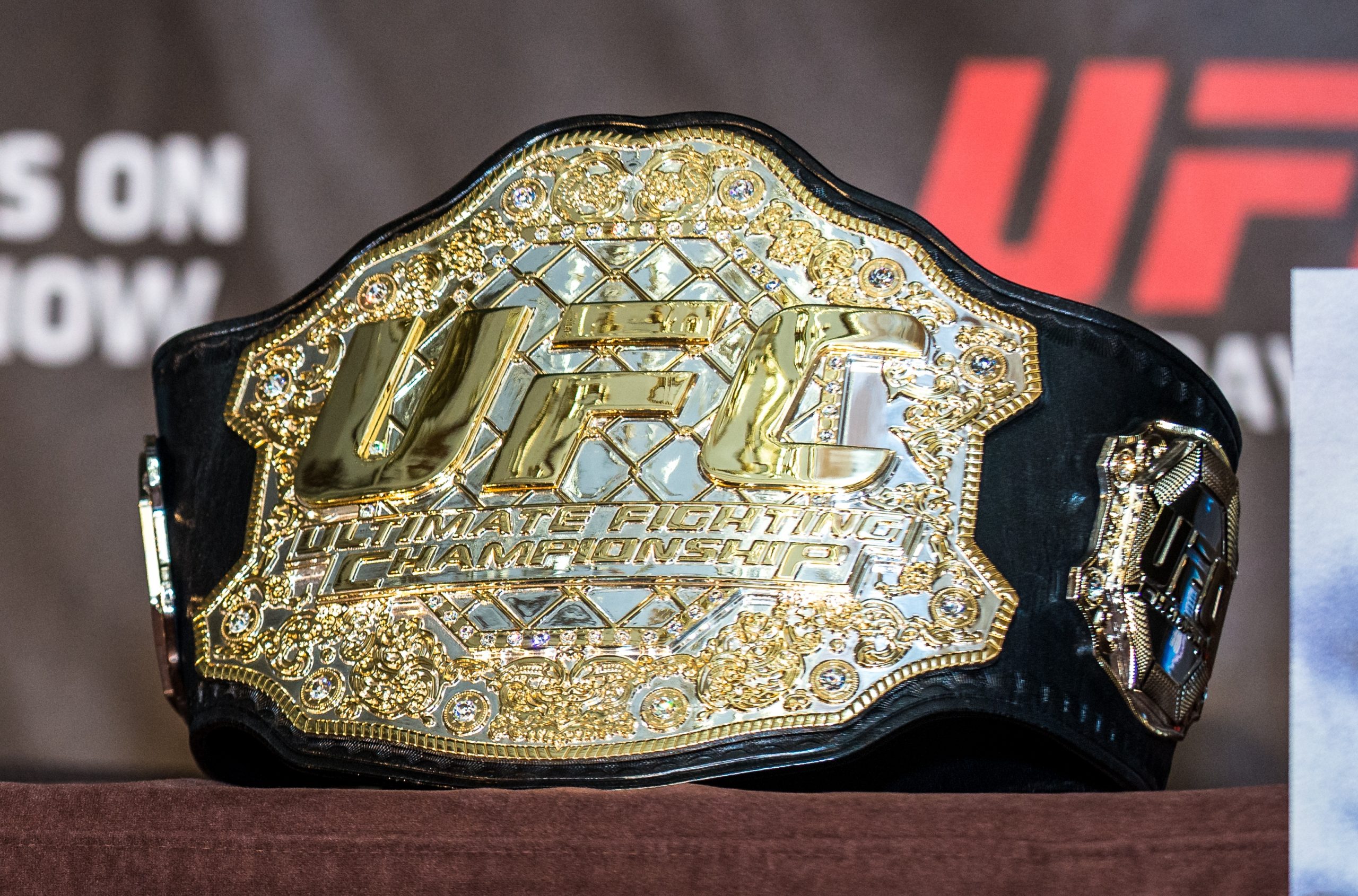 Who are the top 10 UFC fighters to look out for in 2021?
Top 10 UFC Fighters To Watch In 2021
After a year like no other, the Ultimate Fighting Championship were still able to show 41 events across the world. With only 5 events cancelled due to Coronavirus during the calendar year. With the successes of 2020, 2021 can only get better, we are 6 weeks into the new year and we have already had 4 unbelievable fight cards. Already having fight of the year and knockout of the year contenders, including a fight for the ages between Max Holloway and Calvin Kattar and a rematch 7 years in the making between Dustin Poirier and Conor McGregor.
Whether that be fighting for a title or just making their way up the rankings, anyone who takes to the octagon is a crazy person. But that is why we enjoy watching! There are some amazing fighters in the world right now but no better than the UFC, the list below includes the Top 10 UFC Fighters To Watch In 2021.
10. Dalcha "Champion" Lungiambula – Middleweight
Fight record: 11-2-0
After the exciting introductions over the last few years of Kamaru Usman, Israel Adesanya and Francis Ngannou, Africa were really starting to have a presence in the UFC. Usman and Adesanya remain champions of their respective divisions whilst Ngannou is the current #1 contender in the heavyweight division. Up stepped Lungiambula, the Congolese native arrived into the UFC after dominating in the Extreme Fighting Championship for 4 years. Winning the light heavyweight title twice while fighting for the promotion.
His dominance in South Africa earned him a UFC contract and in June 2019 he made his debut against Dequan Townsend in the light heavyweight division. Finishing the fight with a devastating 2 punch combo. In his second fight he took on #11 ranked light heavyweight contender Magomed Ankalaev who knocked out Dalcha with a devastating front kick.
After a year long hiatus from the UFC, he dropped a weight category down to middleweight. He fought Markus Perez to a unanimous decision victory on the second fight card of 2021. If he can get a good run going against some ranked fighters, with his big frame and devastating knockout power, Lungiambula will be a big nuisance in the middleweight division.
Middleweights take the octagon next at #UFCFightIsland8 with Dalcha Lungiambula (@Dalcha_Champion) vs. Markus Perez.

Play-by-play: https://t.co/COudd7dyjo pic.twitter.com/aSaJBR0oPr

— MMA Junkie (@MMAjunkie) January 20, 2021
9. Yan "Fury" Xiaonan – Strawweight
Fight Record: 13-1-0
When Yan joined the UFC way back in 2017, she was the first Chinese female fighter to fight in the Ultimate Fighting Championship. Now there are 9 Chinese fighters across all of the weight divisions. With one of them being a champion, Weili Zhang, who remains the current champion in the Strawweight division.
At only 31, Yan still has plenty more years of fight left in her, and with currently being the #12 ranked pound for pound women's fighter in the world and #3 ranked in the strawweight division, I wouldn't be surprised to see her fight for the title by the end of 2021.
She is currently 6-0 since joining the UFC, which is clearly a reason as to why is one of the top 10 UFC fighters to watch in 2021. However with all of her bouts going the distance we haven't seen the best of Yan, with her knockout power not being shown so far in the UFC which she had shown previously when fighting for other promotions, with 5 of her first 9 fights ending with a TKO/KO.
Could we see a UFC event happen again in China this year? Xiaonan v Zhang, now that would be an interesting bout.
✅ Kailin Curran
✅ Viviane Pereira
✅ Syuri Kondo
✅ Angela Hill
✅ Karolina Kowalkiewicz
✅ Cláudia Gadelha

Yan Xiaonan is now a perfect 6️⃣- 0️⃣ in her UFC run!#UFCVegas13 pic.twitter.com/l7Xx8moSTm

— UFC on BT Sport (@btsportufc) November 8, 2020
8. Ciryl "Bon Gamin" Gane – Heavyweight
Fight Record: 7-0-0
A new heavyweight contender is on the scene! After only being with the Ultimate Fighting Championship for little over 18 months, Cyril Gane has gone from being an unknown newcomer to a #7 ranked heavyweight contender.
After only 3 professional fights before joining the UFC, even Gane wouldn't have seen this rise in such a quick time. Quickly settling into life in the UFC, Gane made his debut in August 2019, and had 2 further fights in the October and December of the same year. Finishing both Raphael Pessoa and Don'Tale Mayes via submission and a unanimous decision victory over Tanner Boser.
These 3 consecutive wins in the UFC, had him sitting at 7-0 professionally going into the biggest fight of his career against ex UFC Heavyweight champion Junior Dos Santos. Up until this fight we had no idea if Gane possessed any knockout power, but then part way through the second round at UFC 256 he exploded, landing a devastating elbow to the side of JDS' head. In turn folding him up and the fight was called there.
Up next, Gane has to go up against one of the scariest guys in the heavyweight division, Jairzinho Rozenstruik. With wins against 2 ex heavyweight champions in Andrei Arlovski and Junior Dos Santos, as well as a devastating finish of one of the greatest fighters to ever live, in Alistair Overeem, its clear to see why he is the #3 ranked heavyweight contender in the world.
Gane will need to have his wits about him coming into this fight, if he can avoid Rozenstruik's hands and take him too to the ground I can see the W going home with him.
Ciryl Gane now goes 7-0 and scores the biggest win of his career after finishing former UFC heavyweight champion Junior dos Santos! 🙌#UFC256 pic.twitter.com/dLSFkBe6q6

— UFC on BT Sport (@btsportufc) December 13, 2020
7. Jiri "Denisa" Prochazka – Light Heavyweight
Fight Record: 27-3-1
Currently on a 10 fight win streak we have one of the best Light Heavyweight contenders in the UFC, who is destined for a title fight within the next 12 months. With only 1 UFC fight under his belt, you must think that I am crazy, but Jiri has ended his last 9 fights via TKO or KO. With some serious firepower in his fists and size on his side, the Czech giant is destined for greatness.
A lot of heads were turned when Prochazka jumped straight to #5 ranked in the Light Heavy division, but if you take a look at his resume you can understand why, with only 2 of his 30 fights having gone the distance.
Originally Jiri was meant to fight #3 ranked Dominick Reyes at UFC 257, however due to an injury to Reyes the fight has been postponed. With the top 5 of the Light Heavyweight division stacked with some insane fighters such as; Teixeira, Santos, Reyes and Rakic, there are plenty of fights to be made.
Due to it all being so close up there, a win for Jiri over Reyes could set up a match between him and the champion Blachowicz.
Who wouldn't want to see a European super fight for the Light Heavyweight belt?
Jiri Prochazka got the debut knockout and went straight into a top 10 ranking 👊pic.twitter.com/7J8RrzbFQ1

— UFC on BT Sport (@btsportufc) July 27, 2020
6. Amanda Ribas – Strawweight
Fight Record: 10-2-0
The second women on the list is Amanda Ribas. The excitement Amanda Ribas brings to the octagon is second to none, she currently sits at #10 in the UFC Strawweight rankings after 4 wins in her first 5 fights in the UFC. Since making her debut against Emily Whitmire in 2019, Ribas went on a 4 fight win streak including a big submission win over Paige VanZant.
Everything looked like it was on the up for the young Brazilian, but then a big loss this year to #6 Strawweight contender Marina Rodriguez has sent her back, even if the stoppage was dubious. With no fight on the horizon just yet, Ribas is going to have to establish herself in a couple more fights against some more top 10's before a title fight against Weili Zhang is to be spoken about.
With submissions and knockout power in her arsenal, we know that Amanda Ribas still has a lot to bring to the Strawweight division
Even after a stunning defeat Amanda Ribas stays smiling 😀 #UFC257 pic.twitter.com/x7tiZIiwu5

— MMA Junkie (@MMAjunkie) January 24, 2021
5. Lerone "The Miracle" Murphy – Featherweight
Fight Record: 10-0-1
Lerone "The Miracle" Murphy, a miracle he is, the only Englishmen to make the list and there are many reasons why this young man from Manchester is one to watch. Without a loss on his resume, Murphy is 7-0-1 in his professional career, with his only blip, the one draw, coming in his UFC debut against Zubaira Tukhugov.
His 2 other fights have come against Ricardo Ramos and Douglas Silva de Andrade, with the latter being a unanimous decision victory on the Chiesa vs Magny card on January 20th 2021. The fight has always been there for Lerone Murphy though, because not many people can say they've been shot twice in the face and then go on to be a UFC fighter, but this man can.
That is where his nickname "The Miracle" comes from. But is it a "Miracle" that he has made it into the Top 10 UFC Fighters To Watch In 2021?
Could Murphy follow in the steps of some other English greats such Michael Bisping, Darren Till and Leon Edwards? Only time will tell, with his UFC career only just starting.
Murphy is destined to make a name for himself in the Featherweight division, throw any fighter his way and he will fight to the death.
UNDEFEATED 👏

🏴󠁧󠁢󠁥󠁮󠁧󠁿 'The Miracle' @LeroneMurphy proving why he's one to watch!

[ #UFCFightIsland8 | #InAbuDhabi | @VisitAbuDhabi ] pic.twitter.com/H6Uz3XDwnb

— UFC (@ufc) January 20, 2021
4. Joaquin "New Mansa" Buckley – Middleweight
Fight Record: 12-4-0
Joaquin Buckley is a very dangerous man! He only made his debut in the UFC in August 2020 and in just 7 months he has already built a lasting legacy. An absolutely outrageous #OpenMat knockout of the year against Impa Kasanganay, has had everyone talking about Buckley.
With 2 wins and 2 losses since joining the UFC Buckley has had an up and down time so far, with his latest loss coming against Alessio Di Chirico, where he tasted some of his own medicine being knocked out with a devastating head kick. His only other loss in the UFC came via the Trailblazer Kevin Holland, who you will hear about later.
After being tipped as the favourite to win his fight against Di Chirico, the curtain came crashing down for Buckley, now it is time for him to pick himself back up off the floor and start again. I would love to see Buckley get another shot at a top 15 contender, but with the quality in that top 15 it is going to be very hard for him to break into it.
The best fight for Buckley right now would be Omari Akhmedov, but that remains for Dana White and co to decide.
🏆 Joaquin Buckley v Impa Kasanganay 🏆

Just outrageous. @NewMansa94 gave us the #OpenMatAwards KO of the Year.

Watch the #OpenMat Award Show on YouTube 👉 https://t.co/nfanF99BWL pic.twitter.com/w02HNJyBRb

— UFC on BT Sport (@btsportufc) December 28, 2020
3. Khamzat "Borz" Chimaev – Welterweight
Fight Record: 9-0-0
After a debut year like no other, Chimaev has stirred the pot in the Middleweight division massively. Demanding big fights straight off the back, in doing so he secured himself, Fan Choice 'Debut of the Year', with 3 impressive wins coming against; John Phillips (Submission), Rhys McKee (TKO) and the biggest win of the 3 a devastating knockout of Gerald Meerschaert in 17 seconds. You can clearly see why this man has made it into Top 10 UFC Fighters To Watch In 2021.
These wins secured him a spot as the #15 ranked Middleweight in the world, as soon as he broke into the top 15 that's when the call outs started happening. All of this secured him a bout against #3 ranked Welterweight Leon Edwards, who hasn't fought since mid 2019 but is on a 8 fight win streak. After his decision loss to current Welterweight champion Kamaru Usman, you know Leon is the real deal in the Welterweight division.
The fight between Chimaev and Edwards was set in stone and then Edwards contracted Coronavirus and due to being in the UK, quarantine would not have left him enough time to train and compete. So, the fight then got rearranged for January 20th but then Chimaev was ruled out due to Covid so that's 1-1. A third fight was arranged for March 13th, but now that fight has been cancelled due to Chimaev showing 'lingering physical effects' due to Covid.
Will this fight happen? At this rate no, with Leon needing a fight I think this fight has now passed Chimaev. However, there are plenty other fighters in the top 10, including #6 ranked Michael Chiesa who is on a high after a decision win over fellow ranked contender Neil Magny.
There are many options out there for Chimaev, he has a lot of decisions to make if he wants to be a champion. But there is no doubt that he is one of the UFC fighters to look out for this year.
An overnight sensation 🏝@KChimaev locks in the #UFCHonors Fan Choice 'Debut of the Year'

[ 🏆 Presented by @ToyoTires ] pic.twitter.com/CqDLyj9amh

— UFC (@ufc) January 6, 2021
2. Kevin "Trailblazer" Holland – Middleweight
Fight Record: 20-5-0
Trailblazing is what this man does! After easily the best year of his career, Kevin Holland is one of the most talked about fighters in all of combat sport. Going into 2020, not much was being said about the future #OpenMat Male Fighter of the Year, but that was all about to change!
Ending 2019 on a submission loss to fellow Middleweight Brendan Allen, no one saw what was about to come from Holland. With his first fight of the year coming in May, you would have to be kidding yourself if only 7 months later Holland would have gone on a 5 fight win streak, securing himself 4 finishes.
With his biggest win coming at UFC 256 against Brazilian veteran Jacaré Souza, Holland finished the fight with a flurry of Haymakers making the Brazilian legend look a shell of his normal self.
2020 really was Kevin Holland's year and he rightfully claimed the #10 spot in the Middleweight rankings.
After some smack talk between the pair on social media, it is looking likely that Kevin Holland's next venture into the octagon will be going up against #7 ranked Middleweight contender Derek Brunson.
Holland has already said that he would like to fight 6 times in 2021 and is eyeing up that Middleweight belt, I for one would love to see this man fight for a title!
🏆 Kevin Holland 🏆

Five wins and four finishes in 2020 and @TrailBlaze2Top didn't even fight until May!

Kevin Holland is the #OpenMatAwards Male Fighter of the Year!

Watch the #OpenMat Award Show on YouTube 👉 https://t.co/mll0D4spVF pic.twitter.com/aMW3DdShyF

— UFC on BT Sport (@btsportufc) December 27, 2020
1. Cory "The Sandman" Sandhagen – Bantamweight
Fight Record: 14-2-0
Undoubtedly one of the biggest talents in the UFC at the moment. Coming off of an insane walk off flying knee knock out of UFC legend Frankie Edgar, 'The Sandman" has cemented his place as the #2 contender in the Bantamweight division.
Since his debut back in early 2018, Sandhagen has steadily climbed to the top of the division. Having only lost one fight in the UFC to the #1 contender Aljamain Sterling. With wins against some massive opponents such as Raphael Assuncao, Marlon Moraes and most recently Frankie Edgar, Sandhagen surely deserves a shot at the title next.
With Petr Yan putting his title on the line against Aljamain Sterling at UFC 259, I believe that the winner should then fight Cory Sandhagen in a main event later in the year.
Possessing deadly knockout power and speed, Sandhagen will be the champion by the end of 2021. He has learnt a lot since the lost to Sterling and I don't see him losing again for a while if he carries on at the rate he is going. This man rightfully claims the number one spot out of the Top 10 UFC Fighters To Watch In 2021.
Everyone should definitely be jumping on the Cory Sandhagen bandwagon this year!
The Sandman Cory Sandhagen secures a statement win over a former UFC champion Frankie Edgar with a flying knee knockout! 🦵 💥#UFCVegas18 pic.twitter.com/pNmZmtka8f

— UFC on BT Sport (@btsportufc) February 7, 2021
We hope you enjoyed this article 'Top 10 UFC Fighters To Watch In 2021.' Who do you think will be the most most exciting to watch out of the above fighters? Please let us know!
Read more on UFC here: