Top 5 Upcoming UFC Welterweights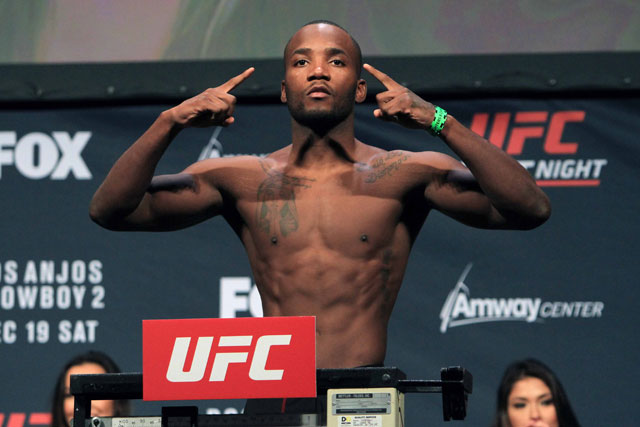 Who are the next UFC Welterweights to shake the divison?
In this article we look at the top 5 upcoming UFC Welterweights who have the potential to challenge for the title in the near future. Established contenders who are essentially already guaranteed a title shot such as Jorge Masvidal and Colby Covington will not be included.
Ranking: 4th
Record: 18 – 3
Gym: Team Renegade BJJ & MMA
Fighting out of: Erdington, Birmingham, England.
Notable Wins: Donald "Cowboy" Cerrone/Dec, Vicente Luque/Dec, Rafael Dos Anjos/Dec.
Leon Edwards is currently on an 8 fight win streak that has seen him pick apart the welterweight gatekeepers. Such has been his success, that he should almost be above this list. However, the UFC seemed to keep "Rocky" back from truly breaking into the welterweight elite. This may be because Edwards is still a relatively young fighter and the UFC may wish to make sure he does not get thrust into the limelight too early on. Regardless Rocky has finally forced his way into the top 5 especially with his last fight, a 5 round war against RDA, true evidence to his prowess.
Edwards utilises an intriguing mixture of styles in order to keep his opponents constantly guessing. Like his namesake, he possesses excellent boxing with a brutal left straight. It was this left straight that finished Polish fighter Seth Baczynski in only 8 seconds. Edwards also employs a viscous elbow off the clinch which he dropped Gunnar Nelson with. Rocky combines the fight ending elbow with a often underappreciated clinch/takedown game.
Edwards' only loss in his last 11 events was to current champion Kamaru Usman, back when they were both relatively new to the UFC. Since then he has faced an abundance of gatekeepers and rising prospects, defeating some of the biggest names in the division. In 2020 Edwards had a fight booked against Tyron Woodley, ranked 1st, but it was cancelled due to Covid 19. With any luck, Rocky will soon either book a rematch or a bout against another top 5 ranked opponent.
Ranking: 6th
Record: 18 – 3
Gym – Hard Knocks 365
Fighting out of: Niteroi, Rio De Janeiro, Brazil.
Notable Wins: Demian Maia/KO, Gunnar Nelson/Dec, Alexey Kunchenko/Dec.
A 3 time Brazilian Jiu-Jitsu champion, Gilbert Burns transitioned to MMA in 2012. Two years later Burns would make his UFC debut against Andreas Stahl at welterweight. After securing the win via decision, "Durinho" dropped down to the lightweight division. He would win his first two fights at the 145 lb division, both by armbar. Both fights would also win Burns performance of the night bonuses.
Durinho would have 8 more fights in the lightweight division. He defeated opposition such as talented Canadian fighter Olivier Aubin-Mercier, but also fell victim to a Daniel Hooker KO. This led to Burns developing a reputation as an excellent competitor who was never quite able to break into the lightweight elite.
In 2019, Burns' mixed success prompted a move back into the weight division his career had started in. Durinho took on undefeated Russian muay thai practitioner Alexey Kunchenko in a 3 round war. It ended with Burns' hand being raised in victory after a unanimous decision. After Kunchenko, Burns' next opponent would be Gunnar Nelson, an elite wrestler who also employed a karate style stand up game. After another brutal 3 rounds, Burns once again picked up the unanimous decision.
This led to his most high profile match yet. In 2020 Burns took on a man who is considered by many to be one of the greatest Jiu-Jitsu practitioners to have ever graced the Octagon with his presence. Demian Maia. In a fight that was described as the "changing of the guard", Burns overcame early adversity to land a vicious KO in the first round. Since his victory over Maia, Burns has called just about every welterweight under the sun out for a fight. However recent reports have him linked with fight with number one contender Tyron Woodley. If Burns pulls out a win over Woodley, he may well be up for the next shot at the belt.
Ranking: 8th
Record: 17 – 4
Gym: Sikjitsu
Fighting out of: Spokane, Washington, USA.
Notable Wins: Rafael Dos Anjos/Dec, Carlos Condit/Sub, Jim Miller/Sub.
In 2012, Michael Chiesa made his UFC debut in The Ultimate Fighter lightweight finale against the well rounded Al Iaquinta. Chiesa took full advantage of the opportunity to announce his name to the rest of the UFC world, securing a RNC in the first round. His next fight against Anton Kuivanen would finish the exact same way via a flawless rear naked choke. However he would then face Jorge "Gamebred" Masvidal. Masvidal was able to beat Chiesa at his own game, securing a slick D'arce choke on the grappling specialist.
Chiesa's first 3 fights in the UFC would tell the story of the rest of his Lightweight run. Taking 2 steps forward and 1 step back. However after picking up back to back losses against Anthony Pettis and Kevin Lee, as well as repeatedly struggling with the harsh weight cut, Chiesa finally made the move up to welterweight.
Since then "Maverick" has defeated every opponent he has faced, including most recently former champion Rafael Dos Anjos. After defeating RDA, Chiesa called for a matchup with Colby Covington. While this may still be slightly unrealistic it is testimony to Chiesa's desire to make it to the top. And with the top level ground game that he possesses this wish could soon become a likely reality.
Ranking: 11th
Record: 13 – 2
Gym: Fortis MMA
Fighting out of: Harker Heights, Texas, USA.
Notable Wins: Mike Perry/KO, Belal Muhammad/Dec, Niko Price/TKO.
Handz of Steel is a fitting name for a man who has a 77% finish rate over the course of his MMA career. Having only entered the UFC in 2017, after a TKO stoppage over Chase Waldon on Dana White's contender show, Geoff Neal has set the welterweight division alight.
Since his victory over Waldon, the American has gone on to show he isn't only a hard hitting boxer. He won his UFC debut with a rear naked choke against Brain Camozzi, displaying great submission offence. "Handz of Steel" would also add two head kick knockouts to his resume, most recently against Mike Perry at UFC 245.
Neal has since stated that he believes the aforementioned Michael Chiesa does not deserve to be ranked higher than him. In an interview with MMA Fighting Neal stated that he wished Chiesa to be his next opponent, wishing to put "Maverick" back in his place. A match up between these two rapidly rising contenders could well define the future of the Welterweight division. Neal's excellent boxing, heavy strikes and ever improving submission game could well give Chiesa problems. But Chiesa's elite grappling could give Neal his biggest test yet in the Octagon.
Ranking: NR
Record: 16 – 2
Gym: Fighting Eagle
Fighting out of: Dagestan, Russia.
Notable Wins: Nordine Taleb/KO, Melvin Guillard/KO, Laureano Staropoli/Dec.
The self proclaimed "King of Kung Fu" Muslim Salikhov often lives up to his lofty title. With a litany of unorthodox strikes in his arsenal, from spinning hook kicks to corkscrew uppercuts, Salikhov is a fast rising prospect that is a potential threat to anyone in the division. Before being signed to the UFC Salikhov was one of only two non Chinese athletes to have won the Wushu Sanda King's Cup, also notably winning gold at the World Wushu Championships twice.
After transitioning from Wushu to MMA, Salikhov brutally tore through organisations such as TFC, M-1 and Kunlun. Ten of the first fourteen fights was ended by 'The King of Kung Fu' via KO/TKO, four of those via deadly spinning hook kicks. One of the victims of Salikhov's specialty kick was former UFC fighter Melvin Guillard.
Salikhov is currently on a 3 fight win streak within the UFC having finished both Ricky Rainey and Nordine Taleb, whilst most recently defeating Laureano Staropoli via unanimous decision. 'The King of Kung Fu' was set to fight Niko Price in April 2020 however the fight has since been postponed due to Covid 19. Regardless of whether the fight will be rebooked or not, the Russians unique striking and massive power certainly proves his capabilities to break into the top 15 and progress from there.
Honourable Mentions:
Belal "Remember the Name" Muhammed
Ranking: NR
Record: 16-3
Gym: Roufusport MMA Academy
Randy "Rudeboy" Brown
Ranking: NR
Record: 12-3
Gym: Budokan Martial Arts Academy
We hope you enjoyed the article 'Top 5 Upcoming UFC Welterweights.' Who do you see as the next UFC welterweights to shake up the division and become title contenders? Let us know!
Fancy writing for us: Apply to become a Sports Writer at the Sporting Ferret
If you liked this article why not check out: