UFC 249: Ferguson vs Gaethje Preview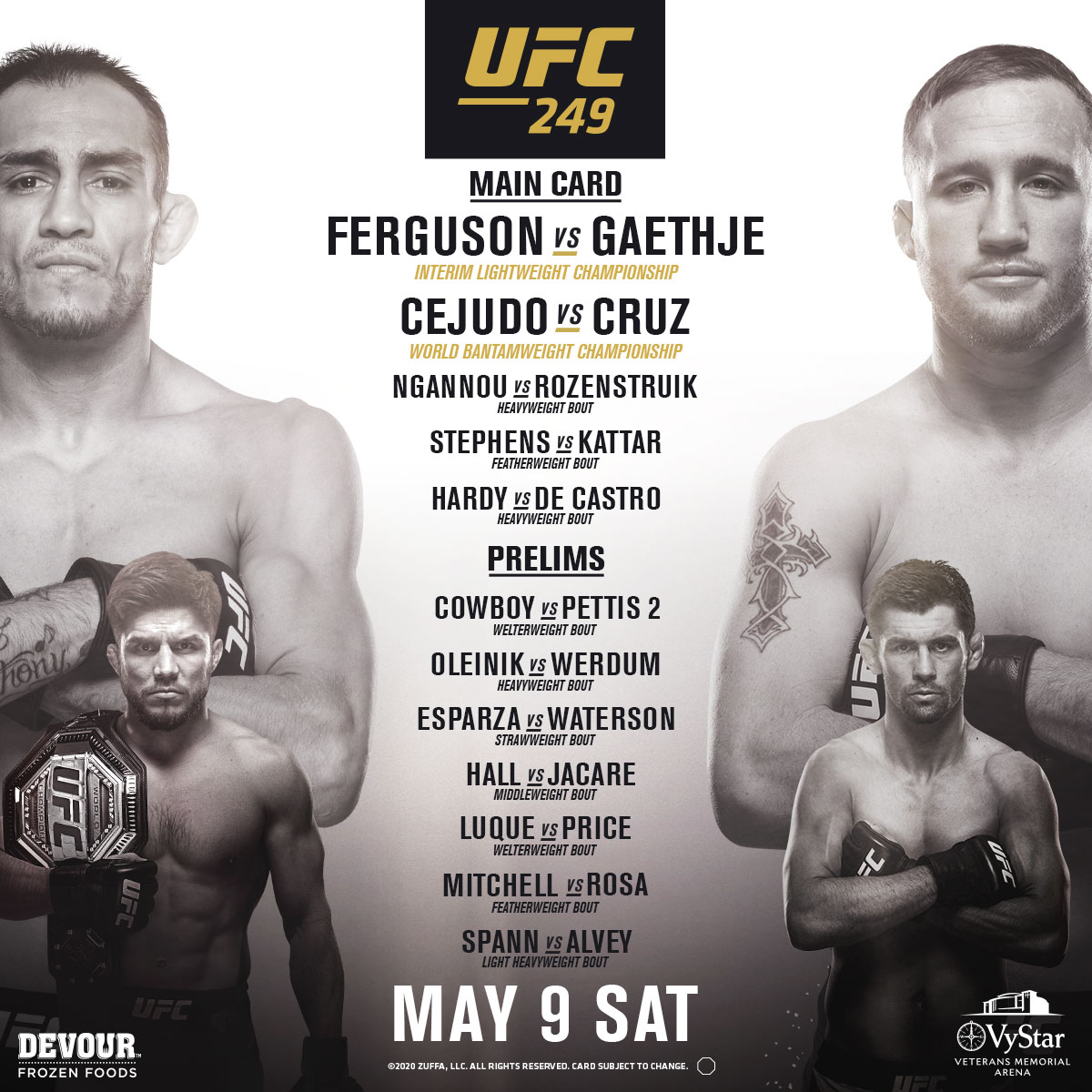 UFC 249 – Ferguson vs Gaethje Breakdown
Despite countless trials and tribulations, UFC 249 is happening. On Saturday 9th of May Justin 'The Highlight' Gaethje will take on Tony 'EL Cucuy' Ferguson for the Interim Lightweight title.
In this article we will break down a fight that will surely become a fan favourite for years to come.
Justin Gaethje
An Interim title bout between two of the most entertaining athletes in the UFC's Lightweight roster, what more could MMA fans ask for? Well the original scheduled fight between Ferguson and Khabib for one. Despite the original bout falling through, for the 5th time no less, Justin Gaethje is just as an exciting matchup.
'The Highlight' has lived up to his name throughout his career, as exemplified with his UFC debut against TUF winner Michael Johnson. Gaethje introduced the world to his zombie like style of continually walking down his opponents, taking strikes from Johnson just so he could throw his own back. He also utilised brutal chopping leg kicks that are now a staple of his game. Gaethje would finish the fight in the second round with brutal knee strikes.
Coincidently, Johnson is the only fighter to have defeated Tony Ferguson in the Octagon. Regardless, recently Gaethje has made huge strides in his defence and footwork, leading to three first round KO's of some of the UFC's elite.
Tony Ferguson
Tony Ferguson however, is not a man to be phased by any of this. Tony Ferguson is the type of guy to condition his leg and elbow strikes on metal poles. Not a joke.
Whether this is a legitimate training method or not, it is undeniable that Ferguson's use of elbow strikes have led to the demise of many of his opponents. Ferguson fights in a style that rarely results in clean KOs. He instead wears down his opponents to a point where they can no longer physically keep going. His last two fights are testimony two this with both Anthony Pettis and Donald Cerrone being forced to concede defeat due to doctors stoppages.
Ferguson also employs a very unique ground game. Utilising imanari rolls as well as vicious elbows from the bottom, the American is a threat wherever the fight ends up. Ferguson is also an excellent submission artist specialising in the brutal D'Arce choke.
UFC 249 – In Summary
The fight promises to be an exhilarating matchup of two excellent athletes who will undoubtedly bring their highest game to UFC 249. Gaethje offers huge power in his strikes as well as immobilising leg kicks. Whereas Ferguson brings a unique striking set, the likes of which Gaethje has never had to contend with before, and some of the best cardio in all of MMA.
Will Ferguson whether the storm and break his opposition down like he has done to so many others? Or will Gaethje crumple 'El Cucuy" in another highlight victory?
Bettings Odds
William Hill betting odds: Ferguson -190 Favourite, Gaethje +160 Underdog
Fancy writing for us: Apply to become a Sports Writer at the Sporting Ferret
If you liked this article why not check out: