Top 5 Upcoming UFC Featherweights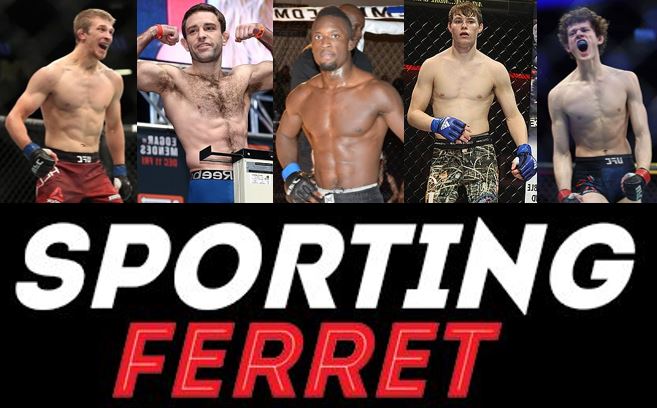 Which UFC Featherweights will join the elite of the Division?
In this article we look at the top 5 upcoming UFC Featherweights who have the potential to challenge for the title in the near future. Established contenders who are either already guaranteed a title shot or are one win away from one, such as Max Holloway or Chan Sung Jung, will not be included.
1: Arnold "Almighty" Allen
Ranking: 12th
Record: 16 – 1
Gym: Tristar Gym
Fighting out of: Felixstowe, Suffolk, England
Notable Wins: Makwan Amirkhani/Dec, Gilbert Melendez/Dec, Nik Lentz/Dec
Rising British prospect Arnold Allen is currently riding a 7 fight win streak in the UFC, the longest running streak in the UFC's Featherweight division. Despite this the UFC have only deemed him worthy of being ranked 12th at the time of writing. However, with so much momentum behind him, it is only a matter of time before Allen breaks into the upper echelons of the division.
44% of Allen's wins have been by decision, which may be some indication as to why he has garnered such a low ranking. And yet he is far from a 'boring' fighter. "Almighty" is one of the most well rounded mixed martial artists in the Featherweight division. With crisp boxing that saw him piece apart UFC veteran Gilbert Melendez, as well as high level defensive wrestling that led to the defeat of rising Finnish prospect Makwan Amirkhani, Allen has creative answers to anyone at 145 lbs.
Training out of Tristar, the world famous gym that produced legends such as GSP, Rory McDonald and Kenny Florian, Allen is continually evolving his game. Under the tutelage of head coach Firas Zahabi, Allen has created a near flawless record which remains undefeated in the Octagon. His last fight against Nik Lentz was testimony to this, as he evaded the experienced fighters clinch attempts and picked him off from the outside.
While there has of yet been no announcement on who Allen will next face, he has stated that he is ready to start prepping for his next fight. Allen's impressive run will hopefully land him a ranked name to kickstart his rise to the top.
2: Ryan "The Wizard" Hall
Ranking: 13th
Record: 8 – 1
Gym: Tristar Gym/50 BJJ
Fighting out of: Falls Church, Virginia, USA
Notable Wins: B.J. Penn/Sub, Artem Lobov/Dec, Darren Elkins/Dec
Another product of the elite Tristar Gym, Ryan Hall won The Ultimate Fighter 22 by defeating the long time training partner of Conor McGregor, Artem "The Russian Hammer" Lobov. Hall is a hugely decorated Jiu-Jitsu practitioner, with multiple IBJJF medals to his name. He specialises in an Imanari roll to hell hook submission, that saw him tap out former two division champion BJ Penn.
Hall has also added a unique striking style to his game, utilising wheel kicks and spinning back kicks that create range and catch his opponents unaware. This could be seen in his last fight against Darren Elkins, as he dropped the brawler with a spin kick to the jaw in round 1.
Unfortunately for Hall, his ground game is of such high level that he has had trouble finding opponents willing to face him. This has held back his rise in the rankings somewhat. However, he is still undefeated in the UFC, and is on a 8 fight win streak in all organisations. "The Wizard" was supposed to face former title contender Ricardo Lamas on May 2nd, but it has been since cancelled due to Covid 19. If Hall manages to continue defeating opponents with ease, he will soon place himself in a situation where no one can avoid the Jiu-Jitsu ace any longer.
3: "Super" Sodiq Yusuff
Ranking: 14th
Record: 11 – 1
Gym: Team Lloyd Irvin
Fighting out of: Camp Springs, Maryland, USA
Notable Wins: Andre Fili/Dec, Gabriel Benitez/TKO, Sheymon Moraes/Dec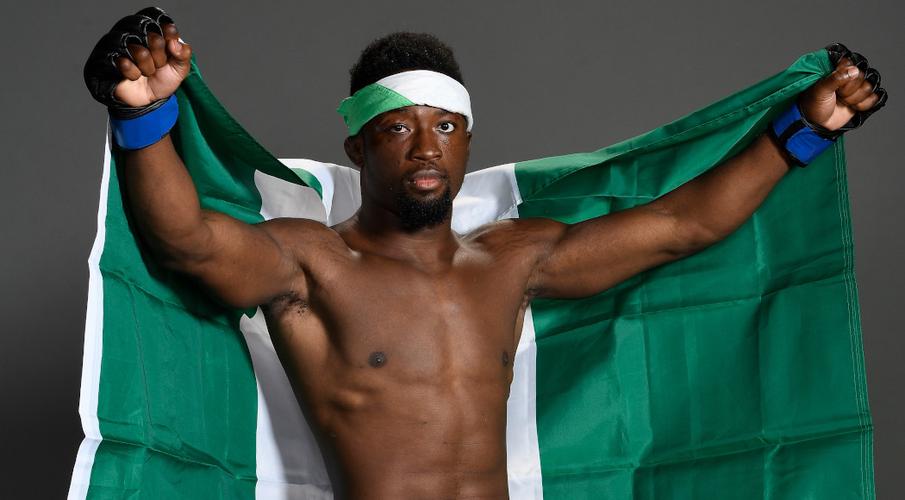 Rising prospect "Super" Sodiq Yusuff announced himself to Dana White and the UFC's Featherweight division with a victory over Mike Davis on the Tuesday Night Contender Series s2. Since defeating Davis, Yusuff has been on a 4 fight win streak within the UFC. His first fight in the octagon was against Suman Mokhtarian, in which he won via TKO, as well as picking up the performance of the night bonus.
After Mokhtarian, "Super" Sodiq also defeated Sheymon Moraes and Gabriel Benitez. This led to a match up with Andre Fili, a fellow rising star, under the wing of Urijah Faber and Team Alpha Male. The two prospects both gave an excellent display of why the future of the featherweight division is so bright. Yusuff dominated the first round as he outboxed Fili. However, the Alpha Male protege won himself the 3rd round, using body kicks and a viscous left straight. This meant it was all down to how the judges perceived round 2. In this round Fili had slipped early after throwing a kick, allowing Yusuff to quickly gain top control. Yusuff used good transitions from full mount to side control to maintain the dominant position for most of the round, however Fili did eventually make his way back to the feet.
The fight would go to Super Sodiq, as he took one step closer to featherweight gold. Yusuff is still yet to announce his next fight, though it is quite possible he could find himself matched up with one of the other rising stars on this list.
4: Bryce "Thug Nasty" Mitchell
Ranking: NR
Record: 13 – 0
Gym: Barata MMA
Fighting out of: Sherwood, Arkansas, USA
Notable Wins: Charles Rosa/Dec, Bobby Moffett/Dec, Matt Sayles/Sub
In March 2011, "The Korean Zombie" Chan Sung Jung made history by being the first ever UFC fighter to pull off a win via Twister submission. Eight years would pass and no one else in the whole organisation would come close to pulling off the elite submission. That is until Bryce "Thug Nasty" Mitchell took on Matt Sayles at UFC ESPN 7. Mitchell finished the knockout specialist in just one round, rapidly bringing the fight to the ground and applying the rotational spine crank submission to pick up the win.
Mitchell would go on to face Charles Rosa at UFC 249, putting on a grappling clinic against the experienced fighter. Thug Nasty once again attempted the twister submission, not only using it to threaten the tap, but also to hold Rosa in a position that allowed Mitchell to hammer at his ribs.
After picking up the unanimous decision over Rosa, Mitchell extended his record to 13 straight wins, including 4 in the UFC. Thug Nasty is yet to call out a new opponent but it is likely that he will soon break into the top 15.
5: Chase "The Teenage Dream" Hooper
Ranking: NR
Record: 9 – 0 – 1
Gym: Combat Sports & Fitness
Fighting out of: Enumclaw, Washington, USA
Notable Wins: Daniel Teymur/TKO, Canaan Kawaihae/Dec, Luis Gomez/Sub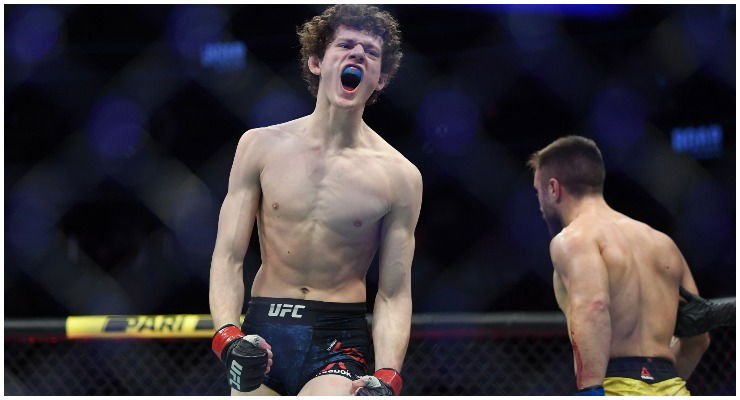 At the time of writing, Chase Hooper is the UFC's youngest fighter on their roster, aged only 20. However the young athlete is 10 fights into his career and is yet to be defeated. After collecting the unanimous decision over Canaan Kawaihae on Dana White's Contender show, Hooper would fight twice in 2019 for outside promotions before making his UFC debut in December.
"The Teenage Dream" would face muay thai expert Daniel Teymur at UFC 249. After facing early adversity from Teymur's aggressive style, Hooper was able to impose his high level wrestling to wind up in a mounted triangle choke, from which he rained down punches on Teymur to pick up the TKO stoppage.
While admittedly Hooper is extremely fresh into his career as a mixed martial artist, the fact that he was able to dispatch Daniel Teymur in only 1 round speaks volumes. Hooper revealed that he had a fight booked for May 16th, though it was cancelled due to rescheduling. However, as he has already signed the contract, The Teenage Dream hopes he will soon fight again in the near future.
Honourable Mentions:
Kron Gracie
Record: 5-1
Gym: Kron Gracie Jiu-Jitsu
Notable Win: Alex Caceres/Sub
"Mean" Hakeem Dawodu
Record: 11-1
Gym: Champions Creed MMA
Notable Win: Kyle Bochniak/Dec
Herbert "The Blaze" Burns
Record: 10-2
Gym: Hard Knocks 365
Notable Win: Nate Landwehr/KO
We hope you enjoyed the article 'Top 5 Upcoming UFC Featherweights.' Who do you see as a future champion inside the featherweight division? Let us know!
Fancy writing for us: Apply to become a Sports Writer at the Sporting Ferret
If you liked this article why not check out:
The Best Upcoming UFC Lightweights
Top 5 Upcoming UFC Welterweights
Who Will Conor McGregor Fight Next?