Abou Diaby: A Sublime Career, Lost to Injury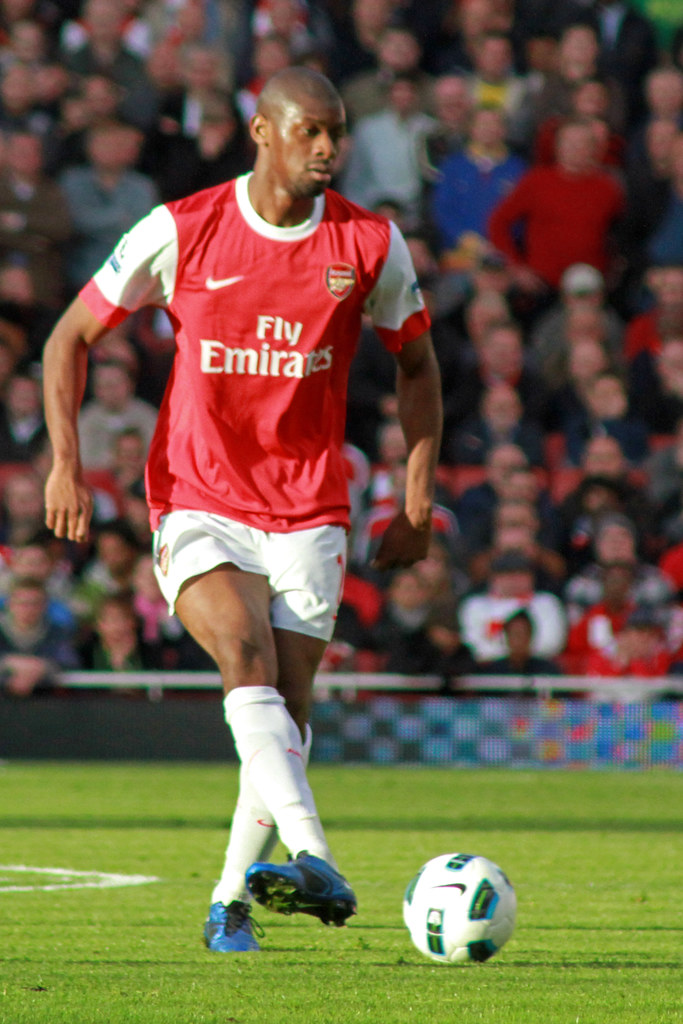 Diaby was no Vieira, but not for Lack of Quality
Abou Diaby retired from football in 2017, aged only 32, but could still have been a Premier League regular, were it not for injuries.
Andrés Iniesta, Yaya Touré, David Silva, Toni Kroos, Kevin De Bruyne, Luka Modrić and Abou Diaby. When Paul Pogba was asked what midfielders he considered to be better than him in 2018, this was his list, saying that he could learn a lot from all of them. Even Arsenal fans would probably be surprised to see the Paris native in such illustrious company, but Pogba, in the interview in question in 2018, called Diaby "exceptional". Looking back on a career so ravaged by injury, it is easy to forget how brightly his star briefly shone.
At his best, Diaby had everything required of a modern Premier League box-to-box midfielder. Despite appearing fairly lanky, his quick feet, awareness, and strength made him hard to knock off the ball. Even when surrounded by opposition players, Diaby was aware of the whole picture around him, and would consistently find brilliant passes into space after he had danced or fought his way out of a tight spot. He could get up and down the pitch quickly, and his tackling was strong, using his long legs to retrieve the ball from opponents. His long passing was not of the level of teammates Alex Song and Cesc Fàbregas, but it was hardly a weakness. His creative spark, however, was best utilised when running at a defence and initiating incisive one-twos. He was a specialist at dragging multiple defenders towards him before knocking the ball into a teammate who was left all on his own. His finishing, too, was very good for a midfielder.
Diaby joined Arsenal from Auxerre in January 2006 for £2m, aged 19. Half a season on from the departure of Patrick Vieira, an exceptionally lazy comparison was drawn between the two. Both tall, both black, both French, both playing in vaguely the same position. Such expectation brought unnecessary and unwarranted pressure onto such young shoulders, and Diaby has since made it clear that he always considered himself a very different type of midfielder to the Arsenal legend. He was more attack-minded, and would drive to get into the opponent's penalty box whenever possible, unlike his compatriot.
Around this time, Alex Song was developing into a brilliant deep-lying playmaker and pivot. Diaby was not the type of player who could be the sole anchor of a midfield in Wenger's 4-3-3 that was so fashionable after Mourinho and Makélélé came to England, but Song was much more suited to this role. His long passing and disciplined positioning meant he complemented Diaby well. Alongside these two could be Cesc Fàbregas, one of Arsenal's greatest players of the modern era, or Samir Nasri, who was so dynamic and dangerous going forward. As a trio, the balance that Wenger could have was frightening. In a team often accused of being too ponderous, Diaby's incisive short passing in the final third or his willingness to shoot if the chance presented itself to him was needed. Industry, creativity, and defensive ability were all in abundance, and Arsenal were able to push for the title when this midfield was firing on all cylinders.
In the 2008-2009 and 2009-2010 seasons, Diaby was superb, becoming one of the first names on the team sheet. No central midfielder played more than he did in the 2009-2010 season, leading to a call-up for the 2010 World Cup in South Africa with France. He was, put simply, one of the best in the league.
This success, however, came in spite of a horror tackle in 2006 from Sunderland full-back, Dan Smith. Both were young players at the time, and Diaby's ankle was fractured in the tackle. It required three surgeries and 8 months out of the game, and Diaby himself has said that he felt the flexibility in his ankle to be impeded as a result, and he thinks he lost some of his pace. He did, however, bounce back to the highest level.
After the disastrous 2010 World Cup, during which his France camp was thrown into crisis by a public fallout between Nicolas Anelka and manager Raymond Domenech, Diaby's career would take a blow from which it would never truly recover.
A few weeks into the 2010-11 season, a reckless tackle by Bolton defender Paul Robinson left Diaby with an injury to his ankle that persisted until the end of the season. Having struggled to play through to the pain, it was decided that he would have an operation at the end of the campaign. During this surgery, however, it was found that there was a broken bone in the affected ankle that the Arsenal doctors and Diaby had been unaware of, and it had to be removed
From that point, aged just 25, muscle injuries would plague Diaby. His legs struggled to adjust to the reconstructed ankle, and he would only get into double figures for appearances in a season once after that surgery. As mentioned, his final 6 seasons, including two at Marseille, only yielded 28 appearances for his clubs.
Gaël Clichy, his teammate at Arsenal and France, called Diaby one of the best players he has ever played with. High praise indeed, coming from a player who was at both Arsenal and Manchester City alongside some generational talents.
Abou Diaby was an incredible box-to-box midfielder who complemented the top players around him and could have been the best among them. Diaby could have had 5 or 6 more years of developing and playing without physical hindrance, but it was not to be, with Diaby himself accepting that this is just how football is. His grace towards those who caused the injuries that plagued him is admirable, considering what they robbed from him.
We hope you enjoyed the article 'Abou Diaby: A Sublime Career, Lost to Injury.' How far could Diaby have gone if it were not for injury? Let us know!
Read more on football here: