UFC Fight Night: Eye vs Calvillo Preview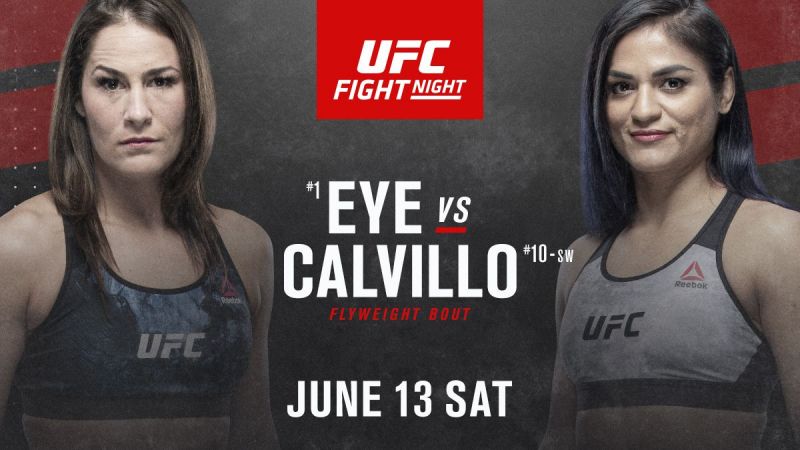 The UFC continues to lead the return of sports to mainstream TV, with their latest Fight Night card featuring a main event between Jessica "Evil" Eye and Cynthia Calvillo. The card also features a co-main event between hard hitting middleweights Marvin Vettori and Karl Roberson. In this article we break down the fights from the main card of this event.
Jessica "Evil" Eye vs Cynthia Calvillo
Jessica Eye is one of the most experienced fighters in the women's Flyweight division, with a record of 15 – 7. Alternatively, Cynthia Calvillo has spent most of her career fighting at Strawweight. However, she is finally making the move up to what many consider to be her natural weight-class.
Jessica Eye has had a career of ups and downs. She has picked up impressive wins against some of the best of her division, such as Katlyn Chookagian. However, she also went on a 4 fight losing skid between 2015-2016, as well as being brutally ko'd by Valentina Shevchenko in 2019.
Eye has a relatively wide range of skills in her arsenal, with a quick jab, strong takedown defence and punishing dirty boxing. She has been criticised for her predictability however, which has never been more apparent than in the aforementioned Shevchenko fight.
Cynthia Calvillo holds an 8-1-1 record currently in professional MMA, as well as a 6-1 amateur MMA record. It was during her amateur fighting days where she faced the now 3rd ranked UFC Bantamweight Aspen Ladd, for the WFC Flyweight title. Calvillo picked up the unanimous decision, and jump started her professional MMA career. It would only take three victories for Calvillo to earn a call up to the UFC, where she would fight Amanda Cooper and Pearl Gonzalez, finishing both fights. She then fought Joanne Calderwood, who is now set to fight for the Flyweight title. Calvillo defeated Calderwood via judges unanimous decision.
After this point, Calvillo began to struggle to cut the weight needed to reach the Strawweight limit, missing weight twice in her next 4 fights. She may finally be able to reach her full potential at the Flyweight division, kicking off her 135 lbs career against a high ranked veteran of the sport.
Prediction: Calvillo to win via Decision
Marvin "The Italian Dream" Vettori vs Karl "Baby K" Roberson
Having had their first fight, originally scheduled for May 2020, fall through due to a bad weight cut for Roberson, there now appears to be real bad blood between these two Middleweight contenders. The two fighters had an altercation in the fighter hotel following Roberson's weight miss.
With 4 wins in the UFC, including a victory over UFC veteran Cezar Ferreira, Vettori is one of the biggest prospects of his division. He also went 3 rounds with now Champion Israel Adesanya, giving "The Last Stylebender" one of the closest fights of his career. Whilst predominantly known for his striking, Vettori has amassed 8 submission victories in his career. This is testimony to Vettori's well roundedness, and ability to push the fight regardless of where it ends up.
A former kickboxer, Karl Roberson made the transition to professional MMA in 2015. He quickly picked up a win streak that led to an appearance on Dana White's Contender Show, where he knocked out fellow prospect Ryan Spann in just 15 seconds. Since then, Roberson has gone 4-2 in the Octagon, defeating the likes of Jack Marshman and Darren Stewart. Roberson appears to enjoy rolling with the punches just as much as he enjoys entering wrestling exchanges, which could point to this being a hard fought brawl where cardio could be key.
Prediction: Vettori to win via Decision
Merab "The Machine" Dvalishvili vs Gustavo Lopes
Fighting out of Georgia, Merab Dvalishvili is currently on a 3 fight win streak in the UFC's Bantamweight division. He was originally scheduled to face UFC veteran Ray Borg, however Borg would become unavailable. This has led to the UFC calling up Gustavo Lopes for his UFC debut.
A Bantamweight Champion for Combate Americas, Gustavo Lopes has amassed a record of 11-4, and is currently coming off a three fight win streak. His record includes 5 KO's and 5 submissions, indicating his prowess as a complete mixed martial artist.
Training with the Serra-Longo Fight Team, Dvalishvili is beginning to show glimpses of a fighter who could one day be a future title challenger. His cardio is immense, often grinding out opponents over three rounds, using sambo throws to dominate the cage.
Prediction: Dvalishvili to win via Decision
Andre "Touchy" Fili vs Charles "Air" Jourdain
In a fight that is very much veteran vs rising prospect, Andre Fili takes on Charles Jourdain to see who will progress into the Featherweight rankings.
Still only 29, Andre Fili has been fighting in the UFC since 2013, with a UFC record of 8-5. These fights have included match ups with some of the all time Featherweight greats, such as Yair Rodriguez and Max Holloway. However Fili has often fallen afoul to judges decisions going against him, an aspect of his game that he plans to change.
With only 2 fights for the UFC so far, Charles Jourdain is still very much untested. However, a TKO victory over Doo Ho Choi put Jourdain on the rader of MMA media and fighters alike. Still only 24, Jourdain has never had a fight he's won go to decision, with 7 KO's and 3 submissions to his name.
Prediction: Jourdain to win via KO/TKO in the second round
Ready for takeoff! ✈

🇨🇦 @JourdainAir is ready to earn contender status! #UFCVegas2 pic.twitter.com/x6oPiUScre

— UFC (@ufc) June 9, 2020
Jordan Espinosa vs Mark "Bumblebee" De La Rosa
A Flyweight bout between between two fighters trying to end their losing streaks. The loser in this fight could well find their time with UFC to be cut short.
Holding a 14-7 record, Jordan Espinosa came into the UFC on a 4 fight win streak, impressing in his first Octagon outing with a decision win against Eric Shelton. Since then, Espinosa faced Matt Schnell and Alex Perez, two of the best the division had to offer. Espinosa came up short in both fights, tapping to two variants of triangle chokes. Now facing off against De La Rosa, he will attempt to get his UFC career back on track.
When Marl De La Rosa made his UFC debut, he was riding a 9 fight win streak, and looked to be a new prospect for the Flyweight division. However, this was quickly put on hold as Tim Elliott submitted him in is first fight inside the Octagon. De La Rosa would bounce back despite this, picking up wins against Elias Garcia and Joby Sanchez. However De La Rosa has now not won a fight since 2018, and is on a 3 fight losing streak. He must defeat Espinosa if he wishes to remain fighting for the UFC.
Prediction: Espinosa to win via Sub in the second round.
Mariya Agapova vs Hannah "Shockwave" Cifers
Charles "Boston Strong" Rosa vs Kevin "Angel of Death" Aguilar
Julia "Raging Panda" vs Gina "Danger" Mazany
Tyson Nam vs Zarrukh "The Lion" Adashev
Jordan "The Native Psycho" Griffin vs Darrick Minner
Christian "The Beast" Aguilera vs Anthony "Aquaman" Ivy
We hope you enjoyed the article 'UFC Fight Night Eye vs Calvillo: Main Card Preview and Predictions.'
What are your predictions for UFC Fight Night Eye vs Calvillo? Let us know!
If you liked this article why not check out:
Top 5 Upcoming UFC Middleweights
UFC 250: Main Card Preview and Predictions