UFC 250: Main Card Preview and Predictions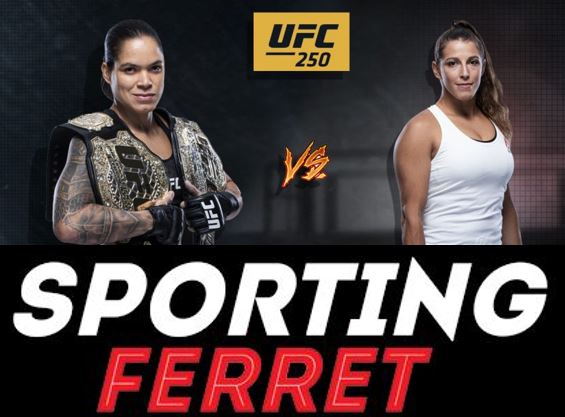 UFC 250: Main Cards and Predictions
The UFC marks it's 250th main event with a Woman's Featherweight clash as the female GOAT Amanda Nunes defends her title against Canadian standout Felicia Spencer. The card also features fights between some of the best Bantamweights on the planet, with the division wide open after former Champion Henry Cejudo's retirement.
Amanda "The Lioness" Nunes vs Felicia "FeeNom" Spencer
With wins over the best women's MMA has to offer, including Ronda Rousey, Valentina Schevchenko and Cris Cyborg, Amanda Nunes is undoubtedly the female GOAT. However since winning the Featherweight title off Cyborg in 2018, Nunes has not yet returned to the 145 division.
"The Lioness" is currently riding a 10 fight win streak, 5 of which left her with post fight bonuses. During this time she also won the Bantamweight title and defended it 5 times, as well as picking up the Featherweight title. Whilst predominately a striker, having annihilated Rousey and Holly Holm on the feet, she has also showed her willingness to take the fight to the ground. Nunes held a takedown success rate 72% against her last opponent Germaine de Randamie, completing 8 out of 10 takedowns to pick up the unanimous decision victory. However, her bread and butter will always be her ruthless striking, with 13 of her 19 victories coming via knockout.
A former Invicta Featherweight Champion, Felicia Spencer is a relentless grappler with smothering ground and pound. She also holds a black belt in Taekwondo, giving her options on the feet as well. Unlike Nunes, Spencer is a natural 145er, and has even fought at lightweight before. With a 7-1 record, Spencer does not have the same experience as Nunes. However, she has been consistently active, with 6 of her 8 fights all occurring over the past 3 years. Since entering the UFC in 2019, Spencer has defeated both Zarah Fairn Dos Santos and Megan Anderson, whilst also going an impressive 3 rounds with Cris Cybrog in a decision loss.
Prediction:
Amanda Nunes to win via KO – Round 2
Cody "No Love" Garbrandt vs Raphael Assuncao
Former Bantamweight champion Cody Garbrandt is set to attempt to shake off a losing skid he has recently been on. Against him is the explosive Brazilian Raphael Assuncao, who is also coming off losses. However do not let their recent runs of form fool you, these are two of the most elite and exciting fighters the division has to offer.
Cody "No Love" Garbrandt is an intriguing fighter, in that he has shown in the past that he is undoubtedly one of the hardest hitting fighters in the 135 division. This is made evident by his first round KO of Thomas Almeida. However, he has also showed a technical maturity of such a high level that he was able to piece apart the man who was once considered the Bantamweight GOAT, Dominic Cruz. In the Cruz fight, Garbrandt not only demonstrated the power in his hands, but also his ability to dodge, weave and counter. However in his recent bouts against TJ Dillashaw and Pedro Munhoz, Garbrandt has drawn criticism from his "glass jaw", as well as his tendency to swing wildly with little technique.
A product of Ascension MMA, Raphael Assuncao has procured one of the most impressive resumes in the Bantamweight division over his 34 fight career. Assuncao has an impressive 27 wins to his name, having defeated some of the best in his division. TJ Dillashaw, Aljamain Sterling and Marlon Moraes have all been defeated by the Brazilian. However he is currently coming off a 2 fight losing streak, having picked up losses to Moraes and Sandhagen in 2019.
Assuncao holds a variety of finishes on his record, with 4 wins by knockout, 10 by submission and 11 by decision. He is a very well rounded fighter, regardless of where the fight is taken. His main flaw is that he does not have a huge amount of knockout power in his hands, especially when compared to the hard hitting Garbrandt.
Prediction:
Cody Garbrandt to win via KO – Round 3
Cory "The Sandman" Sandhagen vs Aljamain "Funk Master" Sterling
A fight that will most likely produce the next number 1 contender for the Bantamweight title, Sandhagen vs Sterling promises to be a masterclass in mixed martial arts.
Cory Sandhagen is one of the most underrated contenders in the whole UFC. With wins over Raphael Assuncao, John Lineker and Iuri Alcantara, Sandhagen is undoubtedly the dark horse of the division. Much of his success has come through the use of excellent standup work, using jabs and feints to push a constant high pace fight onto his opponents. He also has good wrestling defence, specialising in a kimura trap that forces a scramble, allowing him to disengage from his opponent. Add to this the odd flying knee, and you have an extremely versatile and dangerous fighter.
Aljamain Sterling fights with a very unique style that often either disrupts his opponents flow, or lulls them into a false sense of security, before launching rapid combinations at them. The "Funk Master" lives up to his name with not only unorthodox striking, but also with his body movement. However Sterling really specialises in wrestling and takedowns. He has also displayed some really high level submission skills, picking up a kneebar finish against Cody Stamann.
Prediction:
Aljamin Sterling to win via Decision
Neil Magny vs Anthony Rocco Martin
Neil Magny has become somewhat of a gatekeeper for the Welterweight division in recent times. With flashes of excellence in wins against Kelvin Gastelum and Carlos Condit, Magny has looked primed to go on to challenge for gold several times. And yet he has always fallen short just before achieving greatness, with losses to other rising prospects such as Santiago Ponzinibbio. However he is undoubtedly a legitimate fighter, having defeated Li Jingliang in March 2020.
Magny faces tough opposition however, in the form of Anthony Rocco Martin. With a 17 – 5 record Martin has been fighting in the UFC since 2014. Martin actually lost his first two fights in the UFC, to Rashid Magomedov and Beneil Dariush respectively. However since then he has picked up 9 wins in the UFC, with only 3 losses. This will most likely become a classic grappler vs striker, with Martin attempting to employ his high level ground game upon the stand up specialist Magny.
Prediction:
Martin to win vis Sub – Round 2
"Sugar" Sean O'Malley vs Eddie Wineland
Sean O'Malley is one of the UFC's biggest prospects, currently holding an undefeated 11-0 record. After defeating Jose Quinonez in March, O'Malley is hoping to continue his rapid rise in the Bantamweight division.
Eddie Wineland has been fighting in the UFC since 2011, having faced some of the divisions greatest over that time. His actual MMA career began in 2003, when O'Malley would have only been 8 years old. Since then Wineland has put together a record of 24 wins and 13 losses.
The fight certainly seems to be in O'Malley's favour. With the young surging prospect facing off against a fighter now way past his prime. However Wineland certainly still has the power in his right hand to switch off the lights for O'Malley. Despite this, O'Malley is such a threat, with unorthodox kicks, as well as much more range than Wineland.
Prediction:
O'Malley to win via KO – Round 1
UFC 250 Date?
Sunday 7th June 2020.
UFC 250 Start Time?
UFC 250 main card will start at 3am (UK time). The preliminary card will be broadcast from 1am (UK time)
Prelims:
Alex "Bruce Leeroy" Caceres vs Chase "The Teenage Dream" Hooper
Ian "The Hurricane" Heinisch vs Gerald "GM3" Meerschaert
Cody "Mr Wonderful" Stamann vs Brain "Boom" Kelleher
Charles "Kid Dynamite" Byrd vs Maki "Coconut Bombz" Pitolo
Early Prelims:
Jussier Formiga vs Alex Perez
Alonzo Menifield vs Devin "Brown Bear" Clark
Evan Dunham vs Herbert "The Blaze" Burns
We hope you enjoyed the article 'UFC 250: Main Card Preview and Predictions.' What are your predictions for UFC 250? Let us know!
Fancy writing for us: Apply to become a Sports Writer at the Sporting Ferret
If you liked this article why not check out:
Top 5 Upcoming UFC Featherweights
Top 5 Upcoming UFC Welterweights
Who Will Conor Mcgregor Face Next?
Top 5 Upcoming UFC Lightweights