Should the UFC Release Jon Jones?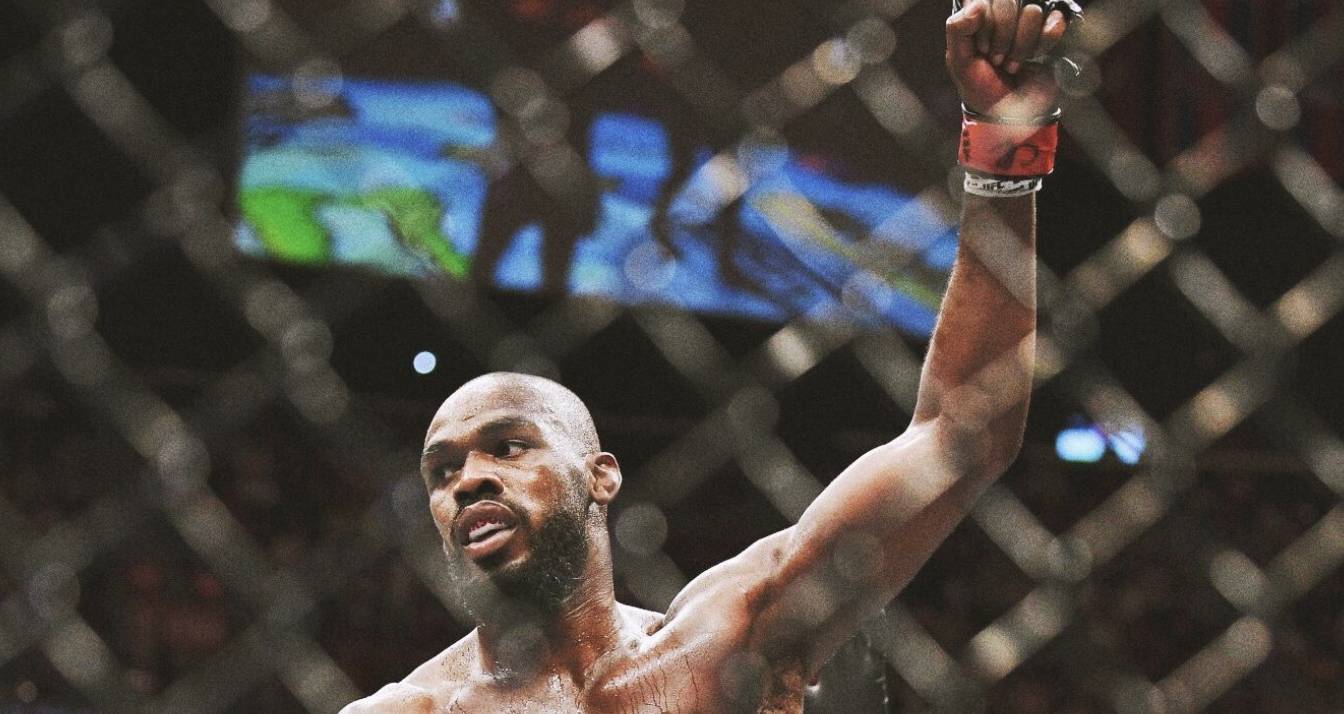 Can Jon Jones realistically be kept by the UFC?
Jon Jones: the promotion's youngest ever champion. Tied for the most title defences in UFC history, with the record for the most title fight wins. A Hall of Fame entry. The longest Light Heavyweight title reign. Twenty-six wins, one loss. Four failed drug tests. One hit-and-run conviction. Two DWIs. One firearm charge. One battery charge, and now arrested for domestic violence. Bones' animalistic nature is one which has paid its dividends in the octagon, but obviously has little scope for containment in society. Fans continue to speculate on Jones' concerning future, while the promotion has taken its ever-present 'hands-off' approach to dealing with fighters' legality issues.
Most athletes nowadays share the same robotic personality in front of camera, one which has been drilled into them through hours upon hours of media training. Combat sports, however, have the ability to boast outlandish characters and foul-mouthed entertainers to their audiences, with few ramifications. This mentality has given MMA enthusiasts some of sports' most captivating personalities, and without it the world would never have been introduced to the likes of Jones. But it must also take responsibility when these personalities extend beyond acceptance.
To question the 34-year-old's combat genius would be incorrectly driven by recent events. Few come close to matching Jones' MMA skillset, and his dominance at the UFC's peak has left him regarded by many as the most devastating fighter to set foot in the octagon. Standing at six foot and four inches, his long limbs allowed for the perfect execution of a diverse striking ability. Mix these physical attributes with an incredible fighting IQ, and you have an athlete capable of governing their division. In fact, the American's sole loss came via disqualification (DQ) due to an illegal elbow on Mark Hamill back in 2009; if he'd thrown any other shot, a finish would certainly have come.
Unfortunately, those intelligence levels have never been applicable outside the octagon.
Drug Issues
The utilisation of performance enhancers has become a well-documented issue in a variety of competitive sports, few more so than MMA. Some of the UFC's biggest stars have been flagged for the use of prohibited substances, and the likes of Anderson Silva and T.J. Dillashaw have paid momentarily for their involvement.
Jon Jones, however, has experienced a long period of troubles with USADA especially, and not just for the use of PEDs. Prior to UFC 182, it was announced that he had failed a drugs test, which had returned positive for benzoylecgonine, the primary metabolite of cocaine. Yet Jones still managed to participate in the event, as the drug was not prohibited out-of-competition by the World Anti-Doping Agency.
Eighteen numbered UFC events later, and the American was set to take on fierce rival Daniel Cormier for the championship belt. One day before the matchup was meant to take place, Jones tested positive for two different 'hormonal modulators', and was subsequently issued a one-year suspension from the sport. It should be noted that throughout the process, he maintained his innocence, and was judged by the board to have not taken these substances intentionally.
Not for the final time, either. Advance just over a year, and the LHW champion had emerged victorious from his rematch with Cormier in impressive, yet standard, Jon Jones fashion. But with Bones, it's barely ever the entire picture. It was announced he'd been investigated for the possible use of anabolic steroids a few weeks later, and the result of the rematch had been overturned to a no-contest. Jones found himself on the end of another suspension for the second time in fourteen months, yet the severity had increased, with four potential years away from the UFC.
Again, he claimed he'd taken these substances unknowingly, and those that surrounded him believed that he'd ingested a contaminated substance. The ability to take the honest word of a man with such history is sceptical at best, however this, combined with Jones providing USADA with evidence of another athlete's substance abuse, meant that his sentence was knocked down to only eighteen months. This final known use almost cost him another drug test further down the line, yet medical experts were able to decipher that these symptoms were due to a 'pulsating effect' from before.
Jon Jones vs Daniel Cormier at UFC 182…

Two men who don't like each other leaving it all in the Octagon 👏#UFC239 pic.twitter.com/yrZiZIXgSU

— UFC on BT Sport (@btsportufc) July 4, 2019
Jon Jones' Run-ins With the Law
Jones' disciplinary record reads out like that of a maniac. If truth be told, a solid description. Controversy has been an ever-present disciple of the fighter throughout his career within the promotion. The former Light Heavyweight (LHW) champion's first conviction came in 2012; he was arrested for DUI charges in New York after driving his Bentley into a street pole. Jones' driving licence was suspended for six months after paying a $1000 fine, yet for the future Hall of Fame member, this would just act as a warmup (minus the shadowboxing).
Just under three years later, Bones found himself stripped of his belt and multiple sponsorship deals (including Reebok) following an arrest on hit-and-run charges in Albuquerque. The then-28-year-old had fled the scene, leaving a pregnant woman injured and a marijuana-filled pipe behind in his car. Jones was no longer lauded as the LHW champion after pleading guilty, and found himself under an 18-month supervised probation. The New Mexico city was to also be the scene of his next two police encounters, and in mid-2019, the American was charged with battery after reports had surfaced describing a violent encounter with a cocktail waitress.
Seven months ahead, and Jones had still failed to learn from his past mistakes, as he was charged with another DWI case. His breathalyser test had registered over twice the legal limit, and a handgun was found beneath the driver's seat. After pleading guilty, another probation period started (this time for a year), and several further charges were added to the fighter's collection.
Latest Conviction
Unfortunately, present day has spelled no end for the 34-year-old's damaging lifestyle. For once, recent news had been circulating about an actual return to the UFC, and Jones had been conducted into the promotion's highly regarded Hall of Fame, alongside MMA legend Georges St Pierre. He'd even tweeted that he planned to fight against the winner of Heavyweight champion Francis Ngannou and interim titlist Cyril Gane in the second quarter of 2022. It seemed that maybe, just maybe, his fighting career was starting to take shape again.
But of course, this supposed turnaround would never last.
Just hours after his induction, Jones was arrested in Las Vegas and was faced with charges of battery domestic violence and injuring and tampering with a vehicle. According to police reports, officers were called to Caesars Palace as the fighter's fiancée, Jessie Moses, was found bleeding from her nose and mouth. Again, Jones had fled the scene, but was picked up by another unit outside the hotel. He's set to appear in court on October 26, after a judge found probable cause for the former LHW champion's arrest.
It appears to be the most condemning story in a long line of deeply disturbing cases. MMA enthusiasts will have to wait until his court showing to know the full extent of his crimes. But if previous convictions and compelling evidence are anything to go by, many can see only one outcome.
Jon Jones accepts his first UFC Hall of Fame induction.

[ @JonnyBones | #UFCHOF | Hall of Fame Presented by @ToyoTires ] pic.twitter.com/00u6uBKgvA

— UFC (@ufc) September 24, 2021
Should Jon Jones be banned from competition?
When an individual makes a crucial mistake in their life, it's very easy for audiences to suggest punishments of a draconian nature. Current culture seems to permit criticism of the highest order for celebrities especially, and we've seen instances where those in the spotlight have received misplaced condemnation without knowledge of the required facts.
However, this isn't one of those times.
Look, Jones has obvious psychological issues that need seriously addressing. But there's often a spectrum in these scenarios where a person's actions can only be blamed on their mental wellbeing up to a certain point. Forgiveness becomes nigh-on-impossible when there's repeat offences, and frequently little to no understanding or remorse about the consequences. These cases are occurring far too often. For proof of how Bones feels about his latest court case, look no further than his Instagram story the following day.
As if using Randy Newman's You've Got a Friend In Me (a song closely associated with a series of children's films) as a condescending backing track wasn't strange enough, the 34-year-old seemed to believe a workout video was the correct form of apology. The entire post comes across as another egotistical ploy by the fighter, and his use of 'inspirational' quotes is quite simply baffling. To preach Christianity after committing an act so shameful seems to be Jones hiding cowardly behind his faith. The devil didn't commit this act of battery. He did.
Jon Jones posted an Instagram story of him doing a bench press this evening. On the story were several phrases, including: "I have way too much trauma to consume alcohol, my brain simply can't handle it anymore. I will leave alcohol in my past forever." pic.twitter.com/lnvxWjls3U

— Marc Raimondi (@marc_raimondi) September 29, 2021
This is where the UFC needs to step up and finally assert some dominance over their once-golden boy. Jones' morals are clearly misaligned with any principles that the promotion wants to convey, particularly as shown recently. Dana White doesn't set up a title bout between Kamaru Usman and Amanda Nunes for obvious reasons, so why should he continue to employ someone who thinks it's acceptable in general society?
The UFC President was recently quoted: "We'll see how this plays out legally for him and where this ends up going." As always, it's difficult to comment on a legal matter until a final verdict, but does he really need any more proof? It's an apathetic stance which distances the promotion from any involvement in the controversy, but this tip-toeing approach has been used too many times. Jones' repeat offences could almost be attributed to a lack of serious commandment by those who run MMA.
Of course, there's an issue of whether releasing Jones will send him even further over the rails. At least the promotion can keep a watchful eye on him if he's under their much-discussed payroll (although it doesn't seem to have helped much yet). The 34-year-old may feel purposeful while he's actually employed by a company, and too much spare time would surely increase the likelihood of further run-ins with the police.
What lies ahead for the former champion remains a mystery. Fellow light-heavyweight Dominick Reyes recently stated he hopes the UFC keep Jon Jones on so he can "beat him up again." He controversially lost his bout against Jones, a fight in which many believe the latter was fortunate to win.
Morals will be put into question for other promotions; you could gain one of MMA's greatest ever competitors, but what message will that send out? Will any be willing to deal with whatever controversy Jones next gets involved in?
It should be said that, whilst writing this piece, the UFC have just released lightweight Luis Peña following his arrest on charges of battery and domestic violence. Evidently, the UFC seem to be less reluctant to deal with their lesser stars – if Peña brought in the numbers that Jones has managed, would this article be written about him?
When White was asked whether the same punishment could happen to the American, he replied:
"Something like that could happen to anybody."
Dana White on Luis Pena and asked if the same could happen to Jon Jones. pic.twitter.com/nBbWyrRJdp

— Jed I. Goodman © (@jedigoodman) October 13, 2021
We hope you enjoyed the article 'Should the UFC Release Jon Jones?' Do you think the promotion should keep the former Light-Heavyweight champion on their books? Let us know!
Read more on sport below: