The Future of the UFC Heavyweight Division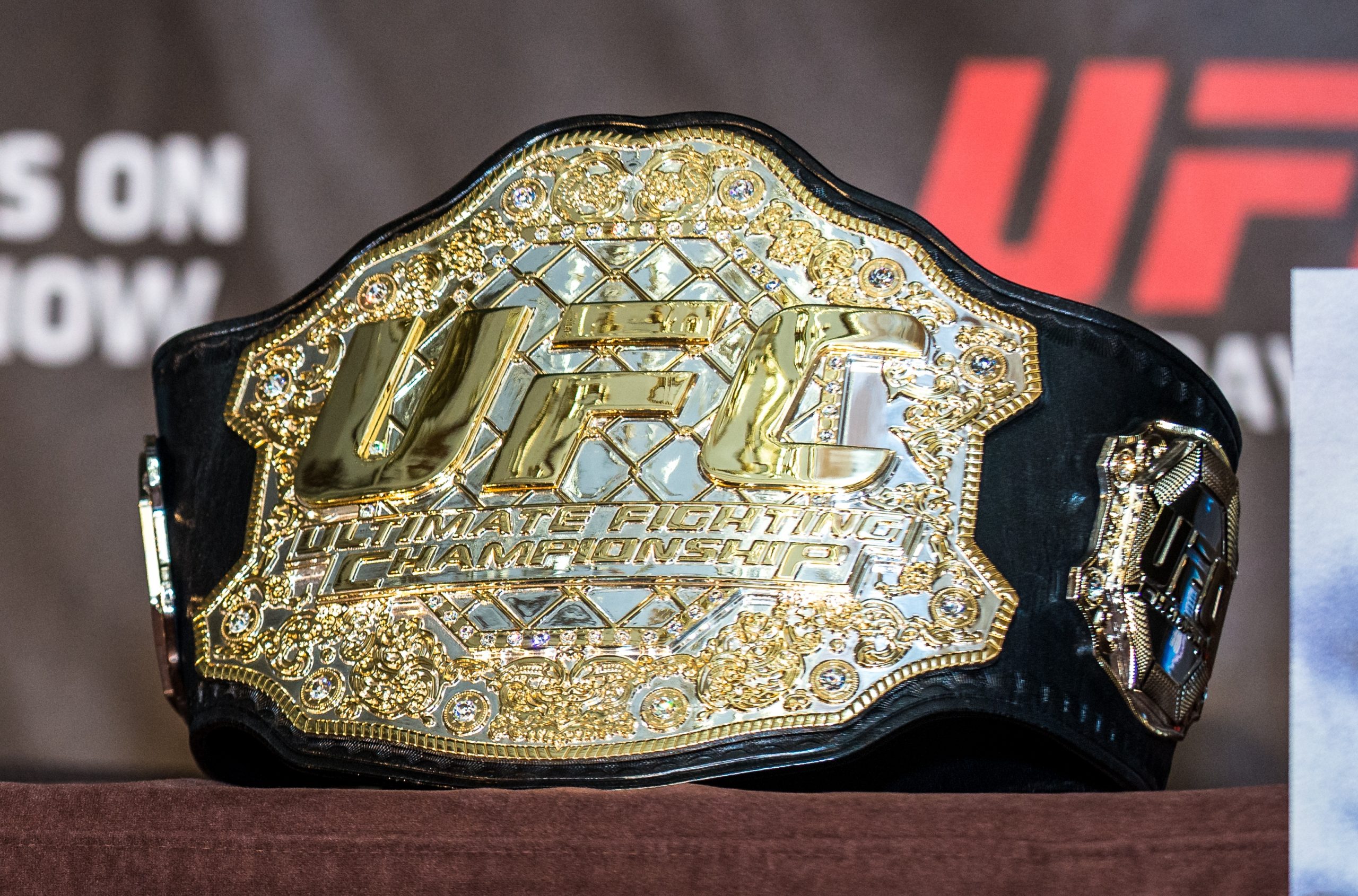 What does the future hold for the UFC's Heavyweight Division?
The UFC Heavyweight Division has been home to some of the sport's biggest stars throughout its existence. Millions have watched fighters such as Cain Velasquez, Daniel Cormier and Stipe Miocic battle their way to championship belts. Mirroring boxing as the class with the heaviest hitters, the division remains one of the octagon's most enthralling spectacles. Tune in, and expect to witness brutal knockouts and ferocious ground-game, ruthlessness that can't be matched elsewhere in MMA.
The UFC Heavyweight Champion – Who holds the Crown?
At the top of the UFC heavyweight division stands the destructive Francis Ngannou, following a dominative win against class legend Miocic. Viewers of UFC 260 witnessed a masterclass in both boxing and takedown defence from the Cameroonian. Two minutes in, a flurry of strikes from the challenger struck the title defender in quick succession, causing a recognisable amount of damage. Stipe's chin caught a swift yet mighty roundhouse kick exactly halfway through the first round, marking the beginning of the end for the American.
Round two proceeded to play out no different than its predecessor. It took just forty-two seconds for Ngannou to land a vital left-hand straight, dropping his counterpart forcefully to the canvas. Stipe was stunned. The 38-year-old's situation was only worsened by a series of uppercuts, eventually setting up the bout's conclusive blow. A short but devastating left-hook signalled lights out for 'Stone Cold', and Ngannou was titled the greatest heavyweight in the world.
Following years of missing out on that mouth-watering belt, the 34-year-old had finally reached the heavyweight division's summit. After a succession of losses two years prior, including a bore-fest against Derrick Lewis labelled by many as an embarrassment for the UFC, 'the Predator' has lived up to his once-frightening potential. A multitude of challengers await Ngannou, but who the first will be could depend upon another colossal bout taking place on August 7.
UFC 265
When a top matchup is booked in the heavyweight division, it captures all eyes, and for good reason.
This Saturday marks a bout between the fearsome Derrick Lewis and the unbeaten Ciryl Gane, in the first heavyweight main event on a numbered card since Ngannou's coronation. As recently announced, the duo are set to fight to become the class' interim champion, a decision that has both puzzled and excited many. Considering the UFC's announcement had only recently been revealed, fans were made sceptical of behind-the-scene goings-on between the company and its UFC heavyweight fighters.
UFC President Dana White was quick to outline his explanations for the decision, explaining it was the consequence of needing to keep to the promotions' tight schedule.
Speaking to UFC Arabia, White said: "What happens is, we run a business and we put on fights every Saturday night.
"We needed to do that fight (Ngannou vs. Jones) in Houston, we couldn't get the deal done, so we did an interim title fight, which absolutely makes sense."
Lewis and Gane have previously confirmed themselves as two of the finest fighters in the UFC heavyweight division; an interim bout before a potential title decider will build such a hype amongst enthusiasts that other propositions will be swiftly forgotten. Combining an iconic heavyweight fighter with a newcomer on the block makes for a fascinating encounter. For twenty-five minutes, the octagon will be home to two warriors, both who withhold the ability to finish it way before the fifth bell.
UFC is adding an interim heavyweight title fight between @Thebeast_ufc and @ciryl_gane to UFC 265 on Aug. 7, Dana White told @bokamotoESPN.

The promotion tried to book Lewis against Francis Ngannou, but Ngannou informed them he wouldn't be ready to defend his title by August. pic.twitter.com/vHQwb77YXI

— ESPN MMA (@espnmma) June 28, 2021
How do Lewis and Gane compare?
Few can be mentioned in the same breath as Lewis when it comes to knockout power. The 'Black Beast' made sure make rival Curtis Blaydes aware of this in his previous bout, stunning the UFC world with a perfectly timed uppercut to his opponent's low, advancing posture. A deafening crack was followed by the thud of Blaydes' limp body hurtling towards the octagon floor. Of course, the 36-year-old's signature celebration signified a victorious end to the bout, slamming his fists against his chest in an animalistic motion. The American's punch power is easily comparable to that of boxer Deontay Wilder, showcasing how only one big strike is required to finish his fights. Claiming the twentieth knockout of his career, Lewis re-emerged as one of the most frightening contenders in the heavyweight division.
The rapid materialisation of Gane has awed UFC enthusiasts across the globe. Although the Frenchman is typically known as a striker, it's his versatility in varying scenarios which make him so electrifying to watch. Notably unbeaten in both his Muay Thai and MMA career, 'Bon Gamin's' fanbase has multiplied in recent times. Gane, who is of Guadeloupean descent, boasts impressive wins versus Alexander Volkov, Jairzinho Rozenstruik and former heavyweight champion Junior Dos Santos.
Although his knockout blow against the latter has had its legality questioned, there's no denying the sheer diversity of strikes the 31-year-old has at his disposal. Kicking with an aurora of power, the Frenchman likes to create openings with a snappy jab. Combining this with a reliance on feints makes up for a dangerous proposition for any opponent. Gane also fights out of the same camp that built Ngannou (and has even sparred with him), which could certainly give him an advantage if he was to earn himself a title bout.
UFC 265's main event is one of great importance for the future of the heavyweight division. Fans will be expecting a blockbuster matchup, their eyes glued to the screen in anticipation of an early finish. Whoever emerges as victorious will surely be the next in line to face the formidable Ngannou?
The Heavyweight Division's Next Big Star
Heavyweights can generally keep going until an older age, meaning you can never write a fighter off at this weight class from making it to #1. Due to the required skill-set being focused on power more than agility, those weighing between 93 and 120kg have a much broader age range when forcing their name into the UFC pool.
As mentioned, despite being vastly experienced and insanely talented in MMA, Gane remains relatively new to the UFC. He's already taken down some of the heavyweight division's top contenders, and next on his hitlist is the interim title. With many years hopefully left at top of his game, and a record ending in 0 so far, there's no telling what 'Bon Gamin' can achieve in his prime.
It's rare to see an Englishman dominate any given division in the UFC, so when Tom Aspinall submitted Andrei Arlovski via rear-naked choke just a minute into the second round, he certainly had the backing of the country behind him. Great performances earn giant contracts, and Aspinall has certainly delivered so far. With a UFC record of 3-0, the 28-year-old boasts two first round knockouts, as well as two Performance of the Night bonuses. Currently ranked #13 in the heavyweight division rankings, it wouldn't be controversial to make a case for the Mancunian.
Tom. Aspinall! 💥

This man is a problem! 😤 pic.twitter.com/REeqdu7bGB

— UFC on BT Sport (@btsportufc) February 22, 2021
Chris Daukaus is another fresh face that seems to be making strides in the weight class. The #10 ranked fighter (who works on the side as a police officer) also holds a UFC record of 3-0, claiming two Performance of the Night bonuses in his previous two fights. Predominantly seen as a striker, Daukaus has left fans craving more appearances in the octagon. After winning all but one of his 11 professional MMA victories via TKO/KO, the American certainly brings excitement to cameras, and a main card event might soon be in store if he can continue his winning streak.
When a fighter's only ever loss in professional MMA is to a sport veteran like Alistair Overeem, it speaks volumes about their potential ability. It should also be noted for Sergei Pavlovich this was his UFC debut, showing how truly impressive the Russian has already been. After taking his only loss quite literally on the chin, Pavlovich set to establishing himself in the heavyweight division. 2019 proved to be a highly successful year for the Orlovsky-born martial artist, securing two first round knockouts and a Performance of the Night award in the process. Unfortunately, the 29-year-old would be ruled out until present day after surgery. This included missing out on a scheduled bout with the previously discussed Ciryl Gane. However, it looks as if he will be returning soon, especially if his Instagram is anything to go by.
Sergei Pavlovich gets it done in the first-round again 🙌

Raining punches down in Singapore! pic.twitter.com/6qC9tQ2Biw

— UFC on BT Sport (@btsportufc) October 26, 2019
What's next for the Heavyweight Division?
After rumours of a proposed clash between Ngannou and UFC legend Jon Jones broke, many thought it would be the next title decider in the sport's biggest division. The duo had been involved in back-and-forths on Twitter, only building more and more hype in the fight community. Of course, the latter would have to bulk to travel up a weight class. But bulk he did. Pictures of Jones emerged on social media, with the once-champion looking in the best shape he'd ever been in.
Alongside these photos, Jones took to Twitter: "Only God knows what this heavyweight journey is going to look like. I've always had this thing where I've wanted to win 20 championships."
He continued: "Think about how many people rampage (Quinton Jackson) knocked out before facing me. Dominic Reyes knocked everyone out before me. Gus was a knockout machine. None of them could do it.
"DC, OS, you name them. Same story."
Of course you don't willingly take punches from anyone. Think about how many people rampage knocked out before facing me, Dominic Reyes knocked out everyone before me, Gus was a knock out machine, none of them could do it. DC, OSP you name them. Same story https://t.co/7FC8By0DoI

— BONY (@JonnyBones) June 25, 2021
The hype was gaining momentum, particularly with Ngannou coming off the back of five straight finishes and a title win against a future heavyweight division Hall of Famer. This unfortunately made it even more crushing for UFC enthusiasts when it was announced that the bout was off for the foreseeable future. Contractual and financial roadblocks had prevented the clash from taking place, with White claiming Jones had demanded $30 million on his return.
Speaking on The Ringer podcast, White claimed: "He's (Jones) talking he wants $30 million guaranteed. These guys all share pay-per-view, so he will share in the profits of the fight.
"That's how it works; that's how you run a business and you don't go broke. We tried to work with Jon, and we eventually have to move on."
With Jones seemingly pricing himself out of an octagon homecoming, the winner of UFC 265 seems set to challenge Ngannou for the belt. Whether or not this is The Punisher's first choice seems irrelevant, unless a settlement can be made for the 'money fight'. Whoever next rises as a contender, however, will certainly have earned the right to share the octagon with the Cameroonian.
Many were worried following the departures of Daniel Cormier, Cain Velasquez and Randy Couture, yet the division has continued to flourish and maintain its status as one of the most fascinating in the sport.  With a young crop of both talented and devastating fighters making their way through the heavyweight divisions ranks, it's almost impossible to call who will next dominate the weight class.
UFC Heavyweight Rankings
– UFC Heavyweight Champion – Francis Ngannou (16-3-0)
Stipe Miocic (20-4-0)
Derrick Lewis (25-7-0)
Ciryl Gane (9-0-0)
Curtis Blaydes (14-3-0)
Alexander Volkov (33-9-0)
Jairzinho Rozenstruik (12-2-0)
Shamil Abdurakhimov (20-5-0)
Marcin Tybura (22-6-0)
Augusto Sakai (15-3-1)
Chris Daukaus (11-3-0)
We hope you enjoyed the article 'The Future of the UFC Heavyweight Division'. Who do you think will win UFC 265? Let us know!
Read more on sport below: