Who is the Greatest England Cricket Captain?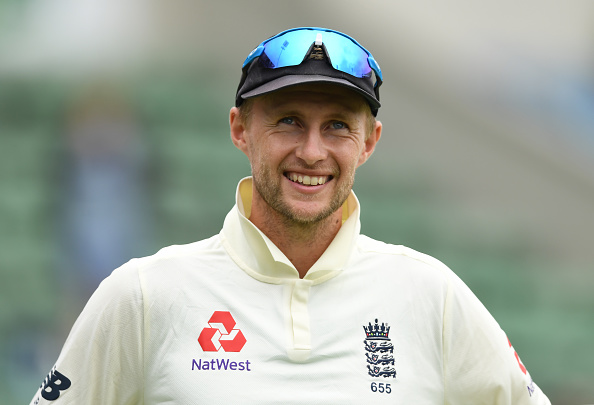 Who are the most successful England Cricket Captains?
Who is the Greatest England Cricket Captain?
This is one of cricket's greatest debates. The question of English Cricket's greatest captain is one that rarely reaches universal agreement. Nevertheless against any wiser judgement, this article will try to find a way through the debate and answer who really is the greatest England Cricket captain?
There are several key distinctions to be made. This is an article focusing only on Test Cricket captains. It is the purest and greatest form of the game. Considering that it alone stretches back to the inception of cricket, its successful captains are the best choices for the greatest captain. Of course, a more controversial area of the article is what defines a truly great cricket captain? It is vital to acknowledge that this is not a debate about England's greatest ever player. The quality of a captain is not found in playing ability alone. It is instead found in their leadership and the circumstances of their tenure. While this article will focus on the statistics of previous England captains, due notice will be paid to the circumstances of each captain's reign. Naturally, statistics will remain central to the debate between each English Cricket captain, but they never tell the whole story. As Benjamin Disraeli famously said: "There are three kinds of lies: lies; damned lies and statistics."
WG Grace: 1888-99; won 8/13 (62%)
Perhaps the game's greatest early player and unquestionably one of its legends. But WG Grace does not hold a very strong case for being England's greatest cricket captain. The game was in its infancy, the competition was not at the level of modern cricket and his reign of 13 matches pales in comparison to those who led England in over 50 matches. One of cricket's greatest players albeit not the greatest England Cricket captain.
❇️ 54,211 runs and 2,809 wickets in first-class cricket
❇️ Scored the first ever triple century
❇️ Scored the first Test century for England#OnThisDay in 1848, a cricket pioneer – WG Grace – was born! pic.twitter.com/aU6uWj0anQ

— ICC (@ICC) July 18, 2020
Douglas Jardine: 1931-34; won 9/15 (60%)
Douglas Jardine is a man infamous for his battle against Donald Bradman and his Australian cohort. The bodyline tour was a defining moment in Test Cricket and resulted in new rules that restricted fielding placements and aggressive deliveries. There should be little doubt that Douglas Jardine changed cricket and for the better. However it was not because of his fine example that it changed, rather it was due to his controversial manipulation of the rules. This is an article that holds the "Spirit of Cricket" in high regard and it is an important part of each captain's evaluation. Moreover considering that Jardine only led the England side for 15 games and scored only 1 century in 22 tests, his case for being the greatest England Cricket captain is a limited one.
Len Hutton: 1952-55; won 9/20 (45%)
Len Hutton has a firm case for being England's greatest cricket captain. He crucially overcomes the traditional difficulty of England captains, in that his performances remained of the highest quality during his reign. Hutton was an opening batsman and of the highest quality. Holding a Test average of 56.67, which is remarkably higher than his First Class average of 55.51, his top score of 364, in 1938, remained a cricketing record for 20 years. During this innings he was at the crease for an immense 13 hours and faced 847 balls. Although it did not come while he was captain, it was in only his 6th Test. Yet it is the interlude of the Second World War that is perhaps the greatest sign of Hutton's ability. During the war, he sustained an injury to his right arm and yet successfully adapted his batting style for the years that followed.
During his time as captain, Hutton was subject to ample criticism due to his cautious nature. While he did not lead a side that brought excitement to the pitch, his side did the most important thing: win. Anyone can complain about the pragmatic nature of victory, but victory is far preferable to defeat. Even with this in mind, the circumstances of his captaincy only weigh in his favour. After the horror of the Second World War and his winning of the Ashes for the first time in 19 years, Hutton defied the difficulty of his time and led England out of its most gruelling hour into a period of fresh success. Len Hutton should be seen as one of England's finest ever players and holds a serious case for being one of the greatest captains.
? Tests: 79
? Runs: 6,971
? Average: 56.67

His magnificent 364 against Australia in 1938 was the highest Test score at the time, and is an Ashes record to this day ?

England legend Len Hutton was born #OnThisDay in 1916. pic.twitter.com/hkxupXdIXi

— ICC (@ICC) June 23, 2020
Mike Brearley: 1977-81; won 17/31 (55%)
Mike Brearley's statistics as Test Captain are formidable. Brearley lost only 4 tests as captain. One of the most important traits of a successful captain is their ability to get the most out of their squad and this is where Mike Brearley was at his best. His England side included some of the finest players ever to earn a cap: Ian Botham; Bob Willis; Geoffrey Boycott and David Gower. This may seem to be an advantage over other England captains and suggests that his success was not entirely due to him. His 'luck' at having such players in the squad, should however exemplify his ability to manage high quality cricketers: their success should be seen as thanks to Brearley and not the other way around.
The most telling example of England's need for him as captain was in the 1981 Ashes. After he handed the captaincy to Ian Botham, England lost the second Test to Australia and so responded by recalling him to the squad. In one of the most famous Ashes series of all-time, Brearley led England to a 3-1 victory and dramatically reversed the form of Ian Botham. The third Test, dubbed 'The Great Escape', is Brearley's most famous triumph. Botham went from making a pair in the second Test to 50 and 149 in the third Test. He also took 7 wickets. This reversal in form illustrates that Brearley did not just hold a "degree in people" but held a double-first in 'people'. His cricketing intelligence should be viewed in the highest of lights. It was his switching of Bob Willis to the Kirkstall Lane end that incited his spell of 8 wickets for 43 runs. This inspired spell dismissed Australia for 111 and won England the Test. Mike Brearley holds, so far in this article's analysis, the strongest case for being the greatest English Cricket captain.
David Gower: 1982-89; won 5/32 (16%)
This one is easier to consider. David Gower is generally viewed as one of the most stylish batsmen to grace the field of play and rightly so. The timing and stroke play of the left-handed opener made for beautiful viewing. Nevertheless, an inundation of style is not enough to qualify as the greatest English Cricket captain. His weak record of only 5 wins from 32 Tests lies in stark contrast to his batting average of 44.25 and 18 Test centuries. Although some sympathy is in order, as he led England during an era of emphatic West Indian dominance. His record does not stand up to the emphatic success of Mike Brearley, this is perhaps illustrated the most by the fact that Gower only won more Test than Brearley lost.
Mike Gatting: 1986-88; won 2/23 (9%)
This is once again an easy one. The overlapping of Gatting's tenure with that of David Gower highlights this period as one of difficulty. The emphatically low win percentage alone is enough to remove Mike Gatting from the debate of England's greatest captain. His captaincy of the 1990 rebel tour to South Africa consigns him to a most dishonourable viewing.
Graham Gooch: 1988-93; won 10/34 (29%)
Graham Gooch is one of the best examples of an incredible cricketer but an ultimately disappointing captain. While his record easily outdoes that of Gatting and Gower, it is still far lower than Mike Brearley's and it includes a shameful decision. As a batsman, Graham Gooch must be placed with the greatest of all-time. He remains England's second highest Test run scorer with 8900 runs to his name. He scored over 20 centuries at an average of 42.58. His most famous moment as an England player is his 333 against India in 1990 and it is made only better by his score of 123 in the following innings.
Let there be little argument against his playing ability. But argument against his captaincy is very reasonable. The modest success of his tenure already leaves him in the wake of Mike Brearley. His decision to captain the 1982 rebel tour to South Africa places him in entirely different water. This was a decision that supported a regime of apartheid and allowed cricket to become a political tool in support of everything it should stand against. For this decision alone, Graham Gooch would not come close to being the greatest English Cricket captain.
1st batsman EVER to hit 400 runs in a test match & score 300+ and 100+ in any 1st class match!

On this day in 1990, Graham Gooch did whatever he wanted vs this Indian bowling attack pic.twitter.com/NZrEYlu93F

— Rob Moody (@robelinda2) July 30, 2021
Mike Atherton: 1993-2001; won 13/54 (24%)
Mike Atherton falls into a similar category as many before him. He was undeniably excellent batsman but his tenure as captain is not of the same level. His reign was during a time of Australian dominance and the 1990s is widely known as one of English cricket's most painful decades. This was not entirely his fault but he was also not entirely exempt. Firstly, with the bat Mike Atherton was of the high quality. His average of 37.69 is understandably not the highest and his 16 centuries is outdone by a few others on this list. But he remains England's eighth highest Test scorer. His ability to perform when under intense pressure marks Atherton out, as with his brilliant 185 not out against South Africa and an almost unplayable Allan Donald. Atherton might not rest among the best of the best but he most certainly rests among the best.
As a captain however his struggles become more apparent. His England side failed to win any of their series against Australia and routinely struggled against other top-level Test sides. Mike Atherton therefore does not hold the strongest case for the greatest English Cricket captain.
Nasser Hussain: 1999-2003; won 17/45 (38%)
Nasser Hussain held the role of English Cricket captain in a period of improving fortunes for England's Test side and as such he should viewed in high regard. A famously combustible character, his aggressive and intelligent leadership was a vital spark to the flame that would soon burn strong enough to finally win back the Ashes. During his tenure, England won four consecutive Test victories and rose to third in the international Test rankings. There can therefore be little doubt that under his command England returned to its place among the best Test sides, this is a direct contrast from the lack of success in the 1990s. Crucially, Hussain developed an England side that was resolute even in the face of defeat. His ten successive defeats as Captain from November 2000 to December 2001 would suggest that he was a poor leader. They in fact illustrate the opposite, unlike the previous decade when England buckled under pressure, Hussain led a side that bounced back with far greater results after this losing streak.
Hussain was an able batsman, with a reasonable average of 37.18 and 14 centuries to his name. It was however his ability to score runs at vital times that marked him out as a player for big games, something that very few possess. His match-winning century in his last game, against India at Lord's, is a fine example. Hussain must be viewed as the captain who finally turned the page from a disappointing era to one of England's finest. His percentage of Tests won as captain is better than any of the previous five captains. But it is perhaps the praise of another player that supports his case for being the greatest England Cricket captain the most. Sachin Tendulkar, in his autobiography, named Nasser Hussain as the best captain he ever faced and from, arguably, the game's finest modern player there can be no better evidence of his quality. He therefore holds a very strong case as the greatest England Cricket captain.
Sky Sports' Nasser Hussain hails #TheHundred as a success, but he believes questions must keep being asked of the new format to ensure it best serves it purpose in attracting new fans to the game ?

— Sky Sports (@SkySports) July 26, 2021
Michael Vaughan: 2003-08; won 26/51 (51%)
The case of Michael Vaughan for the greatest English Cricket captain is another very strong one. On the back of Nasser Hussain's successful tenure, Vaughan won, what is considered by many, to be the greatest Ashes series ever played. This victory returned the fabled urn to English hands for the first time in 19 years. The only captain to have ended a barren run of similar length was Len Hutton, but that was with the six year interlude of WWII. Michael Vaughan as England captain presided over an era of similar brilliance to that of Mike Brearley. The legendary victory of 2005 was very similar to that of 1981 because Vaughan's leadership was focused on enabling arguably more talented players to play their best. The performances of Andrew Flintoff, Kevin Pietersen and Steve Harmison were testaments to the man management ability of Vaughan.
However like many captains before him, Vaughan's personal performance suffered while he held the captaincy. His average of 41.44 combines with 18 centuries and proves that he was a high quality batsman. However from 2003 to the 2005 Ashes his average was only 37.77. Nevertheless, on the biggest stage of all, Vaughan's quality holds up against criticism. His 156 in the Third Test coming at a vital time for England. Beyond his own playing ability, Vaughan holds a trait that only seems to appear among the best English Cricket captains. His recognition and prioritisation of superior talent within his squad was pivotal in enabling the success of his reign, such as demoting himself in favour of the burgeoning talents of Andrew Strauss and later Alastair Cook. His importance as Captain cannot be seen clearer than with England's whitewash in the 2006-07 Ashes. England were without Vaughan and so without someone who could arguably be seen as their greatest ever Captain.
Andrew Strauss: 2006-12; won 24/50 (48%)
Let there be no lies. Andrew Strauss is my favourite choice. But that is because he was my first proper captain; under his leadership was the first time that I was old enough to really understand 'The More Beautiful Game'. Nonetheless impartiality is King and so a balanced analysis is the order of the day.
There remains a very strong case for Andrew Strauss as the greatest English Cricket Captain. His tenure was really from 2009-12 but in those years he won it all: the Ashes both down under and at home; a series in India and he took England to first in the international Test rankings. His win percentage remains lower than Vaughan and Brearley, in the modern era, but not by much. His leading of England to a win in Australia is most certainly the jewel in a well decorated crown, something that had not been achieved since 1986-7. That is a gap of 24 years. In his victory, Strauss joined Mike Brearely and Len Hutton as the only English Cricket captains to win the Ashes both home and away. There need not be much more debate that he is one of the greatest English Cricket captains.
As a batsman, Strauss holds a very impressive record. His average of 40.21 and 21 Test centuries illustrate his ability and, as centuries in both his Ashes series as captain prove, he did not suffer a consistent fall in form, unlike many of predecessors. This therefore only adds to his case of being the greatest English Cricket captain.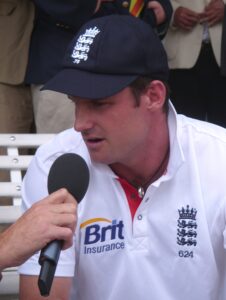 Alastair Cook: 2012-17; won 22/57 (39%)
Alastair Cook holds a more nuanced case for the greatest English Cricket captain. His career as a batsman was undeniably England's finest. Cook scored 12,472 runs in his Test career. Approximately 3500 runs ahead of Graham Gooch in second place. Cook's 33 centuries with an average of 45.35 is proof alone of his superb batting career. However as a captain, his success was more limited.
His win percentage of 39% immediately weakens his case as the greatest English Cricket captain, but his success in the Ashes helps to boost his record. Two wins out of three series illustrates his continual of Strauss and Vaughan's success against the Old Enemy. However, unlike Strauss and co., he failed to win it in Australia and was whitewashed instead. Cook's series victory against India in India adds more to his case, but the 4-0 loss to India in his final series encapsulates the unstable nature of his reign.
Alastair Cook is undoubtedly England's greatest Test batsman. But he is perhaps only one of the best captains and not the greatest England Cricket captain.
Joe Root: 2017 – ; won 26/52 (51%)
Joe Root's record as the English Cricket captain is very persuasive. His win percentage is equal to Michael Vaughan's and second only to Mike Brearley in the modern era. He has won series against South Africa, the West Indies, India, Pakistan, Sri Lanka and New Zealand. The victories against South Africa and India are particularly impressive but only one of them was away from home. Even more importantly, a victory in the Ashes remains elusive.
As a batsman in his own right, Joe Root's quality is undeniable. He has an average of 48.68 and 8714 runs, with 20 centuries and is only 30 years old. The famous English victory at Headingley in 2019 was mostly the work of Ben Stokes, but Root was still there at the helm. There are a fair few years left in his career. But with the greatest prize of the Ashes not won, he cannot claim to be the greatest England Cricket captain. Nevertheless he has not finished his term just yet.
Joe Root is on the verge of history ???????? pic.twitter.com/Xu2YXL4R2H

— England's Barmy Army (@TheBarmyArmy) July 27, 2021
Best England Cricket Captain?
The Verdict
In the view of this writer, the cases of Mike Brearley, Michael Vaughan and Andrew Strauss lie in the strongest position.
Only two of them, Brearley and Strauss, won the Ashes both home and away. Only one of them took England to top of the World Test Rankings. But only one of them, Vaughan, won the Ashes after 19 years and against one of the finest Australian sides to grace the cricket field.
As stated at the start of this article, this is a debate in which universal agreement is not easily found. No matter the analysis, the answer is often a personal one. Much of it will come down to one's own experience. If you watched Mike Brearley inspire England in the 1981 Ashes then it could be him, if you grew up during the 2005 Ashes then it might be Vaughan. This is a game that adheres to statistical analysis but there is almost no way to judge the experience of viewing and living it.
Considering that, debate is inevitable and unending. But as a lover of 'The More Beautiful Game', it is only right that it should continue.
(Statistics have been taken from "England Cricket Team Records & Stats | ESPNcricinfo.com".)
We hope you enjoyed this article 'Who is the greatest England Cricket Captain'. Who do you think is England's best ever captain? Let us know!
Read more on cricket here: