The Emergence of Americans in European Football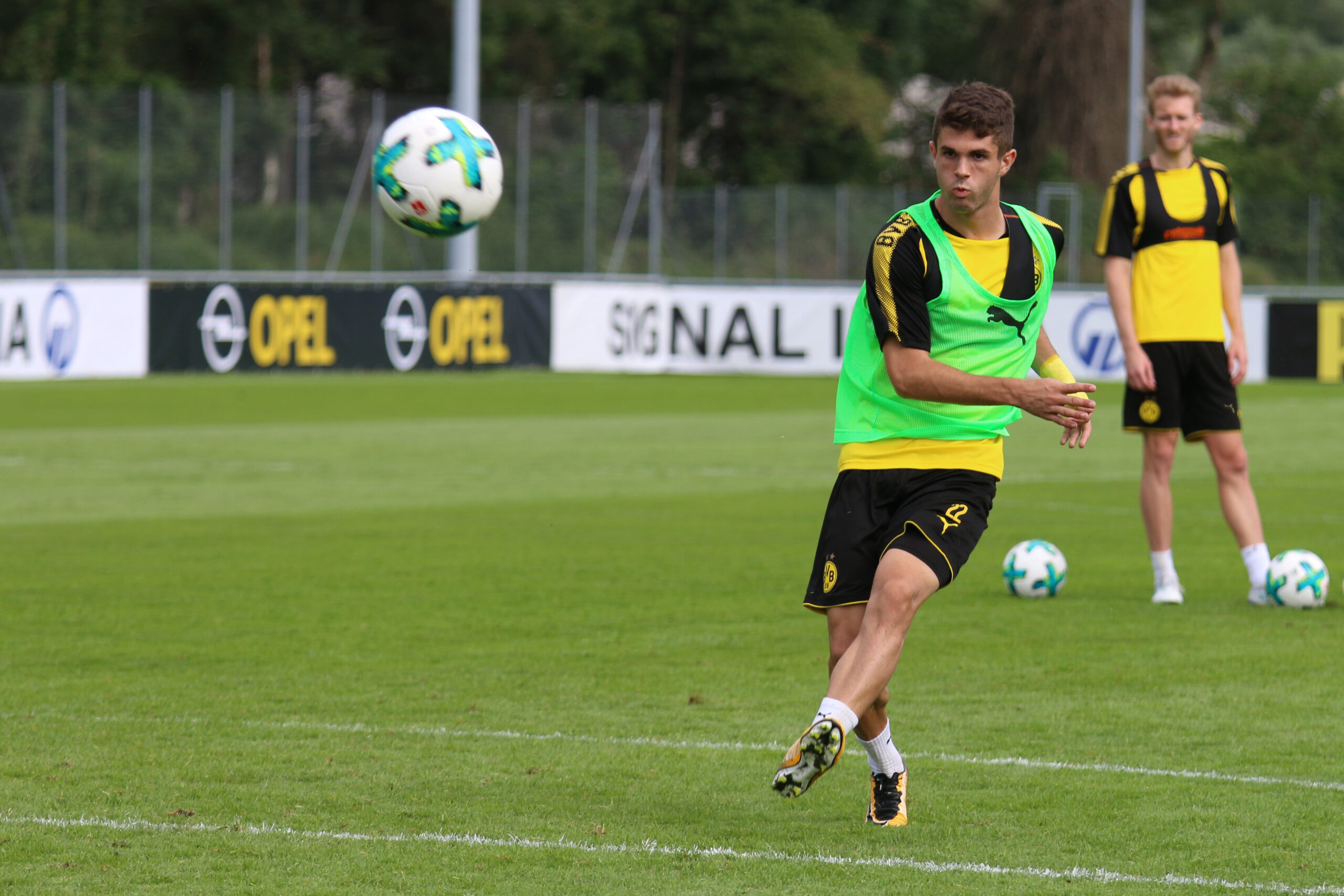 The Emergence of Americans in European Football
The United States of America. The powerhouse of western society, a nation known for football, but not the football we know and love in Europe. It's rather surprising when you think about it that they have never been a powerhouse on the football scene (or soccer, as they ludicrously say across the pond). They did finish 3rd in the inaugural World Cup in 1930, albeit when only 13 countries competed, and have only reached the quarter-finals once since.
The US have produced their fair share of world class talent; Tim Howard and Brad Friedel both sustained formidable careers between the sticks in the Premier League. Clint Dempsey and Landon Donovan share the honour of being the joint top-scorers for the USA with 57 each. However, these guys may be about to be overtaken by a new wave of American talent, who are making a big impression in Europe.
#OTD in 2012, USA goalkeeper Brad Friedel made the last of his 310 consecutive appearances in the @premierleague.

He played a league game every week between 14 August 2004 and 29 September 2012 beginning with Aston Villa and ending at Tottenham Hotspur via Blackburn Rovers. pic.twitter.com/F1CR5BdQOe

— Guinness World Records (@GWR) September 29, 2020
Christian Pulisic
Christian Pulisic became the most expensive American in football history when he joined Chelsea in 2019 for £58 million. Born in Pennsylvania, he signed for Borussia Dortmund when he was 16, and made his debut a year later in January 2016. 13 goals and 18 assists in 90 Bundesliga appearances made the winger a highly sought-after prospect.
Despite an injury hit first season at Stamford Bridge, Pulisic still managed to attain 11 goals and 10 assists in 34 matches, the highlight being a perfect hat-trick against Burnley. Often called Captain America, Pulisic has only started once in the league since being reunited with Tuchel, who handed him his debut at Dortmund. Despite this, he is arguably the USA's best player at the time of writing.
Sergiño Dest
Despite being born in the Netherlands, Dest chose to represent the United States, qualifying as his father is American. He spent the majority of his youth career at Ajax, joining the Dutch giants since the age of 12. He got the call up to the senior squad for the 2019/20 season, and instantly became a mainstay in the squad.
After just one season, Barcelona came calling, and bought Dest for a €21 million fee. At just 20 years old, he has already cemented himself as Barca's first choice right back. He could finally be the replacement for Dani Alves after years of waiting, and no doubt USA will be overjoyed that Dest chose them over the Netherlands.
Sergiño Dest tends to leave a trail of destruction behind wherever he goes pic.twitter.com/vjom3QNvVo

— CC (@culekab) March 11, 2021
Weston McKennie
Much like Pulisic, McKennie grew up playing in the US, before a German team, on this occasion Schalke, liked what they saw. A versatile midfield player, McKennie made his debut as an 18-year-old in 2017, before becoming a regular over the next 3 seasons.
Juventus signed him on loan for the 2020-21 season, before exercising their option to sign him permanently earlier this month, following performances that have seen him become a favourite under Andrea Pirlo. He has already showcased his talent for the US, scoring 6 goals in 21 caps.
This story about Weston McKennie from Tyler Adams is amazing ? pic.twitter.com/wIYWbWFZs9

— USMNT Only (@usmntonly) March 12, 2021
Giovanni Reyna
Son of the legend Claudio, who made over 110 caps for USA, Gio Reyna would replace Pulisic as Dortmund's exciting American talent. In fact, when he made his debut in January 2020, he broke Pulisic's record of being the youngest American to play in the Bundesliga, at 17 years and 66 days.
Reyna has gone from strength to strength since, having recently celebrated his 50th senior club appearance. He has already scored for the US too, choosing them despite being eligible to represent England, Portugal and Argentina. The US are certainly very lucky to have him!
Remember this delightful hit by @BVB teenager Gio Reyna in the @DFBPokal_EN? ?? pic.twitter.com/JLCKURFcxB

— 433 (@433) March 2, 2021
Tyler Adams
Yet another example of a player who has been courted by the Bundesliga. Unlike the others, Tyler Adams gained experience playing in the MLS, completing 2 full seasons for the New York Red Bulls. The ever-growing Red Bull Leipzig purchased him for a measly £2.3 million.
The American midfielder has seen his playing time increase steadily over the seasons, as he has gained confidence and improved as a player. His 15 Bundesliga starts have seen him become a consistent performer for the controversial German club. Nevertheless, he could be a player USA rely on heavily in the future.
? Working with Nagelsmann
? LeBron right to use platform for change
?? Bidding to create a sporting legacy

In an exclusive interview with Sky Sports, Tyler Adams opens up on life at RB Leipzig, as they prepare to take on Liverpool in the second leg of their #UCL last-16 tie.

— Sky Sports (@SkySports) March 10, 2021
Antonee Robinson
Despite being born in the UK, Robinson qualifies for the US through his father, and has represented the US since youth level. Having spent his youth in the Everton academy, Robinson made a name for himself at Wigan, where in January 2020, he was on the verge of securing a dream move to AC Milan.
Unfortunately, a heart rhythm irregularity crushed his move. Having had a procedure to address the issue, Robinson now features for Fulham. He is a key component in the side who have seen an upturn in fortunes, and are fighting for survival in the Premier League.
Brilliant effort from those boys today, outstanding result and we keep going! Enjoy ? @FulhamFC pic.twitter.com/vpaMLiYMfp

— Antonee Robinson (@Antonee_Jedi) March 7, 2021
Overview
There is clearly a lot to be excited about for the US. Arguably the most exciting group of players in their entire history. As 'soccer' continues to grow in the country, so too does the ability of the top players.
This isn't an exhaustive list. There are many promising young players who are not quite household names yet: Chris Richards, who is on loan at Hoffenheim from Bayern Munich; Zach Steffen features as Man City's back-up to Ederson; Yunus Mensah has broken into the Valencia senior squad this season; Josh Sargent is now Werder Bremen's leading striker.
I don't think this squad will be winning the World Cup anytime soon, but we certainly could see the US field a highly competitive side over the course of the next decade.
Ages in 2026:

Christian Pulisic (28)
Antonee Robinson (28)
Tyler Adams (27)
Weston McKennie (27)
Tim Weah (26)
Josh Sargent (26)
Sergino Dest (25)
Chris Richards (25)
Brenden Aaronson (25)
Gio Reyna (23)
Yunus Musah (23)

… and the list goes on. #USMNT

— USMNT Only (@usmntonly) March 15, 2021
We hope you enjoyed this article 'The Emergence of Americans in European Football'. Do you think the US could be a top national team in the future? Let us know!
Read more on football here: