Dwayne 'The Rock' Johnson – WWE Legend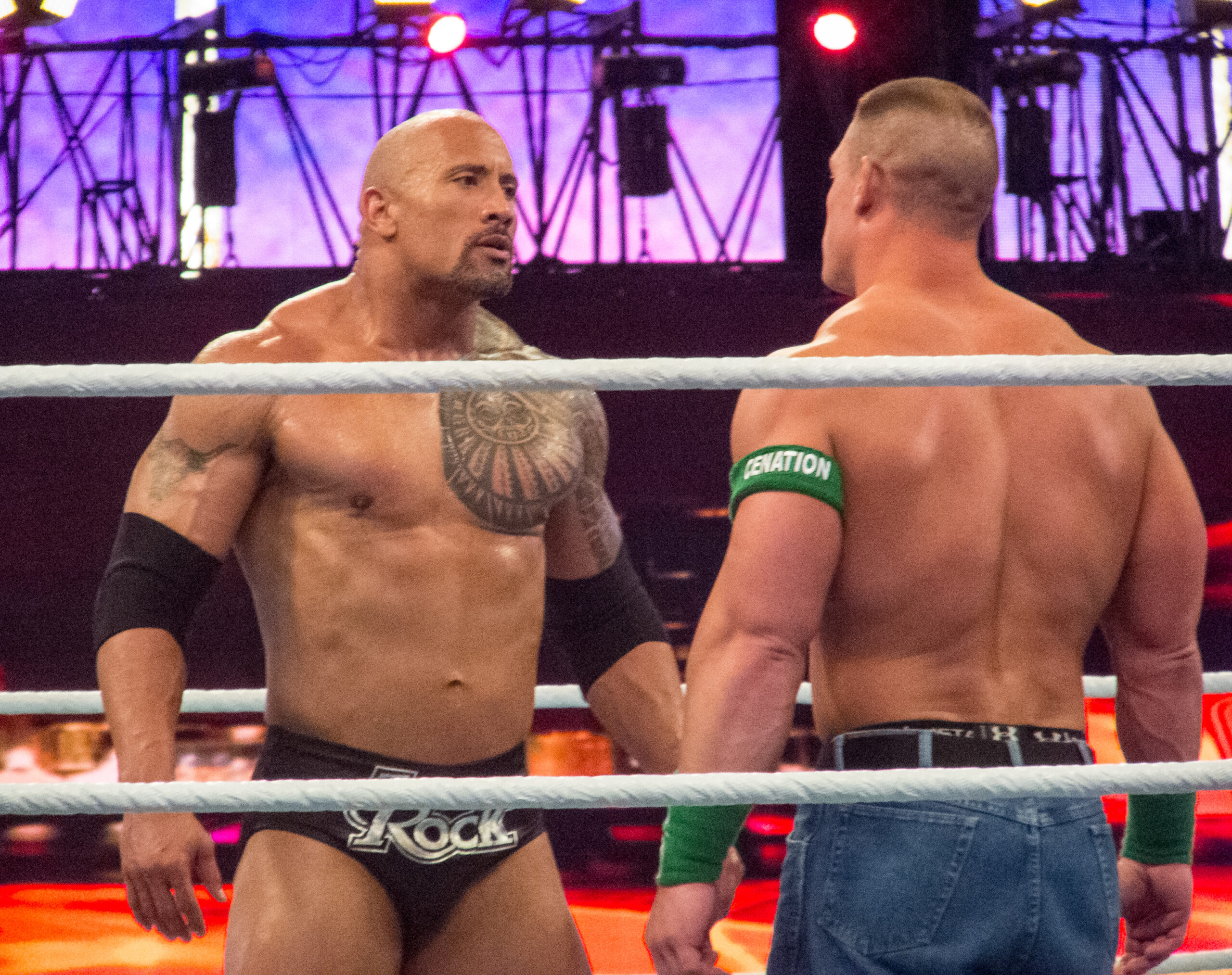 The Rock WWE legend
Dwayne 'The Rock' Johnson is the most famous and successful third generation WWE superstar of all time. He is the grandson of 'High Chief' Peter Maivia and the son of Rocky Johnson. His uncles were known as 'The Wild Samoans' (Afa and Sika Anoa'i) and his cousins, Yokozuna (former WWF Champion) and Rikishi (former WWF Tag Team Champion) were well known superstars. His family have great history in the business, but "The Brahma Bull" went gone on to achieve a level of stardom that eclipses not only his family members, but ALL WWE superstars.
The Rock last wrestled in a WWE ring during Wrestlemania 32 (April 2016) and has since gone on to become one of the highest paid actors in Hollywood. He currently has 255 million instagram followers and one of the most recognisable people in the world. We take a look back at the in-ring career of "The Great One" and the legacy of "The People's Champion".
if you can SMELL!!!!!
What the Rock…..is cooking😏😏 pic.twitter.com/RCBXUf6OQe

— dfw.tobias (@tobaby17) July 20, 2021
Life Before Wrestling
Dwayne Johnson attended the University of Miami and made it onto their Football Team after trying out as a "walk on". Playing as a defensive end, he was part of the Miami Hurricanes team who won the National Championship in 1991. Johnson suffered a number of injuries which eventually resulted in him walking away from football, even though he had a short stint in the Canadian Football League, with the Calgary Stampeders (1995), but was cut from the team during his first season.
At this point Johnson returned to live with his parents in Tampa, Florida. He famously recalls his lowest moment, when he…"Pulled out my wallet, and yeah, I had a five, a one, and some change. I remember thinking… All I have is seven bucks. At that time I wanted so much more," he told Esquire. Dwayne 'The Rock' Johnson later went to name his production company 'Seven Bucks Productions'.
Dwayne "The Rock" JOHNSON with The Miami HURRICANES (NCAA Football) in 1991 pic.twitter.com/kJOF63LogY

— Old School Panini (@OldSchoolPanini) April 11, 2019
The Rock wwe debut
Rocky Maivia
Johnson persuaded his father to teach him how to wrestle and eventually he earned a WWF try out. They were impressed by his talent and charisma and offered him a contract. He first wrestled in the WWF at Survivor Series (17 November 1996) at Madison Square Gardens, New York. In an eight man tag match he was his team's last remaining survivor and won the match by eliminating Crush and Goldust. Rocky received a strong push from the company, who promoted him aa a good guy, or 'baby-face' and he soon won the WWF Intercontinental Championship, only 3 months after he debuted, defeating Hunter Hearst Helmsley on an episode of Raw.
Rocky Maivia's popularity with the fans faded quickly, as they got bored of his bland, dull character. Soon arena's were full of "Rocky Sucks" and "Die Rocky, Die" and Johnson realised that change of character was needed. He became "a heel" (bad guy) and that's when the world were first introduced to "The Rock".
Imagine this guy..Rocky Miavia rejected by the fans jeered with "die Rocky die" chants but Vince continues to push him for the next 4+ yrs as a jheri curled, kool-aid smiling baby face? No Nation of Domination, no heel turn we'd never get..The Rock #ReasonsWhyAttitudeEraWasBetter pic.twitter.com/WAGR67AXM2

— Jbarnacles (@jbarnacles) September 24, 2018
The Rock w/The Nation of Domination
As part of his heel-turn, The Rock joined the stable know as, "The Nation of Domination". His character and arrogant personality generated great heat with audiences and he was soon one of the top heels in the company. In early 1998 he replaced Farooq as the leader of the group and used this period to develop his character and it really started connecting with audiences. It was at this time that he created of a number of catchphrases, such as "Lay the Smackdown", "If you smell what the Rock is cooking" and "Know your role and shut your mouth".
The stable petered out towards the end of 1998, with crowds now cheering for The Rock, instead of booing him. The heel stable were gradually phased out, with its members going on to work on different storylines.
On This Day in Wrestling History – The Nation of Domination on Monday Night RAW 23 years ago today 7/20/98 @dlobrown75 @TheMarkHenry pic.twitter.com/PrUl0tuDwg

— Wrestling from 80s/90s (@Wrestling80s90s) July 20, 2021
WWE Title Reigns & Memorable Feuds
The Rock earned his first WWE Championship at Survivor Series 1998, defeating Mankind in "The Most Dangerous Game" tournament. However, in winning the title he became a heel again by siding with Vince and Shane McMahon and joining their "Corporation" stable. This was the first of The Rock's eight WWE Championship title reigns, with his most recent coming at the 2013 Royal Rumble, when he defeated CM Punk.
Throughout his career, The Rock had many memorable, high profile feuds. His run of matches with the maniacal Mankind at the start of 1998 showed the ruthless, brutal side to the character that the audience had never seen before. Their infamously, brutal match at the 1999 Royal Rumble was included in the "Beyond The Mat" documentary, contained a disturbing 11 chair shots directly to Mankind's head. A lot of people felt that this match was the moment that the 'Attitude Era' went too far. Interestingly, the pair went one to form one of the most popular tag teams of the Attitude Era, "The Rock 'n' Sock Connection", who won the WWE Tag Team titles on 3 separate occasions.
In 2000 The Rock and Triple H worked closely with each as they competed for the WWE Championship. Triple H was probably the biggest heel in company at that time and their matches were always high calibre encounters. When talking about the rivalry Triple H explained to Bleacher Report that they weren't exactly friends, but instead they had a mutual respect for each other:
"It's a funny thing; we weren't friendly," Triple H said. "I don't know that I've ever eaten dinner with The Rock or gone out after show with him or anything like that. We were in different circles. But man, my respect for him was unbelievable. Any time I heard 'Hey, you're going to work with Rock,' I'd be like, 'all right. This is going to be awesome.' We would push each other. There was just this mutual respect. But based on our competitive natures, there was also always this intense rivalry."
The Rock's one feud that is remembered above all others is with the legendary, 'Stone Cold' Steve Austin. These two had the most memorable trilogy of Wrestlemania matches of all time. At Wrestlemania XV Stone Cold defeated The Rock for the WWE Championship. Two years later at Wrestlemania X-Seven, Austin once again defeated The Rock for WWE Championship belt. The Rock finally managed to defeat Austin at Wrestlemania XIX, in what turned out to be Steve Austin's last WWE match. The matches are remembered for their intensity, their quality and the promos leading up to them were truly exceptional.
In between his final two matches with Stone Cold, The Rock had an epic encounter at Wrestlemania X8, when he squared off against Hollywood Hulk Hogan. This match was billed as 'Icon vs Icon' as the superstars from two different eras clashed for the very first time. The crowd gave The Rock a mixed reaction at the start of the dream match, but as the match progressed they turned on him and ended up firmly behind Hogan, despite going into the match as the heel. The match ranks up there with the most memorable in Wrestlemania history.
Icon vs Icon #WWE #WrestleMania 18 😎

The crowd is on fire for this one 🔥 pic.twitter.com/LZ3wy3uaWN

— The Blue Brand 🔵 (@The_Blue_Brand) May 24, 2020
The Rock wwe return
A Return to wrestling?
There are numerous rumours surrounding The Rock returning to this year's Survivor Series, to mark the 25th anniversary of his WWE debut. If the Rock was to return at next year's Wrestlemania 38 it would be a shock as he hasn't wrestled a proper match since making it big in Hollywood because he cannot get insured to perform. The final rumour surrounding a possible in-ring return is at Wrestlemania 39, which takes place in Los Angeles. The Rock would be almost 50 years old at this event and unless he has a hand-picked opponent who can help carry much of the match, it looks unlikely. The most likely suggested opponent for all of these matches are The Rock's cousin, Roman Reigns. In reality it is highly unlikely that Dwayne 'The Rock' Johnson will return to the squared circle and is currently much more focussed on making movies, tequila, energy drinks and possibly running for US President!
Future President The Rock you say @PatMcAfeeShow 🤔#SmackDown pic.twitter.com/rmUq7TIxXA

— NickMan (@BrokenNickMan16) July 17, 2021
We hope you enjoyed the article 'Dwayne 'The Rock' Johnson – WWE Legend.' What did you think of our look back at the career of Dwayne 'The Rock' Johnson? Which of The Rock's matches was your favourite? Did we miss of one of your favourite feuds? Which WWE Superstar, past or present, would you have liked to see him face? Let us know your thoughts!
Read more on sport below: