Who Is The Best UFC Fighter of All Time?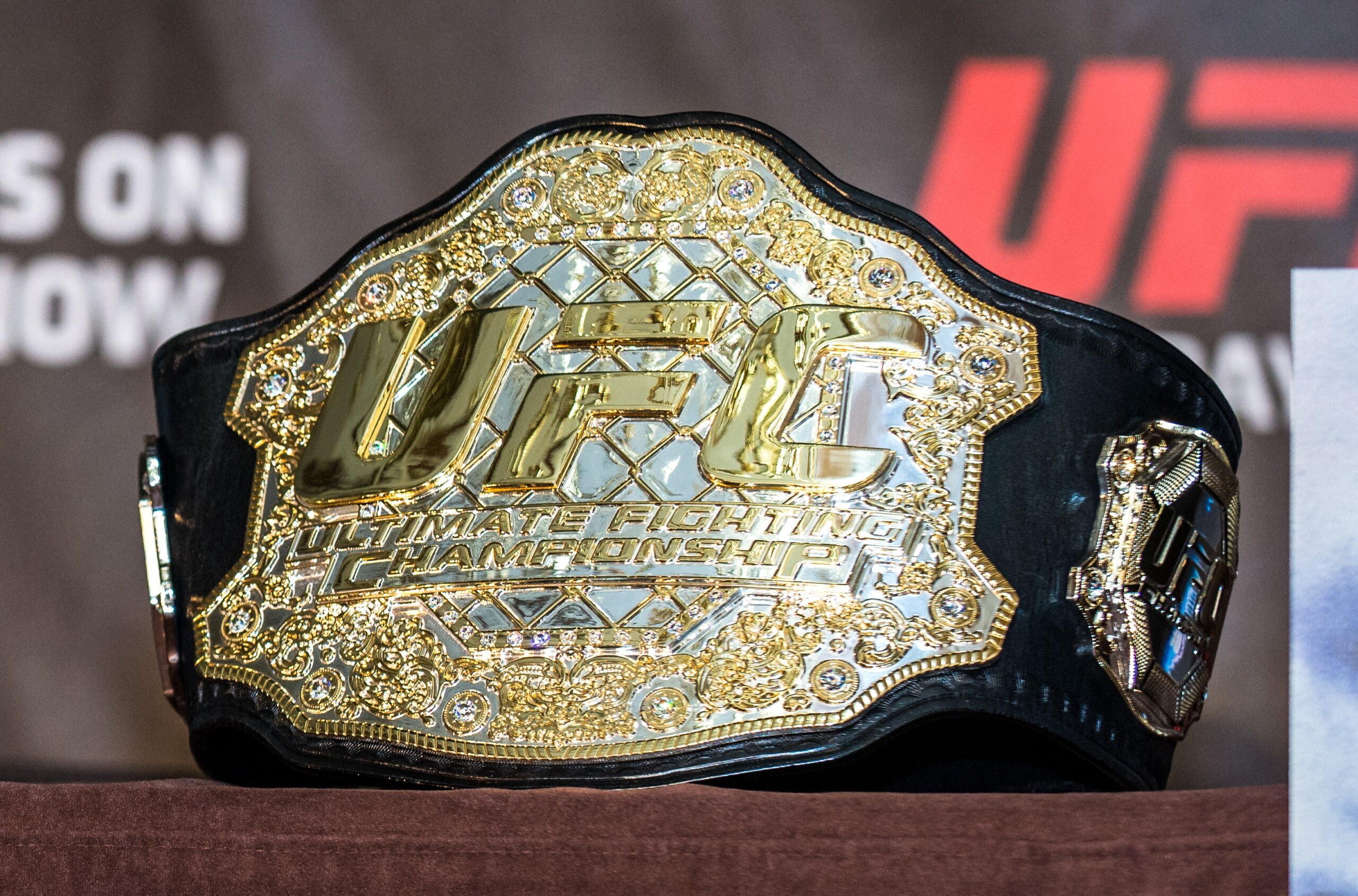 Who are the best UFC Fighters throughout history?
Who Is The Best UFC Fighter of All Time?
Since its creation almost three decades ago, the UFC has established itself as one of the most watched sporting franchises on the planet. In Dana White's never-ending quest to find the next worldwide phenomenon, a multitude of iconic personalities have used the promotion to pave their way to the top. Within each weight-class, fighting styles collide whilst records are set. Few can truly be put into that ever-controversial G.O.A.T conversation, but those who earn the honour have done so through sheer determination and resilience. Here are my picks for the ten greatest UFC fighters to have graced the octagon.
10. José Aldo (30-7-0)
When you take into consideration the duration of José Aldo's fight career, it's incredible to think he's still only 34-years-old today. He originally entered the promotion back in 2010 after World Extreme Cagefighting (WEC) merged with the UFC, and the Brazilian was subsequently named inaugural Featherweight Champion due to his previous successes. His already unbeaten record was maintained over the next five years, including victories against the likes of Frankie Edgar and Chad Mendes. Eventually, he suffered his first defeat at the hands of a prime Conor McGregor.
Utilising his Muay Thai striking skillset, many class Aldo as one of the greatest UFC fighters ever pound-for-pound. Unfortunately, recent performances in the last several years have tampered with his once feared record. Since that McGregor loss, the 34-year-old has a record of 5-5, including a duo of losses to this lists' number nine. Aldo clearly isn't at the same level as his younger self, although with a duo impressive victories in his last two bouts, some may feel the Brazilian has one title run left in him.
9. Max Holloway (22-6-0)
Arguably one of the most entertaining competitors on this list, Max Holloway holds the record for the most wins in the UFC's Featherweight Division. The Hawaiian's highlight reel is a spectacle for the stand-up fight fan, with a 13-fight winning streak demonstrating his talent for ending bouts before the final bell. Holloway's most notable victories have come against some of the division's best, with a duo of wins over Aldo, as well as wins against Frankie Edgar and now-Lightweight champion Charles Oliveira.
Despite boasting such a CV, 'Blessed's current run has proved difficult. Two losses to the division's belt-holder Alexander Volkanovski has slightly tarnished Holloway's growing legacy. He also suffered his second defeat in as many bouts to Dustin Poirier, and although there's little shame in succumbing to the American, it means he's been beaten twice by two opponents. However, it is crucial to note Holloway is just twenty-nine years of age, meaning the former-Featherweight champ could soon be making his way up this list.
Conor McGregor fought Max Holloway 8 years ago today.

Since then, McGregor became UFC's first-ever double champ and headlined 8 of the top 10 UFC PPVs of all time, according to reports.

Holloway reeled off a record 14 straight featherweight wins, including three title defenses. pic.twitter.com/5MarssotWt

— ESPN MMA (@espnmma) August 17, 2021
8. Demetrious Johnson (30-3-1)
Many could, and rightly should, be angered that Johnson, the combatant with the most consecutive title defences in UFC history, sits just eighth in a list of the greatest UFC fighters. With victories against the likes of Henry Cejudo, Joseph Benavidez and Ian McCall, combined with eleven successful title defences (numbers matched only by Jon Jones), the 35-year-old may feel under-appreciated by MMA fans' perceptions. For six hard-fought years, 'Mighty Mouse' bore the UFC's Flyweight crown, with seemingly little challenge.
Yet there's always been one main criticism of Johnson – excitement. His performances often contained a lack of willingness to put on a show for the crowd, ultimately creating fights with little exuberance. The dominance he boasts was certainly aided by being risk-averse and methodical, and the American still won several performances and fight bonuses. Nevertheless, Johnson's showboating reluctance makes it difficult to rank him any higher.
MOST FLYWEIGHT WINS – UFC History
13 – Demetrious Johnson
13 – Joseph Benavidez
09 – Deiveson Figueiredo
09 – Jussier Formiga
08 – Alexandre Pantoja (@PantojaMMA)
08 – John Moraga
08 – Dustin Ortiz#UFCVegas34

— UFC News (@UFCNews) August 22, 2021
7. Henry Cejudo (16-2-0)
'Triple C' spent little time at the pinnacle of UFC, but whilst he was there he dominated the division's best with ease. The fourth ever simultaneous Multi-Division Champion deserves a place in the 'greatest UFC fighter' conversation due to the level of opponent he had to beat to get there. In the space of two years, Cejudo took down Johnson, Dominick Cruz and T.J. Dillashaw, all fighters with an elite MMA pedigree at Bantamweight. Briefness aside, it's almost impossible to attain a superior record within the division.
The 34-year-old has few title defences compared to a multitude of fighters, and the length of his dominance is virtually incomparable to others in this list. Many UFC fans still debate whether Cejudo should've been allowed the opportunity to compete for both belts, or if the Californian's retirement is truly permanent. Perhaps recent bias has swayed the conversation in favour of the stand-up artist. Maybe MMA enthusiasts would have a definitive answer if the trilogy versus Johnson had been created. Yet no one can deny Cejudo from wielding his duo of belts, and a future return to the octagon would leave very few in bewilderment.
6. Daniel Cormier (22-3-0 (1NC))
A certified legend of the promotion. The second 'champ-champ' on this list, and if not for the existence of a certain Jon Jones in his primary division, Daniel Cormier would have remained undefeated throughout his Light-Heavyweight (LHW) career. Taking his Strikeforce run into account, 'DC' put together one of MMA's most astonishing winning streaks in recent times. Since joining the UFC in 2013, the American has left the octagon triumphant against the biggest names in the LHW Division, humbling such fighters as Dan Henderson, Alexander Gustafsson and Anderson Silva along the way. After beating Stipe Miocic at UFC 226, Cormier held both belts for the top two divisions simultaneously, and maintained his status at both with four overall successful title defences.
A dominative legacy, but one maybe twinged with a hint of falling short. The rivalry between the now 42-year-old and Jones will be difficult for any duo of fighters to match; with such unfathomable levels of hatred directed towards each other, it's no wonder they produced some of the most violent clashes seen in the UFC. Unfortunately for Cormier, he came up short in both meetings, despite leaving the second fight morally victorious after his counterpart failed a drug test. In fact, the double-champ's performance against a juiced-up Jones was nothing short of sensational given the circumstances, further adding to his reputation as a consummate professional.
Best Female UFC Fighter of all-time
5. Amanda Nunes (24-4-0)
When discussing the greatest UFC fighters of all time, the sheer dominance of 'The Lioness' cannot be overlooked. Considering the promotion didn't bring in female fighters until early-2013, it would be incredibly tough for any woman to force themselves into the conversation. Yet Amanda Nunes has single-handedly raised the bar for all UFC professionals, following her rise to the summit of the women's bantamweight and featherweight divisions. Another former Strikeforce contender, the Brazilian has lost just one fight since joining White's organisation, and that was early on in her UFC career.
Nunes has stacked up wins against a multitude of talented fighters within her weight-classes, including Valentina Shevchenko, Ronda Rousey and Holly Holm. With six overall title defences, and the most wins in history amongst UFC's women, it's no wonder the 33-year-old has become one of the most feared martial artists on the planet. In fact she's surpassed every other competitor at her weight to such a degree, that it begs the question if there's much left for her to achieve.
4. Anderson Silva (34-11-0)
Few have had a larger impact on the current wave of UFC fighters than Anderson Silva. In his prime, 'Spider' became widely recognised as untouchable. Whilst putting together the longest win streak in the promotion's history (16), he finished fourteen of his opponents, and collected 3 Fight of the Night, 7 Knockout of the Night, and 2 Submission of the Night Awards. Alongside this prize-filled cabinet, Silva also boasts the longest title reign in UFC history (2,457 days) – it's no wonder so many fellow competitors idolise the man from São Paulo.
However, his recent record unfortunately fails to deceive. The 46-year-old's octagon addiction has heavily affected what was once a perfect UFC legacy, and if being judged on his entire tenure with the promotion, it must be noted his last nine fights have resulted in just one victory. This would've been two, but after a win versus Nick Diaz was followed by a failed drug test, the bout was marked as a no contest. Nevertheless, Silva continued to combat the promotions' best personnel up to a staggering age (his first UFC loss coming at the age of 38), and will be fondly remembered for his historic bouts against the likes of Chael Sonnen and Forrest Griffin. After such an illustrious career, the Brazilian has certainly marked his territory as one of the best UFC fighters of all time.
3. Khabib Nurmagomedov (29-0-0)
An untarnished record. The Russian lightweight remains the only fighter on the list with a zero where his losses should be. Similarly to Cejudo, his time spent at his zenith was shorter compared to Aldo and Silva, for instance. But whilst he remained there, it's impossible to come up with a name more frighteningly dominant than Khabib Nurmagomedov. At his peak, the 32-year-old won successive fights versus Conor McGregor, Dustin Poirier and Justin Gaethje, all in devastating fashion. In fact, during his entire UFC career, the talented grappler lost just two rounds, further illustrating his towering hold on the Lightweight Division.
One slight criticism that can be made of Khabib's CV is that it doesn't involve a high level of depth compared to that of other fighters. Before his final series of fights, the Russian's only other noteworthy wins have come up against Rafael Dos Anjos and Al Iaquinta, which both went the full length before he was named victorious (he did however win all eight rounds over these bouts, signalling that overwhelming nature came way before the end).
Khabib retired on a high, something others could maybe have learnt from. If he was to return, his devastating nature would surely return with him, and a series of further wins against the division's top opponents would only certify his name as the best UFC fighter of all time.
2. Georges St. Pierre (26-2-0)
Considered by many as the G.O.A.T, some may be disgruntled to see Georges St. Pierre miss out on the crown of the best ufc fighter of all time. With a resume filled to the brim with feared opponents, arguments could easily be made to bump him up to #1. In a UFC career lapping over thirteen years, 'Rush' defeated this lists' honourable mentions Matt Hughes and BJ Penn twice each, as well as Michael Bisping, Johny Hendricks and Matt Serra. What also makes the Canadian's character so commendable is his ability to avenge his few losses, and against Hughes, he did so twice. Alongside this winning mentality, St. Pierre is also a two-time Welterweight Champion, a one-time Middleweight Champion, and holds the record for the most wins in UFC Welterweight Title Fights (14).
Comparably to Johnson, his career didn't always include the most enthralling battles, especially towards the latter stages. The now-40-year-old went through a streak of six wins via unanimous decision, as fans were starved of a finish from their favourite fighter. However, St. Pierre's overall skill set was so well-rounded that enthusiasts' TVs were greeted by some of MMA's finest ever displays. After originally retiring in 2013, the Canadian returned to the octagon after a four-year break, submitting British fighter Bisping during the third round.
Georges St-Pierre officially announced his retirement today.

3x UFC Welterweight Champ
26-2 record
LEGEND. pic.twitter.com/J3uwKt7C0Z

— Bleacher Report (@BleacherReport) February 21, 2019
The Best UFC Fighter Ever
1. Jon Jones (26-1-0 (1NC))
A captivating character. One entrenched with both a winning and rule-breaking mentality. Personalities such as Jon Jones often make for the most enthralling of fighters, and ultimately the ones that bring in the most views for White's organisation. At 23 years of age, the American became the youngest ever UFC Champion, after defeating promotion veteran Mauricio Rua via KO/TKO with a series of knees to the head. Despite a singular loss to Mark Hamill in his career, via DQ due to an illegal elbow (any other shot and he would certainly have finished the fight), Jones has beaten a whole host of fighters with an elite UFC pedigree. He's also tied for the most Title Defences in UFC history, has the most wins in UFC Title Fights and completed the longest Light Heavyweight Title Reign (1501 days).
The 34-year-old must be critiqued for choices during his career, however. Following a long period of troubles with USADA, Jones was stripped of his title and forced into a 15-month suspension from competition. Found guilty of anti-doping after his second win against rival Cormier, an almost flawless legacy was somewhat tarnished, despite returning to reclaim his title. Yet words cannot comprehend the genius of 'Bones', who's performances attracted the eyes of all MMA fans around the globe. Whether we'll see him return to the octagon soon is unknown, with financial issues between the two parties causing collateral damage. The top two divisions will eagerly wait in anticipation, as Jones looks to continue his legacy as the best UFC fighter to ever grace the octagon.
We hope you enjoyed the article 'Who Is The Best UFC Fighter of All Time?' Who do you think is the pound-for-pound G.O.A.T of the UFC? Let us know!
Read more on sport below: