Europa League Round of 16 preview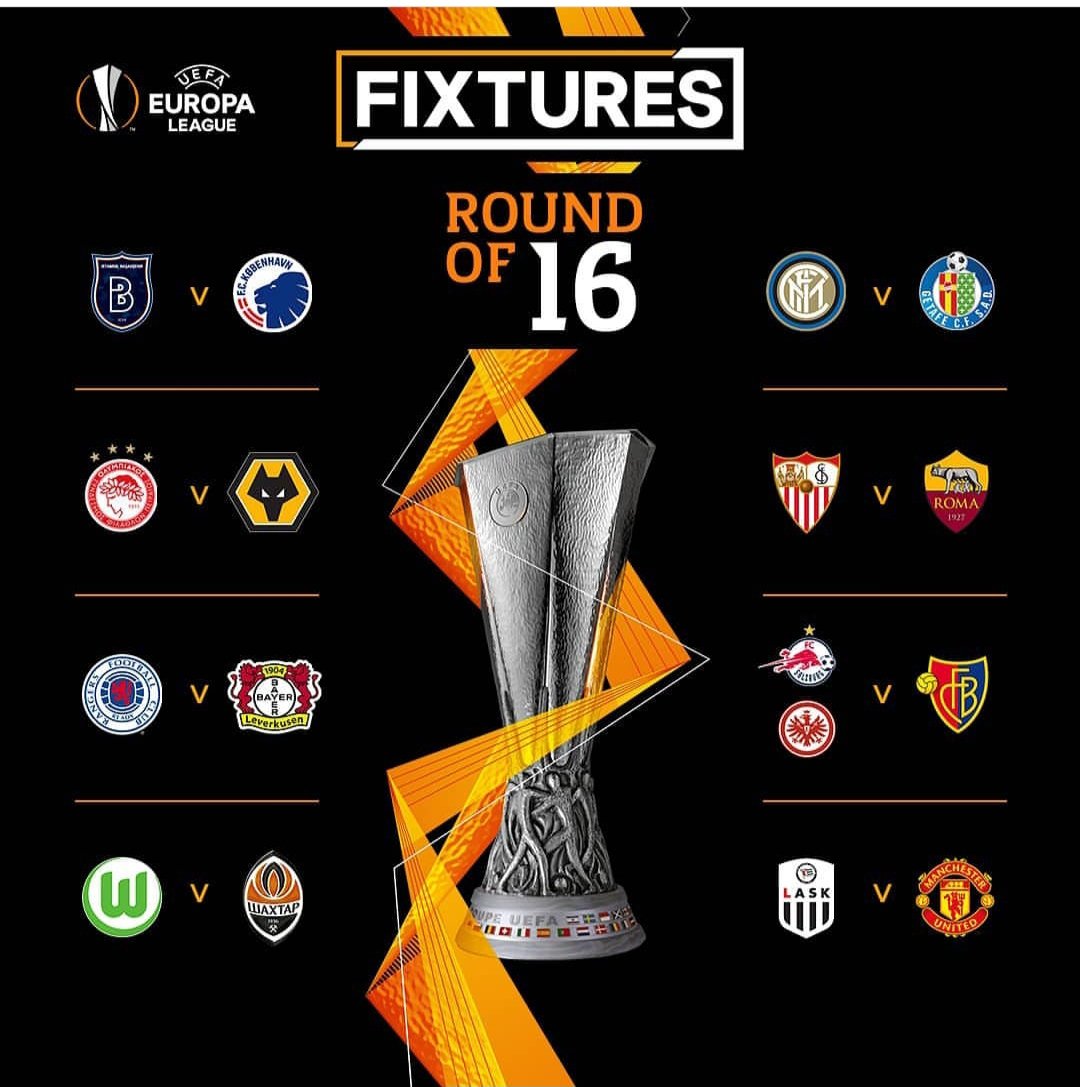 Europa League Round of 16 kicks off month of European football
The UEFA Europa League Round of 16 makes its return to action this week after almost five months without games. The competition will take place in Germany over the course of just 17 days, ending with the final on 21 August.
With 15 games still to play and three British sides still in the hunt, we look at the tournament so far and some of the key fixtures.
The tournament so far
For some sides, their Europa League campaign has been running for over a year. Wolves, Frankfurt and Rangers all began their qualifying process on 25 July in the second qualifying round.
Since then, we have seen multiple sides come and go, including some of the biggest sides in Europe. Teams such as Arsenal, Porto and Lazio have all fallen along the way and we will soon be left with only eight competitors as the Round of 16 reaches its conclusion.
In the group stage there were few surprises, but Lazio and Rennes missed out to surprise package, CFR Cluj. Similarly, PSV – usually a very strong side – failed to make it out of their group.
CFR Cluj has dominated the Romanian league in recent years. #RomaniaInsider https://t.co/1F55qzoEJX pic.twitter.com/pA8bZXChdE

— Romania-Insider.com (@romania_insider) August 4, 2020
As the competition progressed, more sides joined from the Champions League, including last season's semi-finalists Ajax and a resurgent Inter Milan.
With the introduction of these sides, some of the smaller teams like Gent and Malmö dropped out of the running.
A handful of smaller sides, however, managed to make it through to the Europa League Round of 16. LASK edged out Alkmaar and Copenhagen knocked out Celtic, who won their ninth Scottish title in a row this year.
The biggest shock was perhaps Arsenal's home loss to Olympiacos. The Greek team are an excellent side, but do not have the pedigree that Arsenal have, making the win rather impressive.
Already the competition has proven that it has plenty of shocks and excitement, and these are sure to be amplified by the introduction of one-legged fixtures.
What's new?
There have been quite a few key changes to the rules because of the Covid-19 pandemic. Most of these are focused on the use of substitutes. For example, teams can now make five substitutions as opposed to three, but they must be made over a maximum of three stoppages.
✅ Single-leg quarter-final & semi-final ties

All the new rule changes ahead of the #UEL restart 👇

— UEFA Europa League (@EuropaLeague) July 7, 2020
Similarly, teams can now have up to 23 players on the match sheet, something that is usually only permitted in the final.
Significantly, each tie is now only one game, apart from any Round of 16 fixtures that have already played their first leg. This decision is not only going to minimise the risk of transmission, but it will also add an edge of competitiveness to every fixture. Teams can no longer rely on saving themselves in the second leg.
Key fixtures
Copenhagen v Istanbul Başakşehir:
For many fans, this game is rather unimportant. Unlike Sevilla and Inter, neither of these sides are household names.
It matters not that Copenhagen are the most successful Danish club and Başakşehir are Turkish champions, they are just not on fans' radar.
However, this fixture is significant for anyone supporting the red half of Manchester. It decides who The Red Devils will face in the next round and therefore it is an important game for millions of people around the world.
United are already practically through following their 5-0 win against LASK and will be expecting to see out the tie with ease.
Following their qualification for the Champions League on the final day of the Premier League they are certain to want to leave Germany with the trophy.
For United fans, Copenhagen look like the preferred side because their record since football restarted is shaky, winning only five out of 12 matches.
Başakşehir on the other hand have been impressive since the return and ended the dominance of Galatasaray, Beşiktaş and Fenerbahçe.
Nonetheless, the aggregate currently stands at 0-1, meaning the game is truly in the balance and Manchester United fans will have one eye on how this plays out.
Sevilla v Roma:
Two of the best teams left in the competition, this is sure to be a fascinating game. This game is one of two that are being played as a single fixture due to the cancellation of the first leg.
I'm gutted that I can't finish what we started this season. To experience the love shown to me in such a short time was extra special and it will not be forgotten. I want to thank and wish all the players and staff the best of luck against Sevilla. DAJE ROMA! 💛❤️ 🐺 pic.twitter.com/9vHfpWUNsz

— Chris Smalling (@ChrisSmalling) August 4, 2020
Both sides had a good run after the restart, Sevilla went unbeaten and Roma beat Italian champions Juventus on the final day.
Sevilla have Europa League pedigree and have won the competition a total of five times. Roma, on the other hand, have never won a major European trophy and will be desperate to earn some silverware.
With Edin Dzeko, Roma have a proven goalscorer (19 this season) and they are one of the highest scoring sides in Italy.
Sevilla, however, possess one of the best defences in La Liga, conceding a mere 34 goals in 38 games.
The potency of Roma's attack versus the sturdy defence of Sevilla is what will decide this tie. Whichever side stifles the other's strength will likely reach the quarter-finals.
Mikel Arteta is targeting Sevilla Centre Back Diego Carlos to improve the Gunners defence. #LFC and #MCFC are also interested. (Telegraph) 🇧🇷 pic.twitter.com/oTzD8XUVFW

— Futbol Agent (@Futbol_Agent_) August 3, 2020
Wolves v Olympiacos:
Wolves might have missed out on qualification for the Champions League through the league, but they could still make it by winning this competition.
Following their 1-1 draw in the first leg, the game could go either way and Wolves are looking good having only lost three of their last nine games.
Wolves are at risk of burning out, though, because they have had one of the longest seasons in history.
There also remains the small issue of getting past the Greek champions who only lost once in their play-off against the other top six clubs.
Olympiacos have been in prolific form since the restart and sealed their 45th Superleague title as a result of a dominant play-off run.This fixture is Wolves' last opportunity to win a trophy this season and Nuno Espirito Santo will be sure to find some extra motivation for his tireless players.
#Throwback: Describe in emojis @elarabiyoussef 's goal against @Wolves! / Περιγράψτε το γκολ του Ελ Αραμπί κόντρα στη Γουλβς, με emojis! 🔴⚪️⚽️🥅#Olympiacos #Goal #Celebration #Emoji #UEL #ElArabi #Football pic.twitter.com/VMK7dQFNJm

— Olympiacos FC (45🏆) (@olympiacosfc) August 3, 2020
A predetermined conclusion?
The aforementioned games are the tightest of all the fixtures to be played this week, but that does not mean there won't be any surprises.
Rangers still have a slim chance of overturning their 3-1 loss to Bayer Leverkusen and Wolfsburg have a big opportunity to reach the quarter-finals as they are only 2-1 down.
Frankfurt look down and out, however, as a three goal deficit is notoriously hard to turn around. FC Basel did a fantastic job in the first leg and can probably join Manchester United in taking things easy before the quarter-final.
The other single leg game being held is Inter v Getafe. Inter have only lost once since the restart and secured Champions League football next season by coming second to Juventus by just one point.
Getafe, rather ominously, have been the direct opposite since the restart, winning only eight points from a possible 33 since the restart. They are in danger of being thoroughly embarrassed.
Full Fixture List:
Wednesday 5 August
F.C. Copenhagen (0) v (1) Istanbul Başakşehir – KO 17:55
Shakhtar Donetsk (2) v (1) VfL Wolfsburg – KO 17:55
Inter Milan v Getafe – KO 20:00
Manchester United (5) v (0) LASK – KO 20:00
Thursday 6 August
Bayer Leverkusen (3) v (1) Rangers – KO 17:55
Sevilla v Roma – KO 17:55
FC Basel (3) v (0) Eintracht Frankfurt – KO 20:00
Wolverhampton Wanderers (1) v (1) Olympiacos – KO 20:00
We hope you enjoyed the article 'Europa League Round of 16 preview'. Who do you think will make it to the quarter-finals? Let us know!
Read more on European football here: