AZ Alkmaar: the Next Wave of European Youth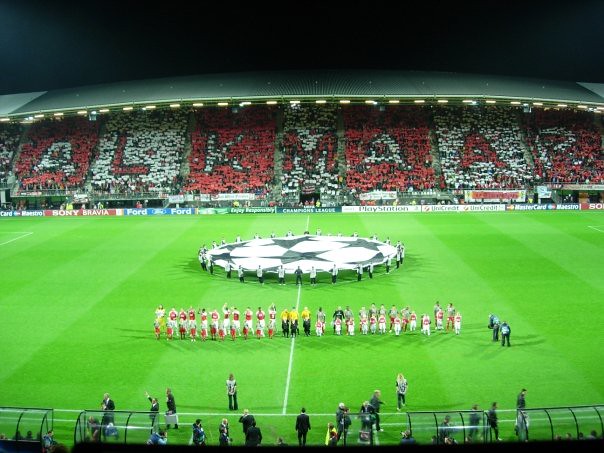 The Dutch youth products setting the Eredivisie alight
AZ Alkmaar: the Next Wave of European Youth
The cancellation of the Dutch Eredivisie season sparked huge upset for football fans across the Netherlands. The severity of the Coronavirus pandemic in Holland, forced the government to terminate the rest of the season. This meant no teams would be relegated from the league & no team would be crowned champions.
However, the restart of football throughout the rest of Europe has proven to be a huge success. All of the major European football leagues were able to resume, aside from football in France & the Netherlands. Matches have played under strict safety measures, including all matches played behind closed doors.
Before the closure of the Eredivisie season, two teams were fighting at the top of the table. Level on 56 points each; Ajax (1st) & AZ Alkmaar (2nd). AZ, a team who have been put under the spotlight plenty of times over recent seasons. The reason being, the club's youth talent.
Calvin Stengs and Myron Boadu are 2 players that should be on every clubs radar in the summer. Both players look miles ahead of their age and shouldn't be extortionately valued. pic.twitter.com/7A3U3xIBwf

— Gally ™ (@AFCGally) April 30, 2020
Eredivisie Golden-boys
AZ Alkmaar have been crowned champions of the Eredivisie twice in their history (1980/81 & 08/09), as well as winning five domestic trophies. AZ had high hopes of turning two titles into three this season, before the closure of the league. This was a huge disappointment for fans however, there's still plenty for them to be excited about. 
This season has proved that AZ would play at least 6 to 7 youth academy graduates in their first team line-up per match. The Dutch side have a total of 15 youth academy graduates in their first team. This season's stand out names include; Myron Boadu, Calvin Stengs, Owen Wijndal & captain, Teun Koopmeiners. The four young Dutchmen were all recruited by AZ at the age of 12, and had been making first team appearances week in & week out during AZ's campaign.  The players are all in the sights of top European clubs after such incredible performances during the season.
AZ's young attacking trio have been on fire this season 🔥

🇱🇺 Myron Boadu (18) ⚽️ 14 🎯 3
🇲🇦 Oussama Idrissi (23) ⚽️ 9 🎯 1
🇱🇺 Calvin Stengs (20) ⚽️ 9 🎯 6

Two have been rewarded with debuts for the Netherlands 💪 pic.twitter.com/HytwRfuRep

— Soccer Manager Games (@SoccerManager) November 21, 2019
Myron Boadu
Boadu is a 19 year-old Dutch striker, born in the Dutch capital with dual citizenship including Ghana. The youngster who stands at 6 feet tall has made 24 Eredivisie appearances in the 19/20 campaign. He racked up 14 goals and 8 assists over the course of the season, and is currently valued at almost 20 million Euros by the club.
The AZ target man has represented the Dutch national side from under 15's onward. November 2019 saw him picked up for the first team by Ronald Koeman. A European Qualifier VS Estonia, gave Boadu the chance to score a debut goal, after being brought on as a substitute. This lead to a 5-0 victory for the Netherlands.
In December 2019 it was confirmed that Boadu had turned down a transfer offer from Arsenal. It was debatable whether the striker would have started many games for the Gunners, therefore this may have been a wise move for Boadu's development. At the time of writing, links of a move to Everton have been circulating, although AZ seem confident to keep him at the club.
Before he got his first real shot at senior football, Myron Boadu had to overcome two potentially career-ending injuries.

In his first season at the pro level, he's scored 20 goals and 13 assists, firing AZ to the 2020/21 Champions League.@fraser_clark:https://t.co/ujNz6E5KJT pic.twitter.com/qxG4cgSj15

— Breaking The Lines (@BTLvid) May 18, 2020
Calvin Stengs
A rapid right-winger, with brilliant dribbling ability, Calvin Stengs is yet another hot prospect at AZ Alkmaar. Stengs is currently 21 years of age, valued closely to 20 million Euros & has a number of clubs on his tail. 25 Eredivisie appearances this campaign has led to 5 goals and 8 assists, proving him to be more of a creative player than anything, also with the ability to cut in and score the occasional goal. 
Stengs has played for the Dutch national team at under 21 level. Just 8 months later he was called up for the first team, only having made 1 appearance so far, alongside Myron Boadu in their 5-0 victory against Estonia. 
Everton & West Ham have been confirmed as candidates to sign Stengs. However the more likely transfer move has been a link to 34 time Dutch-champions, Ajax Amsterdam. Ajax recently sold Moroccan midfielder Hakim Ziyech to Chelsea, and are now in need of a midfielder or wide player. Calvin Stengs has been a man they've kept on their radar. 
Calvin Stengs 2019/20 (Part 1) pic.twitter.com/6fTRwZB57r

— TJ (@CohleRust11) July 1, 2020
Teun Koopmeiners
Captaining the team you play for will always be a huge achievement to any player. For Teun Koopmeiners, captaining your side at just 22 years of age is something that comes much more exciting, whilst also adding to your value. Holding the price tag of around 12-15 million Euros to his name & playing the role of a stone wall defensive midfielder, Koopmeiners has made 25 appearances for his side this campaign. During this time he scored a whopping 11 goals, which for a player of his position is monumental. This proves he can push high up the pitch when on the attack, as well retreat when on the receiving end. 
Koopmeiners last played for the Netherlands at U-21 level. He's made 13 appearances, scoring 3 goals, however he's yet to be called up for the first team. Dutch football fans will be confident to see him break through to the first team any time soon.
Arsenal & Everton are reportedly eyeing up the midfielder, however leading the race appears to be AC Milan. The Italian giants have shown interest for while a now, having been unsuccessful with previous offers, Milan seem to not be giving up on the signing of Koopmeiners.
According to AZ Alkmaar sources, #Arsenal are interested in signing their midfielder Teun Koopmeiners. pic.twitter.com/Sw0Ye9Sxah

— Gurjit (@GurjitAFC) July 5, 2020
A squad filled with potential, destined for future success, AZ Alkmaar could be a team that world football fans hear a lot about next season. Other homegrown talent to keep an eye open for include: Mohamed Taabouni (18), Kenzo Goudmijn (18) & Owen Wijndal (20).
The average age of the whole first team currently stands at 23.7. Incredibly young, incredibly exciting, and a potentially Incredible season to look forward to for AZ Alkmaar fans, as well as all Dutch football followers. 
We hope you enjoyed this article 'AZ Alkmaar: The Next Wave of European Youth'. Can you think of any other lesser known teams with exciting youth academy prospects? Let us know!
Read more on football here: