Why You Should Consider Attending Motorcycle Races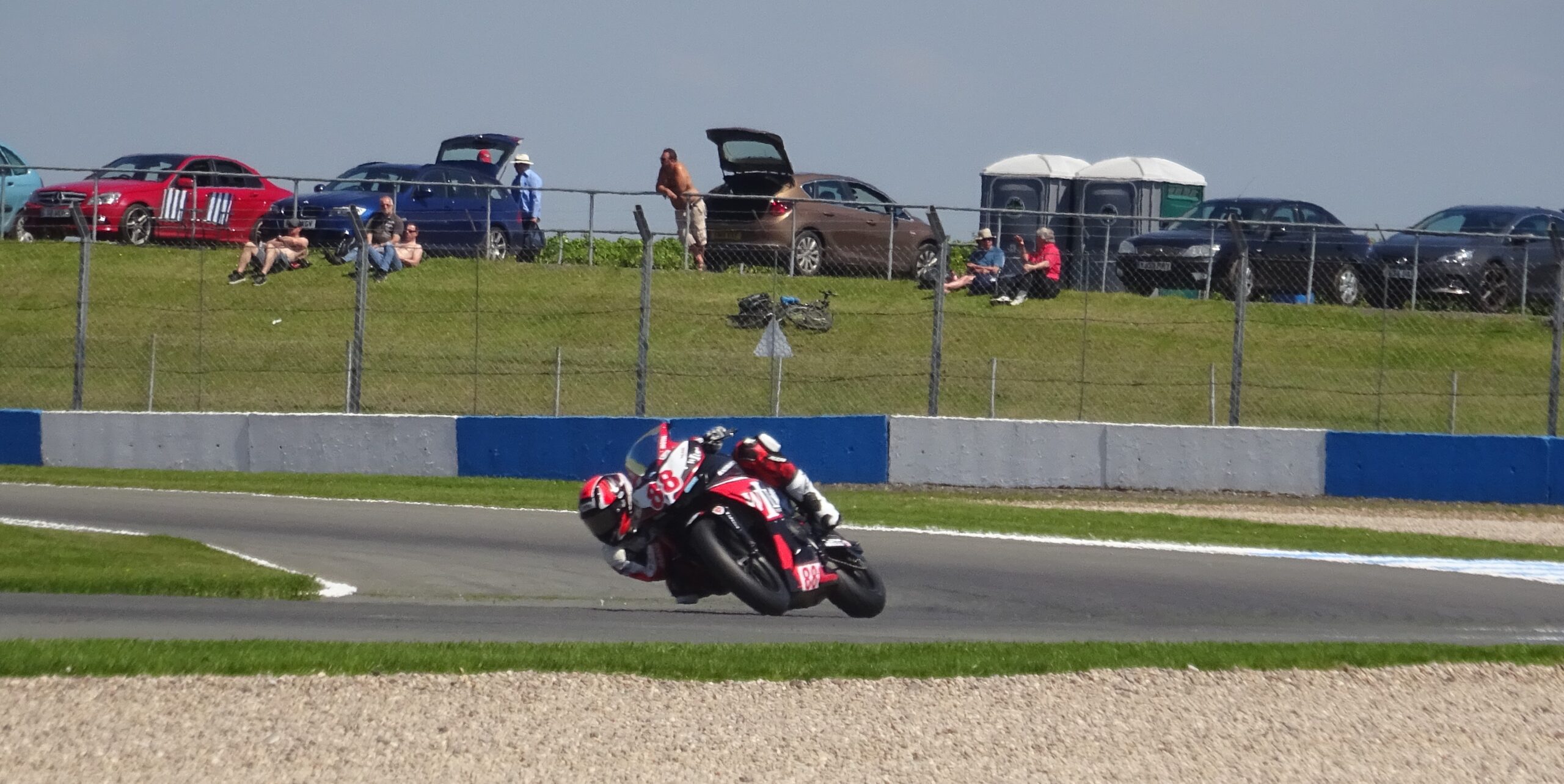 Should you attend live motorcycle racing?
The appeal of spectating and attending live motorcycle races trackside might be questionable. The bikes fly past so fast you only get a momentary glimpse each lap. The noise is phenomenal – if you've ever heard a wannabe racer revving their way down the streets, imagine the cacophony multiplied by thirty and exacerbated by dedicated performance engines. The potential for hearing damage is there, but so is entertainment unmatched by any other sport. Attending a motorcycle race isn't a fast food hit of sports action delivered in 90 minutes. It's a gourmet feast spanning four days and throws in the fun of camping as an extra.
In the past I have attended an array of motorsport events. Speedway from world championship level down to British division 3, Monster Jam, stock cars and Dirt Quake. All are entertaining and possess unique qualities, but this article particularly focuses on tarmac road racing disciplines. With the recent announcement of the MotoGP and British Superbikes calendars, I thought I'd share some of my related memories. I've included a number of pictures I've taken over the years. Hopefully this article can convince you of the joy of attending live motorcycle racing.
Family Fun
I attended all of these events with my dad. He ensures we are fully prepared with numerous packing lists and thoughtful acquisitions of equipment and food. We have devised the optimum viewing strategy across the weekend. We arrive on Thursday before the event starts, set up camp and then have a familiarisation walk around the track. Some circuits allow fans to walk on the track itself. Friday is practice, which we spend scouting out the best spots to view from and the food vendors with the most potential. Saturday features qualifying and support class races, which means we settle in to some second-favourite viewing areas to watch the action. Sunday is the main event, a full day of racing. We find the perfect viewing area early on (a giant TV screen within sight) and set up for a long, exciting day of on-track action and off-track gluttony.
2015: MotoGP, Silverstone British Grand Prix
Overview: A fast, flowing track of 3.6 miles and 18 turns, Silverstone is beloved of riders but sometimes criticised by fans. There is a lack of elevation changes, which results in a minimum of truly great spectating positions. Nevertheless, the off-track facilities are superb with a vast amount of cuisines catered for and the biggest and best line-up of evening entertainment of any motorcycle race in the country.
Memorable on-track moment: Marc Marquez crashed out in the slippery conditions, allowing Valentino Rossi to romp home for victory. Rossi has only won three races since that day and currently faces much speculation about his future. A moment to treasure at the time, it becomes more valuable as each passing season features less Rossi victories. Another highlight was Danny Kent's superlative display of wet riding to win the Moto3 race. Victories by British riders in the MotoGP are uncommon and wins at their home track are even rarer.
Memorable off-track moment: Standing in the middle of a rowdy crowd of drunken bikers, cheeseburgers and beers in hand, all belting out the words to cheesy pop songs. The spectacle was presided over by Mexican band the Mariachis, of Doritos TV advert fame. The fun-loving group effectively served as the house band for the weekend, with various acts present including Adam Ant. One of the unexpected delights of attending motorcycle races is the bizarre mix of entertainment hired by the organisers.
2016: British Superbikes, Brands Hatch
Overview: The peaceful tranquillity of rural Kent is blasted apart by the roar of engines when action kicks-off at Brands Hatch. The GP Circuit layout used for this final round decider of the British Superbike championship is 2.4 miles long. It features 9 turns, starting with the infamous Paddock Hill Bend, a viciously curving right hander.
Memorable on-track moment: Six-time British Superbike Champion Shane 'Shakey' Byrne claiming 6th, 6th and 3rd place finishes over the weekend to ensure he was once again crowned champion. Brands is Shakey's home track and he's won countless victories there, including at World Superbikes level. We were allowed onto the track, standing atop the home straight grid markings to watch the trophy presentations, close enough to get sprayed by the celebratory champagne.
Memorable off-track moment: Rain coming down, complaining about other people's umbrella whilst sheltering under our own. Unfortunately wearing shorts and a newly purchased, heavily discounted jacket of the now defunct team EpayMe Yamaha. The merchandise available to buy covers all kinds of clothing and accessories, I've added several jackets and phone cases to my collection over the years.
2017: World Superbikes, Donington Park
Overview: A track with a long and prestigious history, the Donington Park GP Circuit covers 2.5 miles and 12 turns. In the past the circuit hosted races at the pinnacle of both two and four-wheel prototype racing: MotoGP and Formula 1. It's a staple round of many British motorsport series and also known for being the venue of Download Festival.
Memorable on-track moment: I was sprawled in the grassy area at the bottom of the famous Craner Curves watching Jonathan Rea and Tom Sykes coast to another Kawasaki One-Two finish. Suddenly, Rea hit the floor with a thump and spray of sparks. In five completed seasons with Kawasaki, Rea has only failed to finish in six races, making this a collector's item. It emerged that the crash was no fault of the rider, as Rea's tyre had somehow slipped off the wheel rim.
Memorable off-track moment: Wandering through the easily accessible paddock marvelling at the size of the movable hospitality suites. Then out of nowhere almost being run down by a grinning, helmetless, race-leathers-attired Tom Sykes on a dinky paddock scooter. World Superbike events are generally a lot more relaxed about having fans roaming the paddock than MotoGP. It's a bonus of attending motorcycle races.
2018: British Superbikes, Cadwell Park
Overview: Marketed by BSB as 'the party in the park', Cadwell is 2.1 miles long with 18 turns and famously minimal run-off area. There are numerous elevation changes and tight corners. There is also The Mountain, a world-renowned section of track where the superbikes will go fully airborne. Such large, powerful machines with both tyres visibly separate from the track is a sight to behold.
Memorable on-track moment: Leon Haslam and Jake Dixon having a titanic tussle in the superbike races. Haslam won both races while Dixon collected two third places. They were first and second in the championship and would eventually finish in those positions overall. As both are fierce, talented competitors they wouldn't give an inch. Dixon claimed Haslam was dangling his leg to block the racing line and overtaking moves. At the end of the season Haslam moved up to World Superbikes and Dixon transitioned to Moto2. A shame for the BSB paddock, but good to have British riders progressing from the series to the international level.
Memorable off-track moment: Sitting outside the tent in the early evening sunshine with my dad, having watched a great day of on-track action. A cool, refreshing cider and an engrossing book complimented each other and the weather perfectly. However, the good weather did not hold, and I was abruptly woken up at 3 am when fierce winds made half our tent collapse onto me! Part of the fun of attending motorcycle races is having a weekend away camping. My dad likes to be prepared for every eventuality and we take lots of kit and provisions. Before we went to Cadwell he solemnly declared he was aiming to bring less stuff. Then his next sentence was, "Also, I've just bought an oven to take with us." The oven turned out to be a brilliant idea, enabling us to cook tasty pies and potatoes.
2019: British Superbikes, Thruxton
Overview: Known as the fastest circuit in the UK, Thruxton is 2.3 miles long with 11 turns. These 'turns' are more like gently curved straights than actual corners, resulting in astonishing average speeds across a lap. Unfortunately, the spectator areas do not extend the entire way around the track. Nevertheless, you can stand very close to the track and gain a true understanding of the bikes' speed.
Memorable on-track moment: Watching ex-MotoGP rider Scott Redding battling with the British domestic championship regulars. Riders used to competing in the top class of MotoGP or World Superbikes don't often take the step back to national level. The extra level of ability Redding possesses was evident, and he would eventually be crowned champion in his rookie season. We had a perfect view of the one slow chicane at Thruxton and Redding visibly braked harder and later into it, then got on throttle earlier out of the corner than anyone else. One particularly spectacular move involved overtaking two people at once on corner entry.
Memorable off-track moment: Trying to find an area where phone signal or internet data coverage could penetrate the Hampshire wilderness that surrounds Thruxton so I could call my girlfriend. Lack of signal is an issue that affects all tracks on this list, due to their rural locations. It leads to some conversations where I would finally get through during a break between races, only to garble a greeting and have her reply drowned out by a pack of bikes thundering past.
2020
We intended to go to British Superbikes at Oulton Park, however Coronavirus makes this unlikely. The revised British Superbikes calendar still includes Oulton Park; it's as yet unknown if spectators will be able to attend.
2021 and beyond
I would love to attend the Isle of Man TT or other real roads races. Adventures into Europe to track such as Assen, Catalunya and Mugello are also an enticing prospect. Even further afield awaits Sepang and Phillip Island, which always provide dramatic racing. That's part of the fun of attending motorcycle races, every track offers a different experience.
This article is published on the UK Father's Day, so happy Father's day dad! Thanks for introducing me to the two-wheeled fun and not making me too jealous of your own on-track exploits. It's no coincidence that motorcycle racing history is full of famous father-son duos. I definitely recommend motorcycle races as a shared activity for anyone reading and wondering what to do with their father or son in the future. Or indeed, their mother or daughter, as racing can be a delight for all.
We hope you enjoyed this article about attending motorcycle races, let us know the best tracks you have visited! 
Read more about motorcycle racing here: