Top 10 Motorcycle Racing Autobiographies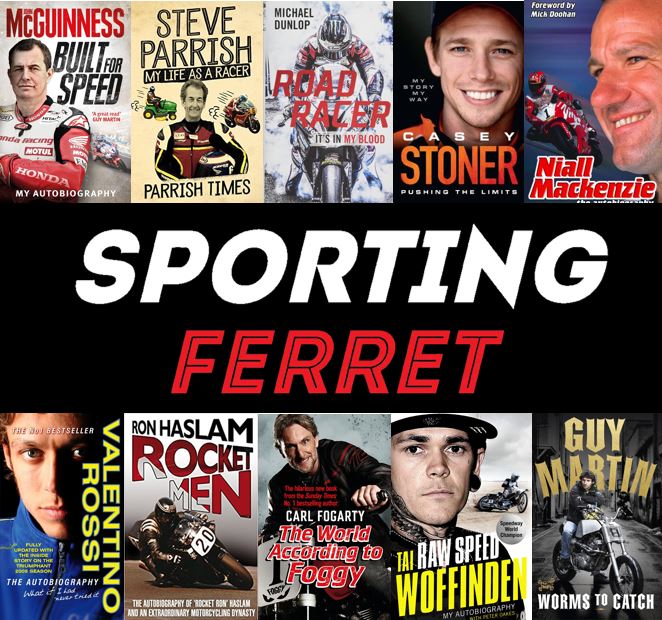 Top 10 Motorcycle Racing Autobiographies
Motorcycle racing autobiographies provide entertainment in a number of ways. They give the reader insights into the psychology of riders who risk their lives every weekend. Most offer a behind-the-scenes exposé on life in the paddock, an environment packed with noteworthy characters. This information is usually delivered through a joyous cavort down memory lane, recalling the thrill of a life lived at the behest of the throttle, breaking speed limits, bones and records along the way. The following is a list of the top 10 motorcycle racing autobiographies. All the books would be a great pleasure for you to read or serve as a thoughtful gift for any bike-loving relatives and friends.
10) Parrish Times: My Life as a Racer by Steve Parrish
These days Steve Parrish is more likely to be seen in control of a commentary microphone or a plane than a racing motorcycle. However, he spent the best part of a decade racing in the premier class of motorcycle grand prix, winning British national championships and contesting the notorious Isle of Man TT. Later in life Parrish made an unusual switch to truck racing, winning both British and European titles.
An inveterate prankster, the book is stuffed full of jokes and japes. Parrish seems unable to detect when a line has been crossed and his behaviour goes beyond the boundary of comedy. A notable incident is when he set off a barrel of fireworks in a brothel after the Macau Grand Prix. The book is a fun read but does make you feel that Parrish's antics are best observed from a safe distance.
9) Road Racer: It's In My Blood by Michael Dunlop
The Dunlop family are the greatest real road racing dynasty. Between them the various members of the family have collected innumerable victories around the most dangerous tracks in the world. They display bravery and skill of incomprehensible levels. But this comes at a price. Michael Dunlop unflinchingly chronicles his life in racing. He describes the experience of riding through the wreckage of the crash that killed his father – in practice for a race that father, son and brother William were all competing in – and the shadow that the deaths of Robert Dunlop (Michael's father) and Joey Dunlop (Michael's uncle) have cast over the family.
The book was published prior to the death of William Dunlop, who also perished in a racing accident. Passages about William now carry extra poignancy. With so much family tragedy emanating from the track you would think Michael would quit racing forever. Road Racer explains why he will never give up; we can only hope that he calls time on his career before further misery is heaped on the family.
8) Pushing the Limits by Casey Stoner
After putting the finest riders in the world to the sword on the way to winning two MotoGP world championships, Casey Stoner retired prematurely at the age of 27. His book helps explain the combination of injuries, illness and disillusionment with the media circus of the paddock that led to his decision to retire. It also shines light in the huge risk and commitment taken by parents for their talented children. Stoner's family sold their house in Australia and moved to England, living in a caravan and struggling to make ends meet, all in an attempt to further their son's career.
His story was a resounding success, but for most families the end result is sadness and debt. Many fans and experts bemoan the early end of Stoner's career. However, the picture that emerges is of a man entirely at peace with himself and his life. The MotoGP world misses Stoner's brilliance far more than the man misses the thrills and drama of the world championship.
7) Raw Speed: My Autobiography by Tai Woffinden
Decorated with giant tattoos, ear spacers and three speedway world championship titles, Tai Woffinden's appearance is as distinctive as his achievements and attitude. He writes frankly and honestly about the struggle of dealing with his father's death from cancer, and how it made him grow up from a party animal to a serious, dedicated athlete. The result was a level of success that fulfilled the yawning chasm of possibility that his talent always suggested was possible. Tai opens up about his divided loyalties, considering himself Australian (having spent his childhood and early teenage years there), despite competing for Great Britain in the individual and team world championships.
This book would have featured higher up on the list but is hamstrung by having far too many basic spelling and grammar mistakes littered throughout. The copy edit was not carried out in sufficient detail and the end result is sloppy errors that detract from the reading experience. Nonetheless, this is a fast paced, combative addition to the archive of motorcycle racing autobiographies that explains a lot about Tai the man, not just Tai the racer.
6) Niall Mackenzie: The Autobiography by Niall Mackenzie
Until the recent exploits of Cal Crutchlow, Niall Mackenzie was Britain's most successful rider in the premier class of grand prix motorcycle racing since Barry Sheene in the 1970s. A factory Suzuki rider on a powerful 500cc machine, Mackenzie achieved a handful of podiums, but a win always remained elusive. Stories of his youthful escapades such as drunkenly crashing a bike into a fish and chip shop while trying to impress some girls demonstrate an upbringing that is similar to many racers.
Mackenzie returned to Britain to race in the fledgling British Superbike championship, winning a hat-trick of titles across 1996, 1997 and 1998. The provides great revelations and memories from the halcyon days of ultra-competitive riders who raced hard on track and had fun off it, including Jamie Whitham, Chris Walker and Steve Hislop. Mackenzie's two sons, Tarran and Taylor, and now also racers. The pair have featured in categories such as British Superbikes, British Superstock and the Moto2 world championship.
5) Built for Speed: Bikes, Beers and Balls of Steel by John McGuinness
A humble, self-depreciating man, John McGuinness styles himself as 'just a brickie from Morecambe'. The book does feature some tales of his life as a bricklayer, which adds another layer of interest, but the truth of McGuinness's life is his god-like command of the Isle of Man TT circuit. In a career spanning 20 years, McGuinness has achieved 47 podiums and 23 victories at the TT, 2nd only to the legendary Joey Dunlop (26 victories). The gentle charm, humour and humility that makes McGuinness, affectionately known as McPint, so popular with racing fans is evident in abundance.
Anecdotes also feature from John's time racing other events such the TT Zero, 250cc world championship and the Macau Grand Prix. Despite a horrific accident at the North West 200 in 2017 that destroyed his legs, McGuinness made a return to racing, most recently winning the Classic TT in 2019 at 47 years old. This books explains the commitment and passion for bike racing that can fuel such endurance and longevity, despite the pain and risks.
4) Rocket Men by Ron and Leon Haslam
With a career spanning the 70s, 80s and 90s and his final competitive ride coming in 2004, Ron 'the Rocket' Haslam is an undoubtedly one of the most experienced men in motorcycle racing. Along the way he claimed three world titles, four British championships and started 107 premier class grand prix races, achieving 9 podiums. The book details Ron's Derbyshire upbringing as one of ten siblings, unfortunately elder brother's Phil and Terry were killed in racing accidents. Undaunted, Ron went on to climb the ladder of racing series until he reached the top. He then raised a son, Leon, who went on to reach the pinnacle of both prototype and production racing, first in 500cc grand prix, then World Superbikes.
Leon was also crowned British Superbike champion in 2019, after repeatedly coming 2nd and 3rd. The final chapter if written by Leon, giving his views on his dad's career and influence, as well as recounting his own career, such as a disastrous season in the 125cc world championship on an uncompetitive Italjet bike. The father and son duo is very common in motorcycle racing, but the co-authoring of motorcycle racing autobiographies is less common. It works very well and could perhaps be replicated by other successful duos.
3) The World According to Foggy by Carl Fogarty
Forthright, bullish and entertaining, Carl 'Foggy' Fogarty's writing mimics the characteristics that made him so successful on track. Published in 2018, this is Fogarty's second attempt at an autobiography. A previous book published in 2000 was similarly opinionated and bold, but lacked the maturity and introspection of the older, wiser Fogarty. From 1999 Foggy was the undisputed most successful rider in World Superbikes history, with four championship titles. Jonathan Rea has since managed to claim five titles, but the Northern Irishman has never quite managed to achieve the same dedicated following from supporters as Foggy did.
The book features the usual reminisces about world superbikes, grand prix wildcards, the Isle of Man TT and paddock shenanigans. However, for the first time Foggy truly opens up about his hit-and-miss attempt at team ownership with Foggy Petronas. Always a favoured son of motorcycle racing fans, Foggy's popularity spread to the mainstream when he was crowned King of the Jungle during 2014's series of I'm a Celebrity…Get Me Out Of Here! An unorthodox move, as bike racers usually are cult figures within their circles but largely unknown to the general public.
2) What If I Had Never Tried It by Valentino Rossi
The David Beckham, Andrew Flintoff and Lewis Hamilton of motorcycle racing, Valentino Rossi is probably the one name a non-racing fan could recall if asked to name a motorcycle racer. Now 41 years old, Rossi has been racing at world championship level since he was 17. This book was published in 2006 so does not cover the later parts of his career. Still to come are the troubled move to Ducati and Rossi's triumphant return to Yamaha, and the establishing of the VR46 academy and Moto2 and Moto3 teams. However, it does bring us unique insight into Rossi's childhood and teenage years, his view on leaving the championship winning machine of Honda for the untried Yamaha, and the effort it takes to win the Suzuka 8 hours.
Rossi's cheeky, playful attitude leaps from the page. His delight at travelling the world and racing the finest motorcycles in existence is evident, as though part of him can't believe it's actually happening. Rossi's retirement has been predicted for many years, but he shows no sign of ending the show yet. Hopefully when he does hang up the leathers, he will write another book.
1) My Autobiography, Worms to Catch, When You Dead You Dead, We Need to Weaken the Mixture (4 books) by Guy Martin
Stubbornly insistent that he's just a humble truck fitter with lots of hobbies, Guy Martin undoubtedly has the most varied existence of anyone on this list. These four books encompass a mind-boggling array of events, moving far beyond the territory of any other motorcycle racing autobiographies. Guy originally found fame as a real roads racer, climbing onto the podium at the Isle of Man TT 17 times without claiming a victory. Wins did come at other events, such as the North West 200, the Ulster GP and the Southern 100. An interview for a film about the TT led to Guy's emergence as a TV personality, and he has since presented a variety of TV shows. These range from travelling across India and China, to Victorian engineering and building, and most famously his high-speed Guinness World Records attempts.
Guy writes with great passion about his escapades in the world of endurance cycling, such as entering solo 24-hour mountain bike races. His completion of the Tour Divide, an 18-day slog from Canada to New Mexico through the Rocky Mountains, is described in detail. The four books cover too many different topics and aspects of Guy's eccentric life to pick a best from the bunch, as all are equally enjoyable and entertaining from the first page to the last. Watch the video below for an example of the humorous interviews that launched Guy into the world of TV presenting.
We hope you enjoyed this article 'Top 10 Motorcycle Racing Autobiographies'. Have you read some of these books? Would you add any others to the list? Let us know!
Read more on sports books and motorcycle racing here: