Top 10 Sports Autobiographies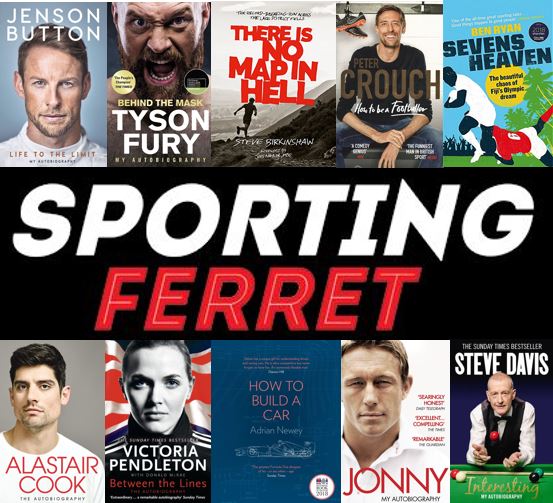 Sports Autobiographies Top 10: the Best Reads
Sports stars books are usually written with the help of ghost writers but are no less insightful for the fact. They provide direct insight into the lives and mentality of revered heroes. This list includes ten books from eight different sports. Covering boxers and snooker players to rugby coaches, Formula 1 designers and fell runners, something will appeal to all fans. It must be remembered that sports autobiographies only tell one side of the story. Some are more even-handed than others in recounting the events of their lives. Read on to discover the next sports autobiography you should pick up.
10) Life to the Limit: My Autobiography by Jenson Button (Formula 1)
Giving the green light and a racing start to this list is ex-Formula 1 driver Jenson Button. Early in his career Button was known for an excessive playboy lifestyle that led to his talent being unfulfilled. In time he would win the world championship with the chronically underfunded, one-season-wonder Brawn team. This book is a measured, mature work from a man looking back comfortably on a successful life. A deep love and respect for his father John is woven through the book. It serves as a homage to the man who inspired and supported Button from the beginning. Deeper emotion mixes with tales revealing the more mischievous, off-track chicanery side of the circus that is Formula 1.
Button holds the distinction of one of the few drivers to beat six-time world champion Lewis Hamilton as team-mates. Button established a reputation for smooth, precise driving throughout his career, being famously easy on his tyres. His writing navigates the story of his life with the same easy assurance. The chapters hurry along with the unrelenting speed and excitement of Button's championship-winning Brawn BGP 001 car. A fantastic addition to the long tradition of sports autobiographies, its written from the heart, with greater thoughtfulness than many might expect.
9) Behind the Mask: My Autobiography by Tyson Fury (Boxing)
Never a man to be afraid of his roots, the self-styled Gypsy King tells his story for the first time. An extraordinary career of rise and fall followed by rising again, wreathed in controversy and championship belts. Struggles with weight, depression and holding views that don't fit with the modern progressives are all covered with startling honesty. Fellow boxer and member of the traveller community Billy Joe Saunders memorably claims: "It's a great book. If I could read, I'd buy it."
Fury is an enigma, an eccentric, a man who looked to have left the conscious realm when he hit the canvas against Deontay Wilder. He then leapt up after 9 long seconds and began taunting his opponent. Such moments form part of the mythology of Fury. He is an aptly named giant who can't locate the middle ground between excessive high and troublesome low. Fury can be loved or loathed but never silenced. Heralded as the UK's bestselling boxing book since records began, it certainly packs a few hefty punches. With an announcement of a possible upcoming fight against Anthony Joshua, now would be the perfect time to catch up on Fury's past.
8) Interesting by Steve Davis (Snooker)
In his prime Steve Davis was a relentless winning machine, dominating snooker in the 1980s. Known for astute tactical play, mental fortitude and stand-offish nature, Davis reached eight world championship finals in the decade. He lifted the trophy in six of them. The baton of superiority had been passed from 1970s powerhouse Ray Reardon to Davis. He would then pass it on to Stephen Hendry, who swept all before him in the 1990s. This sports autobiographies delves into the mindset that gave life to Davis' determined style of snooker and attitude that often saw opponents mentally beaten before the match begun. The personality that emerges is of a thoughtful, amusing man who cared for little beyond his obsession with snooker and its colourful characters.
Davis grumpily reports the days of promotional tours in China, being coerced into visiting world wonders such as the Great Wall of China. All he wanted to do was be back at the hotel potting snooker balls. Little emerges about his personal life. As he divorced his wife Judith in 2005, she barely features in the book. Clearly an adoring father, their two sons merit brief mentions and some pictures. Anyone hoping for an in-depth account of Davis' time on I'm A Celebrity…Get Me Out of Here will be disappointed. The show is mentioned briefly on a number of occasions but never explored in full. Steve's thoughts about the show remain largely a mystery.
7) Between the Lines: the Autobiography by Victoria Pendleton (Track Cycling)
Track cycling is a sport that receives minimal interest from the sporting public outside of narrow Olympic windows. Nevertheless, it is a brutal, high speed contest that demands total commitment from its competitors. Victoria Pendleton is a perennial winner, so has complete understanding of the demands in her chosen discipline. The book explores the mental and physical toll that the challenge of first reaching the top, and then staying there. Her haul of medals could decorate a Christmas tree, with 3 Olympic medals (2 gold, 1 silver), 16 World championship medals (9 gold, 5 silver, 2 bronze), 3 European Championships medals (2 gold, 1 silver) and finally 2 Commonwealth Games medals (1 gold, 1 silver).
The medals came across four disciplines (sprint, keirin, team sprint, 500 metre time trial), demonstrating remarkable versatility. A transcendent figure, Pendleton attracted attention from magazines and newspapers beyond the sporting world. She deftly handles the topics of being a woman in the early years of Britain's rise to a cycling superpower, when some old-fashioned views towards gender were still unfortunately prevalent. The book therefore functions as both a personal memoir and a part-history of the resurrection of British cycling.
6) How to be a Footballer by Peter Crouch (Football)
Peter Crouch is beloved by football fans for his gangly nature, the robot dance and a devious sense of humour. He famously pithily responded to the question: "What would you be if you weren't a professional footballer?" with "A virgin." Appreciation of the comedic side of life is ever-present in the book. It is a collection of tall stories from everyone's favourite giant centre forward. Something of a journeyman, Crouch played for England and eleven club sides in his career. This provides ample ammunition for his book.
Styled as an expose into the life of a footballer, giving away the hidden secrets and eccentricities of the dressing room, it provides riotous fun. It's a cross between a sports autobiography and a fly on the wall documentary, where japes and pranks abound. Crouch delivers a second dose of footballing high jinks in a follow-up book called "I, Robot: How to be a Footballer 2". The books combine to add a different taste to the soup of sports autobiographies.
5) Jonny: My Autobiography by Jonny Wilkinson (Rugby)
This book takes a plunge into the mental madness that drives the most successful sports stars. The very best athletes tend to despise losing more than they actually enjoy winning. Jonny Wilkinson is the king of these tortured souls, who feel pained by anything less than perfection. He is famous for sealing England's rugby world cup victory in 2003 with a drop goal using his non-dominant foot. A victory that forever secured that team's dominance over the usual southern hemisphere champions. However, Wilkinson claims lifting the world cup was one of the most painful moments of his life. He knew it was the peak of his sport and performance; such perfection could never be reached again.
This mindset seems ungrateful and unsettling to most fans and players, but that is what separates Wilkinson from everyone else. He may not have been one of the fastest players ever, but he was undoubtedly among the most driven. It's the relentless mental anguish that drove England's most acclaimed fly-half to never settle for less than his absolute best. Generally, people are happy to settle for more mediocre achievements and keep their sanity. This is what makes reading sports autobiographies describing the inner turmoil of icons such as Wilkinson so fascinating, as the level of devotion is alien.
4) There is No Map in Hell by Steve Birkinshaw (Fell Running)
A niche sport that may be unknown to many sports fans, fell running is a relentless, punishing endeavour that offers minimal financial rewards. It involves running up and down hills as fast as possible, for an inordinately long time. This book is Steve Birkinshaw's telling of his quest in 2014 to beat a record that was set in 1986 by Joss Naylor. By completing a continuous circuit of the Wainwright fells in the Lake District in seven days and one hour, Naylor set a record thought to be unbeatable. For context, beating the record equates to running two marathons and ascending over 5,000 metres a day for a week straight.
Birkinshaw quotes Miguel de Cervantes as inspiration and justification, that "in order to attain the impossible, one must attempt the absurd." The task is indeed absurd, for to wilfully submit to such incessant torture is surely nonsensical to most regular people. Nevertheless, Birkinshaw has produced an erudite book covering his exploits. A gratuitous foreword is provided by Joss Naylor. The Wainwright fells circuit is a challenge unlikely any other. Consequently, this book is unlike the other more sensible sports autobiographies mentioned in this list.
3) Alastair Cook: The Autobiography by Alastair Cook (Cricket)
A successful opening batsman in cricket requires mental application, reliable technique and a humble, team-orientated nature. To be a competent cricket captain requires people skills, resilience, introspection and of course leadership. Throughout his career, Alastair Cook was the ultimate embodiment of these characteristics. The book enhances this reputation, confirming what those outside the dressing room has long suspected. A quietly confident man of conviction and integrity blessed with mental fortitude rather than supreme natural talent. His career for the England cricket team spanned 161 test matches and 92 one-day internationals. Cook was relied upon to provide a solid forward defensive to both the opening bowlers and the media.
The book explores Cook's humble, dignified approach to leadership. He is unflinching in his opinions about people, both positive and negative. Cook chastises himself for past failures, accepting fault where necessary, taking credit if deserved. It's clear that the double responsibility of opening batsmen and captain mentally exhausted Cook, triggering retirement. He continues to ply his trade in the more sedate county game for Essex and help out on his in-law's sheep farm. A perfect read for anyone looking for a glimpse into the mind of an intensely private man. Unlike the vast majority of his contemporaries, Cook has almost no social media presence, not even a twitter handle.
2) How to Build a Car: The autobiography of the world's greatest formula 1 designer by Adrian Newey (Formula 1)
Hugely successful Formula 1 designer Adrian Newey took an unusual but effective approach to usual design of sports autobiographies. Newey's life story is developed through a chapter structure following the cars he designed. Each is titled 'How to build a (Formula 1 car name)'. The chapters cover the various different designs Newey created, starting with the generally uncompetitive March team. Success came with moves to bigger teams: Williams, McLaren and Red Bull. Innovative, fast cars ensured a plethora of championships, cementing Newey's reputation as F1's foremost designer.
A perfectionist to the core, Newey's attitude can come across as cantankerous in his pursuit of excellence. Notably, his vociferous opinions create conflict with Williams' indomitable team owner, Sir Frank Williams. Newey's personal life is explored in some detail, along with tales of his own racing exploits and shenanigans. For example, driving recklessly around Red Bull team principal Christian Horner's front lawn. This is an inventive addition to the long history of sports autobiographies. The structure works perfectly as a canvas to display Newey's joint talents of technical genius and uncompromising attitude. The result is cars fast enough to regularly win the Formula 1 world championship. A must-read for anyone interested in Formula 1 car design and engineering.
1) Sevens Heaven: the beautiful chaos of Fiji's Olympic dream by Ben Ryan (Rugby)
Topping this list is heartfelt, passionate book by acclaimed rugby 7s coach Ben Ryan. He charts Fiji's rise from unfit mavericks to gold medal winners at the 2016 Olympic games in Rio de Janeiro. Ryan was about to sign a contract in a safe, lucrative role working for UK Sport. On a whim, he accepted the role as Fiji's rugby 7s coach instead, beginning a fabulous odyssey. The book spends more time exploring the subtleties of Fijian culture and customs than reporting on rugby matches. Ryan paints a loving picture of a country and people caught between the two extremes of geographical beauty and isolation. A similar dissonance occurs between the joyful, generous nature of Fijians and their corrupt political system riven by military coups. Rugby is practically a religion across the islands. Ryan is drawn into a complex political situation with a dynamic, compelling cast of characters.
Ryan's respect and admiration for the Fijian scenery and way of life pours from the pages. The blending of local attitudes with Ryan's analytical processes devised in England is fascinating. Any coach would benefit from heeding Ryan's advice about man management and shaping a team culture. Ryan mixes a personal tale with the sporting. He details the triumphs and struggles in his player's own lives as well as laying bare the complex emotional situation that developed in his marriage. This book would be an absolute joy to read even if you had very minimal interest in rugby, a shining example of everything that sports autobiographies should be. Just beware, you will be desperate to book expensive, excessively long flights to Fiji after reaching the final page!
We hope you enjoyed the article 'Top 10 Sports Autobiographies.' Are any of these sport autobiographies in your top 10? Let us know!
If you liked this article why not check out: