UFC on ESPN 11: Blaydes vs Volkov Preview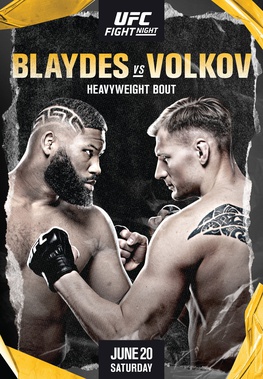 The UFC's latest collaboration with ESPN brings a stacked fight night card, headlined by two surging heavyweight contenders, Blaydes vs Volkov. Ground and pound specialist Curtis "Razor" Blaydes faces off against the Russian Kickboxer Alexander Volkov on the main event, whilst Josh Emmett will attempt to stop a rising prospect from climbing the Featherweight rankings, in the form of Shane Burgos. In this article we will break down the main card of this highly anticipated event.
Curtis "Razor" Blaydes vs Alexander "Drago" Volkov
Coming off a 3 fight win streak, including a TKO finish of Junior Dos Santos, Curtis Blaydes is tearing through the Heavyweight division in search of UFC gold. However, standing in his way is Alexander Volkov, a man with 31 victories to his name, which includes a KO of former of UFC Champion Fabricio Werdum.
Blaydes has been wrestling since a very young age, with scholarships in the sport taking him to Northern Illinois University and Harper College. It was at Harper where he won the NJCAA National Championship. Blaydes has since transitioned to MMA, where he has defeated every opponent put in front of him, bar Francis Ngannou.
Blaydes uses his wrestling to control his opponents, driving them into the cage or mat before unleashing brutal ground and pound from a dominant position. However, Blaydes has also progressed with his standup, most recently displayed in the JDS fight, where he combined the danger of a potential takedown with roundhouse kicks and heavy overhands to TKO the former champion.
The only time Blaydes has been stopped has been by Francis Ngannou, the hardest hitting fighter in the UFC. However whilst Alexander Volkov likes to strike, he does not fight same way as Ngannou. With a massive 6'7 frame, Volkov uses his range to pick apart opponents from a distance.
This is exactly the strategy he used to piece apart Greg Hardy in his last fight. Volkov stayed on the outside of Hardy's range, utilising his jab and leg kicks in a very composed display to earn the unanimous decision. Volkov is perfectly able to finish his opponents though, with 20 of his 31 victories coming by way of KO.
Prediction: Blaydes to win via TKO in the 2nd round.
Josh Emmett vs Shane "Hurricane" Burgos
Coming off wins against Mirsad Bektic and Michael Johnson, Josh Emmett is coming close to fulfilling his potential that has always been there, but has been hampered by 2 unfortunate losses. Across the cage to Emmett will stand Shane Burgos. A rising prospect on a 3 fight win streak, looking to force himself into the top 5 of the Featherweight division.
An accomplished wrestler and Jiu-Jitsu practitioner, Josh Emmett has put together a record of 15-2. However the majority of his finishes have been via KO, including his past three victories. Training out of Team Alpha Male, with the likes of Urijah Faber and Cody Garbrandt as training partners, has ensured that Emmett now has one of the most well rounded games in the whole division.
A highly talented mixed martial artist, Shane Burgos has quickly made an impact on the Featherweight division. Having defeated highly rated opposition in Makwan Amirkhani and Cub Swanson in his last two fights, it would appear that "Hurricane" is headed right for that Featherweight belt. His record of 13-1 perfectly exemplifies why he is such a threat to the division. He currently holds 5 KO's, 5 Subs and 3 decisions to his name.
Prediction: Burgos to win via KO in the 3rd round.
Raquel "Rocky" Pennington vs Marion "The Belizean Bruiser" Reneau
Two fighters both coming off losses, Pennington vs Marion promises to be a desperate scramble to reassert a foothold on the division for both athletes.
Between 2016 and 2018 Raquel Pennington rode a 4 fight win streak into a title fight against the bantamweight Champion Amanda Nunes. Unfortunately for Pennington, Nunes would once again be victorious. Pennington's career has yet to recover, and she is currently 1-2 since the loss to Nunes.
Marion Reneau is currently coming off a 2 fight skid, and at age 42 is in the twilight years of her career. However she certainly still has the ability to take the fight to Pennington. Finishes over Sara Mcmann and Jessica Andrade stand out on her record.
Prediction: Pennington to win via Decision
Belal "Remember The Name" Muhammad vs Lyman "The Cyborg" Good
Two of the most promising Welterweight prospects face off in a fight that could see the victor break into the hotly contested divisions rankings.
Belal Muhammad is an elite striker fighting out of the Roufusport fight team. He currently has 6 wins out of his last 7 UFC fights, with wins over high level opposition such as Tim Means and Curtis Millender. With a record of 16-3, Muhammad is looking to take one more step towards his end goal of UFC gold.
Muhammad's opponent takes the form of Lyman Good, a training partner Shane Burgos at Team Tiger Schulmann. Having spent much of his career at Bellator, Good transitioned to the UFC in 2015 where he has picked up 3 wins and 2 losses. However his losses were against some of the best the division had to offer, such as Demian Maia. Having most recently KO'd Chance Rencountre, Good is prepared to face another of the divisions elite.
Prediction: Muhammad to win via Decision.
Jim "A-10" Miller vs Roosevelt "The Predator" Roberts
Jim Miller is one of the UFC's most decorated veterans, holding the most wins in UFC Lightweight history, as well as being one of only 6 men to have over 30 fights in the UFC. Having most recently defeated rival UFC veteran Clay Guida, Miller is looking to continue his impressive record.
Roosevelt Roberts is looking to build on his victory against Brok Weaver, which took place less than a month ago. Roberts looked exceptional against Weaver, dominating the fight and picking up the second round Sub. If Roberts is able to defeat Miller, he may well be able to find himself facing a ranked opponent next.
Prediction: Roberts to win via Sub in the 1st round.
Prelims:
Clay "The Carpenter" Guida vs Bobby "King" Green
Brianna "The Bull" Van Buren vs Tecia "The Tiny Tornado" Torres
Marc-Andre "Power Bar" Barriault vs Oskar "Imaldo" Piechota
Gillian "The Savage" Robertson vs Cortney "Cast Iron" Casey
Frank "The Crank" Camacho vs Matt "The Steamrolla" Frevola
Roxanne "The Happy Warrior" Modafferi vs Lauren "Lucky" Murphy
Austin "Thud" Hubbard vs Max Rohskopf
We hope you enjoyed the article 'UFC on ESPN 11: Blaydes vs Volkov Main Card Preview.' What are your predictions for UFC on ESPN 11: Blaydes vs Volkov? Let us know!
If you liked this article why not check out: