WWE Summerslam Preview And Predictions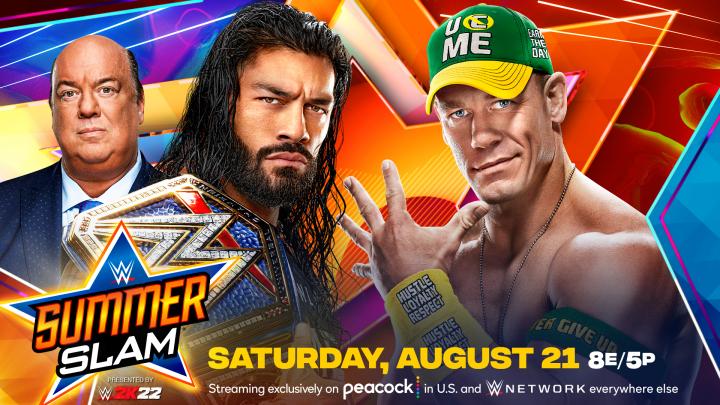 WWE Summerslam Preview and Predictions
WWE Summerslam, dubbed the "Biggest event of the summer", takes place this Saturday night at the Allegiant Stadium in Las Vegas, Nevada. Here is our WWE Summerslam preview and predictions. The card is subject to change, but it is accurate at the time of writing this article.
The Usos (c) vs The Mysterio's
For weeks the tension between Rey Mysterio and his son, Dominik has been building. There have been clear signs that their tag team is ready to split and Rey could turn heel, which is a way of building towards a match between the father and son down the road. Jimmy and Jey Uso have no reason to drop the belts here and it makes Roman Reigns' stable look stronger if they are all holding belts.
Prediction: The Usos to retain their titles. Dominik will be responsible for the loss after not listening to his father and this will lead to a post match altercation and ultimately the end of their tag team. Rey will turn heel on Dominik, leading to a match at the next PPV.
The Mysterios pic.twitter.com/wXCy6Va7k9

— Matt-B (@MattBornGames) August 14, 2021
Drew McIntyre vs Jinder Mahal
This match between these two big, muscular behemoths is going to be hard hitting and possibly quite brutal to watch. Is Drew McIntyre going to be re-inserted back into the World Heavyweight title picture with a victory? Or is Jinder Mahal going to receive a push and potentially challenge for the United States Championship?
Prediction: Jinder Mahal to win following outside interference from Rinku Singh and Dilsher Shanky. This could lead to another match between the pair at next month's PPV, with the feud continuing to rumble on.
Nikki Cross (c) vs Charlotte Flair vs Rhea Ripley
Undoubtedly it was a fantastic, feel-good moment when Nikki Cross and her new superhero persona won the belt a few weeks ago by beating Charlotte Flair after cashing in her Money in the Bank contract. Cross has seemingly struggled to connect with audiences and is losing some of the momentum that her title win created. Flair and Ripley have good chemistry in the ring together and it seems sensible to continue their feud beyond this match.
Prediction: Nikki Cross to retain her title. Flair will look strong during this match and be close to pinning Cross for the win, but Ripley will break up the pin attempt, attacking Flair leading to Cross getting a sneaky pin.
Two days to #Summerslam

Interview from #RAWTalk this past Monday. The A.S.H is ready.

Time to kick some……ASH!!!!! (Always watching the Language 😉 ) pic.twitter.com/R0JX0bvq0j

— Nikki A.S.H , ALMOST SUPER HERO (@NikkiCrossWWE) August 19, 2021
Edge vs Seth Rollins
On paper this is a leading match-of-the-night contender and it could be an amazing contest. These two performers are exceptional storytellers and the history behind the match makes predicting the winner hard to call. If Edge wins he could easily face Roman Reigns again for the WWE title, but equally he wouldn't be badly damaged by a loss here. Rollins has been on fantastic form as a heel recently, so a win here could help push him into the title picture.
Prediction: Edge to win after an epic encounter, after Rollins tries to cheat, but fails.
7 years in the making. Edge. Rollins. Finally. #SummerSlam pic.twitter.com/4sejc7a6rV

— Adam (Edge) Copeland (@EdgeRatedR) August 17, 2021
Alexa Bliss vs Eva Marie
If there as an award for least interesting match of the night, then this would be it. Bliss is a talented in ring performer, but ever since she has been involved in the supernatural storyline she has hardly been allowed to wrestle matches properly. It is difficult to see this match lasting a long time and having a "normal" finish.
Prediction: Alexa Bliss to win via some supernatural shenanigans that will probably involve Eva Marie's friend, Dewdrop, at ringside.
AJ Styles & Omas (c) vs Randy Orton & Matt Riddle
The sight of "Bro-KO" reuniting on Raw this week was the highlight of the entire show. WWE have spent a long time on this storyline and it only seems to make sense that this is the pay-off match. There are also signs of Omas getting tired of tagging with AJ Styles and this loss could be the catalyst for them to break up and his possible singles run.
Prediction: Orton & Riddle to win the titles with AJ being pinned by Riddle after an RKO to make a definitive statement that they are a real team. Omas to be frustrated by the loss and storm off, leaving Styles after the conclusion of the match.
RIDDLE-KO's EVERYWHERE.#MITB @SuperKingOfBros pic.twitter.com/09p9OUTKc7

— WWE (@WWE) July 19, 2021
Bianca Belair (c) vs Sasha Banks
If this match doesn't get pulled from the card, due to COVID related issues, it could reach the heights of their Wrestlemania classic. The show is rumoured not to last longer than 3 hours, so maybe they won't be given as long as they might have wanted to work a match of similar quality. Belair has looked strong during her run and Banks only recently returned, so it's unlikely they'll give her the gold so soon.
Prediction: Belair to retain after Zelina Vega tries to interfere, but inadvertently costs Banks the match.
Sheamus (c) vs Damian Priest
This match has not really been given much screen time or hype, but these two hard-hitting superstars could produce a really entertaining match. They both possess a number of high impact moves and the match could go either way. Are WWE ready to push Priest, who seems to be finally moving away from months of matches against Miz and Morrison. Or is Sheamus going to continue his run as a no nonsense heel champion?
Prediction: Sheamus to retain the title after outside interference by Miz and/or Morrison.
Bobby Lashley (c) vs Goldberg
It is safe to predict that this match is not going to be a technical classic or one for wrestling purists. In fact I would be surprised if this match makes it to the five minute mark. Goldberg is now 54 years old and his recent performances have been far from impressive. Lashley is being portrayed as a dominant champion, so losing to an old, part-timer just doesn't make sense here.
Prediction: Lashley to win after a short, dominating match.
Roman Reigns (c) vs. John Cena
Cena's recent return to WWE has unquestionably brought back viewers to the product and his short this match is the most anticipated contest on the card. Cena needs to return to Hollywood to start filming his next movie, so if he does win a record 17th World Title, he will be a transitional champion and will drop the belt within a month or two. Reigns has flourished as a heel champion and the rumours of a match against The Rock at Wrestlemania 38 seem to be growing. Similar to the previous match, it makes little sense having him lose to a part-time wrestler.
Prediction: Roman Reigns to retain his title, as a result of outside interference by Finn Balor who will cost Cena to title. Balor and Cena will go on to have a short feud at the next PPV
"You almost ruined Seth Rollins, You ran Dean Ambrose out of WWE"- John Cena to Roman Reigns#Smackdown pic.twitter.com/JtM52cdF4u

— Adam Carl (@AdamCarl2005) August 14, 2021
We hope you enjoyed this article 'WWE Summerslam Preview and Predictions'. Who do you think will emerge victorious at WWE Summerslam? Let us know!
Read more on sport here: