Jack Grealish: Should he be a regular starter for England?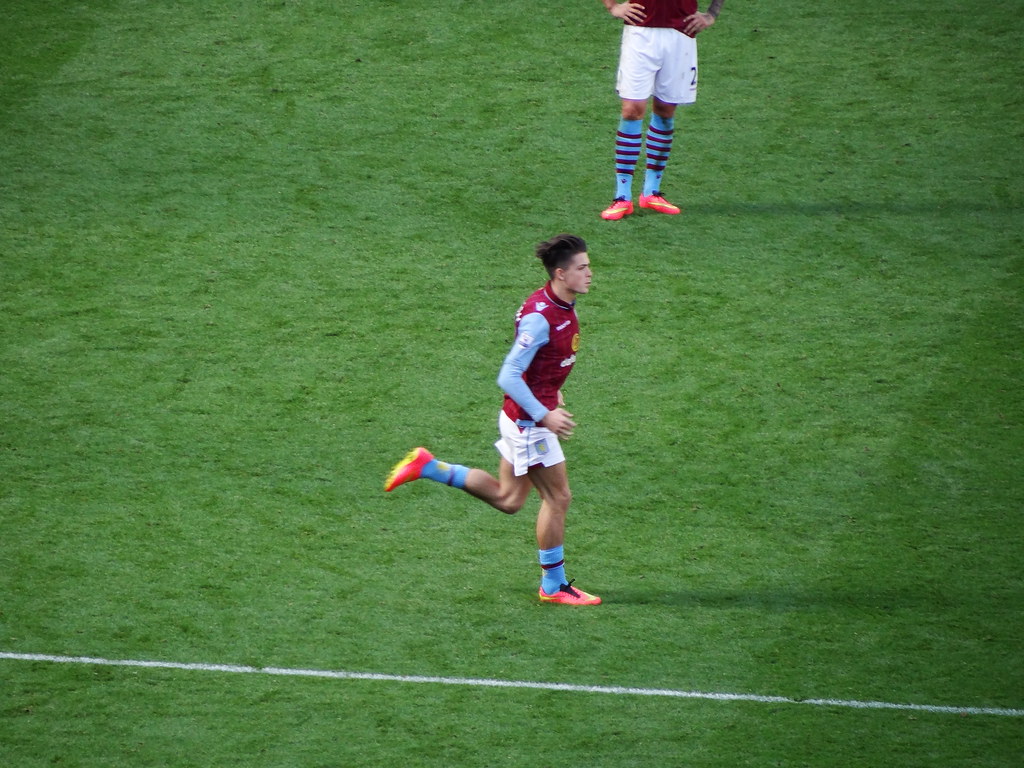 Jack Grealish has been the name on every England fans lips after putting in a stellar performance in England's 2-0 loss to Belgium on Sunday. A night to forget perhaps for Southgate and his men, was a night that will never be forgotten for Grealish.
After making his first competitive start in international football, he certainly stated his case as to why he should start in their match against Denmark on Wednesday. He is competing against the likes of Raheem Sterling, Marcus Rashford and Jadon Sancho in midfield, but has been the stand-out performer recently.
The Aston Villa midfielder has also been the focal point of his club for numerous years now. Manager Dean Smith relies on him to put in a good display each week and he no doubt delivers. Grealish was pivotal in their fight to stay in the Premier League last season and has continued to improve the more he plays.
His creativity and fearlessness on the ball has been highlighted throughout his playing career. Not only does Jack have an eye for goal but also can produce chances for his teammates. This raises the question however, whether or not he should be a regular starter for England going forward. We take a look at why he must certainly be in contention…
Such an honour to make my first competitive start for @England last night! I've dreamt of this moment since I was a kid and I absolutely loved every single minute of it. I felt we deserved more from the game but time to kick on and to end the international break on a high! ???????? pic.twitter.com/rNM9LAYLjs

— Jack Grealish (@JackGrealish) November 16, 2020
Who is he?
Club
Born in Birmingham, Jack Grealish is a lifelong Aston Villa fan and joined the club when he was six. He made his debut when he was just 18 years old. Since then he has gone on to play 195 games for the club, scoring 30 goals and producing 37 assists.
While he didn't stand out as a natural goal scorer at the beginning, throughout his time there he has begun to develop his attacking traits. Last season he scored 10 goals along with eight assists, helping Villa avoid the drop back to the Championship. The 25-year-old was made captain in March last year and has gone on to be a leading figure in their dressing room ever since.
If fans thought he was good last year, he has been phenomenal this season. In just seven Premier League games he has scored four goals and produced five assists, making him one of the highest contributors in the league so far.
International
On an international level, Grealish originally began playing for Ireland's youth set up. It wasn't until 2015 he made the switch to England, representing the under 21's and now the men's team. The call up from Gareth Southgate was a long time coming and since coming on against Denmark in September, he won't look back.
Usually adopted on the wing, Grealish uses his superb dribbling ability to take on defenders and draw fouls around the penalty box. He can create chances with his range of vision and isn't shy to take a shot on goal. His versatility around the pitch is also a huge asset, especially in the England set up.
Southgate's current favoured formation, pushes Jack towards the middle more. But is awareness and confidence on the ball allows him to be comfortable to push forward so his teammates can get behind the attack. His development over the last few months is certainly the catalyst for his England call up, as he continues to improve his game.
— Aston Villa (@AVFCOfficial) November 15, 2020
What does he bring to the England team?
Southgate said "Yeah, 100 per cent", when asked if Grealish had moved up the order for future games. "Today was a great game for us to see him in and to see the level. I could not speak highly enough about his performance. I thought Jack Grealish had an absolutely outstanding game" he said. 
It portrays a lot that Southgate has so much praise for Grealish, but also indicates his importance and worth in the England team. The squad has been missing someone who isn't afraid to get involved and show bravery in tough situations.
Previous England teams have often had one or two players that can bring something special to the game and add a creative flair on the pitch. After his impressive performances recently, as seen on Sunday, many have tipped Grealish to be that man.
One of the most impactful traits of the midfielder, is his adaptability and versatility. He can play in a team that play with five at the back or in a 4-3-3. This makes him a very resourceful addition to the national team.
Jack has also previously stated how happy he is to play wherever he is needed. If he continues to perform at this standard, he will definitely provide a selection headache for Southgate next year at the Euros.
Putting his technical ability and physical strengths aside, he also has the correct mindset needed in this team. Someone that is proud to play for his country and put in 110% when he plays. His mental approach to the game allows him to be fearless on the ball and confident in his ability. This is very useful and something that he can bring to this England side.
Absolute ? from Jack Grealish#ITVFootball pic.twitter.com/t4GKxnm2rN

— ITV Football (@itvfootball) November 15, 2020
Does he deserve a starting role?
With all the glowing praise Grealish is receiving, it is hard to find many flaws in his performances right now. Often he has been criticised for holding onto the ball for too long and giving away possession in crucial moments. However these weaknesses can be overlooked in replace of all the positive attributes he adds to the team.
It is difficult to say so early on that Grealish deserves to be starting every England game. For countless matches, it has been the likes of Marcus Rashford and Raheem Sterling providing the difference. Gareth Southgate will know that he cannot replace Grealish with either of these players yet, because of their experience and pedigree on the elite stage.
Nevertheless, there are systems that can be implemented to accommodate all types of players at his disposal. If Grealish isn't in contention for a starting position going into the Euro's next summer, then he most definitely is a viable option coming off the bench.
He has now convinced the manager of his worth and he can be a salient figure amongst the likes of Kane, Sterling and Rashford in this England squad. Competition from Jadon Sancho, Mason Greenwood and Mason Mount will only motivate the Villa captain to improve.
Although their game against Belgium knocked England out of the Nations League, Grealish is the topic everyone is talking about. This significantly shows the impact he brings to this extremely talented England team. It only proves that Grealish must be in contention for a regular starting role at the Euro's next summer and could be the missing piece for Southgate and his squad.
We hope you enjoyed the article 'Jack Grealish: Should he be a regular England starter?' Do you think Jack Grealish has what it takes to be in England's starting XI? Let us know!
Read more on football here: